I had not heard of lupin beans (also known as Lupini beans) until very recently! They are not typically found in the grocery store, instead you'll find lupin beans in the health food store. So why are these beans so special? Well the truth is they are the lowest bean carb content there is! So a lupin hummus is a great way to use them!
As a vegan, it can often be hard to balance the protein needs with carbs. I for one certainly put on some weight when I went vegan due to the increased carbs in my protein sources such as beans and legumes.
I was so happy to find lupin beans and I have been experimenting with them ever since. This week I made this delicious lupin hummus and I also made a lupin salad which was so tasty!
We are big fans of hummus over here, make sure to check out our beets and wasabi hummus and our ultimate guide to making hummus here.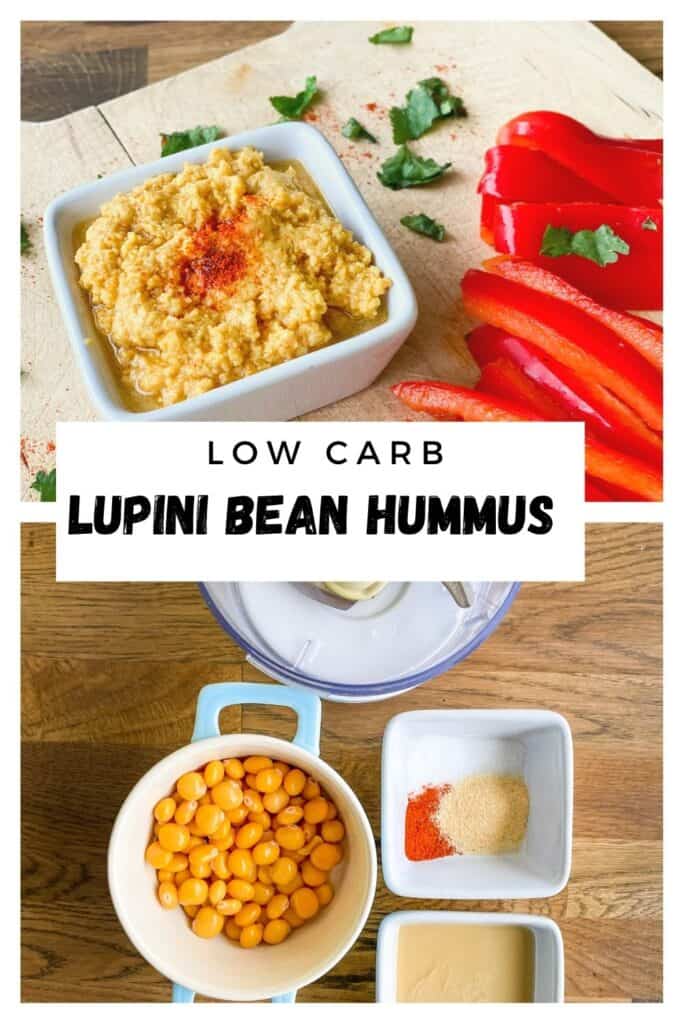 Lupini Hummus
Lupini beans are the yellow legume from genus Lupinus. You will find lupin beans traditionally in the Mediterranean, they tend to be quite bitter and are often eaten pickled as a snack in this part fo the world.
Since low carb diets have gained traction, there has been an increase in demand for lupini beans. Rich in protein, these unique beans have very low carb content so are an incredible ingredient to include in a vegan diet.
I buy lupini beans in a jar, they come in water and are already prepared. I think it's best to buy these beans already prepared as there are a number of stages to get them right. You can buy lupini beans here.
They have a thin skin which can be removed but it's also fine to eat them intact. in fact the skin has the majority of the protein content so I definitely recommend keeping it on, it doesn't make any difference in terms of taste or texture in this salad.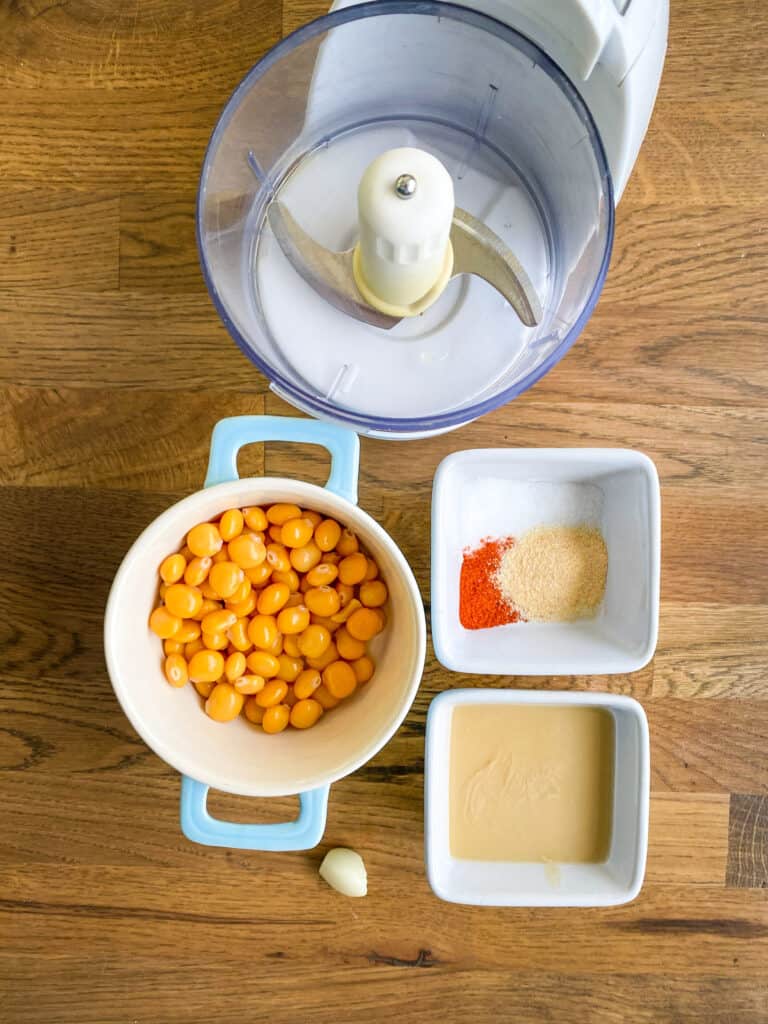 Lupini Hummus Recipe
This recipe is so super easy, just strain the lupini bean wash and drain completely in strainer. Add them to a blender with a clove of garlic, tahini, cayenne pepper and lemon juice. Blitz until silky smooth.
You can store the lupini hummus in an air tight container in the fridge for up to 4 days. Serve with vegetable sticks of your choice. You could also serve on top of a salad or as a spread.
This recipe is:
Smooth and silky
Creamy textured
Flavoursome
Healthy and low carb
To make life simple for you, I have made this quick clickable shopping list:
Blender for Hummus
It's just a matter of blitzing everything in the blender. When I'm working with small amounts of ingredients, I love to use my mini chopper, it's great so you don't end up loosing half the content by spraying it all over the inside of the blender.
I can highly recommend either the Ninja or the Kenwood mini, both are fab options and really worth having if you regularly make lupin hummus or other condiments and dips. Check out the Ninja here and the Kenwood here.
We love hearing from you at Yum Vegan Lunches HQ, make sure to leave a comment or rate the recipe if you try it and love it!
Yield: 4
Lupin Hummus 6g Net Carb per serving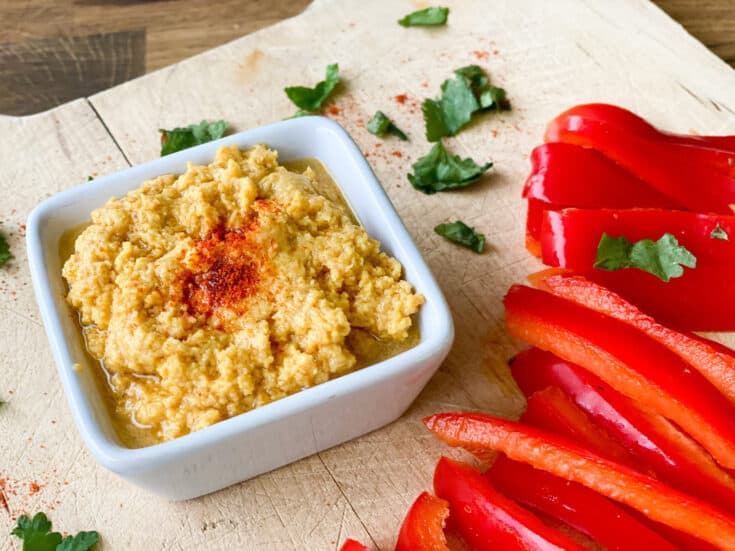 Try this delicious low carb hummus that is one of a kind, made with lupini beans, this lupini hummus is perfect as a spread, sandwich filler or dip. Lupin hummus is ideal if you are on a low carb diet. It really is a great tasting healthy snack or meal bulker. Make sure to try this 5 minute lupini hummus yourself! YUM VEGAN
Ingredients
1 cup of lupini beans
1/2 a clove of garlic
1/4 tsp of salt
2 tbsp of olive oil
1/4 cup of tahini
Pinch of cayenne pepper
1/2 a lemon juiced
Instructions
Strain the lupini beans and rinse thoroughly under running cold water. Drain completely.
Peel and chop the clove of garlic.
Juice the lemon.
Add all of the ingredients to the blender and blitz until smooth.
Add a little extra olive oil to thin the mix if necessary.
Refridgerate initially to cool the mix in an air tight container. It is best served cold.
You can keep the lupin hummus in the fridge in an air tight container for 3 to 4 days.
Eat as a spread, dip or sandwich filler.
Notes
This Lupin hummus is just 6g of net carb per serving so is ideal for anyone watching their carbohdrate intake. There is no sacrifice on taste in this recipe despite it being super healthy.
if you have too many lupin beans you could make a nice healthy salad or also pickle them for a snack like they do in the Meditteranean.
I added some of this lupini hummus to my salad for lunch the other day and it was a really good meal bulker without the carb content.
You may not find lupini in the grocery store. However you will find them in the health food store or on amazon. Make sure to check out our reccomended prodcuts below if you are struggling to find these beans. We have included a link for you!
Nutrition Information:
Yield:
4
Serving Size:
1
Amount Per Serving:
Calories:

201
Total Fat:

16g
Saturated Fat:

2g
Trans Fat:

0g
Unsaturated Fat:

13g
Cholesterol:

0mg
Sodium:

153mg
Carbohydrates:

8g
Net Carbohydrates:

6g
Fiber:

2g
Sugar:

0g
Protein:

9g
Disclaimer: There are affiliate links in this post. By using them, we will get a small commission of the sale at no extra cost to you. It's the little things like this thats keep us afloat. We never recommend something we don't believe in, always tired and tested too.