Welcome to week two of your veganuary meal plan. We would love to know how things are going for you? Are you experiencing any challenges or has it been breezy?
We have purposely made this an easy vegan meal plan whilst balancing nutrition – so hopefully you will love it this week too!
Have you been utilising our extensive Vegan Resources? It's packed with helpful tips and resources to keep you on track this Veganuary.
Our Vegan Meal Prep post is also super helpful with tonnes of tips and tricks to support you getting organised.
Our Veganuary Meal Plan will continue to be easy and quick, with accessible ingredients. Please read through the week as some may be a quick night before preparation, for example overnight oats.
As always, please make sure you stay well hydrated. Water is obviously very important, recommended 8 glasses a day.
TIP: Sprinkling Hemp Hearts
seeds on soups, smoothies, cereals and salads etc will boost the dishes nutritional profile, while also providing good Omega 3 fats.
Day 8 – Veganuary Meal Plan
Breakfast
Seeded toast with peanut/seed butter and banana
This breakfast should keep you feeling full for a longer period of time. Who doesn't love the combination of peanut butter or seed butter and banana?
There is something super comforting about banana on toast!
Snack
Vegan Cream Cheese and Crackers
This vegan cream cheese is super tasty and so easy to make. However – shop bought vegan cream cheese is becoming more readily available.
There are many vegan crackers to choose from, such as oat cakes, cream crackers and water crackers. Keep your eye out for your favourite crackers and quickly scan ingredients to make sure they are vegan!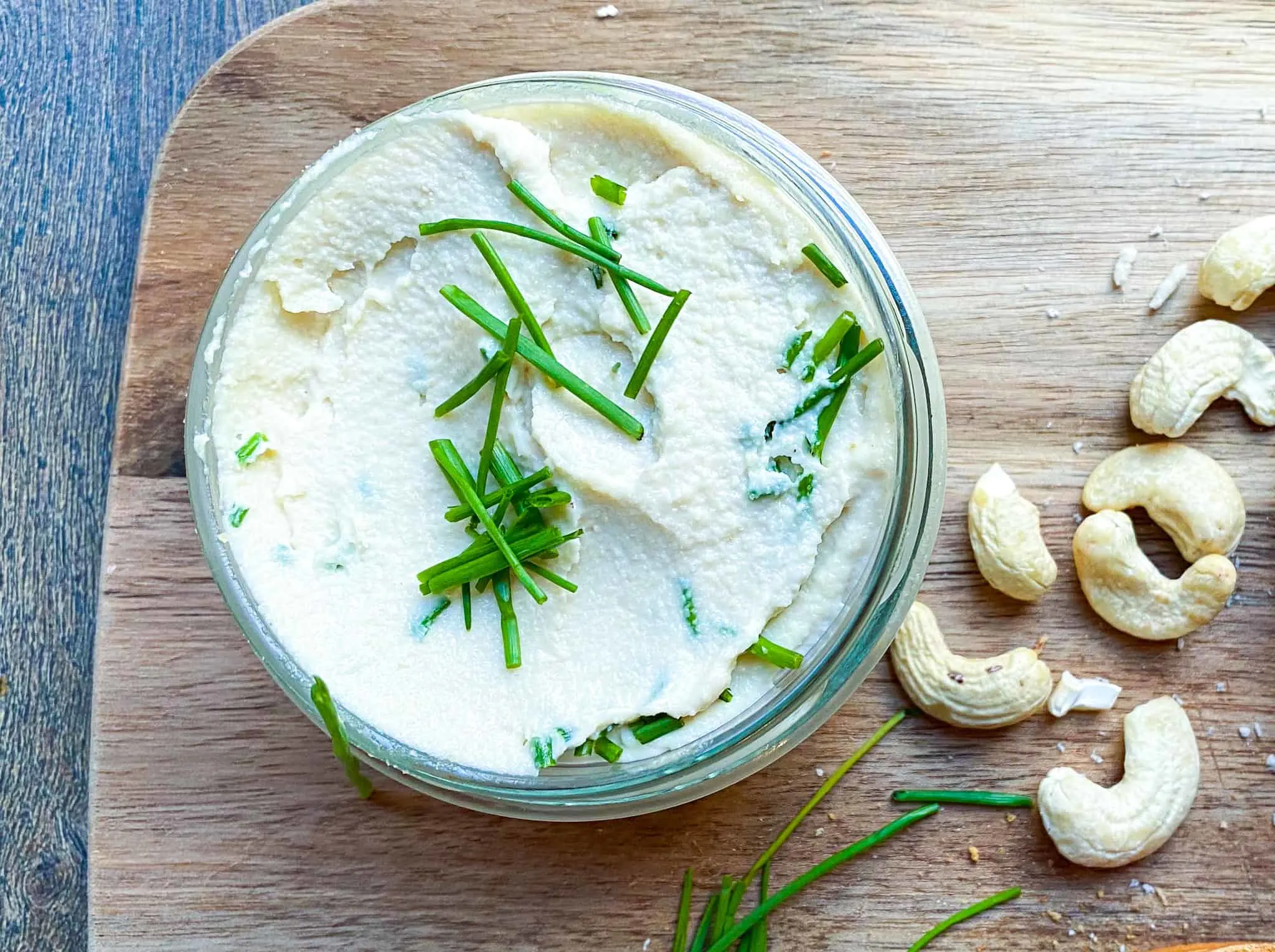 Also some shop bought brands of vegan cream cheese if you don't wish to make it at home:
Some American brands of vegan cream cheese include Daiya Vegan Cream Cheese Spread, Tofutti Better than Cream Cheese, Kite Hill Cream Cheese Style Spread, Follow your Heart, Miyokos, Go Veggie, Violife, Trader Joes.
Some British brands of vegan cream cheese include Bute Island Creamy Sheese Original, Violife, Nush Natural Almond Milk Cheese, Sainsbury's Free From Original Soft Cheese, Tesco Free From Coconut Oil Alternative to Soft Cheese, Koko Dairy Free Soft Cream Cheese, Waitrose Vegan Original Soft Spreadable, Bonsan Absolutely Vegan Organic Almond Crème Original.
Satsumas
Tasty and moreish – these satsumas will add to your fibre and Vitamin C intake. Topping up with whole foods such as fruits assists our healthy eating and increase fibre.
Lunch
Vegan Egg Sandwich
This Vegan Egg Sandwich is so good! You can make extra to have more tofu egg filling on hand for easy snacks or more lunches.
Snack
Blackbean Truffles
Maybe you have some of these delicious Blackbean Truffles Leftover? These are a really easy, nutritious and somewhat luxurious vegan snack!
Dinner
This bowl of sunshine is bound to cheer up any Monday. Sweet potato curry is good for the soul 🙂
Day 9 – Veganuary Meal Plan
Breakfast
Banana Overnight Oats
These Banana Overnight Oats are an awesome, quick breakfast, especially having been prepped the night before. It makes them super creamy. The great thing is you can prep them in a small tupperware box or jar to take for breakfast on the go.
Here are some other great additions to overnight oats:
Berries, fresh or frozen
Fresh, juicy mango
Sliced banana (best added just before eating)
Seeds such as hemp, chia, sunflower, pumpkin
Nuts such as cashews or almonds
Nut or seed butters
Tahini
Cacao nibs
Maple syrup, agave
Jelly/jam
Toasted coconut
Snack
Trusty Trail Mix
Non-dairy yoghurt
For non-dairy yoghurts, there are lots of different types, from coconut, soy, oat, almond based yoghurts. Find one you enjoy.
Some American brands include Silk Almondmilk Yogurt, Coconut Collaborative, Forager Project Organic Coconut Cashewgurt, Coyo Coconut Yogurt Alternative, So Delicious Coconutmilk Yogurt Alternative, Cocoyo Living Coconut Yogurt, Good Karma Dairy-Free Yogurt, Stonyfield's Organic Dairy-Free Soy Yogurt.
Some British brands of dairy free yoghurt includes Alpro, Coconut Collaborative, Almond Collaborative, Nush, Koko Coconut Yoghurt, Provamel, alongside many large chain own brands such as Tesco.
We also have our very own Homemade Vegan Greek Yoghurt if you fancy yourself making some at home.
Lunch
Roasted Pumpkin and Beet Salad
This Pumpkin & Beet Salad is super tasty and just the perfect January salad to be honest.
Snack
Guacamole and Nachos
Check out our perfect Creamy Vegan Guacamole Recipe to enjoy with some salted nachos – yum!
Dinner
A truly delicious rice dish, packed with veggies and amazing flavours.
Day 10 – Veganuary Meal Plan
Breakfast
Granola, non-dairy yoghurt, banana, berries
Maybe you still have some granola leftover? Granola goes perfect with a big blob of yoghurt, banana and berries for a super easy breakfast, drizzle some agave or maple syrup on top if you like it sweet. A sprinkle of cinnamon always gives breakfast a delicious twist.
No sweat if you don't have any leftover as lots of supermarkets sell vegan granola! Just check the ingredients first to look out for hidden honey or dairy.
Snack
Stuffed Medjool Dates & Apple
What you will need for stuffed dates
5 medjool dates
5 small teaspoons of nut butter, pumpkin seed butter, or sunflower butter or tahini
Simply stuff the dates with your spread of choice and enjoy a delicious treat. It's always complimented with an apple – or some chocolate to make a quick makeshift snickers bar taste without the hassle.
A crunchy, juicy apple always pairs well with stuffed dates.
Lunch
Vegan Cream Cheese Bagel
This Vegan Cream Cheese Bagel With Lox is super tasty. However there are other easy fillings you could try if you don't feel like making the Lox.
This Vegan Cream Cheese Bagel With Lox is super tasty. However there are other easy fillings you could try if you don't feel like making the Lox.
Other easy options to pair with vegan cream cheese bagel:
Cucumber
Vegan Ham
Peppers/Capsicum
Olives
Sun-dried tomatoes
Rocket salad
Pepper
Snack
Edamame Beans and Berries
Dinner
The perfect, tasty and easy dinner for that midweek hump. Complimented with nice, crisp salad.
Day 11 – Veganuary Meal Plan
Breakfast
Baked Beans with Vegan Cheese on toast
This is a comforting and easy, tasty breakfast that is sure to keep you satisfied for hours. There are many British brands available readily in store. In America there are Heinz Beans
or BUSH'S BEST Original Baked Beans
.
Use gluten free or rye bread if needing to be gluten or wheat free.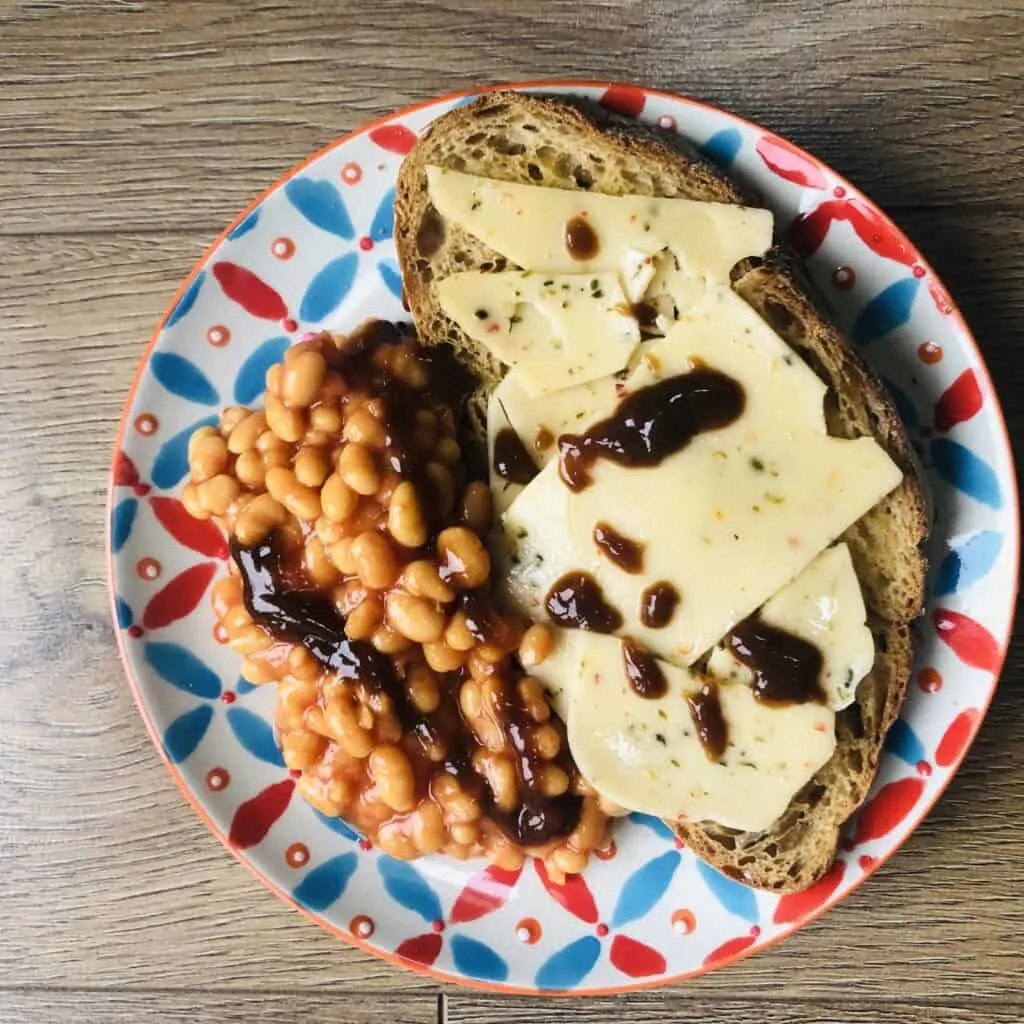 Snack
Olives And Roasted Almonds
There are so many delicious types of olives – whether they are stoned, marinated or stuffed with garlic or pimentos. They make for a good source of fats. Roasted almonds pair beautifully with olives too!
Oat Bar
Keep an eye out for vegan snacks in the free from aisle. Many shops now stock the likes of Trek Flapjacks
and Clif Bars
– they are the best easy snack for on the go.
Lunch
Quick Pasta with Veggies
What you need:
1 cup pasta of choice
1/2 cup veggies (such as carrot, onion mushroom, sweetcorn)
Garlic graniles
Olive oil
Olives
Salt/Pepper
This is a great, super easy meal to take out of home if needed. Simply saute some veggies while you cook your pasta. Mix together with some olive oil, garlic granules, chopped olives, salt and pepper. Top with fresh herbs if you have some and enjoy a simple, satisfying meal.
Snack
Kale chips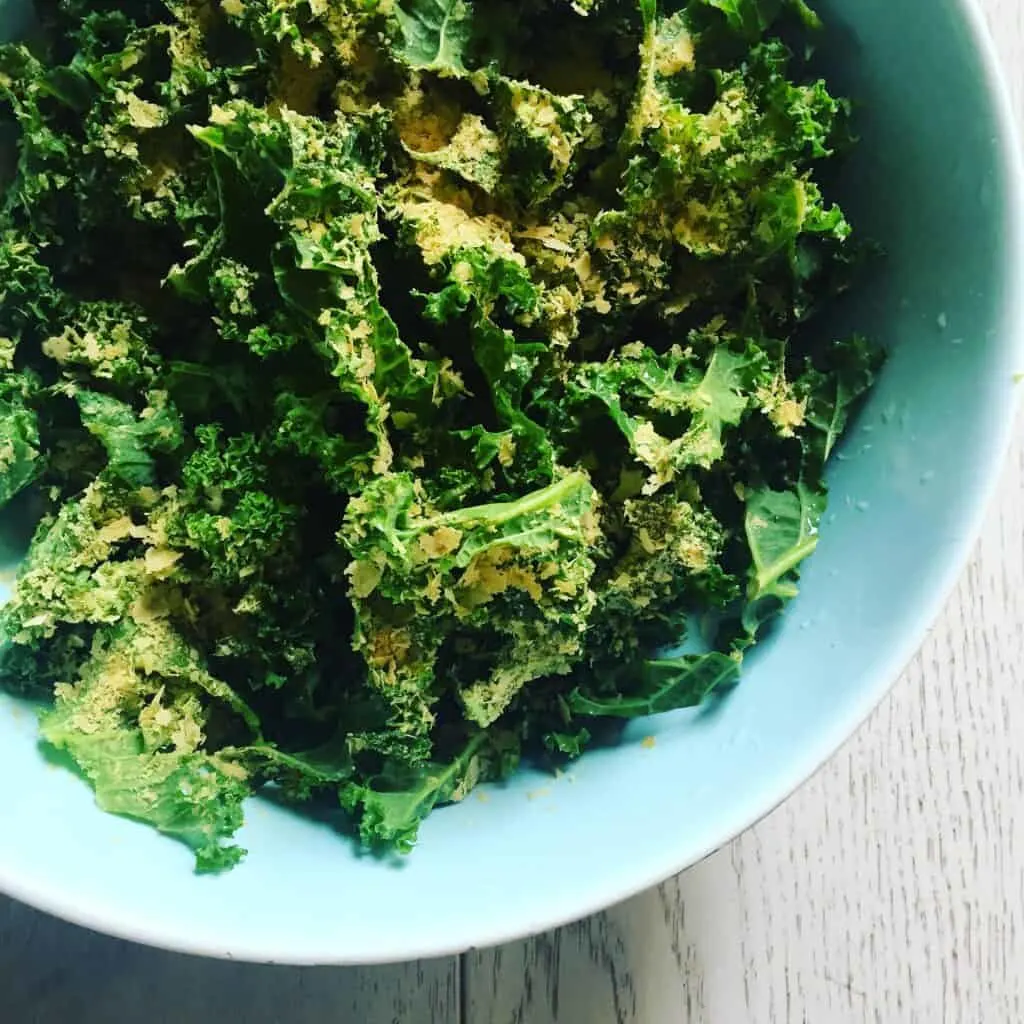 You will need:
Preheat oven to 107c/225f. Wash kale leaves and pat dry, or dry in a salad spinner. Make sure any rough stalks are removed (VEGANUARY TIP – you can keep the stalks in the freezer for green smoothies!)
Tear the kale into pieces. In a bowl, toss in olive oil and add seasoning. Make sure all is spread evenly. Add to a lined baking tray – you may need two for this! Place in the over to crisp up for around 25 minutes.
During this time, make sure to switch the trays around half way through. The kale on the outside will crisp faster so a quick swap around of the middle kale to the outside may be necessary.
Once crisp, remove from the oven. It is so good fresh! Can be eaten up to 3 days after. Store in a clean jar once cooled.
Dinner
Delicious Tofu Buddha Bowl
This Delicious Tofu Buddha Bowl is nourishing and packed with flavour. It has the perfect combination of flavours and textures to keep you satisfied.
Day 12 – Veganuary Meal Plan
Breakfast
Avocado & Toppings on Toast
A classic, but always a winner. There are many ways to twist avocado toast up so you don't get bored.
Garlic granules, sea salt and some seeds on top
Chopped tomato, sea salt and lemon juice
Strawberries, balsamic glaze and seeds.
Fresh figs and toasted pistachios
Microgreens, broad beans and sea salt
Snack
Vegan Parfait Cups
These Vegan Parfait Cups are the perfect mid morning snack! Made with vegan yoghurt, chia seeds, banana, and granola – these are sure to bring a smile to your face.
Lunch
Vegan Crunchy Cream Cheese Sandwich + Pear/Blueberry Smoothie
Crunchy veg paired with our Vegan Cream Cheese on some seeded bread is a delicious lunch!
Why not wash lunch down with our gorgeous Pear Blueberry Smoothie.
What you will need for the sandwich
Snack
Falafels and Tahini dip
This is a real simple and fulfilling snack. Tahini
is just ground sesame seed paste and readily available from most supermarkets. It is fairly affordable, packed with protein and calcium. There are also many pre-pared falafels you can purchase from the store.
To make a tahini dip – simply whisk together the following:
1/4 cup Tahini
Sprinkle of sea salt
1 tsp garlic powder
2 tbsp warm water
Dinner
Day 13 – Veganuary Meal Plan
Breakfast
Vegan Shakshuka
This Vegan Shakshuka is the ultimate weekend breakfast! With a rich, flavoursome sauce and tofu eggs – it is a real heartwarming meal.
Snack
Banana Beet Smoothie
This Banana Beet Smoothie is the perfect refreshing snack after a big breakfast like the Shakshuka.
Lunch
This Vegan Bagel is loaded with delicious marinaded tofu, crisp fresh salad and a creamy dill sauce.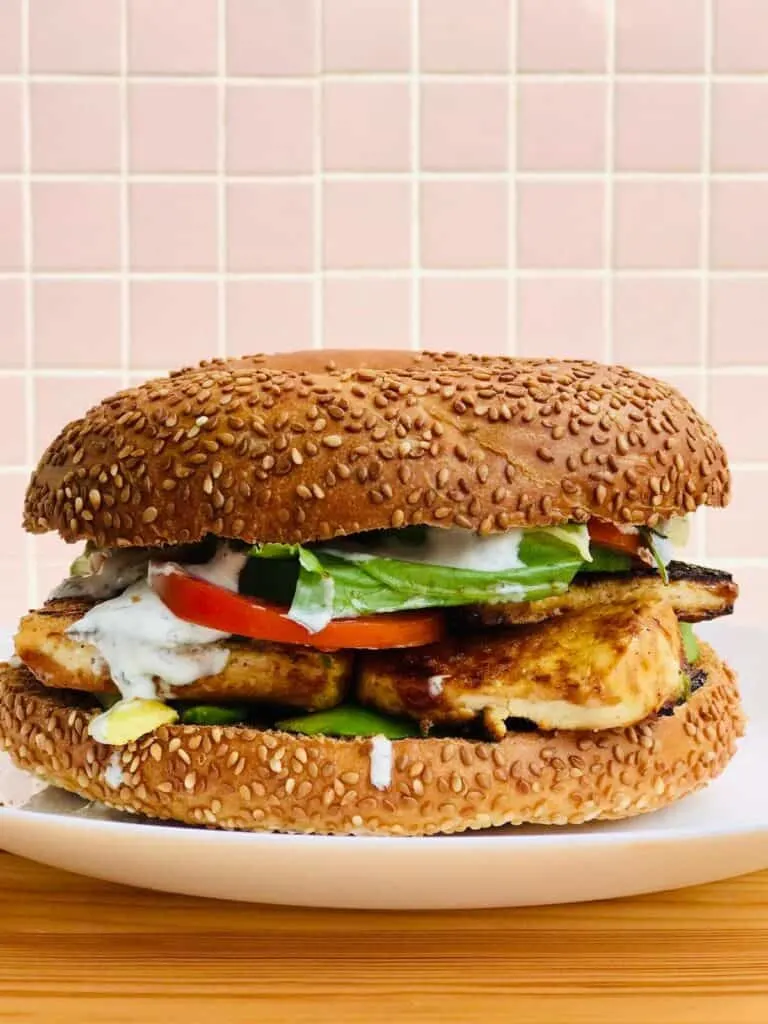 Snack
Satsumas
A nice refreshing snack packed with Vitamin C – the question is how many will you eat? Sometimes they are addictive!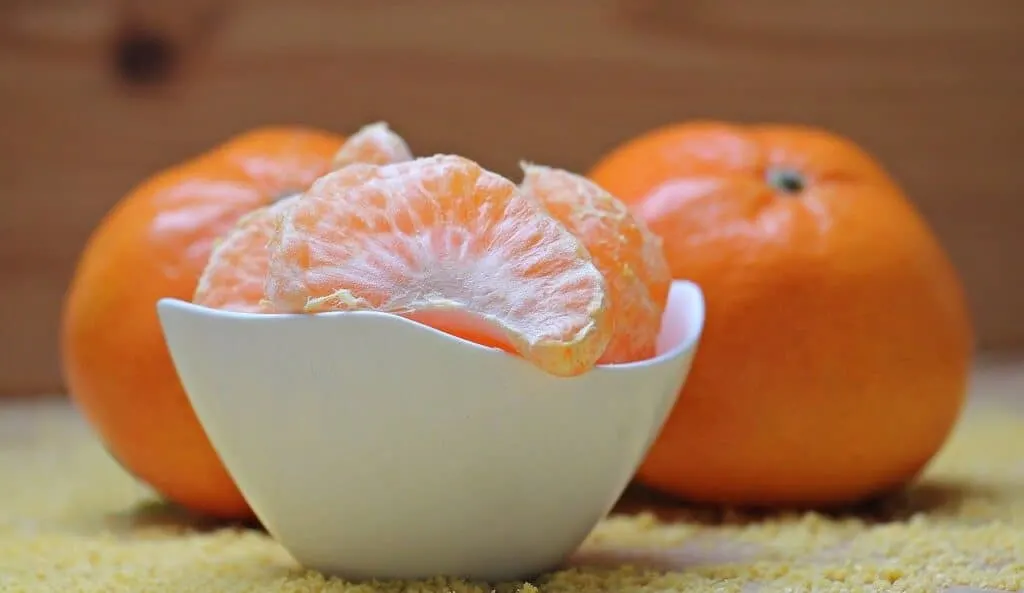 Dinner
Such an explosion of flavours. Who doesn't love tacos?
Day 14 – Veganuary Meal Plan
Breakfast
Cacao Smoothie Bowl
This Cacao Smoothie Bowl is pure joy to make. Cacao is high in magnesium – top this with your favourite bits and pieces!
Snack
Vegan Yoghurt & Trail Mix
Lunch
Vegan Tuna Melt
This Vegan Tuna Melt is super delicious. With the same creamy chickpea tuna used in week one – it is lathered onto ciabatta, topped with vegan cheese and toasted into a heavenly melt!
Snack
Fruit Salad
What delicious fruits do you have at home? Fruit salads are totally underrated! This one was ripe pear, plum, blackberries, blueberries, apple and melon with a squirt of lime.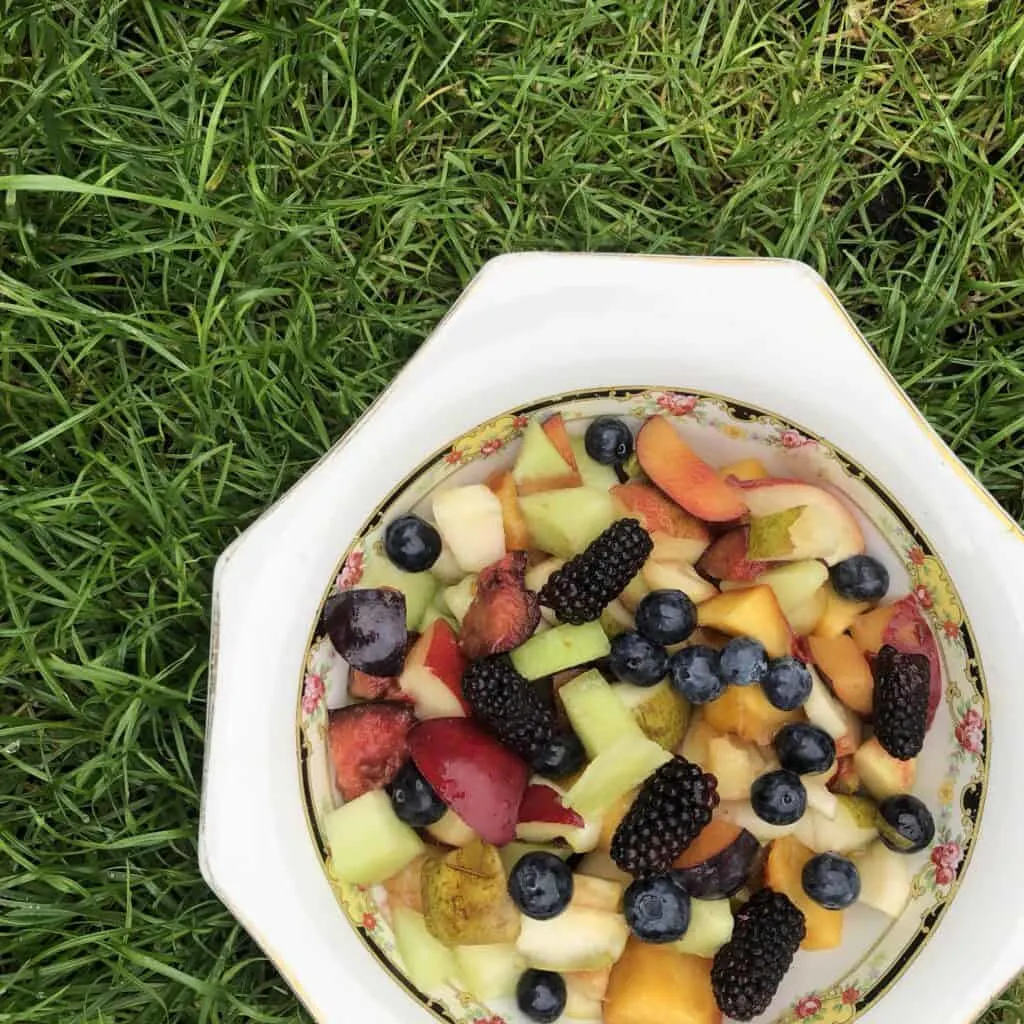 Dinner
Lentil Bake
This Hearty Lentil and Mushroom Bake is comforting, savoury and perfect for sharing. You can certainly freeze some for leftovers or keep it in the fridge for up to 3 days.
Fin – Week Two
We hope you have loved week 2 of your 4 week vegan meal plan. Do get in touch if we can support you in any way.
Low Calorie Vegan Meals
If you are trying to lose weight and want some more low calorie vegan meals to add to your diet, check out this roundup of 26 amazing low calorie vegan recipes.
Order Veganuary Meals To Your Door
Whilst our meals in this Veganuary meal plan are quite simple, we understand some people just don't have the time to do anything. So with that in mind, we can reccomend Veestro. They are an incredible company that will deliver freshly made nutritious plant based meals to your door Come home to Delicious fully prepared, gourmet, plant-based meals delivered to your door. Order up some happiness today at Veestro.com
Vegan Grocery List
Another super helpful post to help you on your way is this Vegan Grocery List – featuring some vegan essentials for your pantry.
Disclaimer
This post contains affiliate links.