This quick and easy dill sauce, like most my recipes, was born out of last minute inventiveness. We were throwing a last minute birthday party and I wanted some sort of vegan dipping sauce for the veggies.
A quick google showed me most the recipes for vegetable dip involved a million different spices and herbs. I didn't have all the ingredients or the time to go shopping again but when I thought about it, I realized most the spices were similar to the ones that go into pickles.
So in a fit of inventiveness, I grabbed my tofutti sour cream and started adding pickle juice to it to thin it and add flavor. It worked like a charm and just a few more ingredients turned this vegan dill dip into a hit!
I got tons of compliments and people asked me how I had made it. So I started thinking about all the other great ways I could use it. This vegan sauce made a fantastic veggie dip (or even vegan dipping sauce for fries!) but it also could be thinned a little more and used as a delicious sauce on sandwiches (like this bagel sandwich), as a vegan burger sauce, and more.
You could also probably double this recipe and use it as an awesome creamy vegan dill dressing for salads.
If you are interested in more delicious herb packed vegan sauces and condiments, you can check out our vegan tzatziki sauce recipe or this easy nut free vegan pesto.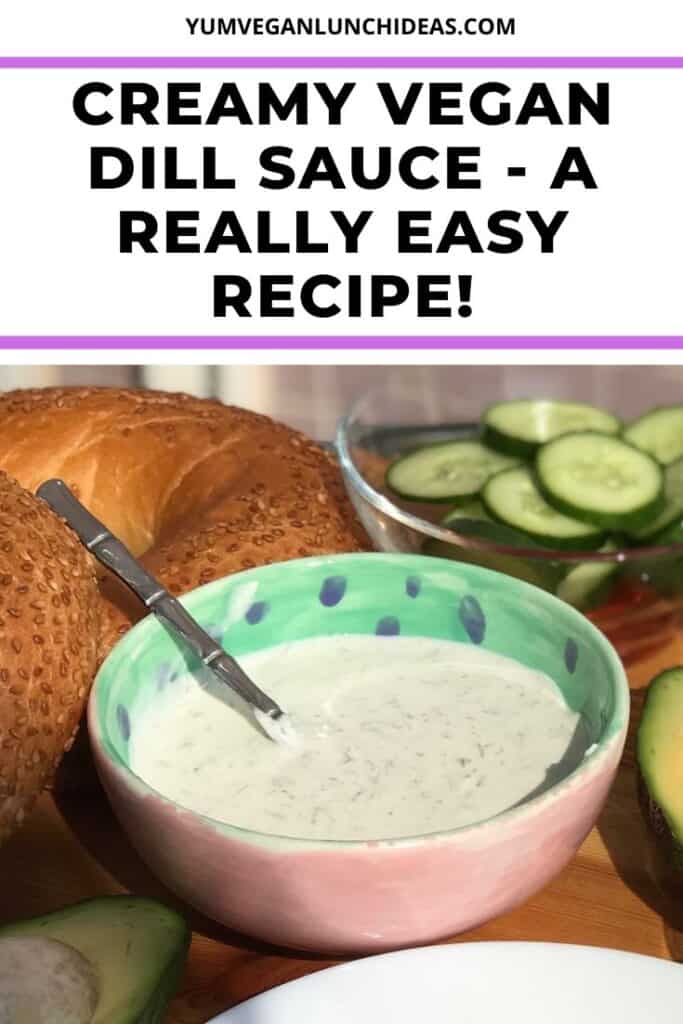 Creamy Dill Sauce Ingredients
There are just six easy ingredients in this easy dill dip. They are:
As you can see, most these ingredients are pantry staples, except maybe the tofutti base.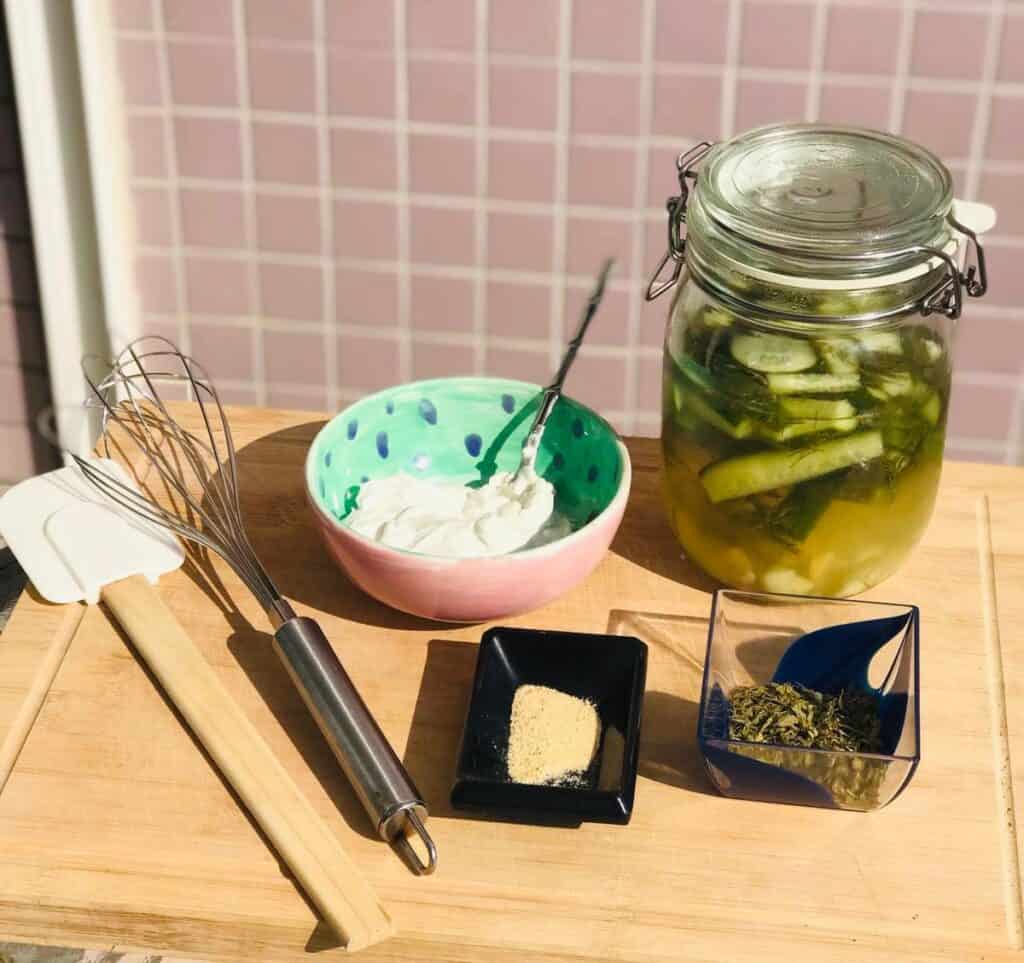 I know a lot of creamy dips involve mayonnaise, but I try to avoid using mayonnaise because I tend to be on the calorie conscious side. Even if you aren't diet conscious though, tofutti sour cream brings a ton of delicious creaminess and flavor and I still think it's a better option.
You can also try a different brand of sour cream but I'm not sure how that will effect the taste and texture.
How To Make Dill Sauce
Once you've got your ingredients, it's incredibly simple to make the dill sauce. Just whisk all your ingredients together and enjoy!
To make this sauce into a veggie dip just add maybe a half a tbsp less of the liquid ingredients so that it comes out thicker.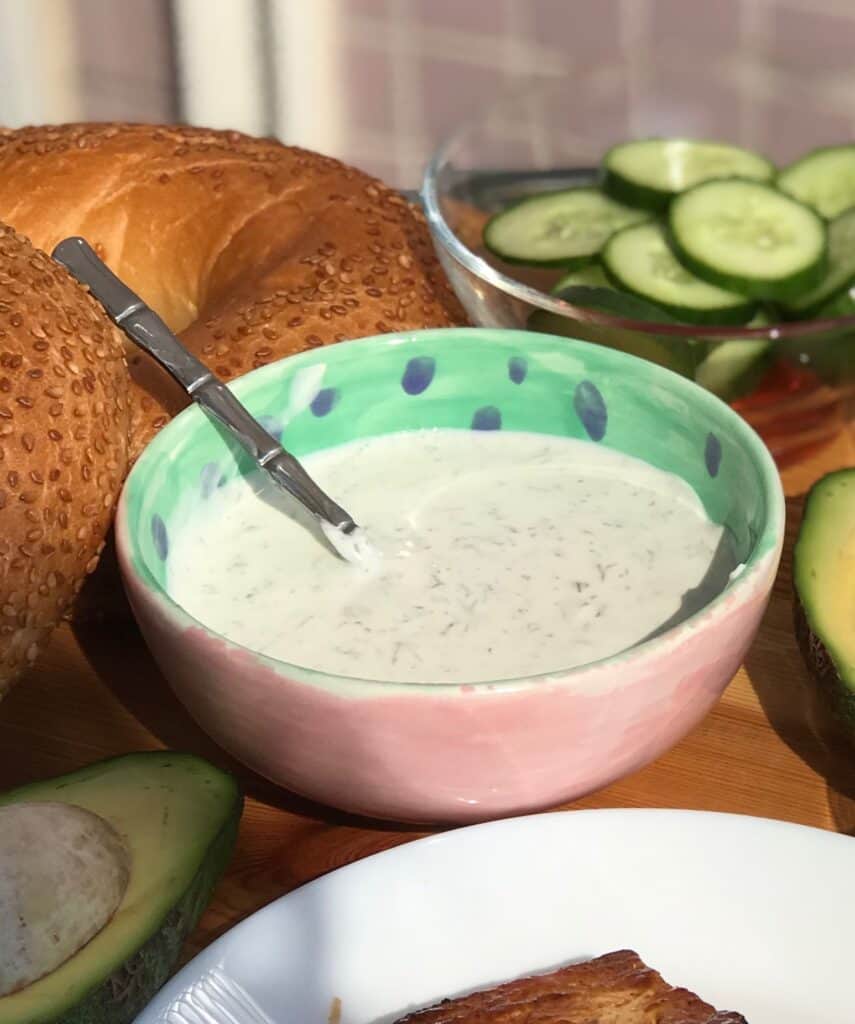 You can taste as you mix and add salt and seasoning to taste. You can definitely enjoy this sauce immediately but the dried herbs flavor gets stronger (and more delicious in my opinion) if you leave the vegan dill sauce to sit in the refrigerator overnight.
Storing Dill Cream Sauce
This sauce should stay good for at least a week in a sealed container in the fridge. Probably longer then that but I don't like to make promises.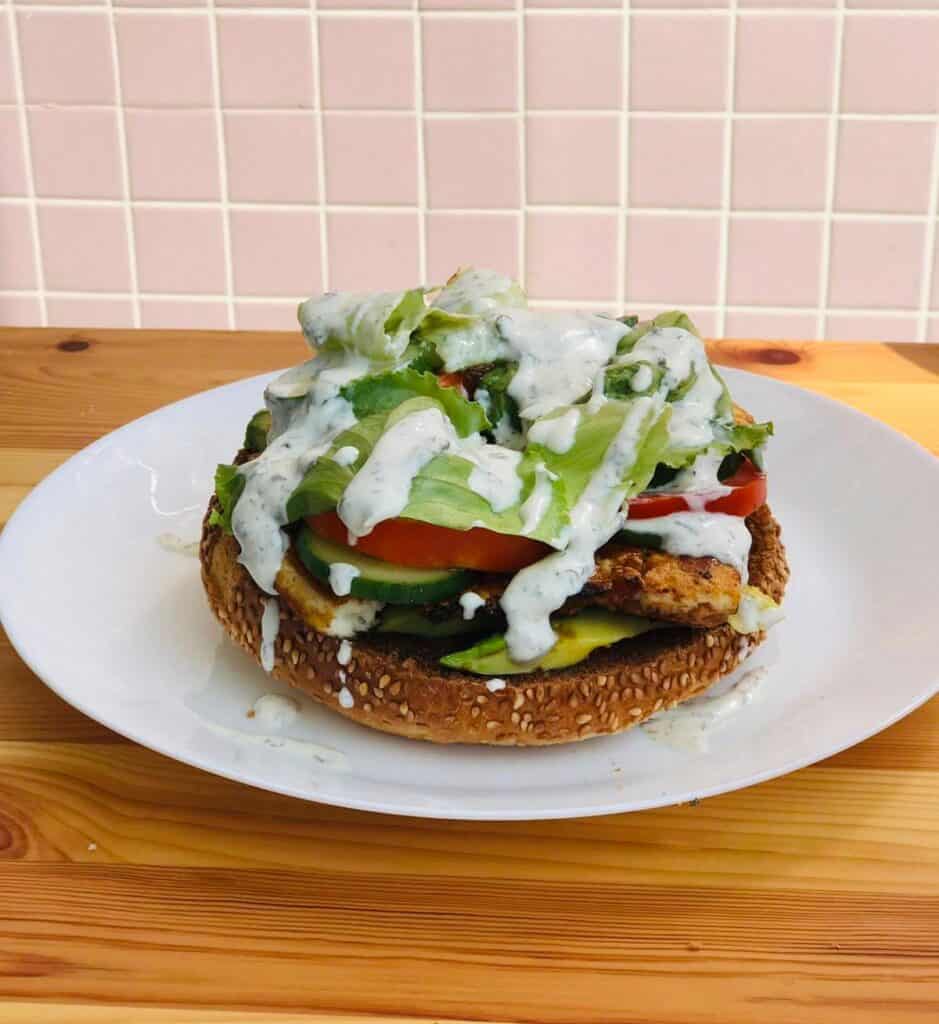 Yield: ~1/2 Cup
Quick and Easy Vegan Dill Sauce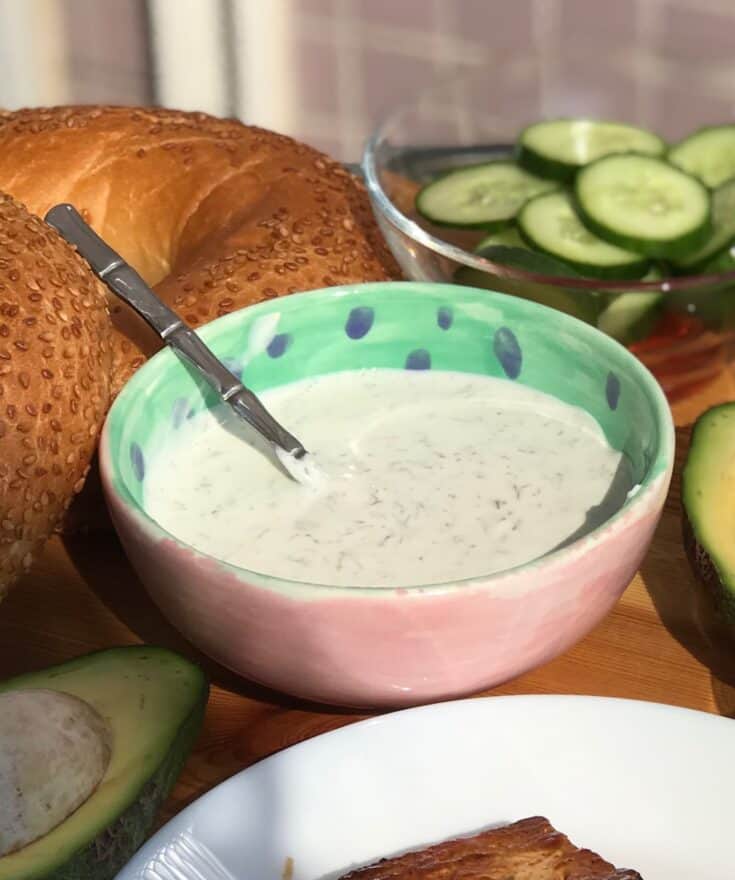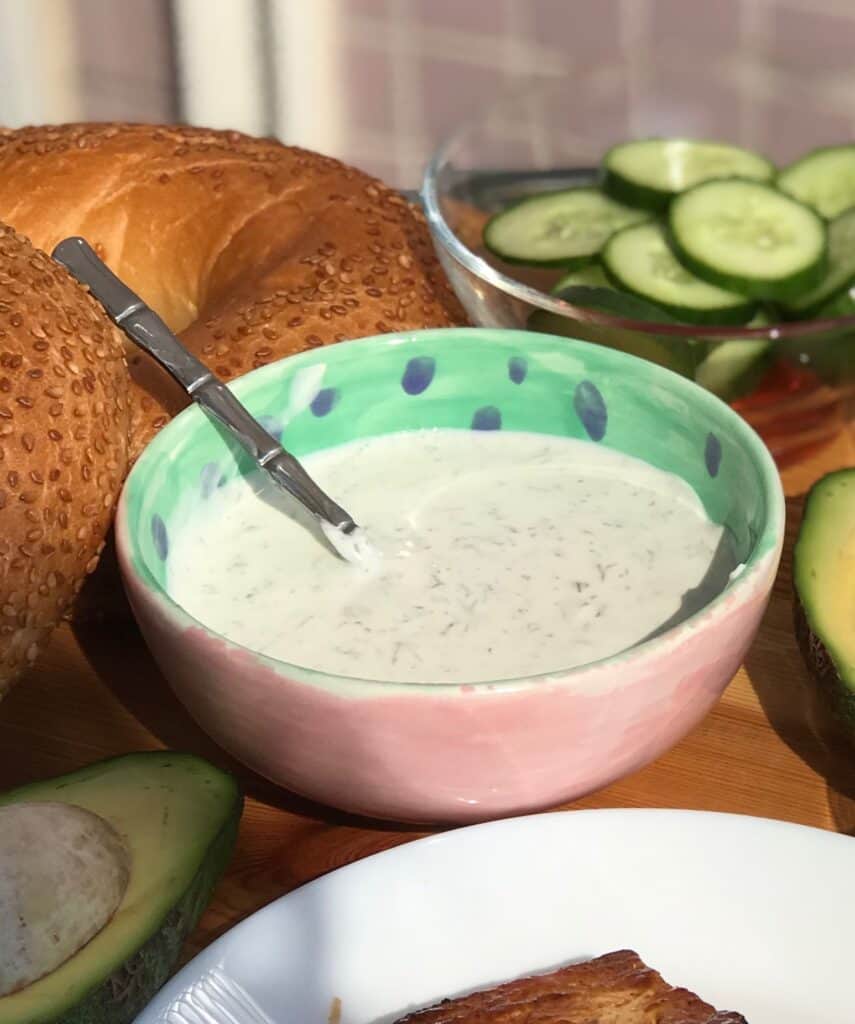 This easy vegan dill sauce comes together in minutes. Creamy and delicious, it will be a crowd pleaser.
You can also customize the consistency to make it the perfect veggie dip (or vegan french fry dip) for a party, or thinner as a addictive sauce for sandwiches, burgers and more. You could even double the batch and use it as a delicious creamy vegan dill salad dressing.
Throw it together and enjoy, or let the flavors combine for a little in the fridge for an even more amazing result!
This recipe is vegan, vegetarian, gluten free, nut-free, dairy free, sugar free and egg free.
Ingredients
1/2 Cup Vegan Sour Cream*
2 Tbsp Pickle Juice
1 Tbsp Dried Parsley
Salt
Instructions
Whisk together all your ingredients, adding the vinegar in increments until you achieve the texture you want. If you are going for a vegan dill dip rather then a vegan sauce, you will want to add less vinegar for a thicker consistency.
Add salt to taste.
For best results, let sit for at least 20 minutes or ideally overnight to give the flavors a chance to mix. If you don't have the time, enjoy immediately!
Notes
*I prefer and highly recommend the Tofutti brand
**Use a strong clear vinegar, like regular distilled vinegar. Other options like apple cider don't carry as strong a flavor and aren't as good for this recipe
Recommended Products
As an Amazon Associate and member of other affiliate programs, I earn from qualifying purchases.
Nutrition Information:
Yield:
6
Serving Size:
1.5 Tbsp
Amount Per Serving:
Calories:

49
Total Fat:

4g
Saturated Fat:

3g
Trans Fat:

0g
Unsaturated Fat:

0g
Cholesterol:

0mg
Sodium:

265mg
Carbohydrates:

3g
Fiber:

0g
Sugar:

2g
Protein:

1g
Don't Forget to Pin This Post For Later!
You May Also Like:
Soy Silan (Date Syrup) Salad Dressing
Vegan Shwarma with Tzatziki Sauce