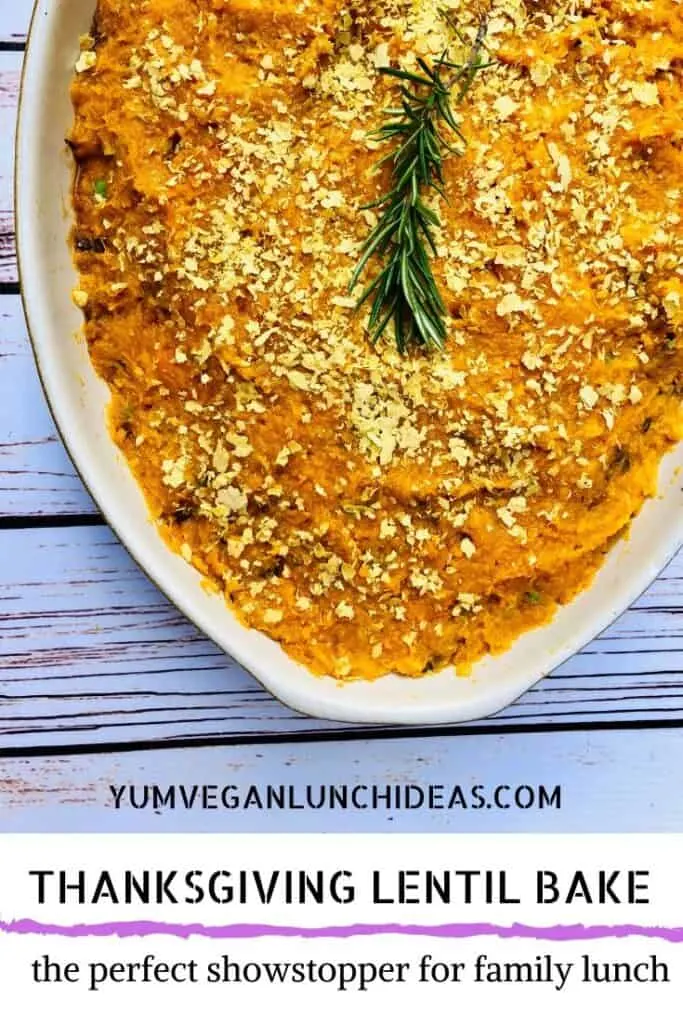 This lentil and mushroom bake is utterly delicious and packed with flavour. It is a total comfort dish and a real contender for your weekly staple meal plan.
Looking for a hearty, delicious center piece to share with loved ones? Look no further than this warming, tasty lentil and mushroom bake pie.
Whether its for a family gathering, Christmas or thanksgiving lunch, or you are looking for vegan fall dinner recipes – it is a real showstopper that your guests and kids will love.
We are lovers of hearty meals with all things beans. Make sure to check out this white bean instant pot recipe too.
With creamy sweet potato mash on top and a delicious, rich lentil and mushroom filling. This would make a great centre piece for thanksgiving lunch of even as part of a buffet. Your vegan and omni loved ones alike will not be able to turn this down.
Having a family feast or vegan thanksgiving doesn't have to mean missing out on filling, delicious foods. This lentil shepherd's pie recipe is perfect for a hearty lunch with all the trimmings.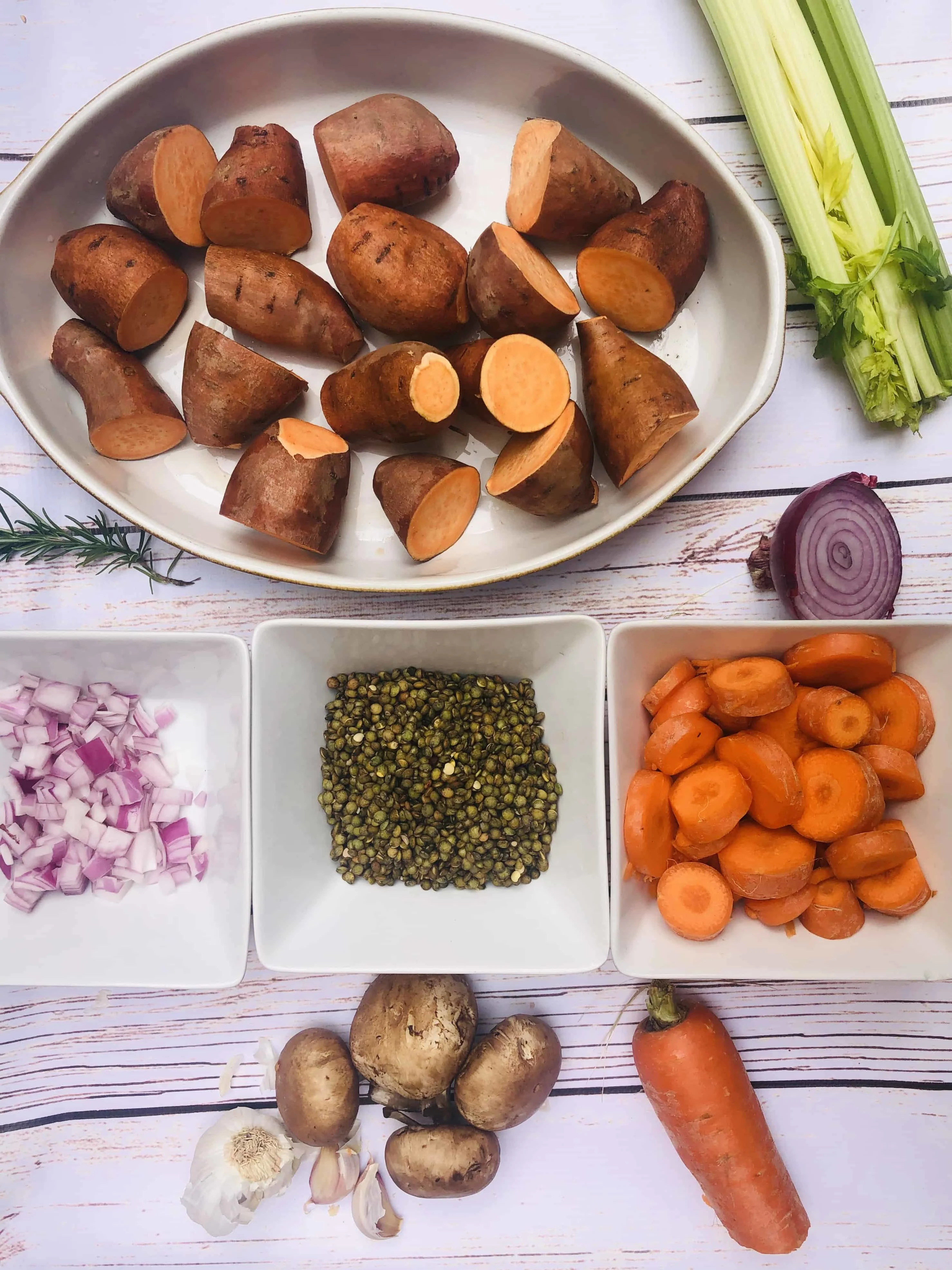 Lentil Bake with Mushroom Filling
This lentil and mushroom filling is rich and delicious. The green lentils make the perfect absorbent sponge for the tasty flavours.
They also pack a punch with iron and protein to keep you full and nourished.
Mushrooms compliment the base perfectly with the classic "umami" flavour, alongside the miso and tamari.
Mushrooms are known to give a "meaty" type texture. You could totally mix it up with a variety of chopped mushrooms, from oyster mushrooms to button mushrooms.
I find mushrooms the perfect addition to this vegan lentil pie. Adding vegetables as an extra layer is totally personal preference.
I always add a layer of carrots to my vegan shepherd's pie and find it a great way to use up any frozen vegetables. Here I have added petit post and broad beans for extra iron and protein.
We recommend these pantry essential Organic Green Lentils
, which make this dish super easy as no pre soaking of dry lentils is require.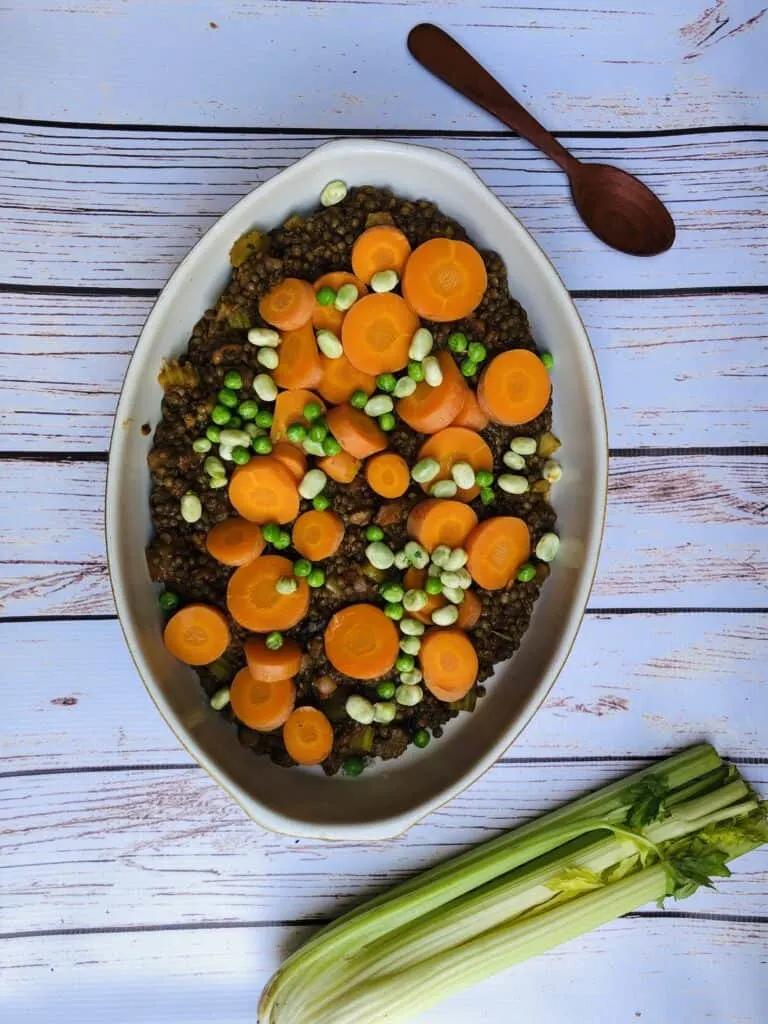 This really is delicious and wholesome meal, similar to this tasty Vegan Italian White Bean Stew.
Creamy Sweet Potato Topping
Would it be thanksgiving without a sweet potato dish? I don't think so. The light and creamy sweet potato pie topping compliments the rich, savoury filling perfectly.
The sweet potatoes are easily roasted in the oven whilst you commence making the vegan pie filling.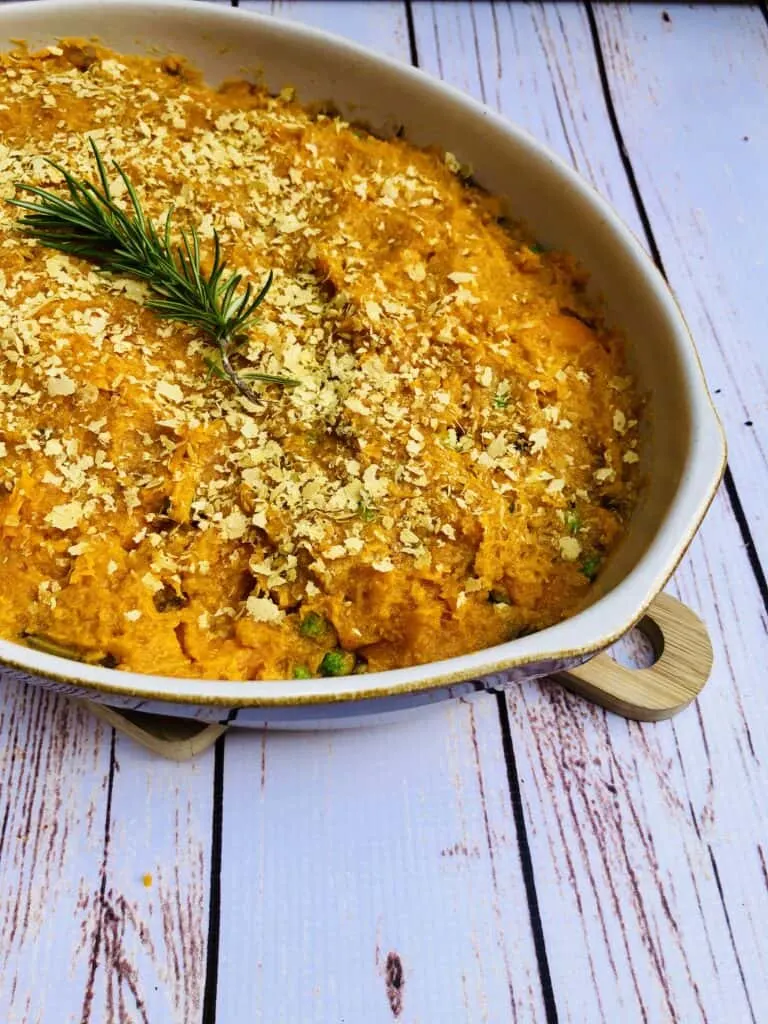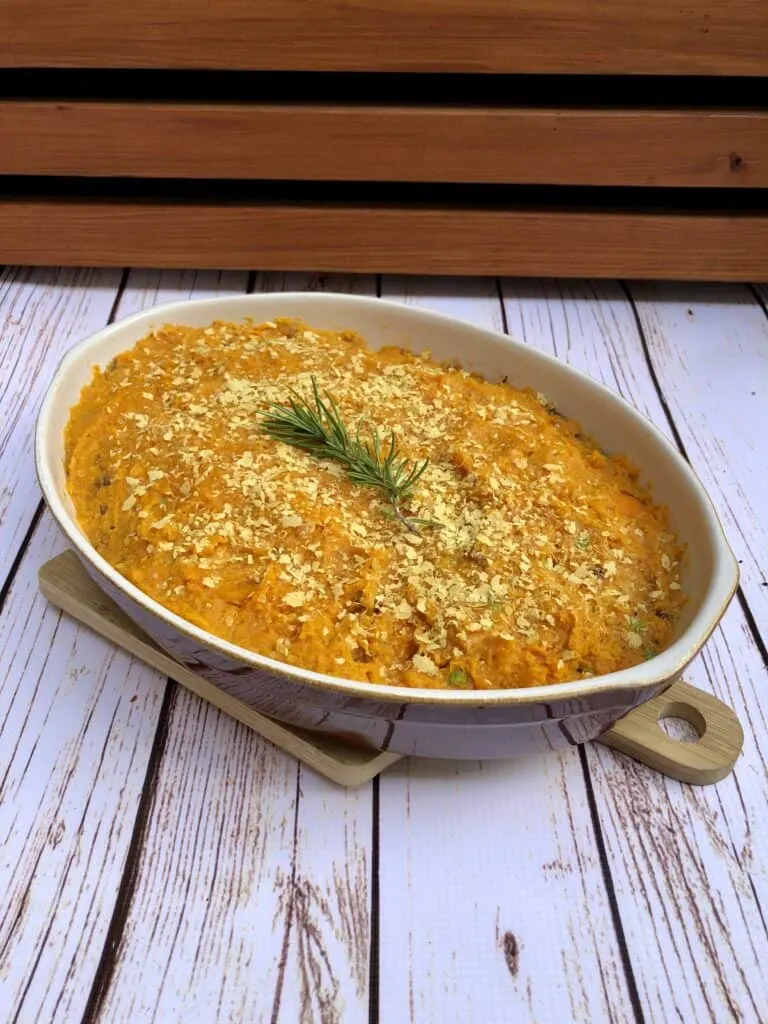 Desserts and Side Dishes
Thinking of another great dish that can be served for dessert following this vegan shepherds pie?
Check out this delicious vegan French toast casserole. This is another great idea as brunch if you are having guests stay for Thanksgiving weekend!
If you are looking for a great festive side dish, check out this spinach salad!
This is also energy saving as the oven will have already been heated with the vegan shepherd's pie.
Yield: 6 Portions
Thanksgiving Lentil Bake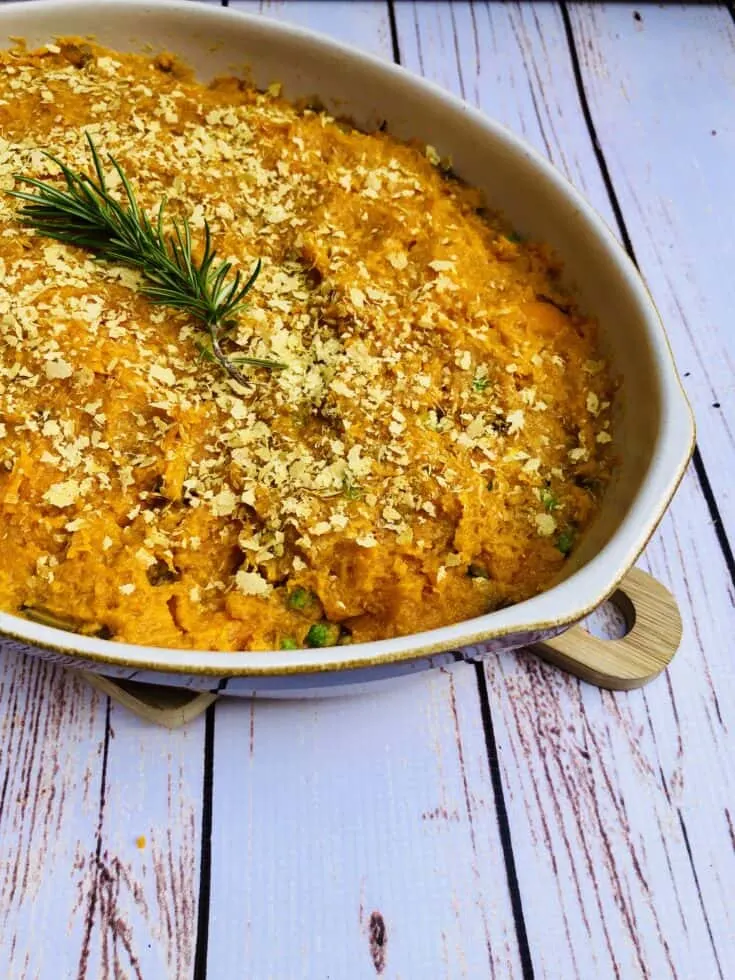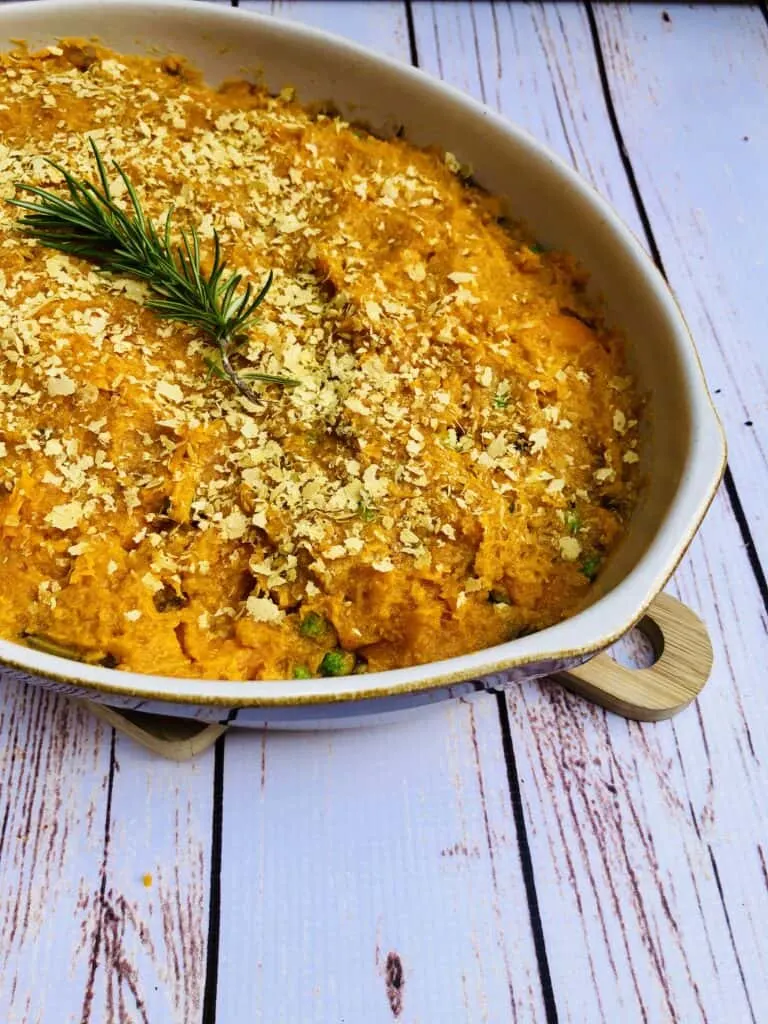 This vegan thanksgiving lentil nake is the perfect plant based main. It is rich, savoury, delicous and creamy all in one. The deep flavours of the lentil mushroom filling complements the creamy, sweet potato mash. A real winner for vegan thanksgiving lunch.
Cook Time
1 hour
20 minutes
Additional Time
10 minutes
Total Time
2 hours
30 minutes
Ingredients
4 large sweet potatoes
400g green lentils (precooked)
250g chestnut mushrooms
3 cloves of garlic
2 celery sticks
1 large sprig of rosemary
2 tbsp of dried mixed herbs
1 red onion
1 cup of frozen veg eg peas
3 carrots
3 tablespoons passata
1 tsp miso paste
1 tsp tamari
1 tsp balsamic glaze
20mls water (approx)
Sprinkle of nooch
1 tsp vegan butter
Instructions
Preheat oven to 180c
Wash and roughly chop sweet potatoes. Place in an oven proof dish and coat in oil, salt and pepper.
Place in oven and roast for approx. 40 minutes until or cooked through
While the potatoes are cooking, commence with the filling. Saute the red onion and garlic. Add the chopped celery and chopped mushrooms and stir through passata.
Cook for around 2 minutes before adding the green lentils, miso paste, balasamic glaze, tamari and dried herbs. Add the fresh, chopped rosemary. Add a little water to ensure it's not sticking to the pan,.
Allow this to simmer for around 30 minutes, stirring throughout to ensure it is not sticking. If using uncooked lentils you will need to adjust the time and volume of liquid accordingly.
Remove sweet potatoes from oven and once not too hot, scoop into a bowl and mash with vegan butter.
Start to layer your lentil bake pie! Add the lentil layer to an ovenproof dish, top with chosen vegetables as your next layer.
Spread the sweet potato mash on top. Pop in the ovebn and cook for around 40 minutes.
Once removed, allow around ten minutes for it to cool slight before serving. Garnish with nutritional yeast and a fresh sprig of rosemary if desired.
Notes
This lentil pie stores really well in the refrigerator for 2-3 days, would also freeze well. Defrost thoroughly before reheating in the microwave or oven.
Nutrition Information:
Yield:
6
Serving Size:
1
Amount Per Serving:
Calories:

257
Total Fat:

2g
Saturated Fat:

1g
Trans Fat:

0g
Unsaturated Fat:

1g
Cholesterol:

2mg
Sodium:

338mg
Carbohydrates:

52g
Fiber:

13g
Sugar:

14g
Protein:

12g
This is an automated nutritional calculation. Please do not rely on this for exact nutritional needs or requirements.
Did you enjoy this? You may also like This Ultimate Vegan Shopping List