This vegan blueberry poppy seed dressing is refreshing, creamy, zingy and delicious. This vibrant blueberry dressing makes for a tasty change and is loaded with antioxidants. Drizzle this over your favourite salad, we love it with fresh baby spinach leaves, walnuts and a sprinkle of lemon zest – so good!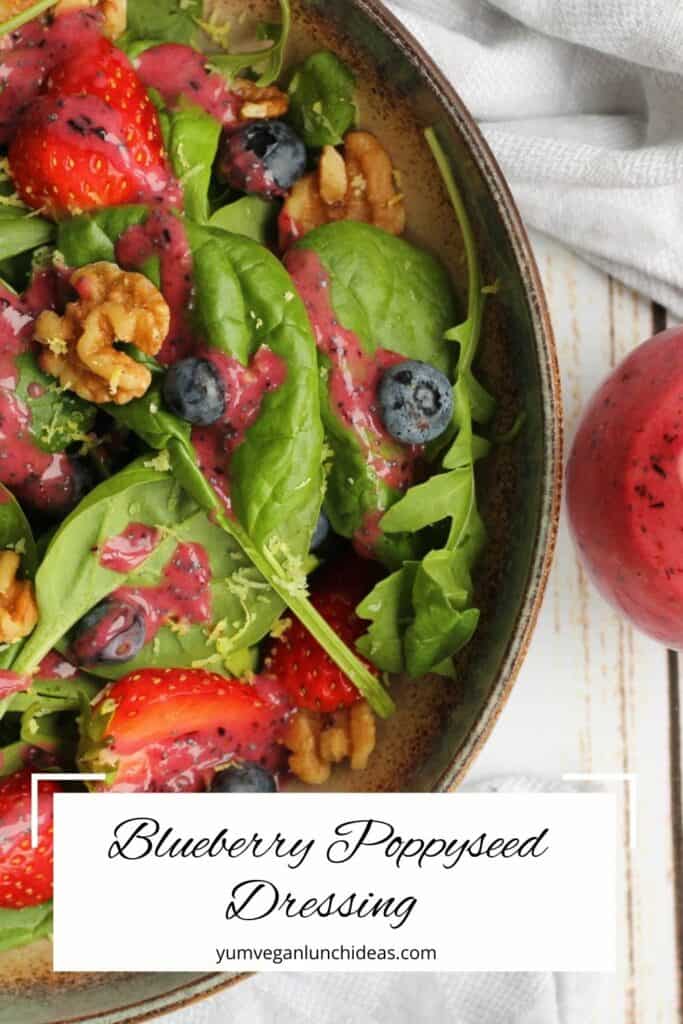 Fresh Simple Ingredients
This beautiful vegan blueberry poppyseed dressing recipe is easy to put together and cheaper than buying a shop bought ready made version. Most of the ingredients are pantry staples so hopefully you wont need to fork out for extra ingredients. I love a salad dressing I can whip together with kitchen staples!
Blueberries
Olive Oil
Lemon
Poppy Seeds
Dijon Mustard
Red Wine Vinegar
Maple Syrup
I simply adore this bright and vibrant poppyseed blueberry dressing, it brings the taste and aesthetics of my salad to another level. It also brings with it some awesome antioxidants. Simply add all of the fresh ingredients together, blend and serve.
I have tried berries in a salad before, however as soon as I tasted berries in a dressing, I was hooked. It dresses a spinach salad in particular beautifully.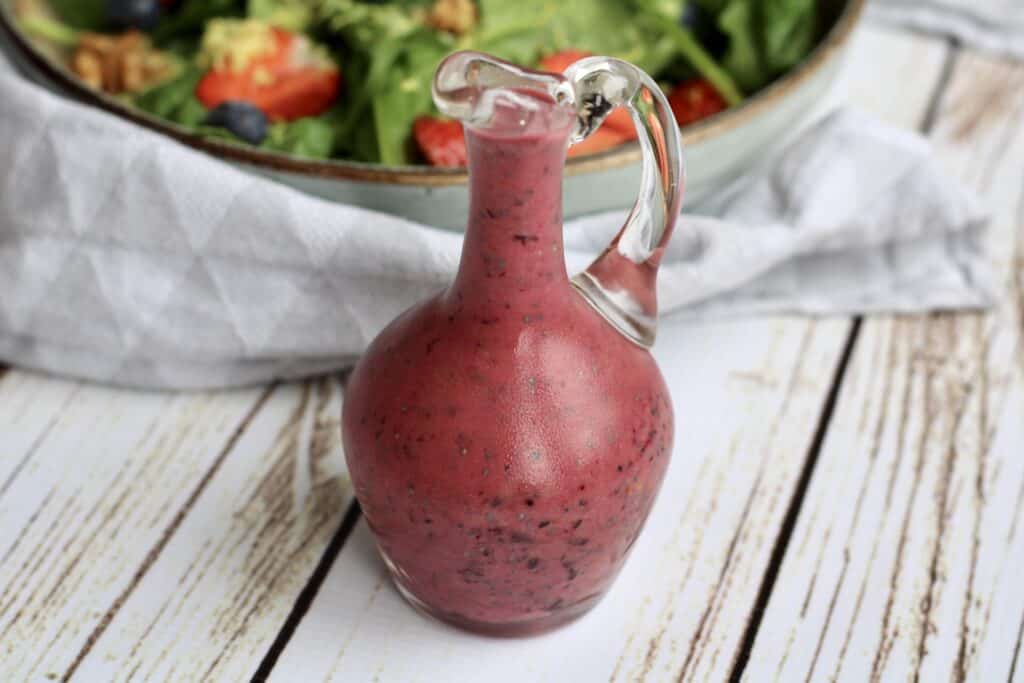 Blueberries
Blueberries are the star of the show here, giving this dressing vibrancy and taste. I simply love watching the colour transform to vibrant purple during the blending procedure.
Using fresh blueberries is ideal, however if you only have frozen blueberries, it could certainly still work, just give them some time to defrost so the dressing does not come out with smoothie consistency.
Poppy Seeds
I simply adore poppy seeds, they bring a delicious nutty flavour and those little seeds really do pack a punch. I had some poppy seeds leftover from this tasty Vegan Poppy Seed Dressing made previously and I just had to experiment with them again.
You can buy poppyseeds here!
Dijon Mustard
Dijon mustard gives a beautiful taste to this recipe, If you like a little a bit of a kick to your dressing, you could use English mustard instead. English mustard is much spicier so you can play around to your desired palette.
Mustard also acts as an emulsifier for the red wine vinegar and olive oil, blending them beautifully together.
PIN THIS POPPY SEED BLUEBERRY DRESSING!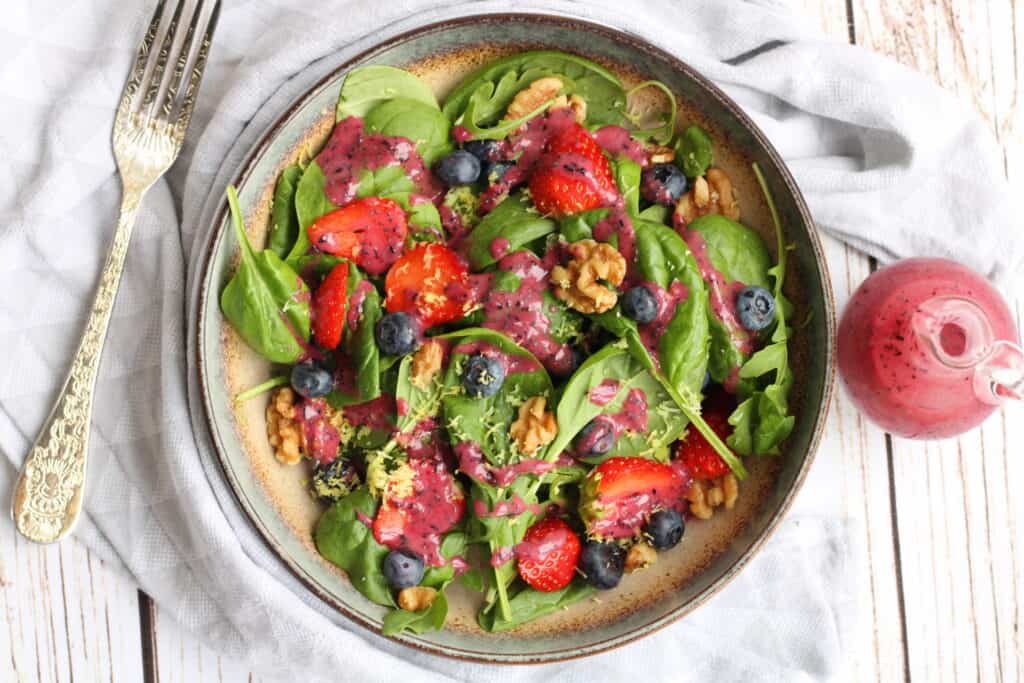 Olive Oil
Ordinarily, I tend to veer towards a high quality extra virgin olive oil for most drizzles and dips. Since living in Andalucia in Southern Spain, I can really appreciate a high quality "liquid gold" olive oil for my salad dressings.
However from experience, I have made this once with extra virgin olive oil and I found the taste quite over powering. For this reason, I would recommend a light olive oil instead.
Lemon
Lemon brings a beautiful zing and freshness to this dressing, it compliments to blueberries and poppy seeds beautifully. The lemon poppyseed combination is definitely a flavour I enjoy, especially when it is lemon zest which just makes this so extra!
Red Wine Vinegar
Red wine vinegar tastes great in salad dressings, and apparently can improve your heart health. It is packed with antioxidants. If you only have something like white wine vinegar, then that is fine, it wont drastically change the taste of the vinaigrette.
Maple Syrup
This can be optional, however it certainly gives the dressing an extra sweet lift.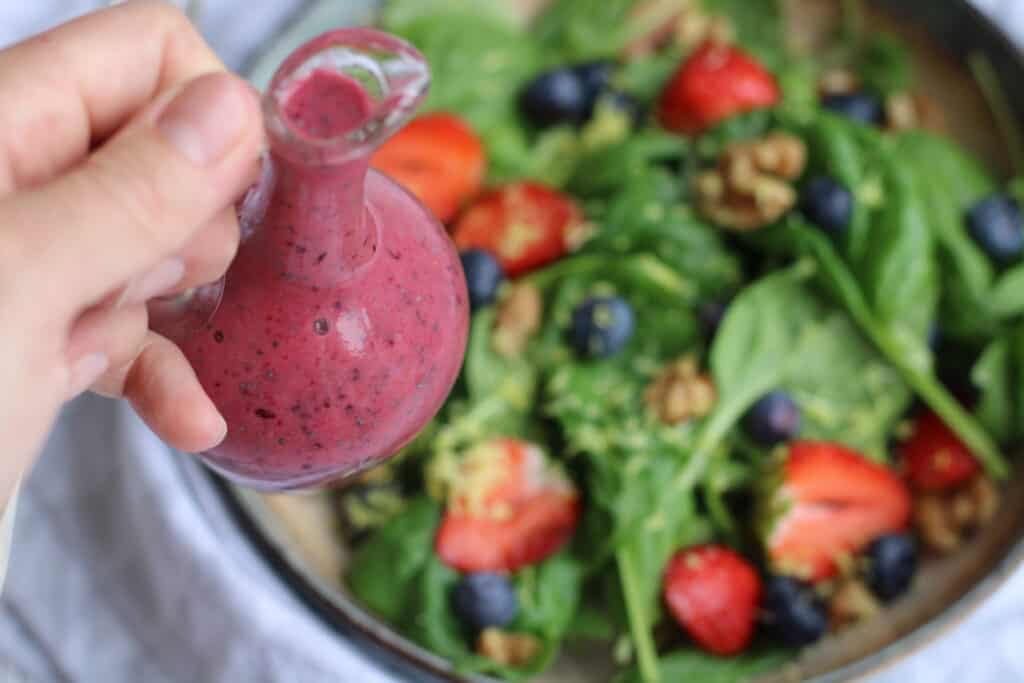 How Long Will This Dressing Last?
Due to this blueberry vinaigrette containing fresh berries, it may spoil much sooner than your usual oil/vinegar combinations. This blueberry poppyseed dressing would be best used on the day that it is made.
Spinach Berry Salad with Sweet Poppy Seed Dressing
I used this gorgeous vegan berry salad dressing on a very simple berry and spinach salad.
I used fresh spinach leaves, fresh blueberries and strawberries, walnuts for extra bite and a splash of this dressing. It would go beautifully with some vegan crumbled feta cheese also!
Yield: 3-4 portions
Blueberry Poppy Seed Dressing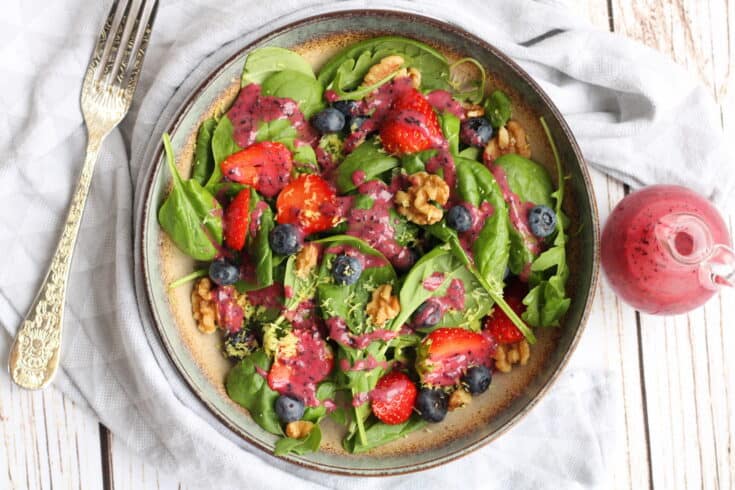 This vegan blueberry poppy seed dressing is absolutely delightful. Blended with a smooth, cool vegan yogurt, sweet blueberries, nutty poppy seeds - it is a must try vegan condiment. It
Ingredients
1/4 cup light olive oil
1/2 cup blueberries (fresh or frozen - thawed)
1 tbsp poppy seeds
1 tsp dijon mustard
1 tbsp maple syrup
1 tbsp lemon juice + 1 tsp zest
1 tbsp red wine vinegar
Salt + Pepper
Instructions
Place all ingredients into a blender and blend until smooth or until your desired consistency
Place into dressing jug and use to dress your beautiful salad - enjoy!
Notes
1) If you are using frozen blueberries it would be best for consistency to thaw them first, otherwise you will have a weird smoothie like dressing
2) You can sub out some olive oil for a plain yoghurt if you prefer lower fat recipe
3) Using plain light olive oil is key for taste, I have made this with an extra virgin olive oil (which is usually my favourite!) and it tasted a bit too bitter.
4) This recipe is best used on the day, I don't recommend storing for future use
Recommended Products
As an Amazon Associate and member of other affiliate programs, I earn from qualifying purchases.
Nutrition Information:
Yield:
4
Serving Size:
1
Amount Per Serving:
Calories:

158
Total Fat:

15g
Saturated Fat:

2g
Trans Fat:

0g
Unsaturated Fat:

12g
Cholesterol:

0mg
Sodium:

181mg
Carbohydrates:

7g
Fiber:

1g
Sugar:

5g
Protein:

1g
this is an estimate
You may also love
Lemon and Poppyseed Dressing Recipe
Disclaimer: This post may contain affiliate links. By using them it will not cost you any extra. We will get a teeny commission and are so grateful for the support of our readers. These little commissions help us continue to write lots of yum recipes.