With animal agriculture becoming an increasing issue and more and more people looking for meat alternatives, tofu is as popular as ever! However it is often not knowing how to cook tofu that puts people off.
Tofu is a relatively new ingredient for many people but it's so versatile and an ideal meat and dairy replacement.
As a group of vegan friends, we love sharing anything that will make it easier to eat non-meat products and go vegan.
That's why we've come up with this incredibly informational guide to get you on your way with cooking tofu.
I bet when you think tofu, you think of it in chunks, but it can also be turned into creamy desserts, cheeses, dips and so much more. It all depends on what type of tofu you use and let me tell you there is so many to discover.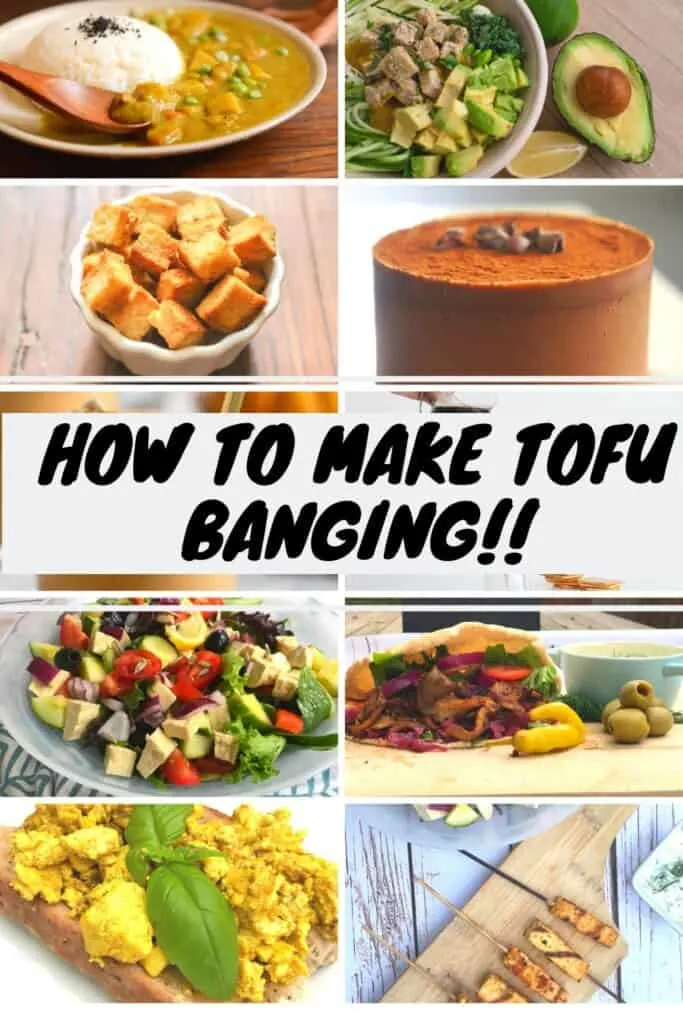 Tofu is also known as bean curd and is thought to originate in China some 200 years ago!
As you can imagine, tofu is an ingredient that features heavily in Asian cooking, particularly in parts where Buddhism exists.
Tofu is particularly important to the Buddhists as it is a source of protein for them. You will see it in Vietnamese, Chinese, as well as Japanese food. In recent years it's featured heavily in Western dishes as a meat substitute.
What is Tofu?
If you are just learning about tofu now, let's start with the basics, what exactly is tofu? Tofu is essentially coagulated soya milk.
Soy beans are a legume produced in East Asia. They are an incredibly versatile bean that can turn into everything from milk, to soya sauce.
In the case of tofu, the beans are first turned into soy milk. The tofu comes from the curd of the milk. It is condensed and pressed into blocks to create tofu.
As you can see there are quite a few steps in making tofu so it is considered a processed ingredient.
Whilst vegans embrace tofu, those on a plant-based diet generally reject tofu as it's a processed product.
Obviously I'm in the vegan camp over here and love experimenting and trying new things with tofu!
Different Types Of Tofu
The first thing I realised when I became a vegan and started buying tofu is you really need to be familiar with the variety of tofu. There are so many different types, it's unbelievable.
In my opinion, it's best to get to know a couple of types. For example silken tofu is great for desserts and scramble, whereas firmer tofu is much better as a meat replacement.
These two are a good starting point, play with them and experiment before buying others. Here is an overview of different types of tofu!
Firm Tofu
Firm tofu is probably one of the most widely available types in the supermarket. It's not difficult to come by. It's also one of the more versatile tofu's and is generally in water depending on packaging.
It can be used in cubes for curry, stir fry and so on. In general, you'll find firm tofu can work in just about anything.
Medium & Soft Tofu
Medium and soft tofu is generally a lot more delicate than firm tofu and will be used for different recipes. As you can imagine with it being medium / soft it won't hold it's shape in cubes like the firm option.
In general medium and soft tofu does come with water so may need some straining but may not hold up under the pressure of a presser like firm tofu would.
Some uses for medium and soft tofu could be miso or other soup type recipes.
Silken Tofu
I LOVE silken tofu, it's generally quite soft and silk in texture but just to confuse things you can get firm silken tofu as well. It works amazingly for tofu scramble recipes.
Silken tofu is also great for recipes such as chocolate mouses and other desserts. Silken tofu can also be blended to make sauces and dips. The texture is perfect for these kind of recipes.
Tofu Skins
Tofu skins are essentially the skin that forms on the top of the soya milk. It's not that easy to come by fresh tofu skins but you can find dried ones on Amazon.
They are quite often used to make spring rolls, dim sum and can be used as a pastry. As you can see from this, tofu really has to be one of the most versatile produce EVER!
Fried Tofu
If you've ever had vegan sushi before you may have come across fried tofu. It's generally spongy and soaks up marinade really well. However it often is flavoured before you buy it.
Seasoned Tofu
Seasoned tofu is one of the most straight forward options in terms of preparation as most of the work is done for you.
Common flavours include tomato and basil as well as Tamari. It can be cooked in a variety of ways, added to stir fry, casseroles or eaten cold without cooking. Likewise it can be added to salads, sandwiches and buddha bowls.
Tofu Nutritional Information
Tofu is an excellent source of protein and is generally low in calories. It contains 9 amino acids and also has magnesium, calcium, copper zinc and vitamin B1.
Overall, tofu is a great addition to a vegan diet, especially as a meat supplement. It is considered to assist with lowering cholesterol levels.
Although tofu is considered to be healthy there has been some controversy around it. Some researchers say it can increase the risk of breast cancer and can also effect fertility.
It appears these studies look at excessive soy intake and so it's important to eat everything in moderation and consider other soy based produce you may be eating.
It can be easy to eat a lot of soy products, keep track of what you're eating.
Another thing to consider is genetically modified tofu. Choose an organic option if you are concerned about this, as I mentioned as long as you are eating a varied diet tofu should not be an issue for you.
How to Prepare Tofu
In general tofu is quite water dense. The main thing is it needs to be squeezed and released in some cases. Some people press tofu under a towel to soak the access water.
However there are special tofu tools out there to assist you in nailing the preparation stage. I will come onto that in a moment. The main thing with tofu is it is incredibly tasteless on its own.
It's therefore really important to ensure it soaks up all the flavours. I find marinating tofu a really good way of ensuring it soaks up the flavours.
This is best done in the fridge overnight. When you get to the bottom of this article you'll find lots of recipes that suggest marinating overnight.
Tofu Utensils
I love my tofu presser, it makes it so much easier and is a handy kitchen utensil if you eat a lot of tofu.
It makes the process mess free, not to mention it prepares the tofu really well for cooking.
Check out the best tofu presser here.
If you are on the market for a tofu maker as well as a presser, there are products out there that do both! There are a tonne of starter kits on Amazon that provide all the tools you need.
Check out this tofu maker here.
If you don't want to buy a fancy tool to squeeze excess fluid out of your tofu, you can wrap it in kitchen paper and add a book on top or something heavy to squeeze it out.
This method does work but obviously is not as practical as getting a presser. If you are a rookie tofu chef, try it out doing it yourself before investing in a tool.
You can do just about anything with tofu in terms of preparing tofu!
Blend it into a chocolate mousse.
Scramble it into a vegan egg scramble.
Pan fry it with a marinade for the perfect stir fry.
Boil it in a curry.
BBQ it on skewers with marinade.
Mix it into other ingredients such as seitan to get the perfect consistency for mock meats.
Bake it to get perfect crispy tofu
Air fry it – check out our air fryer recipes here.
As you can see, the options are endless, keep reading on for the recipes!
Does Tofu Freeze?
The good news is tofu is freezable! It doesn't matter if it's still in the packet or already prepared. In fact freezing tofu can help with improving its texture.
By straining it before it's frozen can improve the uptake marinades and other flavours when it's time to cook. if you plan to strain it before, use a presser for best results and store in a zip locked bag in the freezer. You will need to thaw it before you cook it.
Even if you have made something with your tofu, for example a curry, it will still freeze nicely. Again, thaw before cooking!
Incredible Tofu Recipe Ideas
How To Cook Tofu Recipes
In this artilce we take you trhough all the types of tofu, selecting the right type of tofu for your dish, not to mention a tonne of free tofu recipes for you to try. This is the ultimate guide on how to cook tofu.
Frequently Asked Questions About How To Cook Tofu
Can I cook Tofu in an air fryer? There are some incredible tofu recipes out there in the air fryer and it is definitely a good kitchen gadget to have as a vegan. Tofu comes out really well from the air fryer. Check out our favourite air fryer here.
Can you cook tofu in the oven? Yes in some recipes, tofu is baked, wether its in sliced with a marinade or being made crispy round the edges. There are lots of baked tofu recipes out there.
Do you have to cook tofu? Not all tofus are cooked. For example our egg salad sandwich recipe.
Can you cook tofu without pressing it? Yes some tofu, for example silken tofu benefit from some of the water content. If I am making vegan scrambled egg, I generally strain excess water from the carton and leave the rest of the water in the tofu. it makes. a better consistency for scramble. However in general, for most other dishes tofu needs to be pressed.
Can you cook tofu from frozen? Yes, see section above for details.
Disclaimer: This post contains affiliate links, by using them, it will not cost you any extra, we will get small amount of commission. This allows us to continue writing vegan recipes. Thank you in advance for your support.