This Vegan Shawarma recipe is all your Middle Eastern dreams packed into a pita! This recipe is super easy to make and can either be presented really simply in a pita on a platter with a variety of pickles, olives and dips.
It's really up to you how much time you would like to spend presenting it but the beauty is, it can be really simple! In some countries, Shawarma is also referred to as a vegan doner kebab.
Shawarma is typically made with meat, and of course, it's our job as vegan recipe makers to veganise classics! Traditionally, the meat is sliced from a rotisserie and served with tzatziki sauce, pickles and a variety of salad including pickled red cabbage and Israeli salad.
Ordinarily, shawarma is served in a cone shape, wrapped in a warm flat bread, or in some cases, a pita pocket.
Check out this vegan Greek salad recipe, Middle Eastern eggplant sandwich, or our split pea hummus recipe!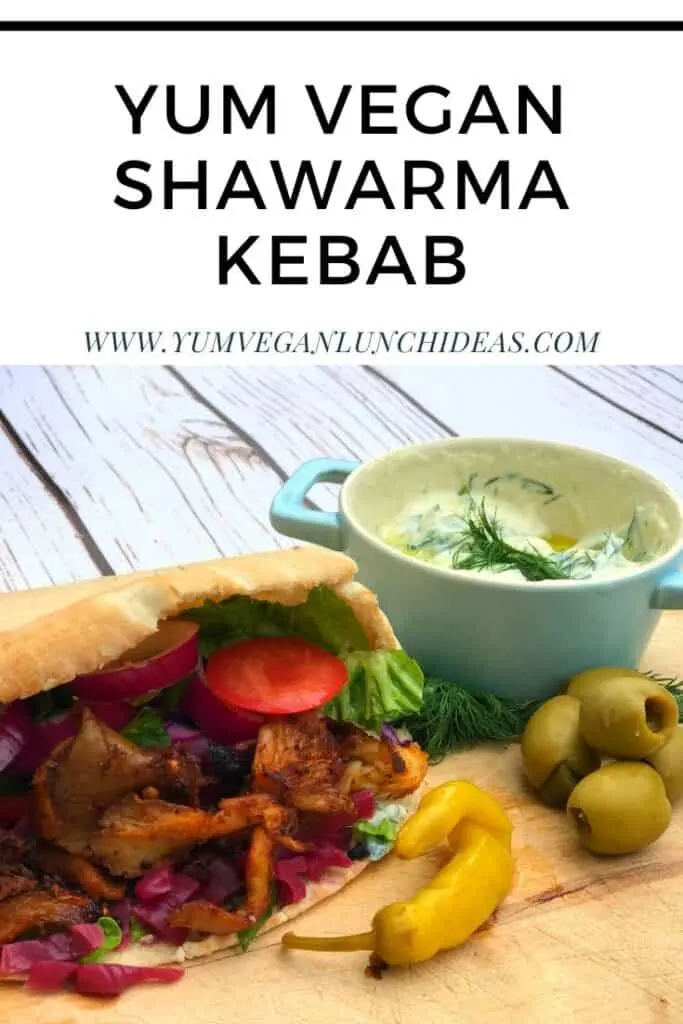 A lot of my dishes are inspired by travelling and I really loved the food in places like Turkey, Israel and Jordan. I have used this inspiration and made my own take on a vegan shawarma recipe.
I couldn't believe how well oyster mushrooms could replicate kebab meat in this vegan doner kebab, or in this vegan shredded chicken!
I am a firm believer in making it taste and look as close as possible. With a non vegan husband, I am forever trying to make dishes that will blow him away and make him realise we don't need meat in our diet. I am finding oyster mushrooms to be one of the best raw ingredients to recreate this dish with vegan kebab meat.
Vegan Doner Kebab Recipe
Spices are everything when it comes to Middle Eastern food and flavours. In this dish I use a tonne of spices and herbs mixed in with the mushrooms to create the ultimate taste.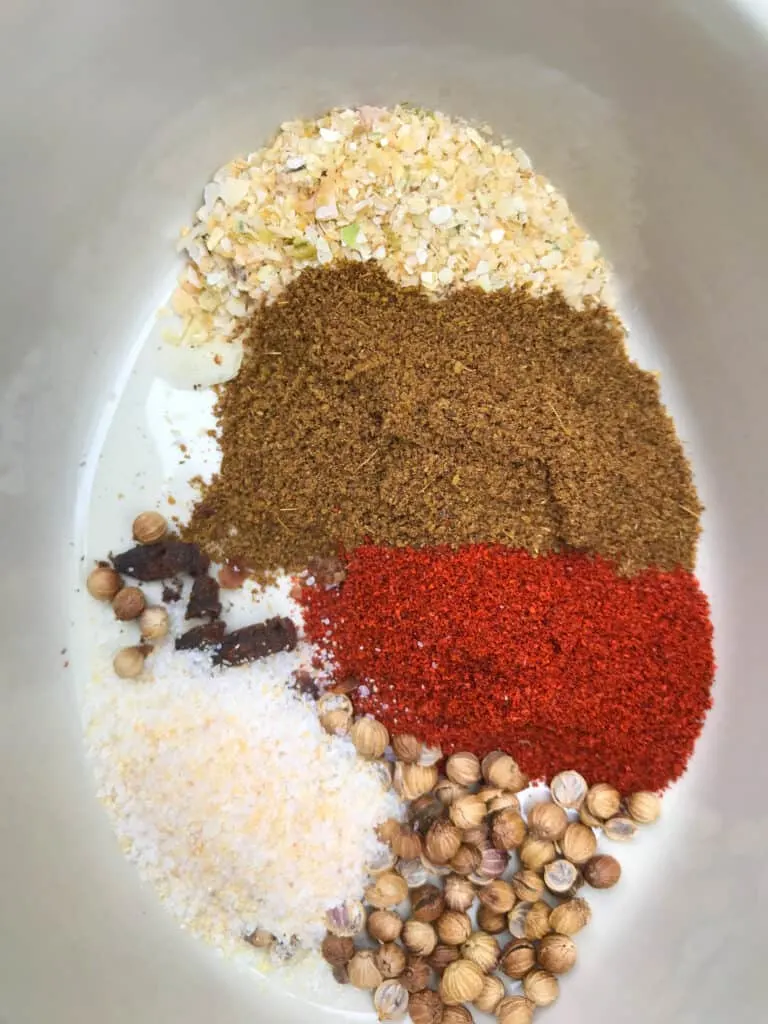 I used smoked paprika, coriander seeds, cloves
, onion granules
, garlic salt and garam masala. I used a pestle and mortar
to grind the cloves and coriander seeds before mixing them all up together.
You can actually store the mix together and use it later for your very own Middle Eastern blend. If you need help figuring out how to use up the spices, check out this spice combinations guide for leftovers.
I sautéed the oyster mushrooms and added all of these spices. You could add a dash of soya sauce if you want a slightly wetter consistency, however, I was quite happy with the mushrooms having a flavour rather than being in a sauce.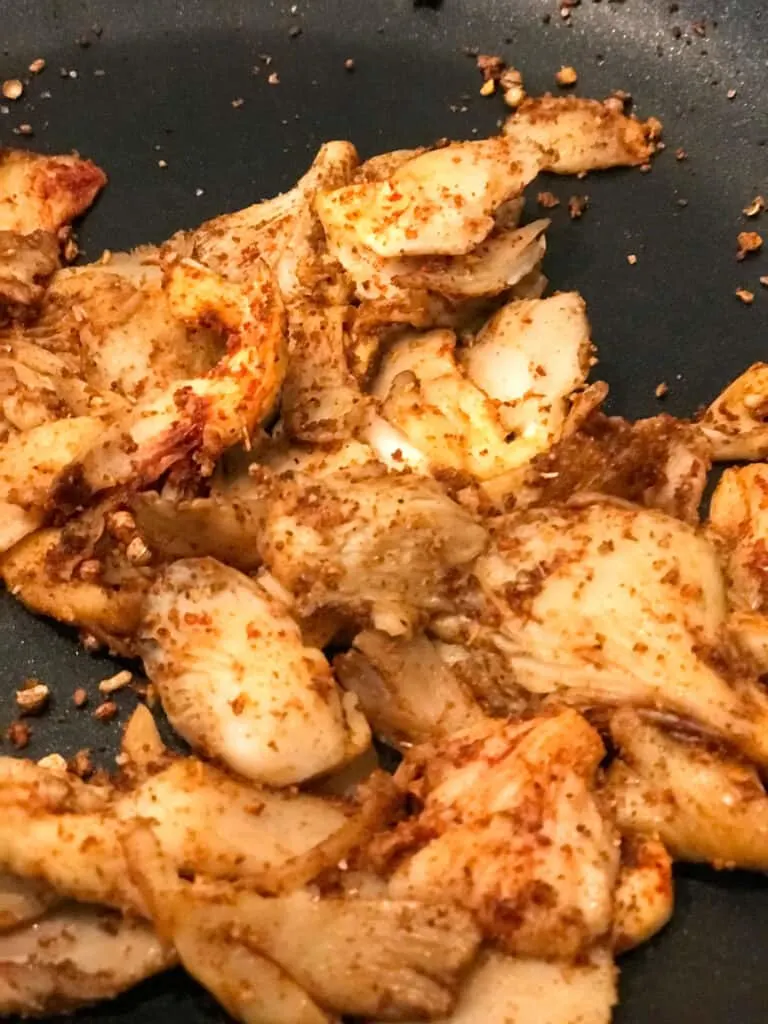 Whilst the mushrooms were cooking, I prepped some salad. Typically iceberg lettuce, raw onion, pickled cabbage and sliced tomatoes are put inside a vegan shawarma kebab.
It's also served with pickled chillis and tzatziki. Tzatziki is surprisingly easy to make, It only takes a few minutes and 5 ingredients. No vegan shawarma kebab is complete without this condiment! Get the full recipe for Tzatziki here.
I used 1 clove of garlic, a handful of dill, a squeeze of lemon and some grated cucumber mixed in a bowl with natural soya yoghurt. It was so good! As well as Tzatziki, I added a teaspoon of chilli inside the pita when it was ready to serve.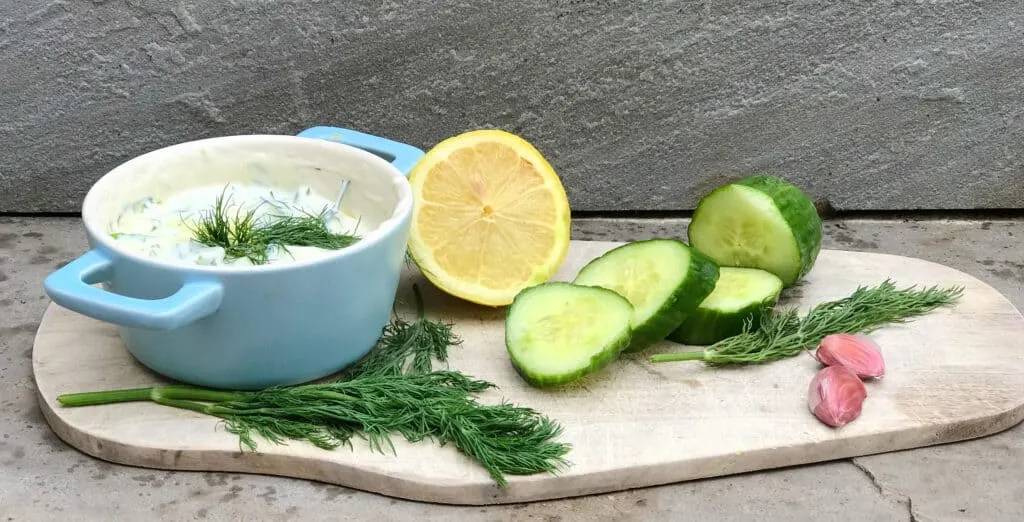 Vegan Pita Pocket Recipes
We had pita on the day I was making this recipe, however as previously mentioned warm flat bread is also fine. Top tip, I always dampen my pita slightly before warming it so it doesn't go too crispy.
First, I started by adding the chilli sauce and layering iceberg, onion, tomatoes and red cabbage. I topped it with the spiced oyster mushrooms giving a true appearance of a typical vegan shawarma kebab.
I served it on a wooden board with a pot of tzatziki, olives and pickled chillis! Hubby and I really enjoyed it!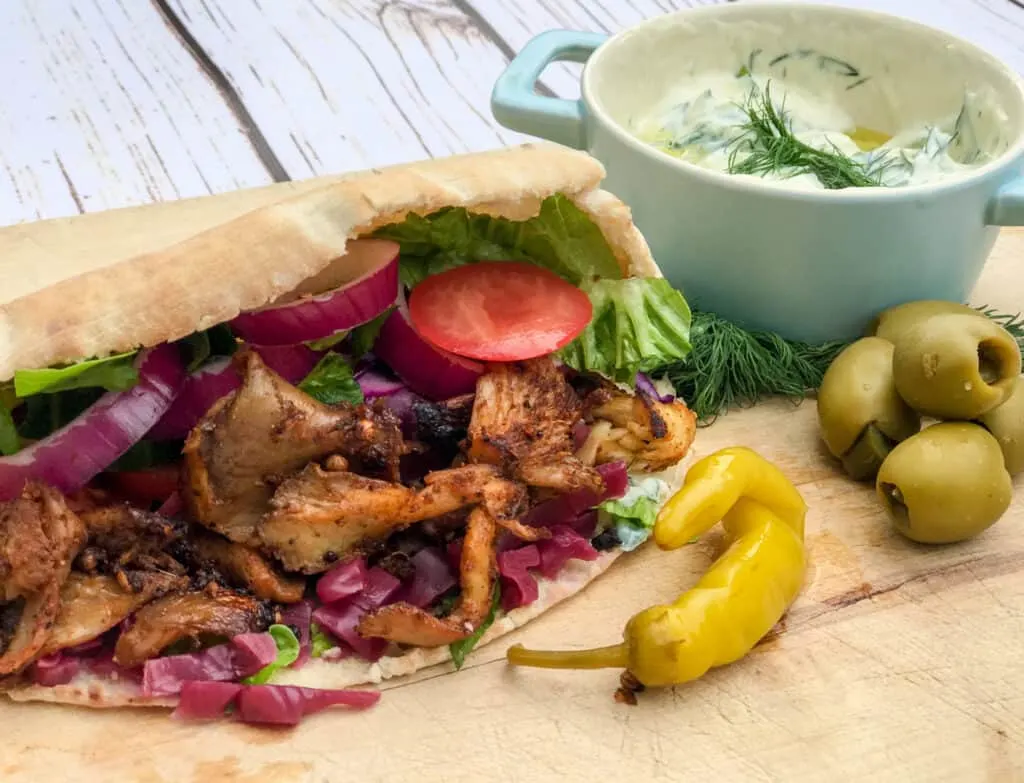 You may also like:
A list of amazing vegan sandwich recipes
Yield: 2 persons
Vegan Shawarma Kebab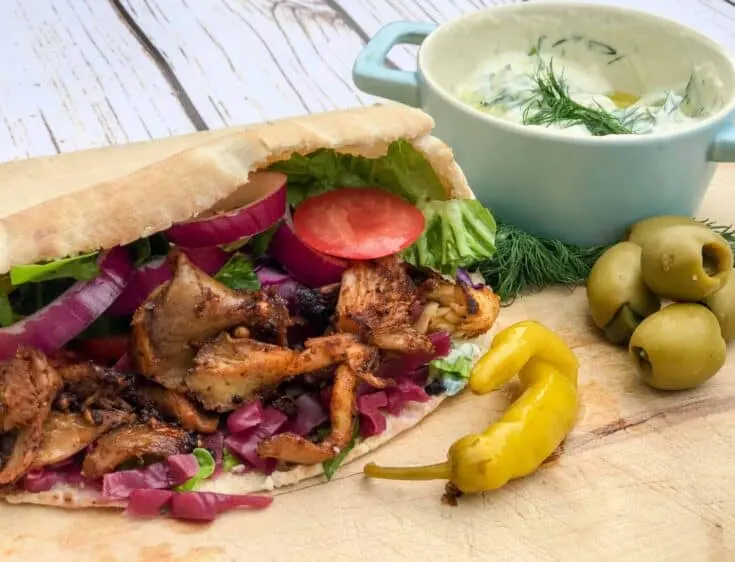 Tantalising middle eastern flavours packed away in this pita pocket. Vegan shawarma is the ultimate pita sandwich!
Ingredients
125g of Oyster Mushrooms
Tsp of smoked paprika
Tsp of onion granules
Tsp of garlic salt
Tsp of garam masal
2 cloves
Tsp of coriander seeds
2 Pitta pockets
1 large tomato
Iceberg lettuce
1 onion
Pickled red cabbage
For the Tzatziki
1 cup of natural soy yoghurt
Half a cucumber
Handful of dill
Half a lemon
1 clove of garlic
Drizzle of olive oil
Optional garnish
Instructions
Start with preparing the salad. Chop thin slices of tomato. onion and shred enough iceberg lettuce to for 2 sandiwches. You can either use fresh red cabbage or pickled red cabbage from a jar depending on your taste preferences. Put the salad to one side in the fridge until you are ready.
Next, prepare the tzatziki yoghurt dip. Crush a clove of garlic, squeeze half a lemon, grate half a cucumber. Add to a bowl with a handful of dill before adding the cup of natural vegan yoghurt. Mix everything together, drizzle with olive oil and put in the fridge until it is time to serve.
Heat a pan with a drizzle of oil. Chop the mushrooms and add to the pan. You don't want to overcook them as we want them to keep a nice texture. Add all of the spices at once and mix them in. Cook until golden brown, turn the heat off whilst you prepare the vegan doner kebab.
Dampen the pita bread and heat. once it is warm and soft, cut it open and pack with the salad, (chill sauce if you want), top with the oyster mushrooms.
Serve with the tzatziki sauce, pickled chillis and olives on the side!
Notes
If you don't have pita bread you can also use flat bread wrapped up into a cone.
Likewise, shitake mushrooms are also a suitable alternative to oyster mushrooms due to their texture and consistency.
Oncr youve grinded all the spices together, you can store it for other dishes. This can be your very own homemade Middle Eastern spice mix for other dishes! Make double if you fancy storing the mix.
Recommended Products
As an Amazon Associate and member of other affiliate programs, I earn from qualifying purchases.
Nutrition Information:
Yield:
2
Serving Size:
1
Amount Per Serving:
Calories:

746
Total Fat:

28g
Saturated Fat:

7g
Trans Fat:

0g
Unsaturated Fat:

14g
Cholesterol:

50mg
Sodium:

2202mg
Carbohydrates:

97g
Fiber:

12g
Sugar:

28g
Protein:

33g