If you haven't yet been introduced to a Mexican torta yet, allow me do to the honors. This Mexican sandwich is the perfect cross between a taco and sandwich and it's basically the best thing ever.
Just like a taco, you can fill your vegan torta with a whole variety of things and customize it to your tastes. What really makes it a torta sandwich is the sauces and condiments. Smeared with refried beans and drenched in salsa, this is one messy, delicious sandwich.
In an authentic Mexican torta sandwich, the filling usually contains some form of meat and often some cheese. Since the most important part is the sauce though, you can easily leave those out and fill your torta bun with beans, avocado, and anything else you can think of.
However, I decided to go all out with this sandwich and fill it with seitan ribs slathered in BBQ sauce. And let me tell you, this vegan BBQ seitan sandwich is EVERYTHING. But actually, it is.
When you are done falling in love with this sandwich, be sure to check out some of our other amazing vegan sandwiches here like our loaded vegan bagel sandwich. If you are looking for more Mexican style recipes, check out this healthy, hearty chili.
Or check out one of our other seitan recipes that you can make with any extras of this seitan – Korean seitan sandwiches.
Vegan Torta Ingredients
Most of these ingredients are easily purchased premade. I do make some of them myself, like the onion rings and refried beans, because it actually only takes a few minutes to DIY it.
Seitan Ribs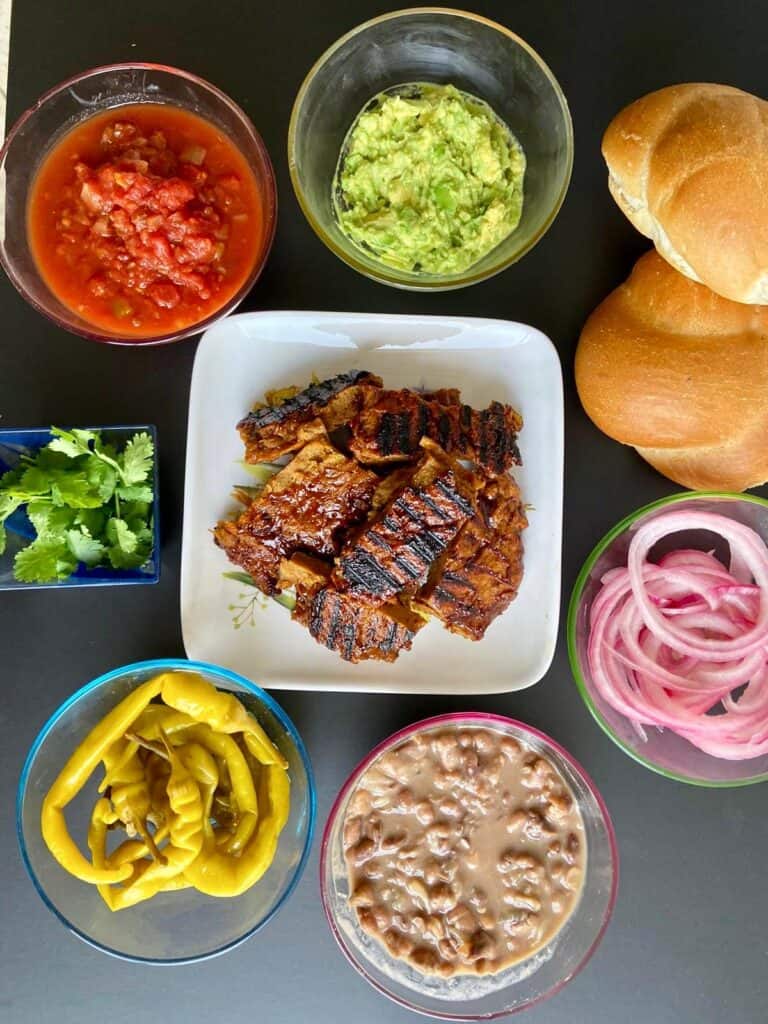 Torta Fillings
How to Make Tortas (Mexican)
Putting together the torta is quite simple. The most involved part is getting your seitan ready, then from there it's just putting your sandwich together.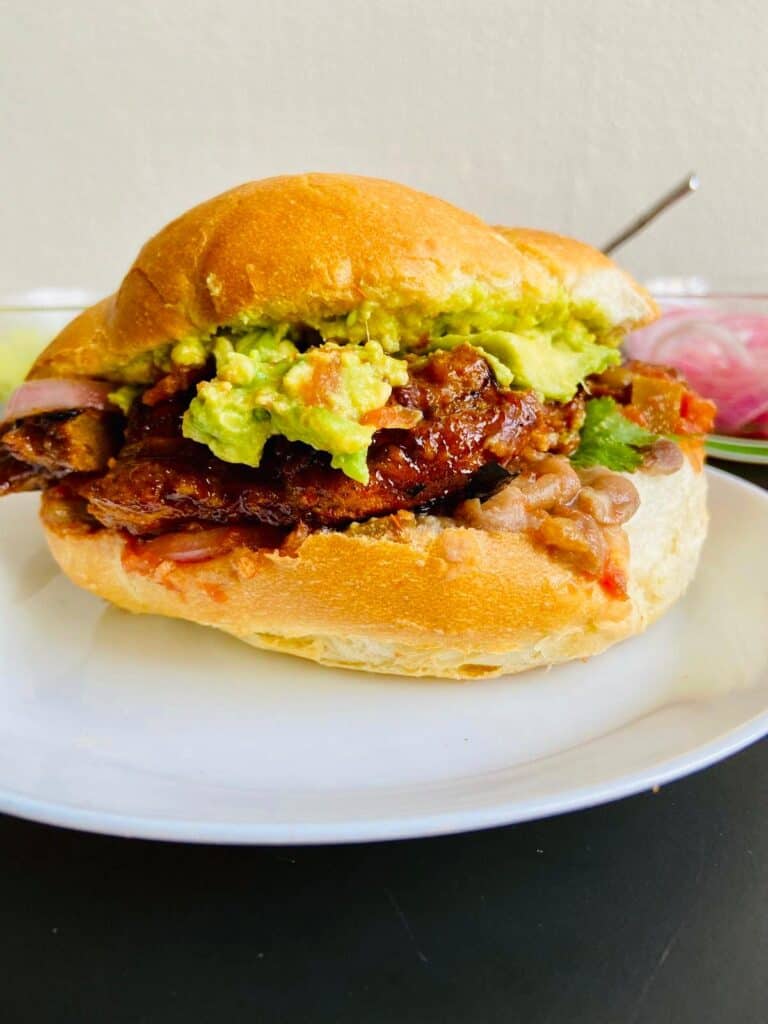 BBQ Seitan Ribs for BBQ Seitan Sandwich
The first step in the process is making the seitan ribs. If you haven't made seitan before, it can seem intimidating, but let me tell you, it's totally worth the extra effort.
I personally don't like the premade blocks you find in the supermarket. I've yet to find a premade one that doesn't have a slightly weird taste or texture. Homemade seitan, however, is so good and fills all my meaty cravings.
It's really not that hard to make it yourself and it's cost efficient. It's similar to baking bread, in that you throw all the ingredients together, knead the dough for a bit and then throw it in the oven.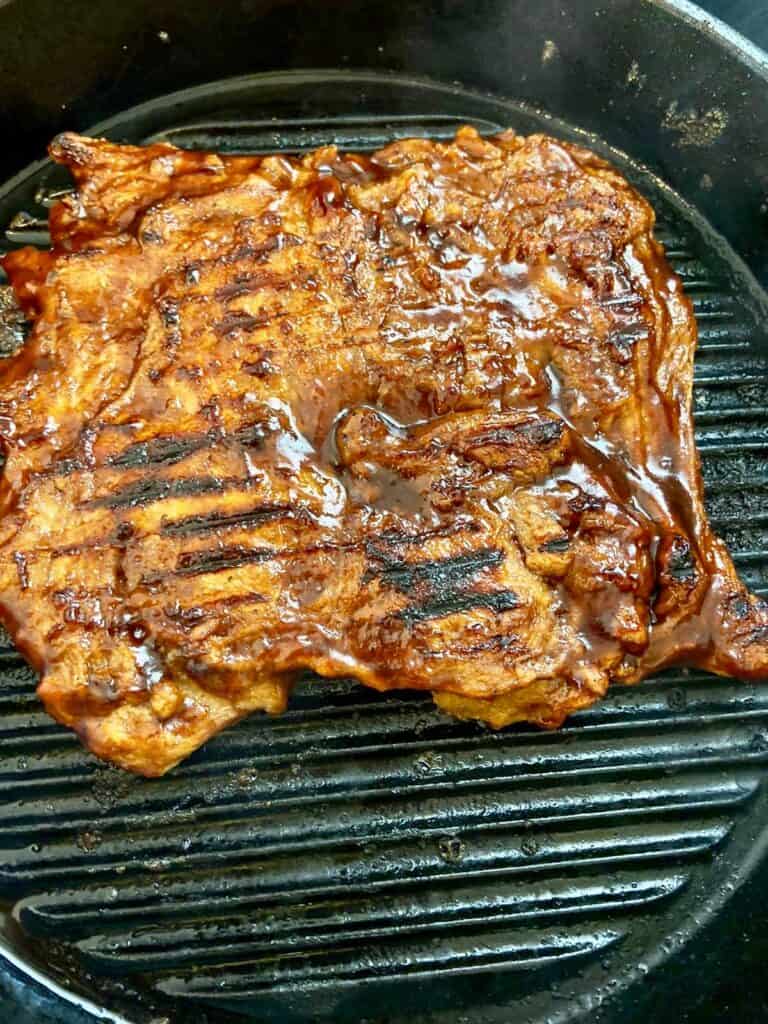 Once your seitan is done baking, for this recipe we cover it in bbq sauce and throw it on a grill pan. You can also make this seitan and throw it on an outdoor grill for an awesome summer bbq treat. If you don't have a grill pan, this a good, affordable one.
If you do have a seitan brand you enjoy, go ahead and try it out by starting from the part where I slather it in BBQ sauce and throw it on the grill pan. And definitely let me know how it goes!
Putting Together the Vegan Tortas
Once your seitan is ready, it's really simple to put together the sandwich.
You start with torta bread. If you have a Mexican bakery nearby you can get the real thing, just double check that they make them vegan. If you don't, you can get any sort of bun that has a nice crusty outside and a soft inside.
Next you are going to want to cut your seitan into rib sized pieces. Then, mash your avocado with a bit of lime juice, some salt and garlic powder.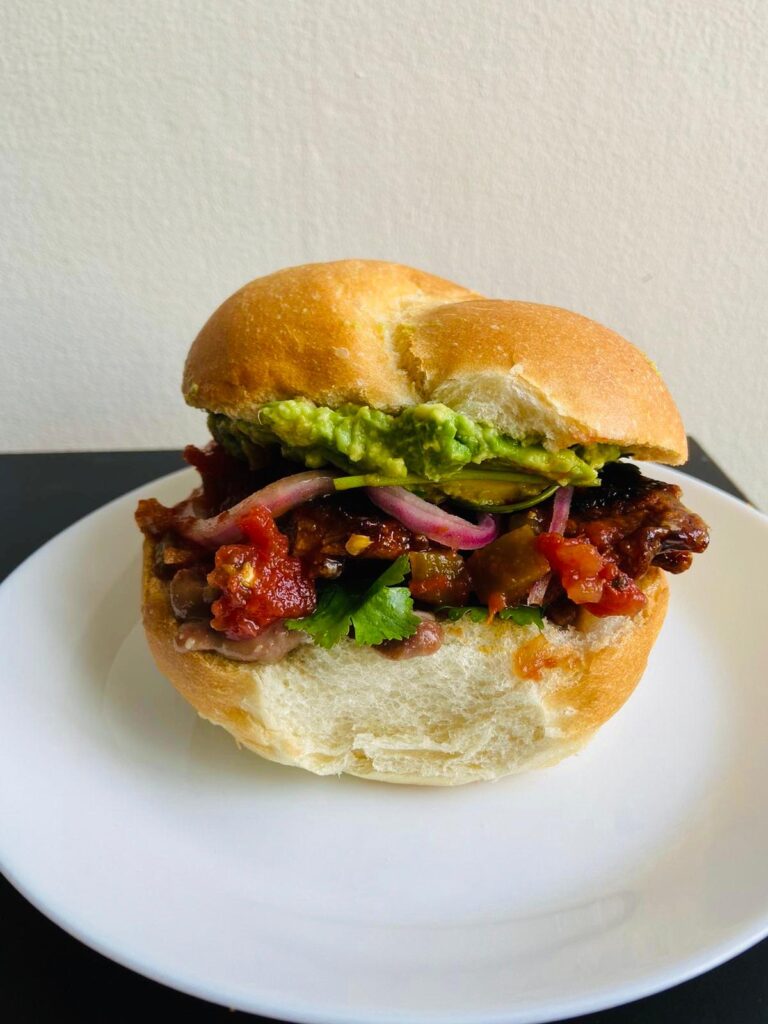 Layer your favorite toppings in the sandwich, putting beans, avocado and any other mushy toppings first and then layering in any other fillings. In our case, that's the seitan ribs, red onion rings, and hot peppers. Finish it off with a hefty scoop of salsa.
You want the juicy type of toppings to really soak into the bun. If the torta isn't all over your face one bite in, you are doing in wrong.
Variations on Mexican Tortas
It's very easy to get creative with these. As I've mentioned, everything goes. Whatever you normally like in a taco will probably taste great in this sandwich as well.
Some toppings I didn't use this time, but I'm certain would taste great with it, are fresh tomato slices, vegan bacon, melty vegan cheese and sriracha mayo. If you are a big fan of spicy, definitely add in the sriracha mayo to make this sandwich even creamier with such a great kick!
You could toast the bread as well, either before you add in everything or after. If you are in search of a fun game day/superbowl snack you could also try using slider buns to make mini tortas.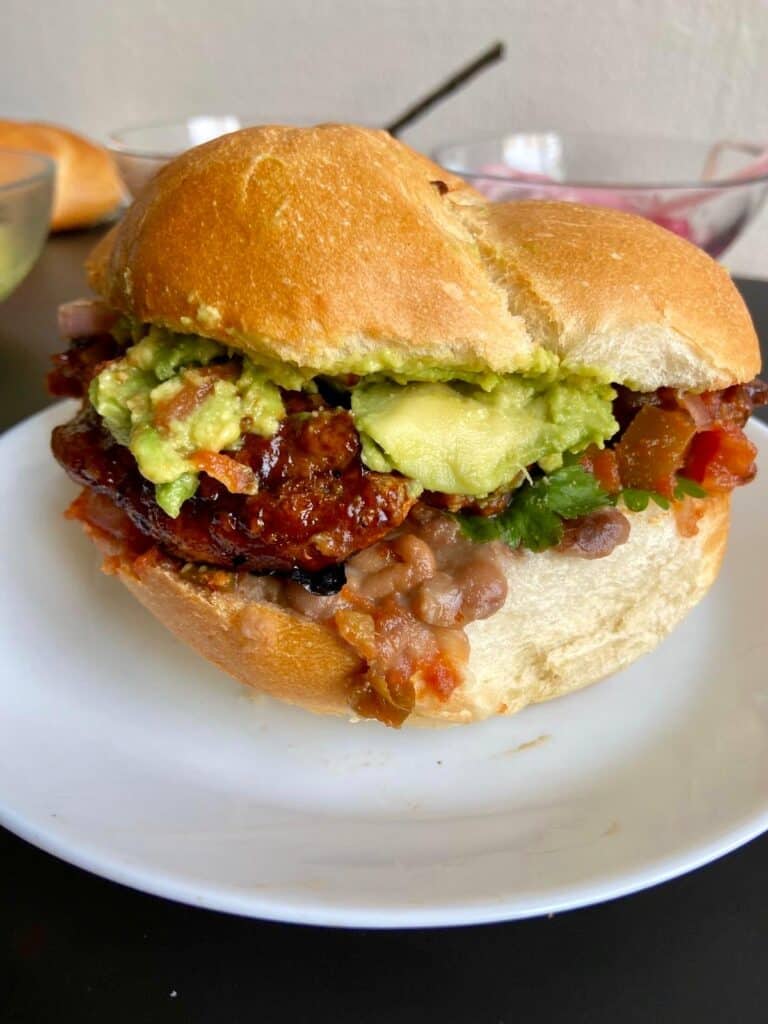 Prepping the Mexican Tortas Recipe in Advance
If you want to meal prep in the beginning of the week, or just have leftovers on hand, this is a great recipe to work with. While you can't assemble the entire sandwich ahead of time (it will get incredibly soggy), you can have all the ingredients prepped and ready to go.
The seitan ribs can be stored in the fridge for up to a week. When you are finished making it, cut them into rib sized pieces and then store in an airtight container so they are easy to grab from the fridge. You can also freeze the seitan for up to six months, although for better results, I would freeze before cooking in the BBQ sauce.
A can of refried beans should last 3-4 days in the fridge once opened, and maybe a day or two longer if you make your own.
All the other ingredients are extremely shelf stable and can be kept on hand for whenever a torta craving strikes. The only thing that won't stay too long in the refrigerator is the mashed avocado which will brown. It only takes a minute to mash when you are ready for it though.
Don't Forget to Pin This Post For Later!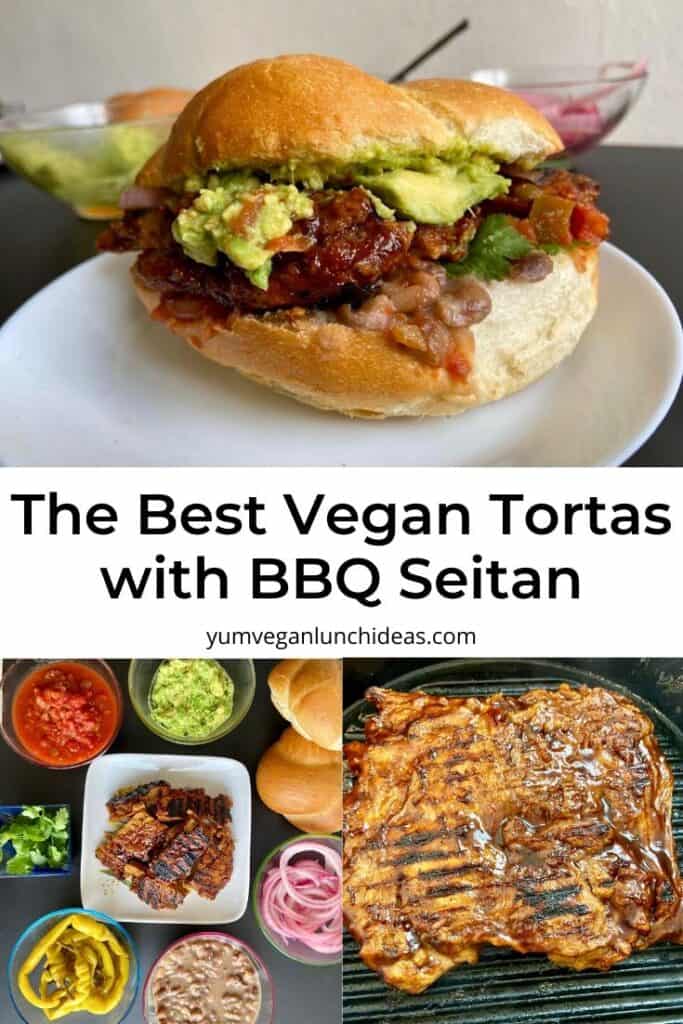 You May Also Like:
Drunken Fruit Salad – Rum Soaked
Yield: 3 Sandwiches
Vegan Tortas with BBQ Seitan Ribs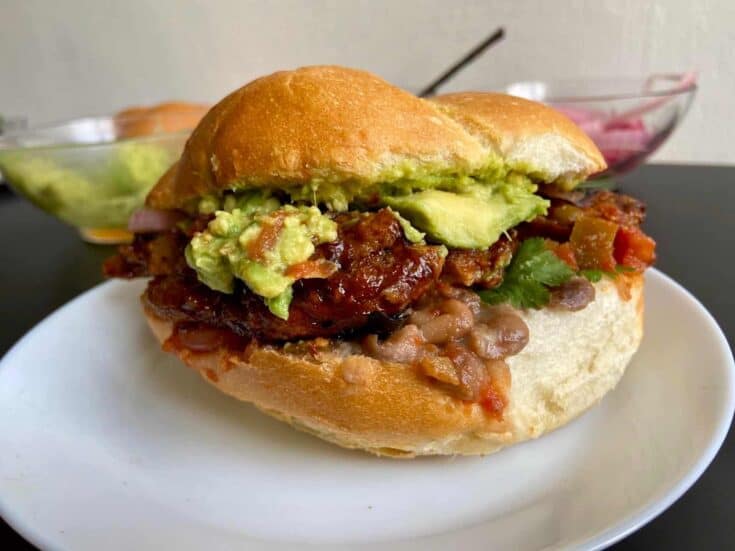 Busting with flavors, textures, and colors, this delicious vegan sandwich is our take on a Mexican torta. Stuffed with amazing seitan, refried beans, avocado, salsa and more, this sandwich will satisfy any cravings for a filling, meaty sandwich. Try out these vegan tortas and you'll keep coming back for more!
Ingredients
For the "Ribs"
2 tsp Granulated Garlic
Sprinkle of Black Pepper
Torta Filling
1 Small Avocado
1 tsp Granulated Garlic
Sprinkle of Salt
A Handful of Cilantro
Instructions
Preheat the oven to 350 and grease a baking dish.
Mix together the vital wheat gluten, nutritional yeast, paprika, garlic and pepper.
In a separate bowl, combine the broth, peanut butter, soy sauce and liquid smoke. Whisk so the peanut butter is well incorporated.
Pour the wet mixture into the dry mixture and mix until a dough forms. Once the dough is formed, knead for a few minutes. It is important to knead the dough to activate the gluten in it.
Take your dough and spread it out on your baking dish. Try to flatten it into an even layer.
Bake for 25 minutes.
Once it is finished baking, heat up your BBQ or your grill pan with a bit of oil.
Brush your bbq sauce all over the side of your seitan that is face up.
Put the BBQ sauce covered side of seitan face down on the grill. While it cooks, brush bbq sauce onto the other side.
Once the face down side has gotten nicely browned and crispy, flip your seitan over and cook the other side.
When the seitan is finished, remove from the grill pan and set aside. Once cooled enough to touch, cut into rib sized pieces or whatever size you prefer for your sandwich.
Next, start getting your torta fillings ready. Mash the avocado in a bowl with lime juice, garlic and salt to taste.
Cut open your buns and spread a generous layer of refried beans on one side and avocado on the other.
Add in your seitan, onion rings, hot pepper, and any other toppings you like.
Add a hefty scoop of salsa, sprinkle on some cilantro and close your sandwich up! Enjoy with plenty of napkins. 🙂
Notes
* See post for details on what makes a good torta bun
** If you don't have vegan "chicken" broth, you can use a vegetable broth.
*** You may need more or less salsa depending on personal tastes
Recommended Products
As an Amazon Associate and member of other affiliate programs, I earn from qualifying purchases.
Nutrition Information:
Yield:
3
Serving Size:
1
Amount Per Serving:
Calories:

938
Total Fat:

40g
Saturated Fat:

7g
Trans Fat:

0g
Unsaturated Fat:

29g
Cholesterol:

1mg
Sodium:

2910mg
Carbohydrates:

122g
Fiber:

17g
Sugar:

29g
Protein:

80g