Whether you are a novice in the seitan world or an avid experimenter, these recipes are for you. I'm a big fan of wheat meat in all it's forms, sometimes I grab some premade seitan from the grocery store but most the time I love to make my own. Below you'll find options for both, recipes with seitan and recipes for the seitan itself. But before you dive into all the amazing options here's a knowledge dump for the newbies.
What is Seitan?
Seitan is an awesome vegan protein source and versatile, meat like ingredient made from vital wheat gluten. It's quite literally the gluten extracted from flour so if you are gluten intolerant this is not the meat alternative for you.
Homemade Seitan – Vital Wheat Gluten Recipes
Plenty of the recipes below involve making your own seitan as part of the process. Making your own seitan from vital wheat gluten for the first time can sound intimidating but some of the recipes only take ten minutes hands on time!
There are a few different methods to cooking seitan, each of which will produce different textures, densities, etc. and once you start playing around with it you can start getting creative. The main cooking methods are boiling, steaming or baking. Once you've found a recipe and method you like, make double batches and you can throw it stir fries, salads and more to add a protein punch to your meals.
I always highly recommend homemade seitan over store bought because I find the store bought variety tends to have a less appealing texture and often a weird side taste as well. This is of course just my personal opinion and you can test out some different brands until you find the one you like.
You can buy vital wheat gluten here.
Recipes with Seitan – Where to Buy Seitan Ready Made
Many of the recipes below have the option of using a homemade recipe or using a store bought block of seitan. I prefer homemade but you can absolutely find some at your supermarket and work with that as a base.
You can buy seitan in many regular supermarkets, as it is becoming more popular. It is usually stocked next to the tofu. If your local supermarket doesn't carry it, try to find the closest health food store.
Health food stores almost always have seitan, whether you are shopping in a small store, or in a large chain like Trader Joe's or Whole Foods.
Don't Forget to Pin these For Later!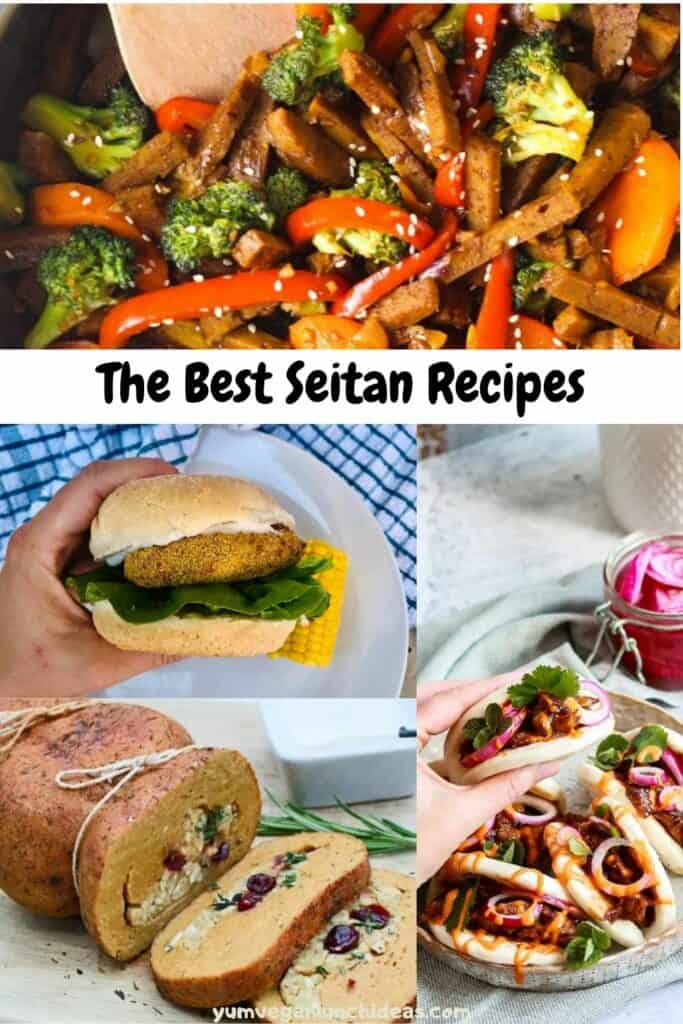 Vegan Seitan Recipes
Here are all the best recipes with seitan and for homemade seitan whether you are looking for quick and easy or creative and fun! These delicious vegan seitan recipes will keep you coming back for more.