This vegan poppy seed dressing recipe is so quick and easy to make. It even tastes better than the shop bought version, so that's saying something. You only need a handful of ingredients, a bit of shaking action and you'll have an amazing salad dressing.
I first learned about poppy seed dressing on a trip to Canada. We'd never had it before, but quickly became addicted! I can't buy it locally so decided to make it myself and it did not disappoint.
Poppy seeds are quite often used in Canadian cuisine and so I am going to attribute this recipe to my favourite country to visit – Canada! Man, they have some good food there!
Vegan Poppyseed Dressing
Like I mentioned, you only need a handful of ingredients and a few minutes to spare. The only thing I would be quite fussy about is getting a really good plain vegan yoghurt. Make sure its doesn't have any flavours.
It's the yoghurt that gives the dressing its creamy texture. Aside from yoghurt, you're going to need a small amount of dijon mustard to add some flavour to the yoghurt.
You can buy poppyseeds here!
If you like a little a bit of a kick to your dressing, you could use English mustard instead. English mustard is definitely much more punchy than dijon. Make sure whoever is having this with you doesn't mind a bit of spice.
I added a teaspoon of olive oil to my recipe, but again this is something you can leave out if you prefer. I am noticing a lot more vegans wanting to eat oil-free foods.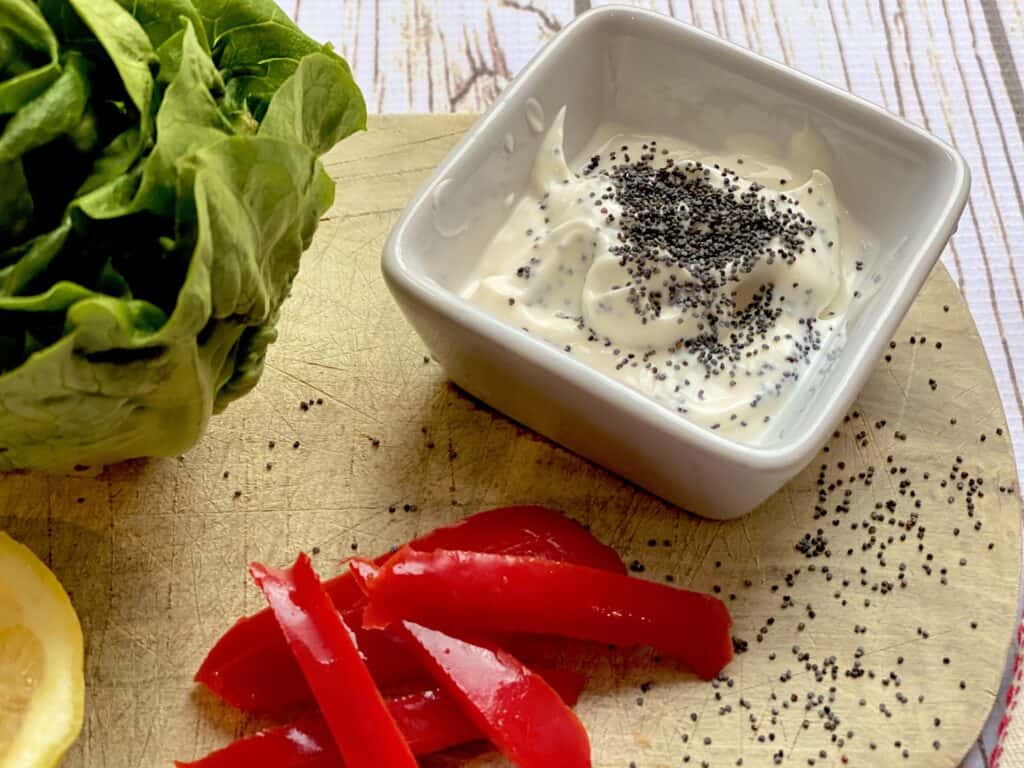 Other than that, it's just a matter of a squeeze of lemon, a squirt of agave to balance the flavours and a little salt and pepper seasoning- that's it!
Poppyseed Dressing Vegan Salad Ideas
You can use the poppyseed dressing on a variety of salads, however I originally discovered it over a Brussel sprout and cranberry salad. It was so good and so I can highly reccomend trying it with that. A few others ideas may be broccoli salad or spinach and tofu salad.
In terms of storage, you can keep the lemon poppyseed dressing in the fridge for 2 days in a sealed container.
Yield: 1 salad
Vegan Poppy Seed Dressing Recipe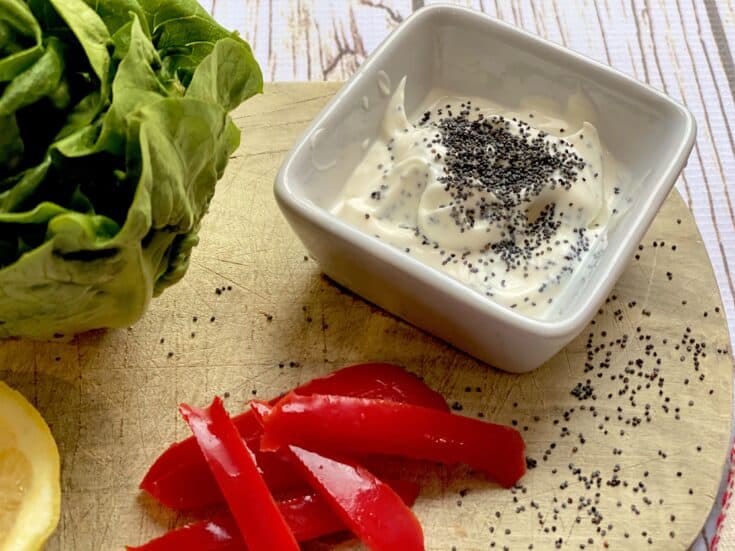 Try this delicious vegan poppy seed dressing recipe. It's so quick and easy to make and only contains a handful of ingredients. It's the perfect condiment for fresh crunchy salads!
Ingredients
1 tablespoon of poppy seeds
1 teaspoon of dijon mustard
1/2 lemon juiced
1/2 a cup of plain vegan yoghurt
1 tablespoon of agave
a pinch of salt and pepper
1 teaspoon of olive oil
Instructions
Put 1/2 cup of vegan plan yoghurt into a bowl.
Add the dijon mustard, the juice of half a lemon, agave, poppyseeds, salt and pepper
The olive oil is optional, not essential.
Mix all of the ingredients together.
Add to a salad of your choice!
Notes
Don't be tempted to sub the yoghurt for other ingredients. I tried this with vegan mayo and it wasn't so good.
The non-essential ingredients include lemon and oil. If you prefer not to have these in your dressing, it will still come out pretty good.
I love punchy dressings so English mustard is a great sub for dijon mustard.
I consider the agave to be an essential ingredient for this recipe to balance the flavours. if you don't have agave maple syrup could work well also.
Poppy seeds are not an expensive ingredient. If you havent got them already, a small tub will go a long way in other recipes. You can sprinkle them on just about everyhting and are a great addition to the the top of bread if you are into making your own.
There are lots of salads you could have this vegan lemon poppyseed dressing with but I have to admit, it's best with vegan brussel sprout salad. It generally contains finely shredded sprouts and dried cranberries.
The combo of the two would make a great lunch for work or just at home! My kids even enjoyed this one and they are generally very fussy about eating salads. When I make it for them I tone down the mustard and that works really well.
Nutrition Information:
Yield:
4
Serving Size:
1
Amount Per Serving:
Calories:

63
Total Fat:

2g
Saturated Fat:

1g
Trans Fat:

0g
Unsaturated Fat:

1g
Cholesterol:

3mg
Sodium:

93mg
Carbohydrates:

8g
Fiber:

1g
Sugar:

7g
Protein:

3g