As a team that love to bring you vegan lunch ideas, how could we possibly miss out on something as festive as vegan turkey sandwiches, stacked with a stuffing patty and a dollop of cranberry sauce, these sandwiches are loved by the whole family!
I initially thought of these sandwiches to use up left over thanksgiving or Christmas dinner, but actually you could really make this sandwich any time of year. It doesn't have to be Christmas to enjoy the flavours of sage, onion and cranberry, right?!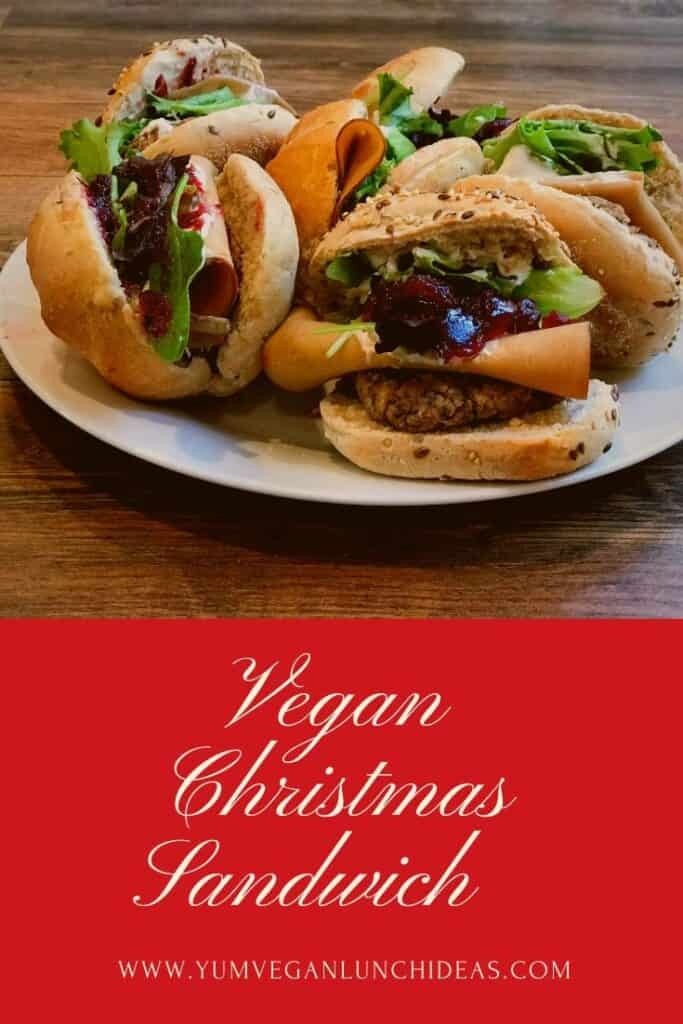 Here at Yum Vegan Blog we are firm believers in reducing waste and using up as much left over food as possible. I'm not sure about you but I try to make my Christmas dinner to create similar tastes and flavours to my pre-vegan days.
We have one non-vegan in our house, so we are always doing our best to make them feel they aren't missing out ( even though, we all know, they are not missing anything!).
Vegan Sandwich Ideas
I always buy crusty bread rolls for this recipe, the ones that are partially baked and need a further 10 minutes in the oven. There is nothing better than warm bread, fresh out of the oven- get in my belly!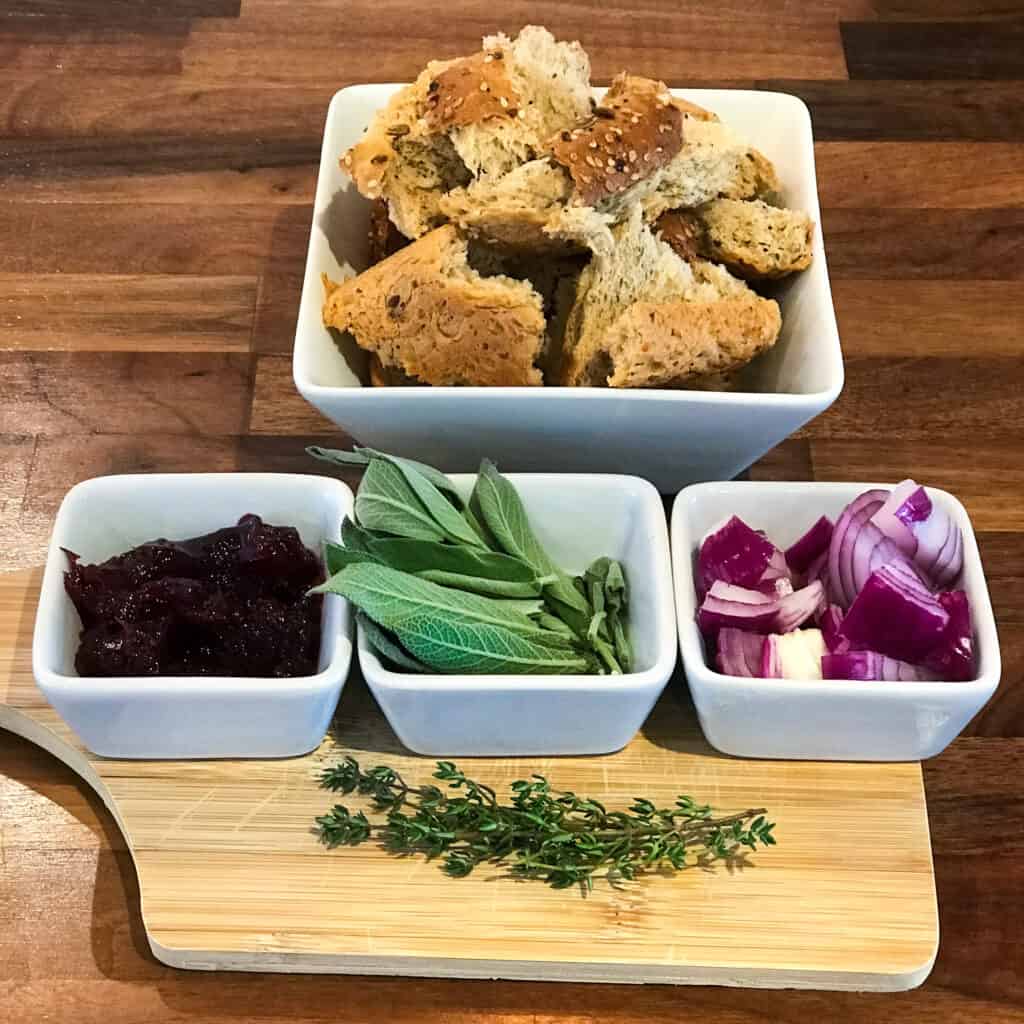 If you don't have left over Christmas dinner, you can simply make the stuffing, that is the only thing that realistically needs to be made in this recipe.
Vegan Stuffing
I use the end of a loaf of bread from frozen, I blitz a few slices of the curst in my food processor with fresh sage leaves, chopped onions, and a couple of tablespoons of activated chia seeds as a gelling agent.
It only takes a couple of minutes and you'll have the perfect mix to create little balls or patty's. You can either grill them, turning once golden brown on both sides, or you can pan fry them for a couple of minutes.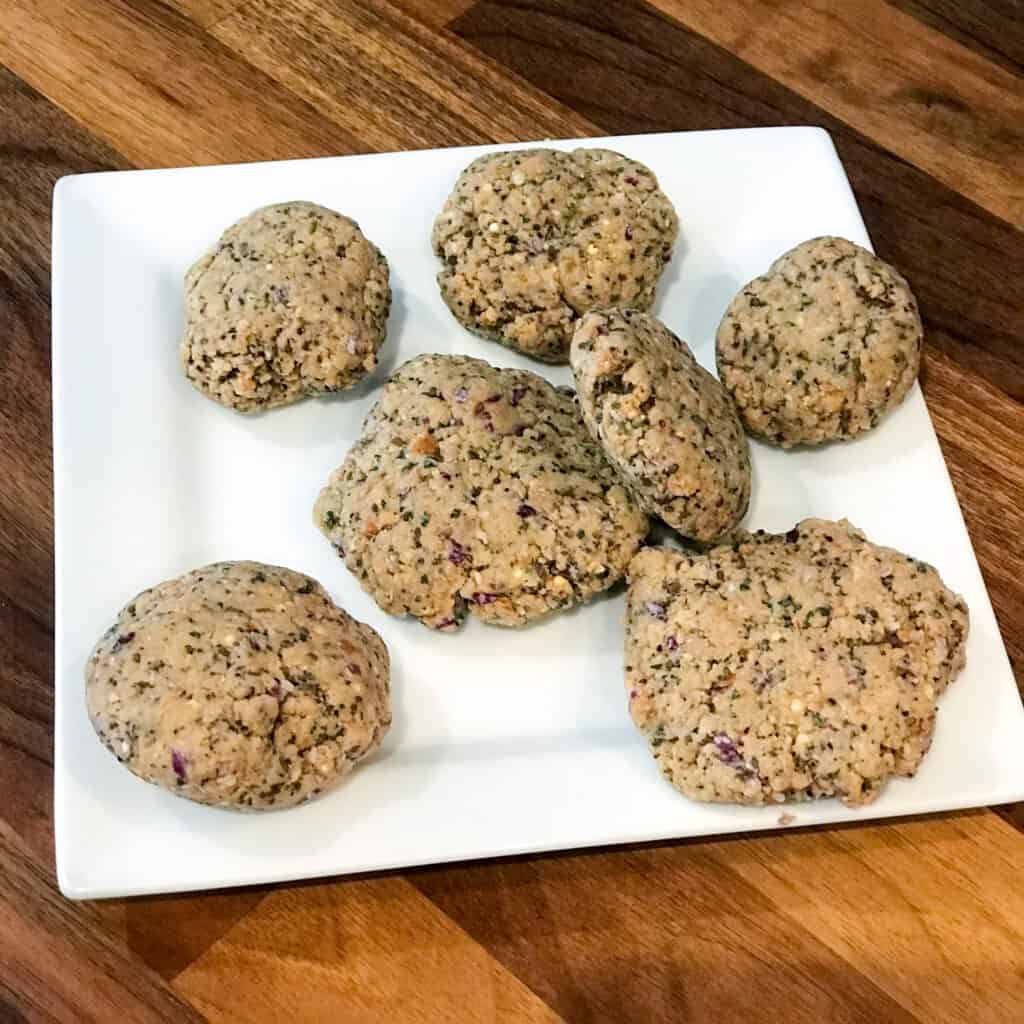 Once your patty is ready, you can begin layering up the roll or sandwich. Start with the sage and onion stuffing patty, next add vegan mayo, a slice of Tofurky smoked plant based turkey slices.
Sandwich Layering
A handful of salad and a big dollop of cranberry sauce and there you have some really quick and simple but tasty vegan turkey sandwiches. You can eat them over the Christmas period with leftovers or prep them any other time of the year!
Alternative Vegan Meat Idea
As I mentioned we used Tofurky
that is widely available across the US and Europe. If this doesn't rock your boat, you can alway use firmly sliced tofu baked for a short period. You could season with rosemary, sage, thyme and onion granules.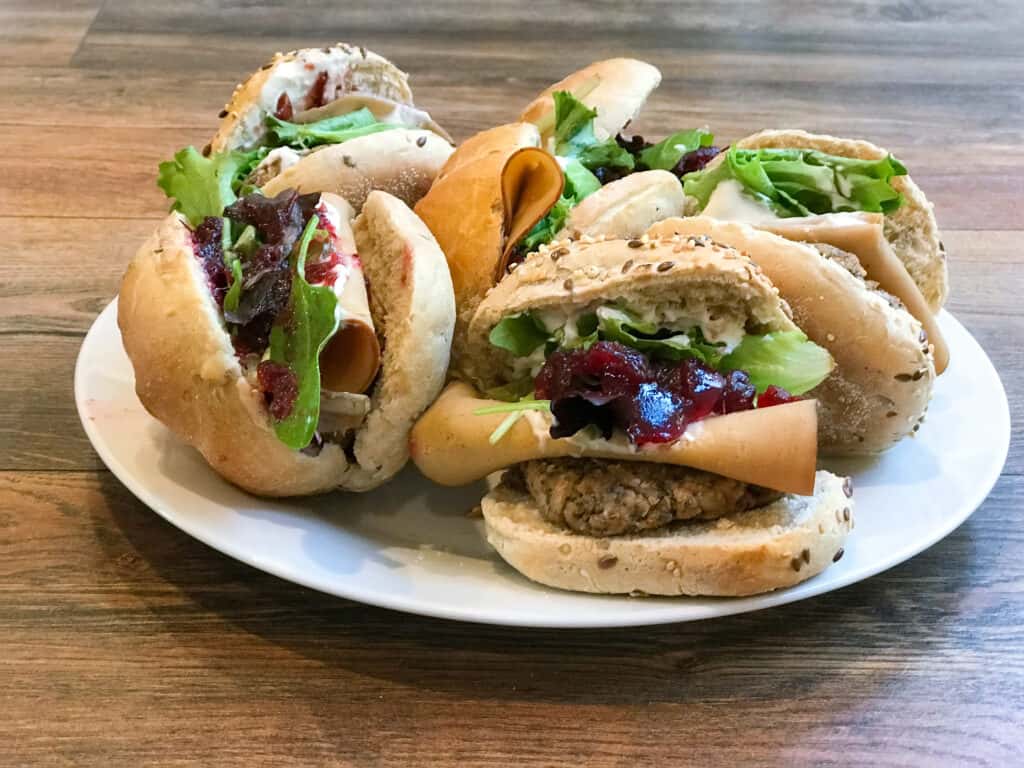 Vegan Cranberry Sauce
If you also prefer to make your own vegan cranberry sauce
recipe. that too is super easy. All you need is a handful of ingredients. Fresh cranberries, 1 apple, cinnamon and orange juice. Here is our vegan cranberry sauce recipe, it is sugar free and gluten free too!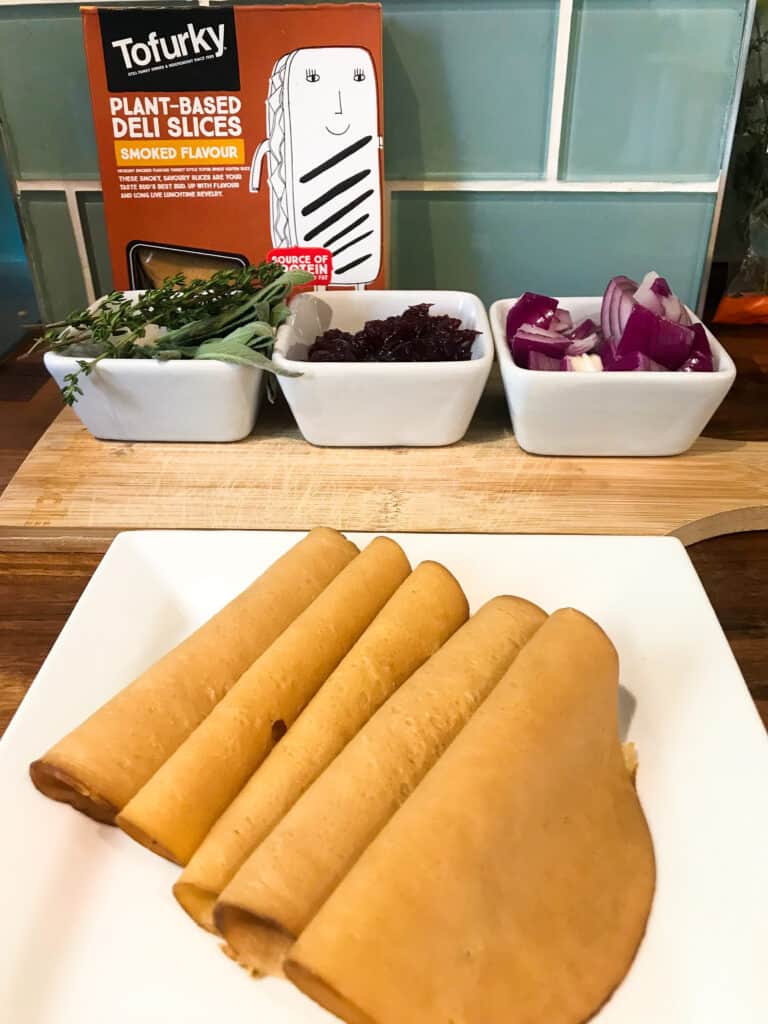 Boil them up with a a tablespoon of brown sugar. Leave it to one side to cool and you'll have your very own vegan cranberry sauce!
You may also like:
The Ultimate Vegan Bagel Sandwich
Yield: 2
Vegan Turkey Sandwich Recipe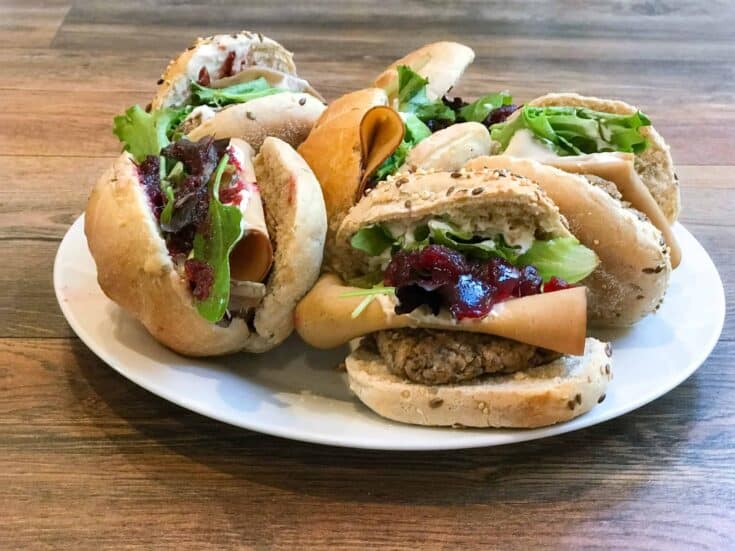 Vegan turkey sandwiches made with sage and onion stuffing, vegan meat sub and cranberry sauce. A sandwich the entire family will love!
Ingredients
2 slices of Tofurky
2 teaspoons of vegan mayonnaise
2 teaspoons of cranberry sauce
Cup of salad leaves
Sage leaves
1 onion
2 slices of bread for crumbs
1 teaspoon of activated chia seeds
2 crusty bread rolls
Instructions
1. Add the crust bread to a processor with a handful of fresh sage leaves. Lightly sautee the onions before adding them into the mix. Activtate a teaspoon of chia seeds with water as the gelling agent. Blitz everything together for a minute. The mixture should be slightly wet and sticky enough to roll small bite sized balls. Once you've made all of the mix into balls or patty's, lightly pan fry them until brown on either side.
2. I tend to use bread rolls that are part baked and just need an extra 10 min in the oven. Cut the rolls along the side and begin to fill with the other ingredients. Start with a blob of vegan mayonaise, or if you have bread sauce from Christmas, you can use that. Add the stuffing patty, a slice of tofurky, or tofu as described in the article if you prefer. Layer with salad leaves, or if you have parsley and like the taste use that as a sub for salad leaves.
3. Conplete the sandwich with a dollop of cranberry sauce on the top. Serve fresh for best taste!
Notes
If you don't have fresh sage leaves, you can also use dried sage herbs.
Tofurky might not rock everyones boat, I personally really like it, however if you prefer, thinly slice firm tofu and bake for a few minutes in a marinade of oil, sage, lemon, and onion granules.. Turn once to ensure both sides are cooked. You can use this as an alternative to the vegan turkey slices mentioned in this recipe.
You can either use shop bought cranberry sauce, or you can make your own. It's very easy to make and you only need 3 to 4 ingredients max!
Recommended Products
As an Amazon Associate and member of other affiliate programs, I earn from qualifying purchases.
Nutrition Information:
Yield:
2
Serving Size:
1
Amount Per Serving:
Calories:

564
Total Fat:

24g
Saturated Fat:

4g
Trans Fat:

1g
Unsaturated Fat:

16g
Cholesterol:

0mg
Sodium:

1293mg
Carbohydrates:

55g
Fiber:

10g
Sugar:

10g
Protein:

33g