Vegan Chickpea Tuna Salad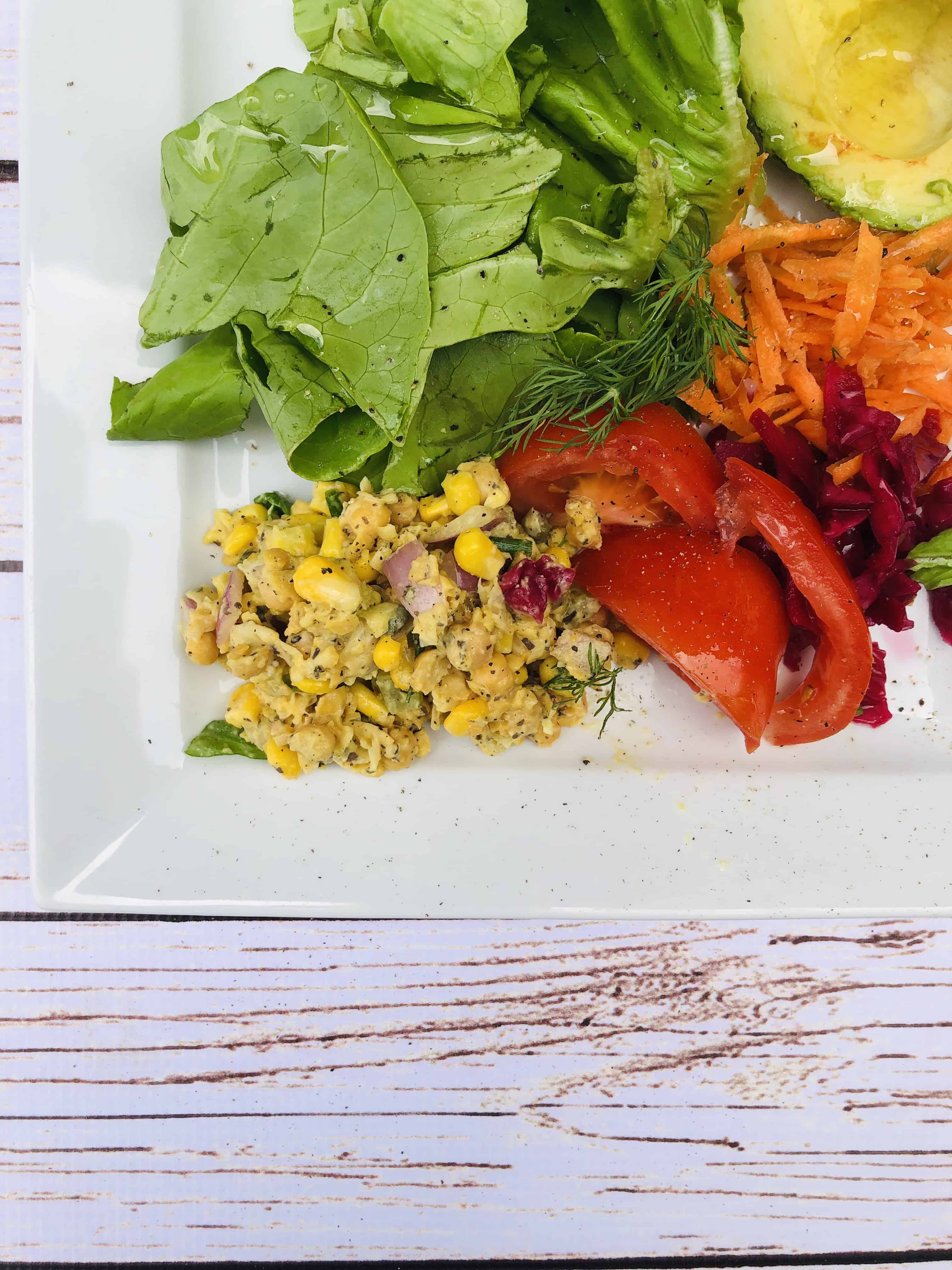 Recreating tuna with a vegan twist has been one of my favourite discoveries. You know when you've been vegan so long and you don't necessarily miss certain things like fish?
But then you create a vegan version anyways to mix things up and discover new lunch inspiration? That's where this chickpea tuna salad has led me.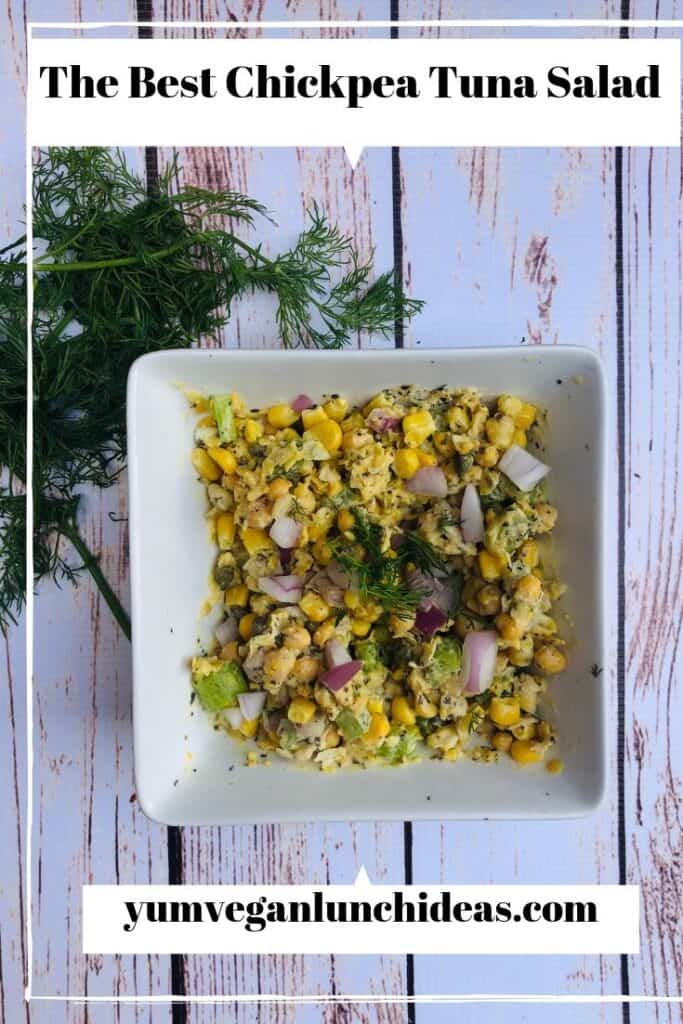 Versatile Chickpea Tuna Recipe
Vegan chickpea tuna is so damn versatile. I've fashioned it into a number of yummy dishes, including vegan tuna melt, vegan tuna jacket potato, vegan tuna pasta salad and vegan tuna sandwich.
It's been awesome to make a big batch of it and have it handy in the refrigerator for when hunger strikes!
This mock tuna salad recipe is a great option for something more refreshing, with crunchy, fresh salad and creamy chickpea tuna on top. It's also a relatively lighter option if you did not fancy many carbs like bread and pasta.
And of course it's completely gluten free vegan lunch option if required. You can of course tweak the vegan tuna mayo to your own taste. Don't like onion? Prefer more mayo? Go for it. This is your lunch after all!
Vegan Tuna Essentials
Chickpeas come along as most vegan's pantry essentials. They are affordable with a long expiry date – chickpeas are essentially vegan canned tuna right? Vegan tuna, courtesy of trusty mashed chickpeas and creamy vegan mayonnaise as a base.
Alongside some other yummy plant based ingredients like capers, celery, sweetcorn and nori seaweed. This adds great texture, crunch and flavours to the vegan chickpea tuna.
Vegan Seafood Alternative
I am not a massive fan of processed vegan alternatives, especially faux fish as they contain such a heap of ingredients. However understandably, these products can help people transition while also are a quick alternative for those who are time poor.
Using capers gives this faux tuna recipe some extra tang, while the nori seaweed is the perfect addition for a more marine like taste! Also, seaweed is great for iodine levels which can sometimes be difficult to obtain with a vegan diet. Some people may argue that vegans are lacking in Omega 3 without fish.
However there are plenty of vegan Omega 3 options – why not sprinkle some hemp seeds on to for extra nutrients? These are also a full protein source.
Using Leftovers
Another amazing twist this vegan chickpea tuna recipe can bring is by using chargrilled corn. After all, this is the perfect vegan summer lunch idea. I had some leftover vegan corn the day after a family BBQ.
The chargrilled corn simply added a beautiful and succulent deep flavour to the vegan salad. However regular corn will work just fine if more convenient.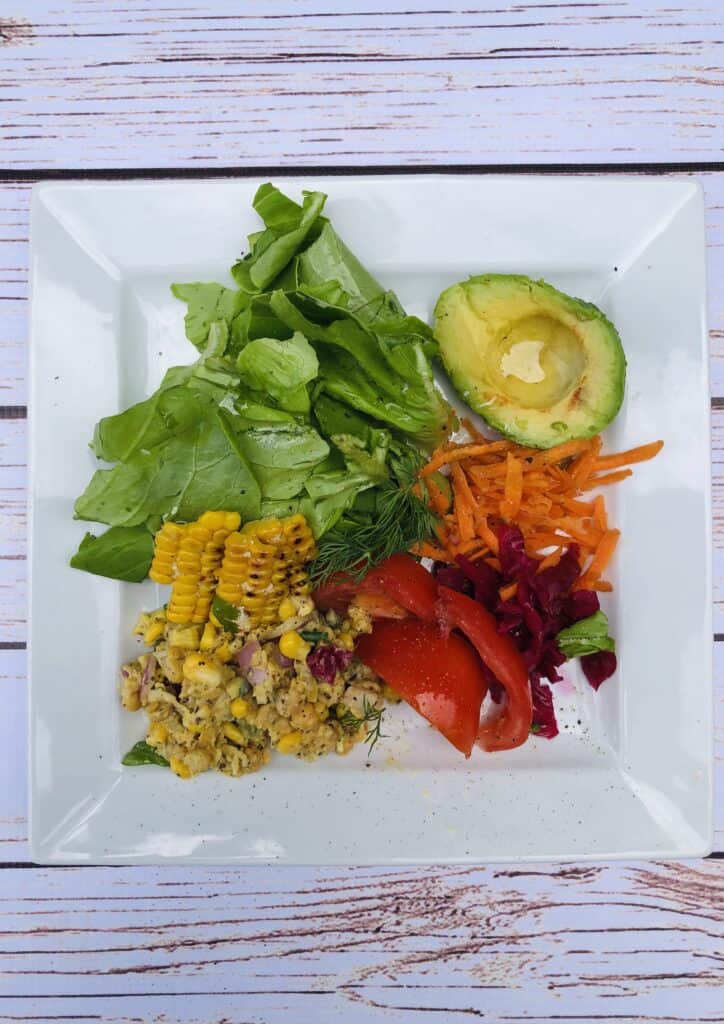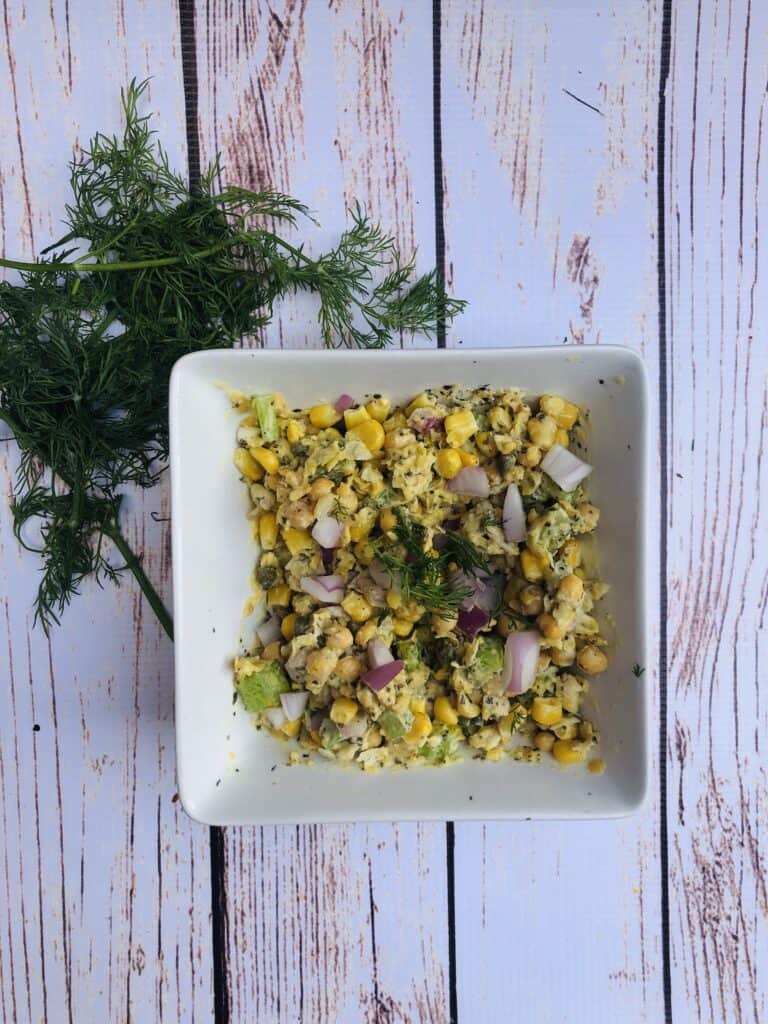 When making this vegan tuna sandwich – there are a few key ingredients that will help make the winning combination.
Essential Ingredients
When making this vegan tuna sandwich – there are a few key ingredients that will help make the winning combination.
Vegan Mayonnaise
There are literally so many vegan mayonnaise brands out there now, which is awesome as it gives us a lot more choice.
I personally love Just Mayo
as they are a fully vegan company. For the ultimate creamy and delicious vegan mayonnaise, perfect for this recipe, buy Just Mayo
here.
If you have some extra time (it doesn't take long) you could make your own vegan mayo see here.
Chickpeas
Chickpeas are the clear winner in this recipe which help create the perfect texture. Alongside being rich in iron and protein – these highly nutritious legumes are a staple.
Understandably, we don't always have time to soak and cook them from dry. So I often use canned ones. These Eden Organic Garbanzo Beans
are certified organic and cooked in purified water.
If you need instructions on how to cook your chickpeas from dried beans, or you just want another way to use chickpeas, you can find details in our vegan chickpea avocado salad recipe.
Yield: 2-3 servings
Vegan Chickpea Tuna Salad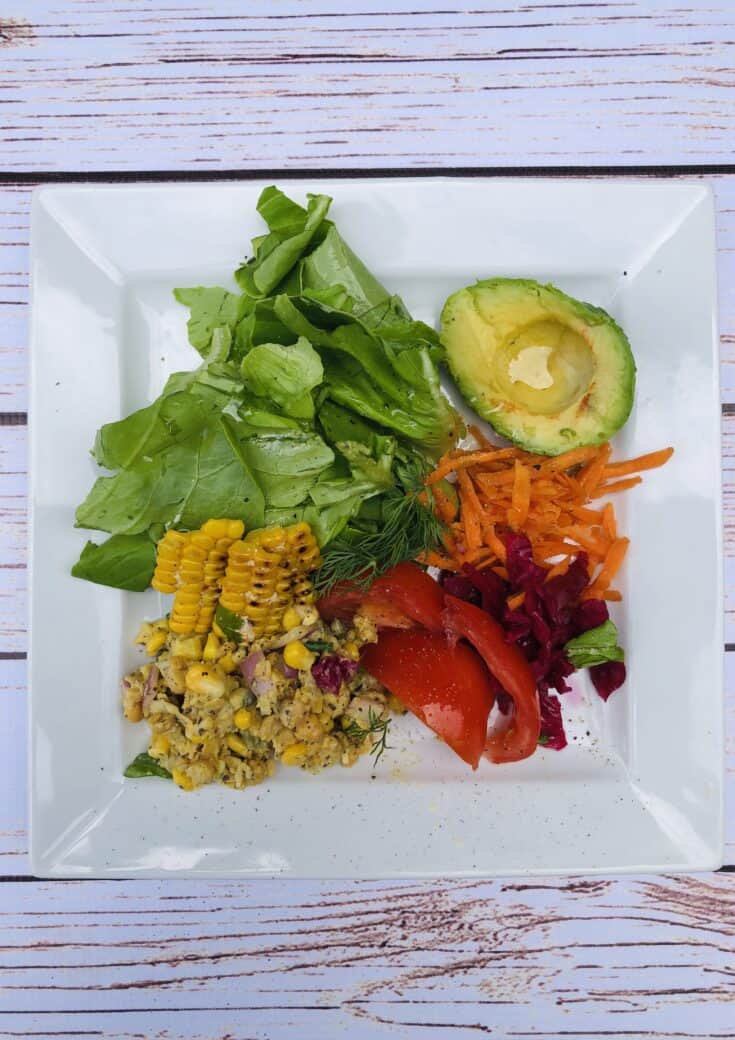 This vegan chickpea tuna salad is a light and refreshing lunch option. Making the base can lead to lots of other dishes. Here it is with a classic salad, chargrilled corn and some zingy pickled cabbage. The vegan tuna salad is crramy and satisfying, with the smashed chickpeas making the perfect texture. The addition of nori flakes gives this recipe an authentic marine like taste.
Ingredients
One can of chickpeas, drained
80g of corn (about a handful)
1 small stick of chopped celery
20g chopped red onion
3 tbsp vegan mayonnaise
1 teaspoon dijon mustard
1 tbsp capers
1 tsp garlic powder
Fresh dill
Squirt of lemon
Salt and pepper
Salad Plate
Spinach
Pickled cabbage
Grated carrot 
Tomato
Avocado
Sweet chilli sauce (optional)
Instructions
Add the drained chickpeas to a bowl and mash well
Add the chopped celery, red onion, capers and seasoning
Add mustard and vegan mayonaise to your desired consistency. The creamier the better!
Assemble your salad plate and add the crramy chickpea tuna to your desired amount.
Add fresh dill for garnish, give it a drizzle of sweet chilli sauc e to really lift the chickpea tuna salad
Notes
This recipe yields around 2-3 portions. It will remain fresh in a sealed container in the refrigerator for around 3-4 days. I have not attempted to freeze this, but probably wouldn't attempt as the vegan mayo may not freeze well. If taking this lunch away, perhaps keep the creamy chickpea tuna seperate from leafy salad to maintain freshness and crispness of the leaves.
Nutrition Information:
Yield:
2-3
Serving Size:
1
Amount Per Serving:
Calories:

599
Total Fat:

28g
Saturated Fat:

4g
Trans Fat:

0g
Unsaturated Fat:

22g
Cholesterol:

0mg
Sodium:

744mg
Carbohydrates:

82g
Fiber:

22g
Sugar:

33g
Protein:

17g
This is not intended to be dietary or medical advice - this is a computed, estimated calculation of nutrition this dish holds.
You May Also Like:
---
---