Caesar salad is definitely up there with being one of my most favourite salads of all times! And yes it's really easy to veganize the traditional Caesar salad dressing. In fact this raw vegan caesar dressing recipe is so good, you won't want to look for a shop bought one again!
This dressing is delicious and can in theory be used on any salad you like, it doesn't have to be caesar salad recipe specifically. Scroll on for some other ideas on some interesting way on how to use caesar dressing.
Like all vegan condiments we make, this dressing only has a handful of ingredients and takes just a couple of minutes to make.
Raw Vegan Caesar Salad Dressing Recipe
If your wondering where caesar salad originates from, it's thought to have been invented by Caesar Cardini, an Italian imigrant that had restaurants in Mexico and the United States back in the day!
Nowadays it's such a classic, you can find it in almost every restaurant, everyone knows what Caesar salad is!
Of course, this particular recipe is a twist on the original as it is traditionally made with dairy. Being vegan, I was really keen to make my own version of this but also add in the raw factor.
The great thing is, even though it's a healthier version of the original it still tastes great. Some of the ingredients are strong, such as capers and mustard so those flavours make sure there is no sacrifice on taste.
You don't need a tonne of ingredients for this recipe, in fact you may have most of them in your kitchen pantry already.
Ingredients For Raw Caesar Dressing
For this recipe you will needs a cup full of raw cashews. These are the base of the raw vegan Caesar dressing recipe.
You will need to soak the cashews overnight, or if you don't get a chance to do that, you can soak them in hot water for an hour or two. The cashews should be swollen and soft from soaking them.
The longer you soak cashews, the more creamy they become. Aside from the cashews, you'll need:
Capers
Mustard powder
The juice of a lemon
1/2 a garlic clove
Nutritional yeast
Raw agave
Water to make the consistency of your preference
Once you've measured out your ingredients. it's just a matter of putting them in the blender and whizzing them for a minute or two.
The main thing you'll want to check for is the capers. There shouldn't be any lumps. I always use my Ninja food chopper when making salad dressings, it's awesome when working with small volumes of ingredients.
Storing Vegan Caesar Salad Dressing
Once you've made your vegan caesar dressing, you may not want to use it all at once. The good news is, it keeps in the fridge really well in an airtight container.You can keep it in the fridge for 2 to 3 days!
Uses For Vegan Caesar salad Dressing
You might think you can only use caesar dressing for the classical salad but there are a number of ways you can use it. Here are a few ideas:
Raw vegetable baton dip
Add it to coleslaw
Use it on other types of salads such as potato salad
Drizzle it on corn on the cob
If you do decide to have the dressing over Caesar salad. You'll need some romaine lettuce chopped up.
If you want to keep with raw ingredients, roast chickpeas is an alternative to bread croutons.
We also have a recipe for a vegan chicken breast if you want to add it to your salad. It's not raw but it sure does taste good!
Before we jump into the recipe, we just wanted to point you to a few other salad dressing you may like:
Yield: 6
Raw Vegan Caesar Dressing Recipe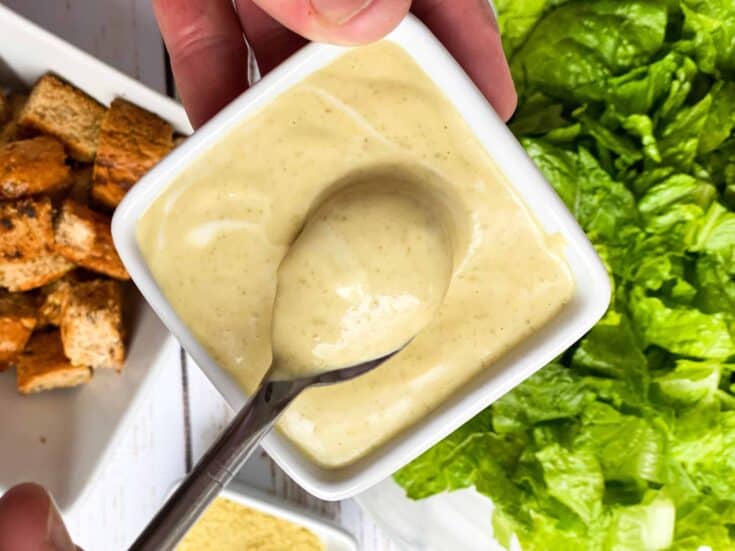 Try ths delicious raw vegan caesar dressing recipe. This healthy twist on an old classic does not sacrifce on taste due to the flavoursome ingredients of capers and mustard powder. We also provide some different ideas on how to use this vegan caesar dressing aside from the typical salad.
Ingredients
1 cup of raw cashew nuts
4 tbsp of lemon juice
1 tsp of nutritional yeast
1 tbsp of capers
1 tsp of raw mustard powder
1 tbsp of raw agave
1/4 a cup of water
Instructions
Soak the cup of cahsews overnight if possilbe. If it is not possible, you can soak them in hot water for an hour or two. Wait until the cashews are swollen and soft, This will ensure the dressing is creamy.
Once the cashews are prepared, add them to the blender with all of the ingrdients and blitz for one minute. Add the water sparingly to begin with until you have the right consistency. Don't add it all at once, you can always add more if needed.
Once your dressing is ready, serve, or add to an air tight container and refidgerate.
Notes
The best way to prepare the cashews is by soaking them overnight for the ultimate creamy.
If you are not really hung up on this recipe being 'raw' you can replace the cashews with the same quantity of vegan mayonaise.
Store in an air tight container in the fridge for two to three days,
Serve as a dressing or a dip. It works perfectly with fresh vegetable batons as a dip!
Nutrition Information:
Yield:
6
Serving Size:
1
Amount Per Serving:
Calories:

134
Total Fat:

10g
Saturated Fat:

2g
Trans Fat:

0g
Unsaturated Fat:

7g
Cholesterol:

0mg
Sodium:

39mg
Carbohydrates:

10g
Fiber:

1g
Sugar:

3g
Protein:

4g
Disclaimer: We use affiliate link in this post. By clicking on them it does not cost you any extra to make a purchase. We will receive a small commission from the sale to help us keep on writing vegan recipes, Thank you for your support.
Here at Yum Vegan Blog, we specialize in writing lunch, brunch and BBQ recipes. Make sure to check them out for some more Yum vegan ideas!!