Israeli salad is a simple, easy salad that is a staple across the Middle East. Each country has it's own name for it and tweaks it slightly but in essence it's a cucumber tomato onion salad.
Some of the other names it goes by are Shirazi salad, Persian salad, coban salatsi, or Jerusalem salad.
It's popular in the area for a reason, it's bright and fresh and pairs perfectly with heavier foods like falafel, shawarma, Georgian stuffed eggplant or even just shoved into a pita with hummus for a great packable lunch. (Check out our vegan shawarma recipe here.) It also is made with cheap, easy to find ingredients.
In Israel you'll find this cucumber tomato salad on the menu for all three meals, it's even a classic Israeli breakfast salad!
It also features in this sabich sandwich – an Israeli street food eggplant sandwich. It's also the perfect way to cut through the heat of summer, with bright ingredients that taste great and will make you feel even better.
This recipe is naturally healthy, plant based, vegan, keto, paleo, low carb, packed with nutrients and good for most diets. It's also kid approved, to the extent that my 3 year old daughter kept sticking her hands in and eating all of it while I tried to take pictures.
When you are done with this salad and want more delicious, easy salad recipes, be sure to check out this chickpea salad or our healthy broccoli salad recipe.
Israeli Chopped Salad Ingredients
The ingredients for Israeli salad are really simple. They are:
Persian Cucumbers
Tomatoes
Parsley
Red Onion
Olive Oil
Lemon Juice
Salt and Pepper
While it may be tempting to grab whichever cucumbers you have on hand I highly recommend finding Persian cucumbers. If you can't find Persian cucumbers, make sure to buy ones with thin skin, preferably a sweeter variety of cucumber.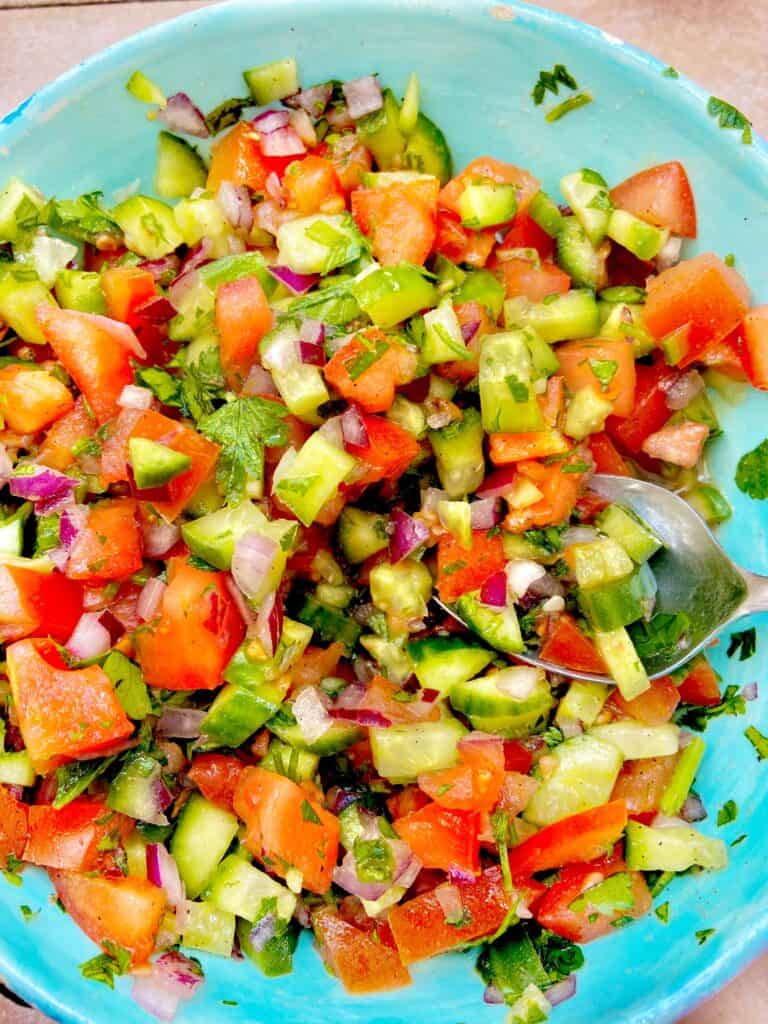 When you are using such simple ingredients, buying fresh, delicious ingredients really matters. The cucumbers with the waxy skin will make the salad somewhat bitter and unpleasant to chew on.
Likewise, try and find ripe tomatoes. Your best bet for the most flavorful tomatoes will be ones that are vine ripened, however you can use whichever variety you prefer. If you love salads with tomatoes, you could also try this delicious Heirloom Tomato Salad with Asparagus.
How To Make Israeli Salad (Jerusalem Salad)
Turning your ingredients into Israeli salad is quick and easy. It's just a matter of chopping your ingredients into small pieces. Some people chop into larger pieces and some make sure all the ingredients are finely diced.
I personally prefer a larger chop, partially out of laziness but also because I like to have something left to chew on. You will probably want minced parsley and onion as opposed to chopped unless you are one of the few who enjoy big chunks of raw onion.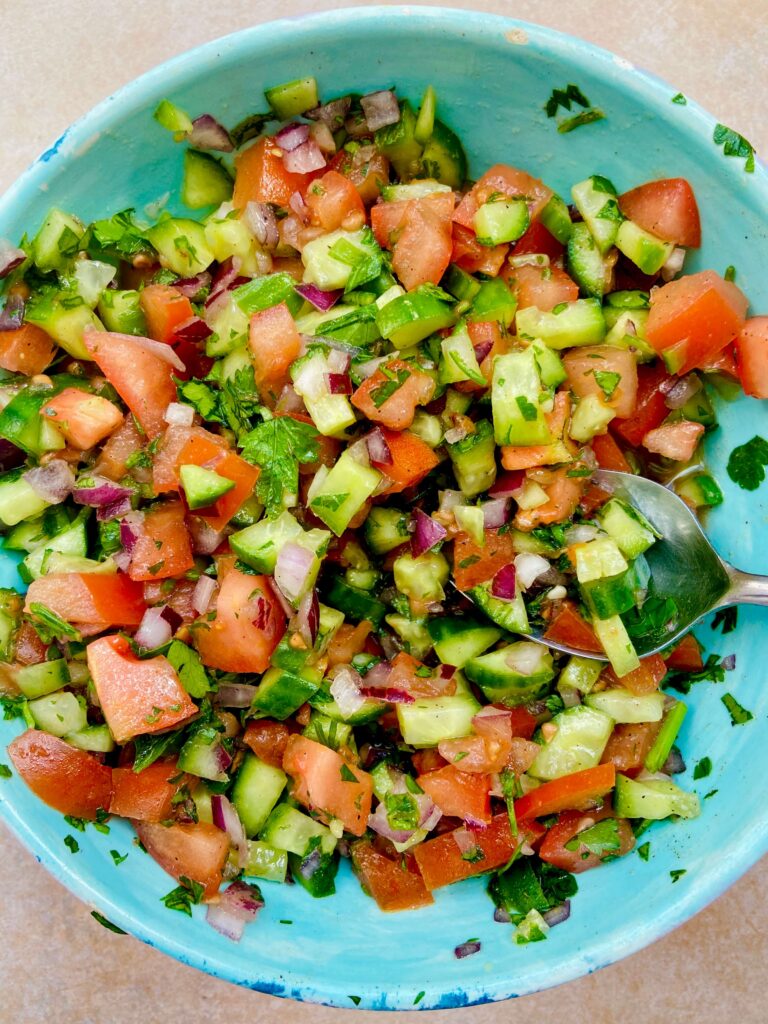 Once all your ingredients are chopped, diced or minced, you just toss it with some olive oil, lemon juice, salt and pepper.
This recipe is so easy to customize to your taste, for basically every aspect of the salad. You can try a larger chop or a smaller chop. You can try adding in chopped bell pepper.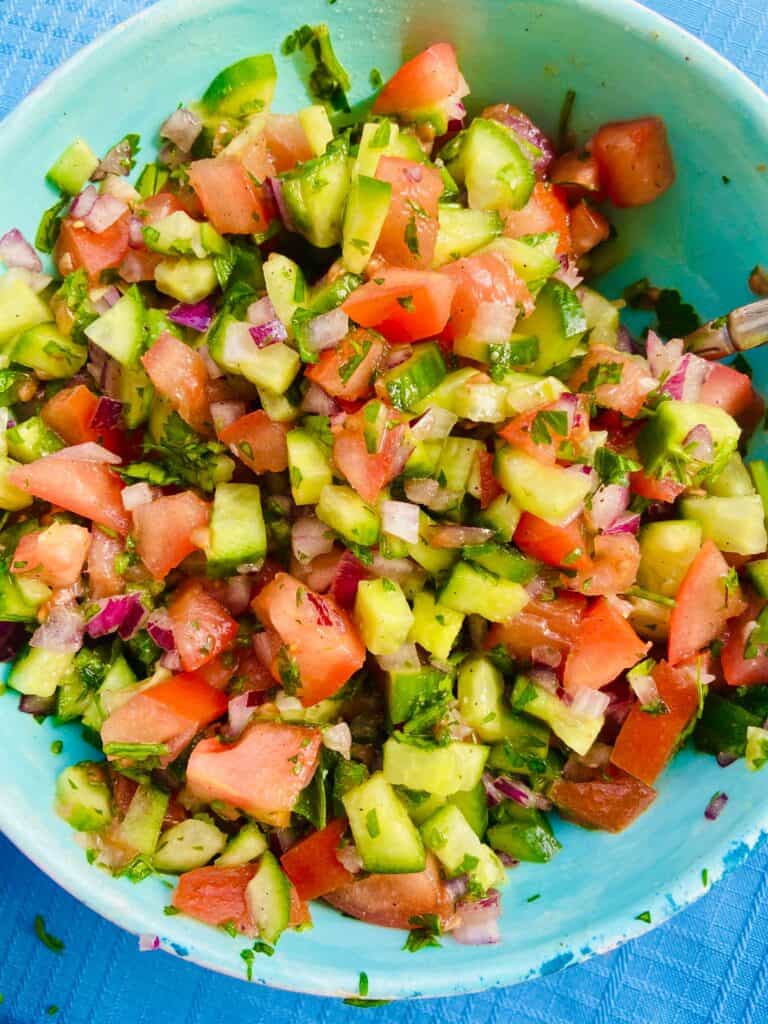 Some people enjoy adding in some mint or a hot pepper for added flavor. You can adjust the amount of lemon juice depending on how acidic you like your salad.
Try it out and play around with it! If you find a magic combination make sure to drop a comment so we can all try it out as well. This refreshing salad is definitely one of my favourite traditional Israeli dishes.
Storing Israeli Salad
Even though Israeli salad doesn't have lettuce or leafy greens, it can still get soggy AF. I would not recommend storing it for long period of time, as it will get more soggy and liquid the longer it sits. It still will taste good, but the texture will be weird.
You can however chop up the ingredients ahead of time, store in the refrigerator and add the dressing at the last minute. Store in a clean, air tight container in the refrigerator and eat on the same day the salad has been mixed with dressing.
If you want to pack it for lunch, and don't want the hassle of bringing separate containers, it should be able to last until lunch already combined on the same day.
Can I Freeze Israeli Salad?
I do not recommend freezing this salad. It is meant to be eaten fresh. If frozen, it will defrost a weird texture and the herbs will all have wilted.
Don't Forget to Pin This Recipe For Later!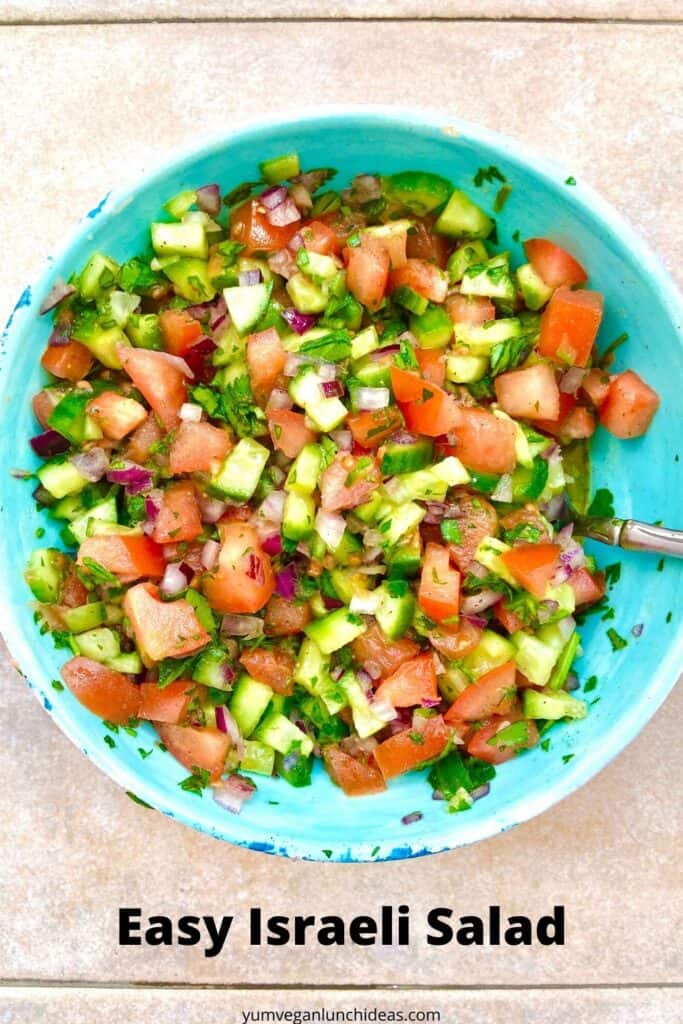 You May Also Like:
Yield: 4 Servings
Israeli Salad (Jerusalem Salad)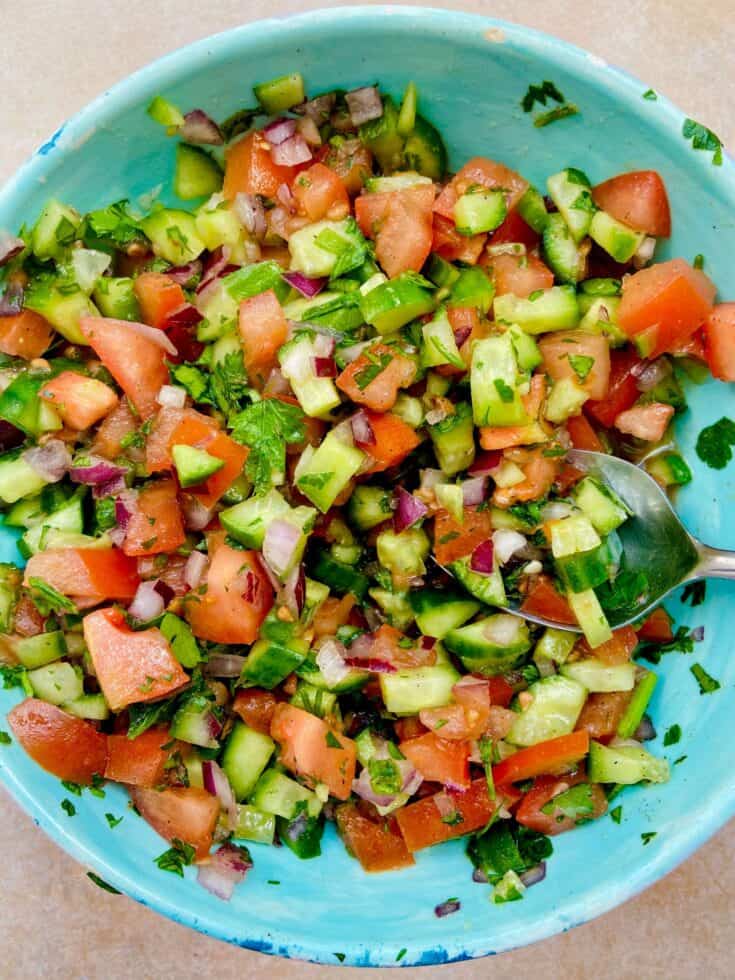 This easy Israeli salad (also known as Jerusalem salad) uses simple, fresh ingredients to create an amazing side salad. With just a few minutes spent chopping you'll have a delicious salad, that is packed with health and nutrition and falls within almost every diet.
It's naturally vegan, vegetarian, plant based, low carb, paleo, keto, and just generally good for you. It's even kid-approved! This Israeli chopped salad is a staple in the Middle East for good reason, try it out and watch as it becomes one of your favorites!
Ingredients
2 Cucumbers (Persian or Similar)*
2 Large Tomatoes
1/2 a Red Onion
1/3 Cup Chopped Parsley
Salt and Pepper to Taste
Instructions
Chop the cucumbers and tomatoes into evenly sized pieces.
Dice the red onion.
Mince your parsley (or just chop it if you are lazy).
Mix the prepared vegetables in a bowl with the olive oil, lemon juice and salt and pepper.
Enjoy!
Notes
* You can see details in the post above, but if you cant get Persian cucumbers make sure to get a variety with thin skin, preferably a sweeter cucumber.
Recommended Products
As an Amazon Associate and member of other affiliate programs, I earn from qualifying purchases.
Nutrition Information:
Yield:
4
Serving Size:
1
Amount Per Serving:
Calories:

100
Total Fat:

7g
Saturated Fat:

1g
Trans Fat:

0g
Unsaturated Fat:

6g
Cholesterol:

0mg
Sodium:

85mg
Carbohydrates:

9g
Fiber:

2g
Sugar:

5g
Protein:

2g