This delicious, classic vegan French dressing is easy to make with a few simple ingredients. It compliments green salads perfectly to give extra flavour and creaminess.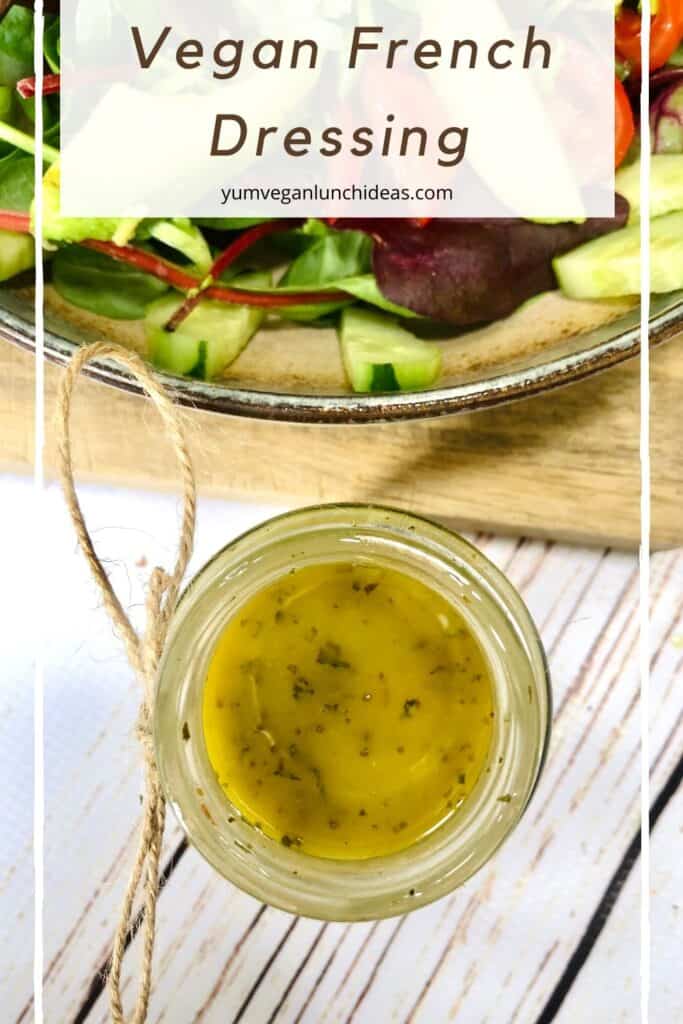 This vegan French dressing recipe is a simple yet delicious addition to your vegan salads. With these simple ingredients – it makes a really timeless vegan condiment. It is quick and easy to make by simply mixing all the ingredients together until smooth.
This tangy French dressing can be levelled out with the sweetness of the agave syrup. You can easily adapt this to your own personal taste.
This healthy French dressing recipe calls for simple, whole food ingredients. There really is no need to spend heaps of money on store bought vegan salad dressings that are usually loaded with sugars and additives.
A lot of store bought dressings are equally not vegan or whole foods.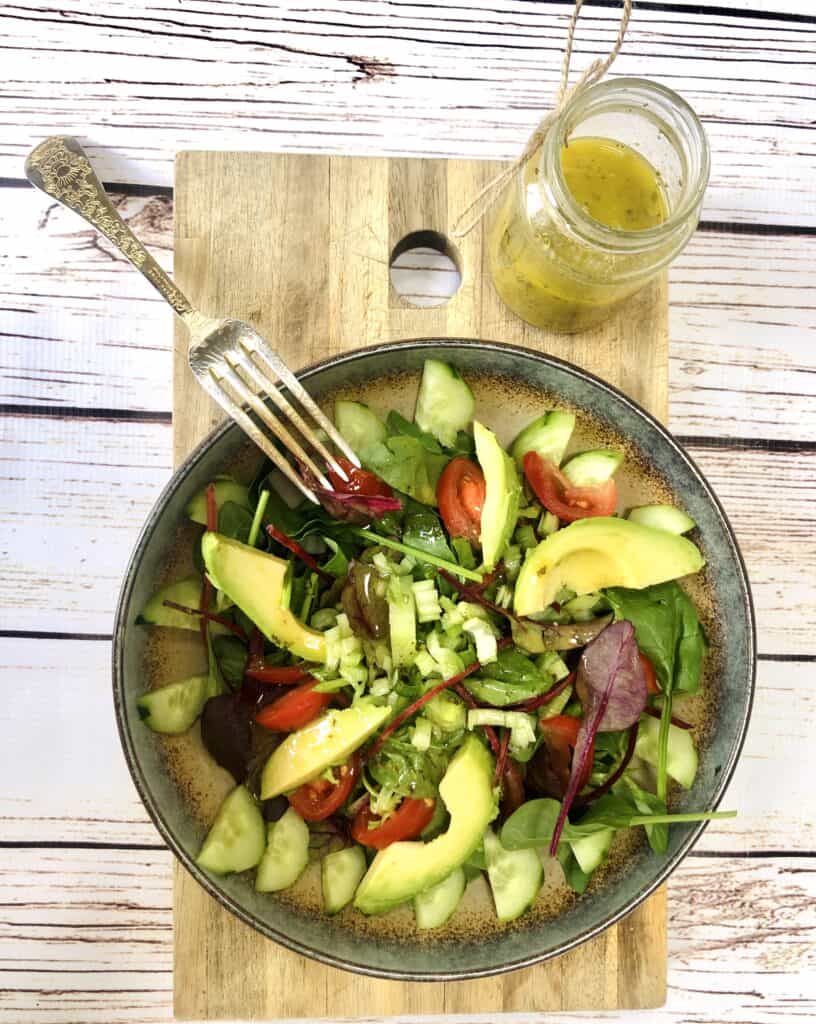 Easy Vegan French Dressing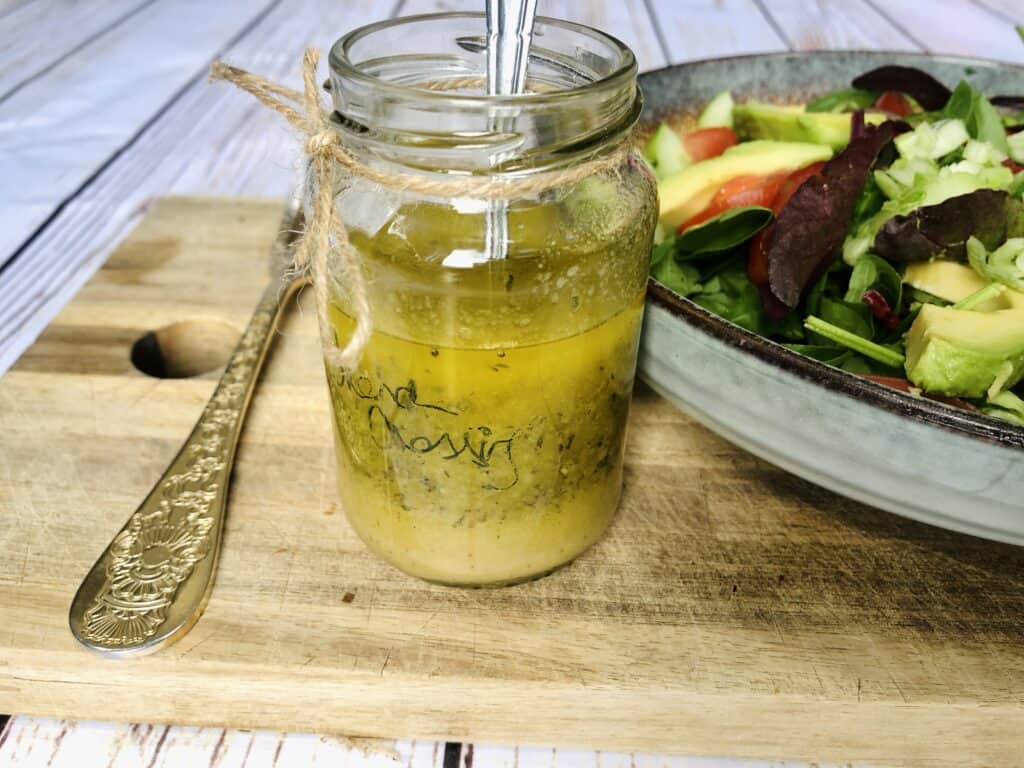 Tarragon
Tarragon is traditionally a French herb, used in many dishes throughout the centuries. Tarragon has an aniseed type flavour with citrus notes – it adds beautiful flavours to this vegan French salad dressing recipe.
This recipe uses dried tarragon, however fresh tarragon chopped finely would work equally as well. It is important to bear in mind however that dried tarragon has a more intense flavour.
Quick and Easy Vegan French Dressing
You can literally walk into your kitchen, round up your ingredients, which you will most likely have in the cupboard and put this vegan French salad dressing together in less than five minutes.
Prep time is always something to consider if you are busy! You can easily make a batch of this French dressing for the week ahead so you have it to spruce your lunches up. Just store it in the fridge for when you need – it stays fresh for up to a week.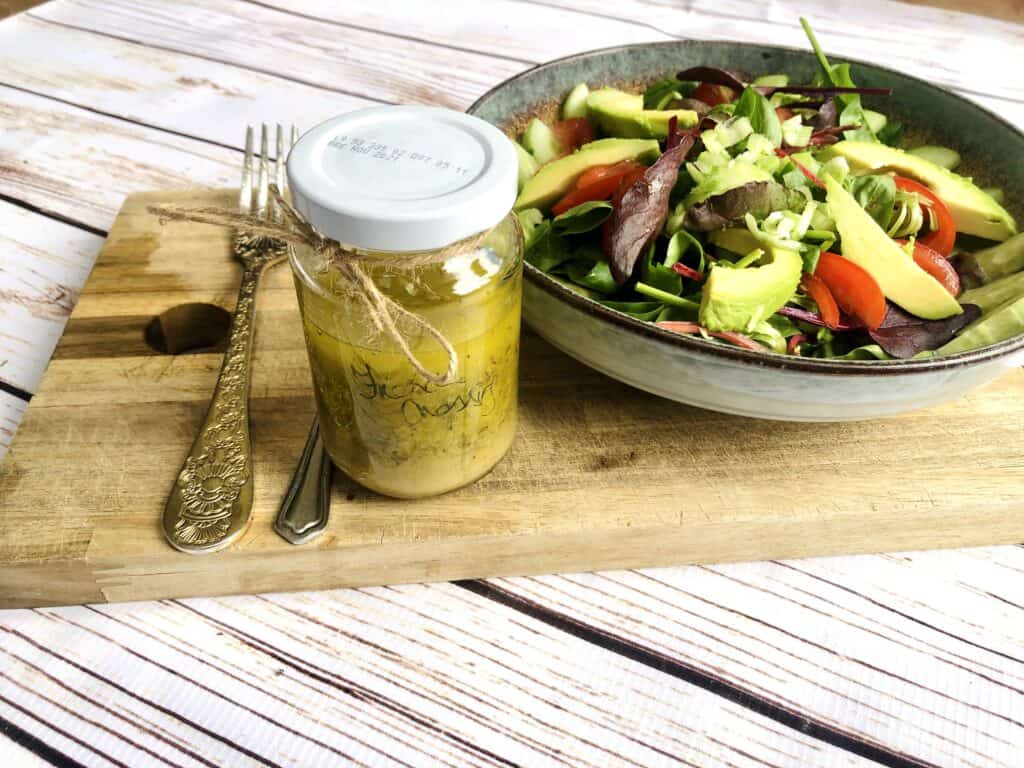 A lot of the vegan oil free dressings call for nuts in place of the olive oil. Although this is not an oil free vegan dressing, it does use a high quality Extra Virgin Olive Oil also known as liquid gold! Also makes this nut free French dressing it completely safe for those with nut allergies.
Vegan salad dressings don't have to be boring – its always good to have an array of delicious vegan salad dressing recipes, with this French dressing recipe being a staple!
Traditionally, the French vinaigrette dressing is placed at the bottom of the salad bowl, with the leaves tossed through gently, as the vegan french dressing can be quite heavy for the delicate salad leaves.
I love mopping the leftover easy French dressing up with a crusty bit of bread.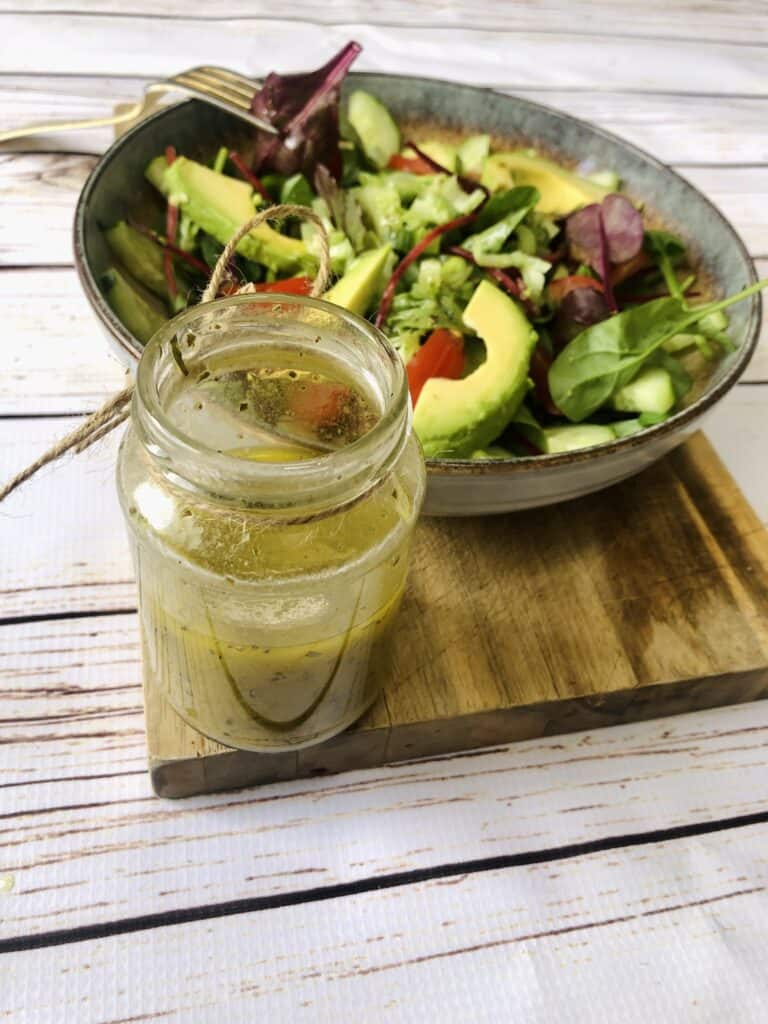 Looking for more salad dressing inspiration? Check out our cherry balsamic vinaigrette!
Yield: 5-6 servings
Vegan French Dressing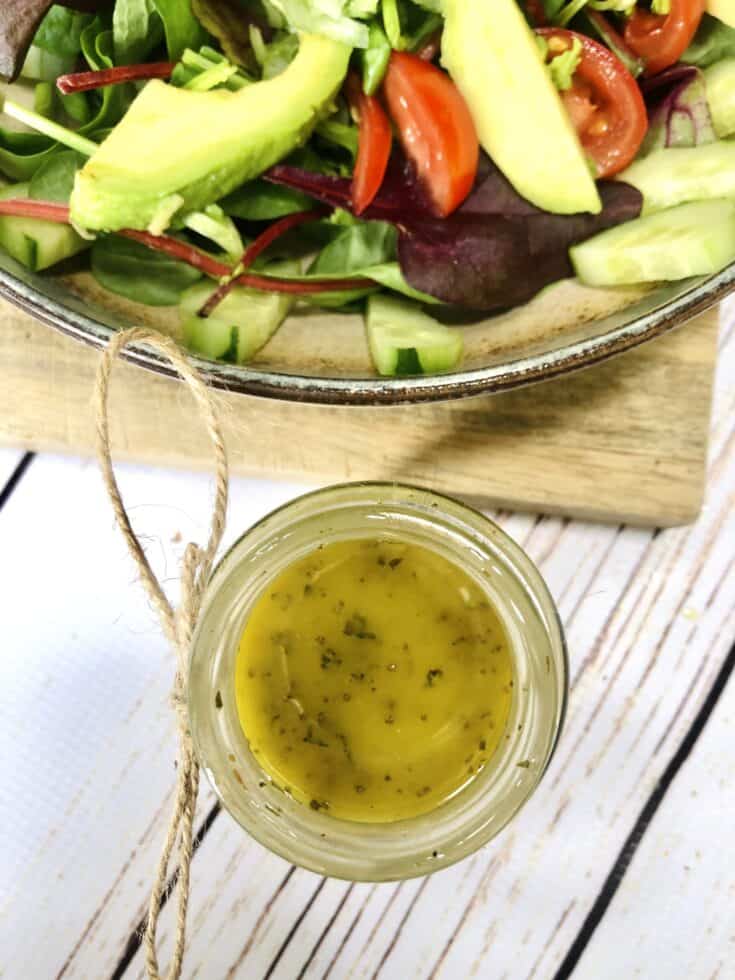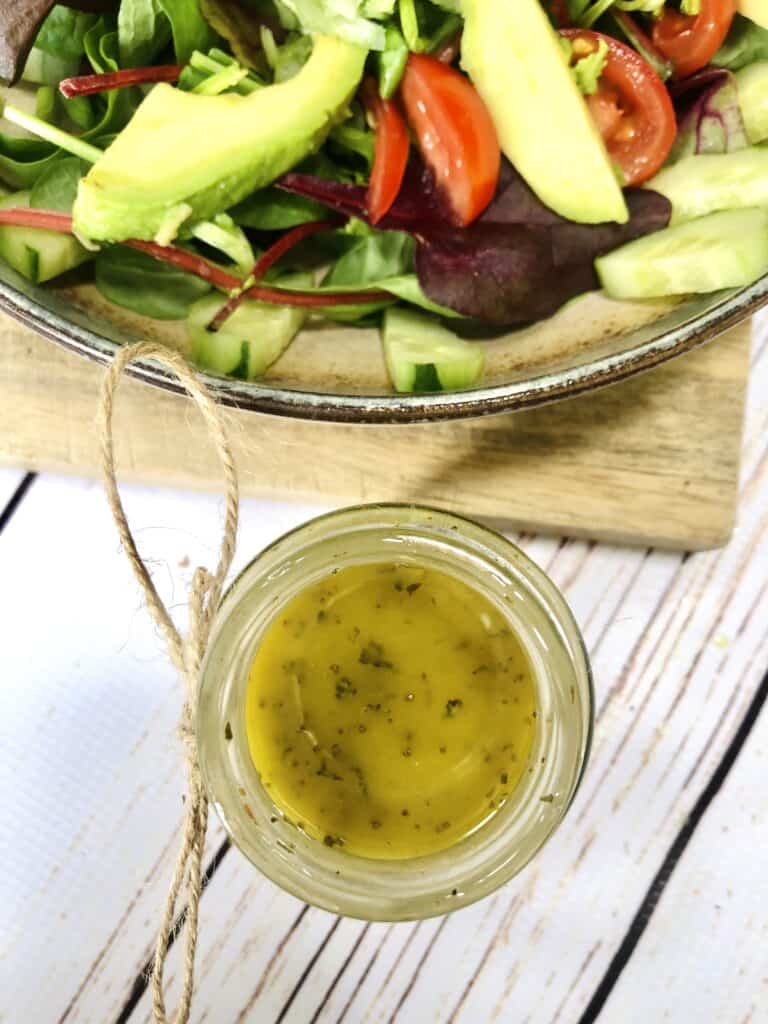 This vegan French dressing recipe is perfect for jazzing up your vegan salads. It is an easy vegan condiment with a few simple ingredients, yet will bring your salads alive.
Ingredients
100 mls Extra Virgin Olive Oil
2 tbsp White Wine Vinegar
1 tsp Dijon mustard
1 tsp Agave Syrup
1 tbsp Lemon Juice
1 tsp Tarragon
Pinch of Salt
Pinch of Pepper
Instructions
Add all of the ingredients to a bowl and whisk together until blended
Alternatively, add all ingredients to a jar and shake vigerously until combines
Serve on your favourite vegan salad
Notes
* The agave syrup is added to balance the tanginess of the dressing. You can add more or less if you please. There are other great options such as maple syrup, rice malt syrup and vegan honey.
** It is normal that the vegan French dressing will separate if making ahead of time. Simply shake it up before use or whisk through again
*** Store in the refrigerator if not using immediately. The olive oil will congeal in the cold fridge, however it will soon return to normal state at room temperature - simply whisk through again
Recommended Products
As an Amazon Associate and member of other affiliate programs, I earn from qualifying purchases.
Nutrition Information:
Yield:
6
Serving Size:
1
Amount Per Serving:
Calories:

141
Total Fat:

15g
Saturated Fat:

2g
Trans Fat:

0g
Unsaturated Fat:

13g
Cholesterol:

0mg
Sodium:

46mg
Carbohydrates:

1g
Fiber:

0g
Sugar:

1g
Protein:

0g
This is an estimated calculation
You may also like: