These vegan Belgian waffles are the perfect dish for breakfast, brunch, or even as a snack. They are light and fluffy on the inside, with a crispy outside.
This vegan Belgian waffle recipe is the best, being quick and easy too! It is not difficult to obtain these delicious waffles with the simple steps listed below.
The best thing is, they are made from scratch and it's easy to make an extra batch to save for another day.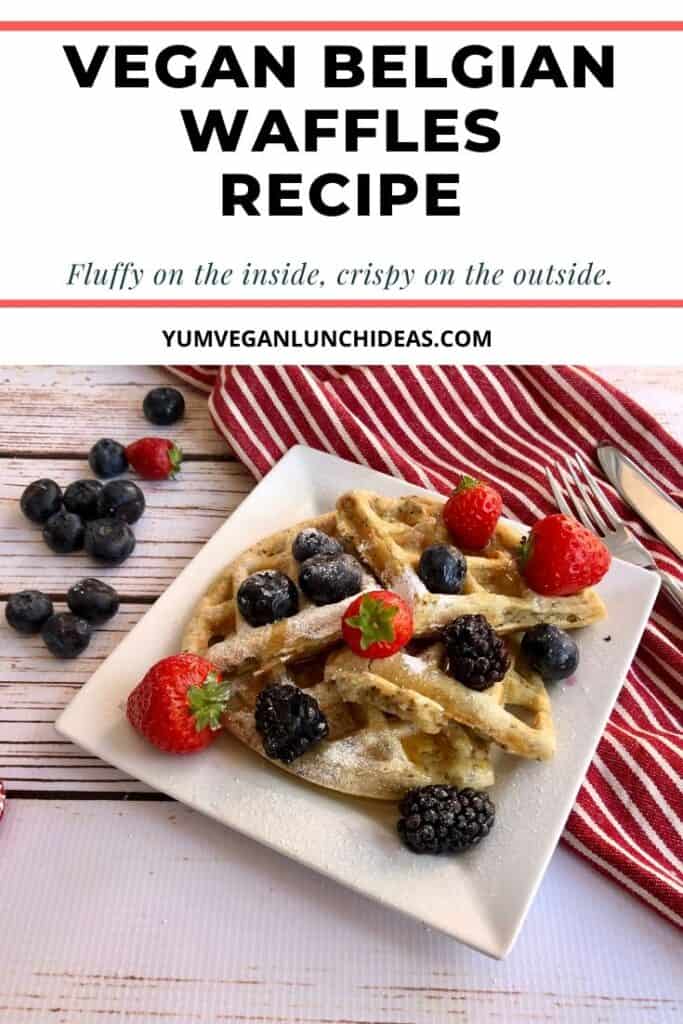 What are vegan Belgian waffles?
Belgian waffles are typically light and fluffy with deep pockets. The waffle iron used has larger grids which enable these deep pockets.
The larger, squared pockets catches the syrup perfectly!
Which waffle iron to use?
There are many types of waffle iron on the market. Some are quite affordable and worth it in my opinion for an endless supply of waffles.
I received a waffle iron one Christmas as a gift, and it has been in regular use since! Best Christmas gift ever! I also know it cost around the $35.
This Belgian Waffle Maker is almost an exact replica of the one I use regularly and is super affordable.
You can make the perfect fluffy vegan waffles by buying this Belgian Waffle Maker here.
Maybe you'd like some other vegan gift ideas here.
What about the eggs?
Obviously, these are vegan Belgian waffles, however many people ask how you could achieve the same consistency. This eggless waffle recipe is fool proof, tried and tested many times!
Belgian waffles usually are made with eggs. So vegan Belgian waffles achieve such consistency using a combination of chia egg, vegan buttermilk and baking powder.
They are bound by the chia seeds while the baking powder is the raising agent, making the eggless waffles vegan delights.
Eggless Belgian waffles also make a great meal idea for those who suffer from an egg allergy.
My little boy has multiple allergies, including eggs so these are always a winner.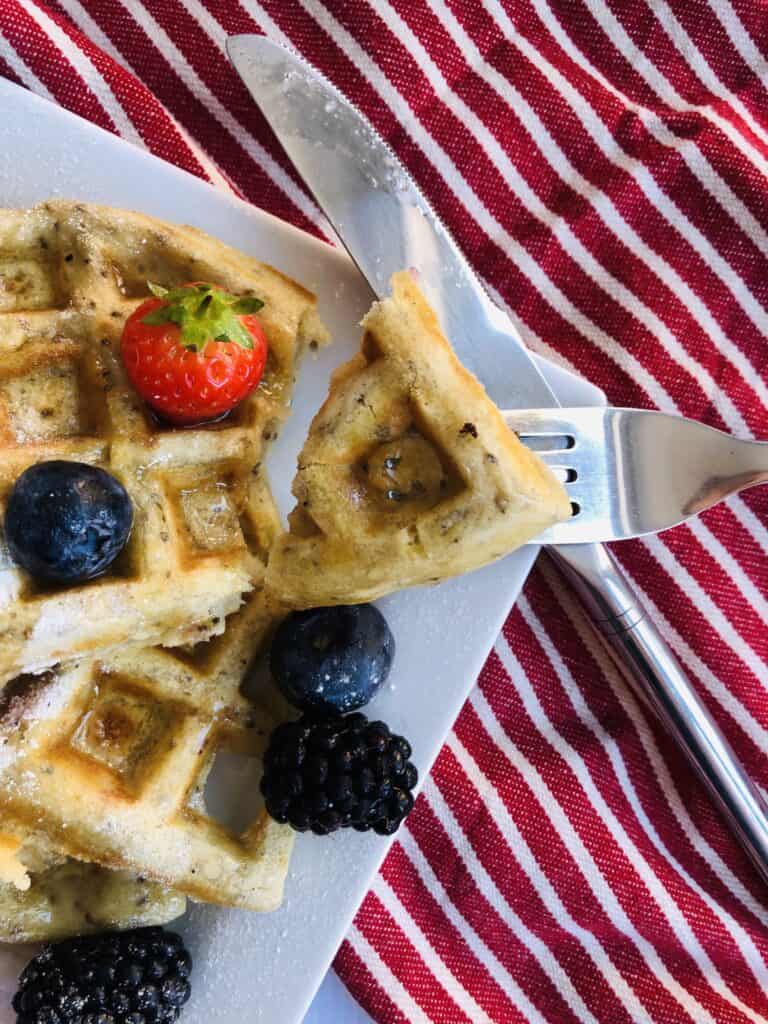 Vegan Protein Waffles
Waffles seem to be a craze right now. Although these are not protein based – if you were keen to add a scoop of vanilla powder in place of the same scoop of flour, I'm sure these would work a treat.
This a great example of some chocolate packed waffles with added protein.
Although, remember, all food has protein, even Belgian waffles without the protein powder!
Chia seeds pack a good pinch of protein. Layer them up with nut butter, and it's a powerhouse.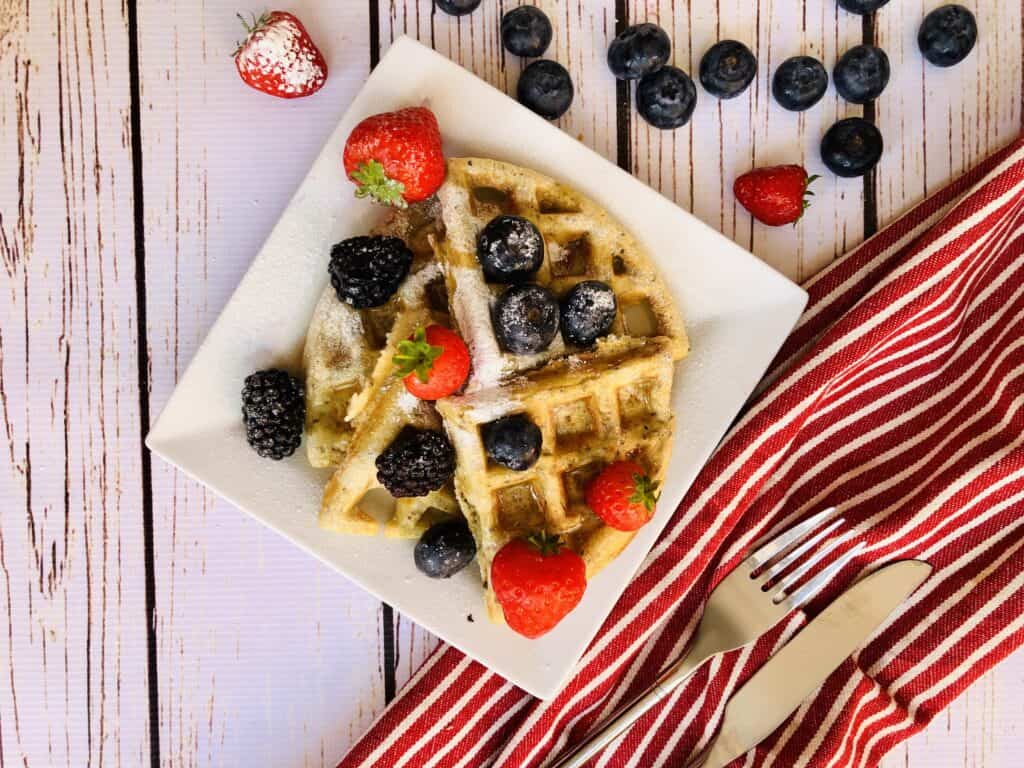 Gluten Free Waffles
These could easily be made into vegan gluten free waffles by using your regular gluten free flour.
Buckwheat flour is a staple in our home, this is also suitable in this recipe as an alternative.
What are the best waffle toppings?
Ooh there is almost too much to choose from! I tend to use vegan caramel sauce with a dusting of icing sugar and some fresh berries:
Fruit and berries
Vegan whipped cream
Vegan ice cream
Vegan chocolate sauce
Vegan butter
Maple syrup/agave syrup
Jam/jelly
Can you freeze waffles?
Of course you can freeze waffles! And this is something I regularly do in order to have a handy snack ready to go for my little one.
I simply wait for them to cool before placing them in a lunch box or freezer bag.
The vegan frozen waffles can easily be defrosted for about 10-15 seconds in the microwave and then placed in the toaster to crisp them up again!
Yield: 6 servings
Vegan Belgian Waffles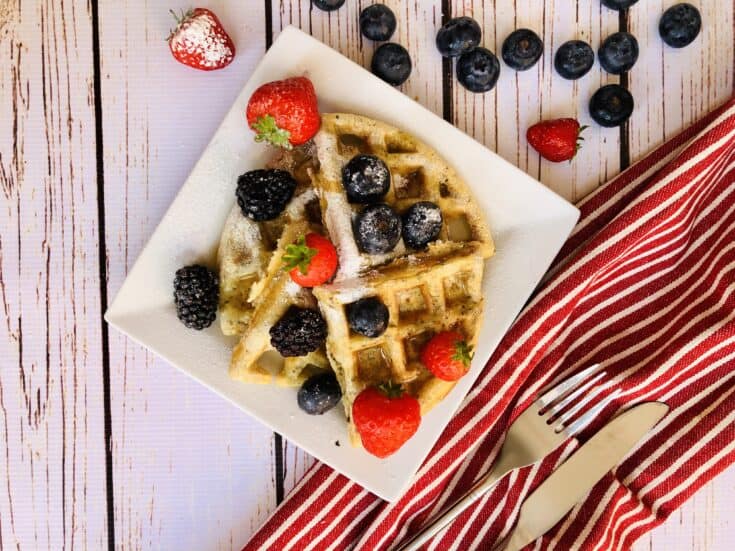 These vegan Belgian waffles make the perfect sweet breakfast, lunch, brunch or snack. They are perfectly light and fluffy on the insdie while crispy on the outisde. The deep pockets are perfect for catching that maple syrup drizzle.
Additional Time
25 minutes
Ingredients
1.5 cups of all purpose flour
1.5 cups of oat milk
2 tbsp chia seeds
6 tbsp vegetable oil
3 tsp baking powder
Pinch of salt
2 tbsp sugar
1 tsp vanilla essence
2 tsp lemon juice
16 sprays approx spray oil
Instructions
Preheat the waffle iron
Make the chia egg by adding 4 tbsp of oat milk to the chia seeds - stir well and set aside
Make the vegan buttemilk by adding the lemon juice to the remaining milk, set aside
in a large mixing bowl add the flour, baking powder, salt and sugar. Make a little well in the dry mixture.
Add the vegetable oil and vanilla essence to the buttermilk and whisk well
Add the chia egg to the buttermilk mix and stir well
Add the wet ingredients into the well of the dry ingredients and stir through
Use spray oil to easily grease the waffle iron
Add around a ladel full of the waffle mixture to the waffle iron.
Close the waffle iron and leave to cook for around 4-5 minutes until golden and cooked through
Place on a wire rack to cool and allow it to crisp up.
Continue with the waffle mixture until it is gone. You should get around 4 waffles from this recipe.
Notes
As tempting as it may be, dont open the waffle iron until they are almost done!
Nutrition Information:
Yield:
6
Serving Size:
1
Amount Per Serving:
Calories:

326
Total Fat:

18g
Saturated Fat:

1g
Trans Fat:

0g
Unsaturated Fat:

15g
Cholesterol:

0mg
Sodium:

270mg
Carbohydrates:

38g
Fiber:

3g
Sugar:

9g
Protein:

4g
This is an estimated calculation.
Have you enjoyed this recipe?
Be sure to check out this delicious Vegan French Toast Casserole, vegan dutch baby or our easy sweet potato waffles.