This bright, healthy vinaigrette will make your salads pop with color and taste! It's super easy to whip up, and tastes great on all your greens.
Sweet cherries really pack a special flavor into this easy vinaigrette dressing, and they sweeten it to boost so you don't need any sweeteners to balance the vinegar out. You can even easily convert it to an oil free vinaigrette, if you don't eat oil or are calorie skimping.
So grab some sweet cherries and get to making this stunning balsamic cherry vinaigrette recipe!
Looking for more salad dressing inspiration? Check out our date syrup salad dressing or this easy french dressing.
Cherry Vinaigrette Dressing Ingredients
The ingredients you'll need to make this balsamic vinaigrette are:
Frozen Cherries
You can use fresh cherries, but it will add work for you, as you'll have to pit each one individually. Regardless of whether you are using fresh or frozen, make sure you get sweet cherries, not tart cherries.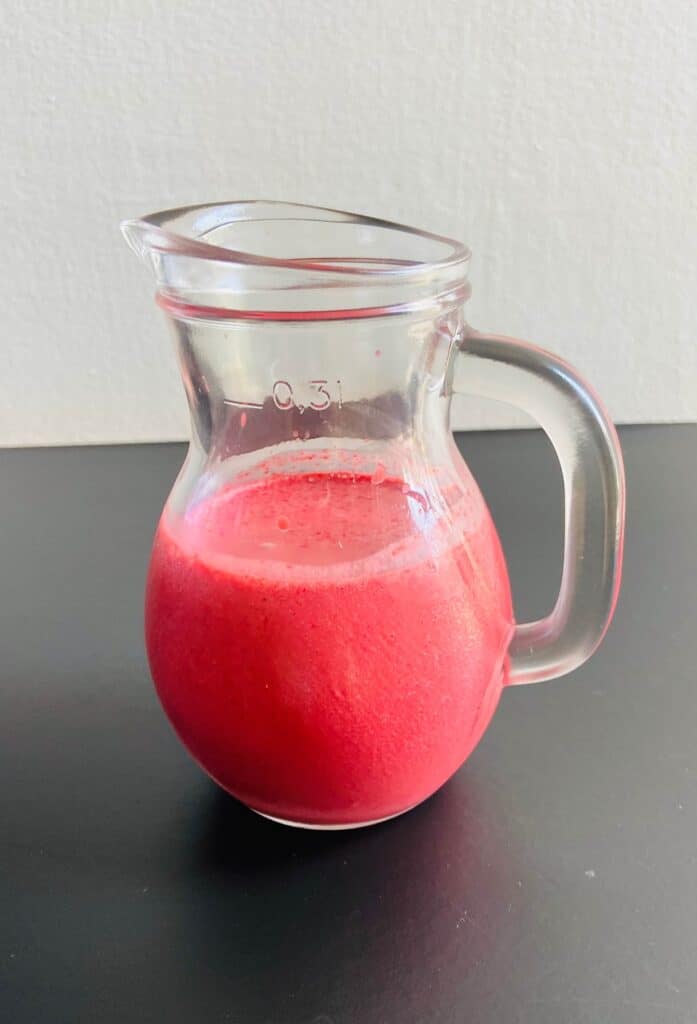 How to Make Vinaigrette
It's super easy to make this cherry balsamic vinaigrette, it's just a matter of letting the cherries defrost a little and then blending all the ingredients together.
You can defrost the cherries on the counter top or using heat (on a stove top or in the microwave). They don't need to be completely defrosted, but just enough that they blend easily and that you don't need to add a lot of liquid to thin it out.
Cherry Balsamic Vinaigrette Serving Suggestions
This delicious fruit vinaigrette tastes great on green salads, especially when paired with fruit. One of my favorite combinations so far has been baby romaine (purple and green mix), with slices of sweet red apple, topped with this homemade vinaigrette. Another favorite is this rocket and pear salad!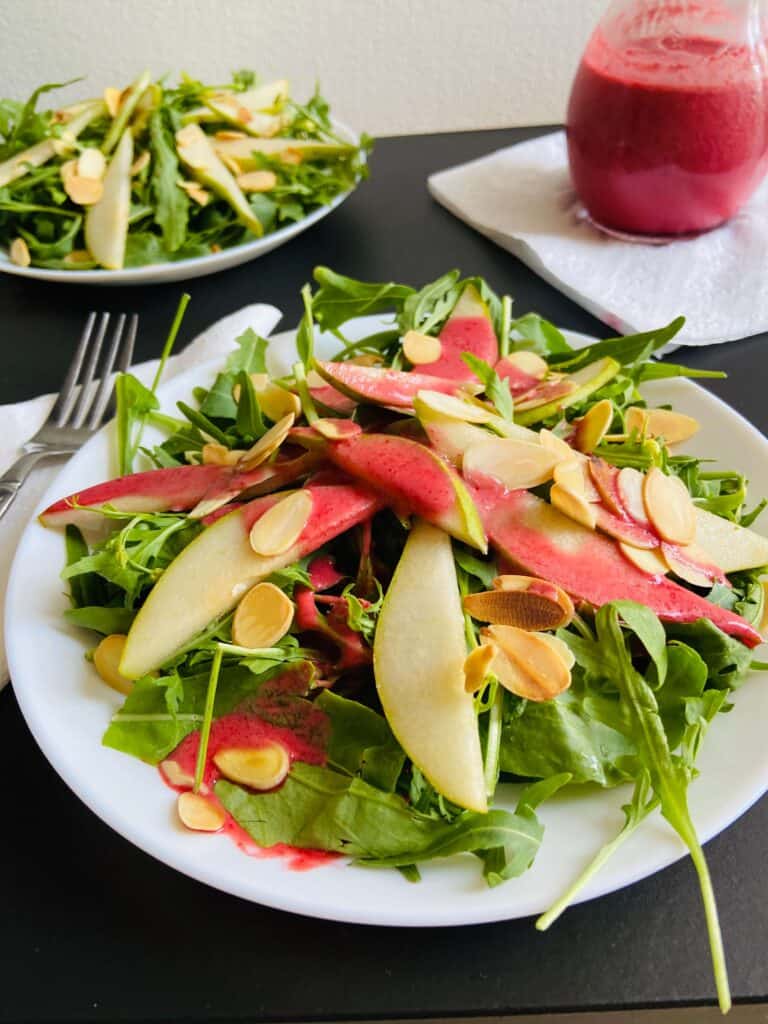 Try it with any of your favorite greens, from kale to spinach, it will liven up any salad.
Storing and Make Ahead Instructions
Store this dressing in an airtight container in the fridge. It should stay good for at least 5 days, so feel free to make a batch and use it throughout the week!
Fat Free Vinaigrette Option
If you are trying to avoid oils for any reason, you can replace the oil in this recipe. It's a pretty small amount to start with as far as salad dressings go, making it a pretty good low fat vinaigrette dressing.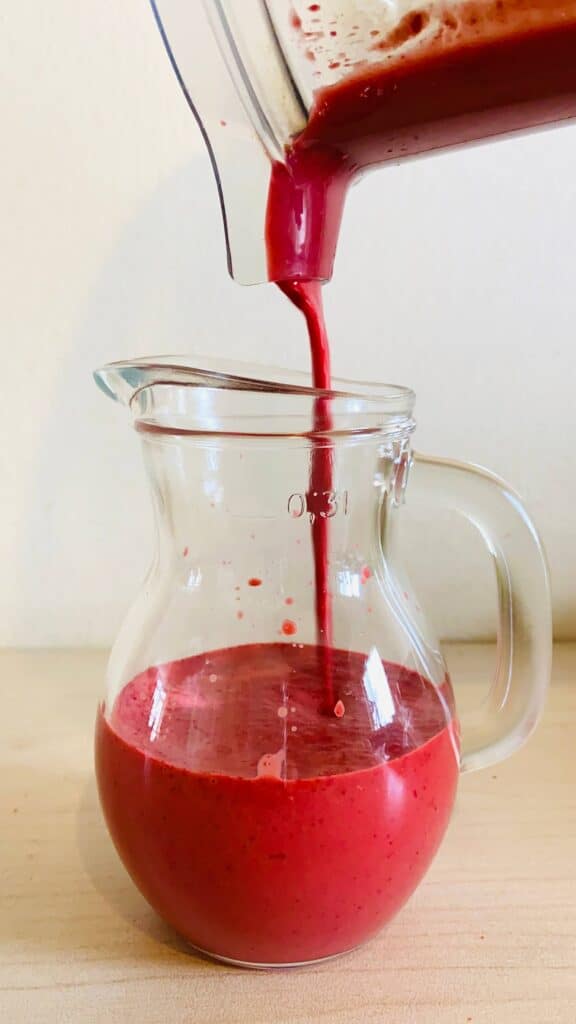 But, if you want to eliminate it completely, remove the oil and replace it with an extra tbsp of water. The oil does make the dressing flavor a bit more cohesive but it tastes good without it also, just a little bit lighter flavor.
You can also try substituting the oil with aquafaba. I haven't tried this version, but I've heard good things about using aquafaba as an oil substitute. If you are unfamiliar with aquafaba, it's the liquid from a can of beans, ideally from a can of chickpeas
. If you do try this, you may want to omit the salt from the recipe, since aquafaba has salt content of it's own.
Don't Forget To Pin This Recipe For Later!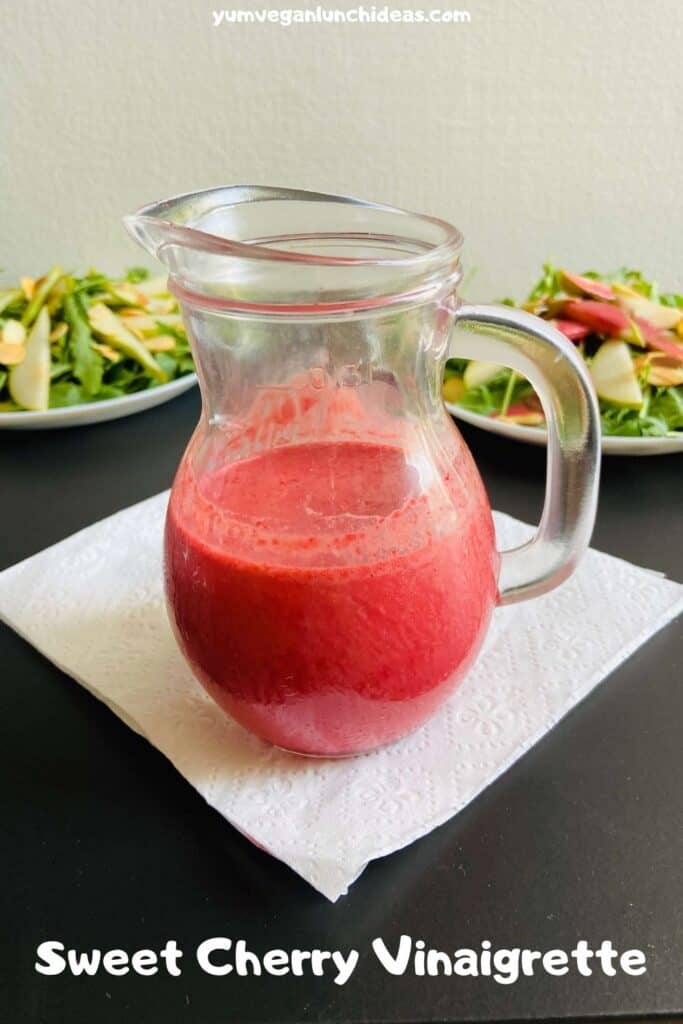 Yield: `1 1/4 Cup Dressing
Sweet Cherry Vinaigrette | Cherry Balsamic Vinaigrette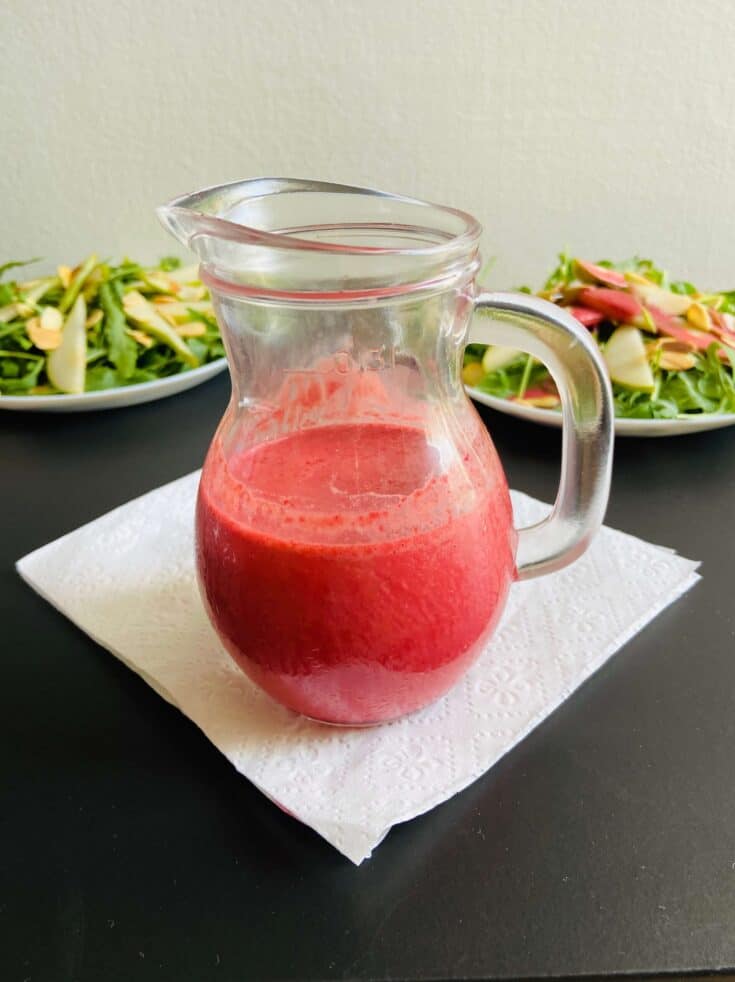 This bright, healthy, sweet cherry vinaigrette will make your salads pop with color and taste and it only takes a few minutes to make! It tastes amazing on top of all your favorite greens from arugula to kale to romaine, especially when paired with sliced fruit.
This amazing homemade vinaigrette is naturally vegan, plant based, no added sugars, gluten free, dairy free, nut free, and an all around healthy salad dressing.
Ingredients
1 Cup Frozen Sweet Cherries*
2 Tbsp Water
A Pinch of Salt
Instructions
Let the sweet cherries defrost on the counter until softened a bit. It doesn't have to be fully defrosted but it shouldn't be rock hard either. If you want to speed up the process just pop it in the microwave until softened.
Blend all the ingredients until smooth.
Enjoy!
Notes
* You can use fresh but it will take some effort to pit all the cherries before you blend it.
** You can make this dressing oil free by omitting the oil and adding an extra tbsp of water. For full instructions on making it an oil free vinaigrette check out the full post above.
Nutrition Information:
Yield:
10
Serving Size:
1
Amount Per Serving:
Calories:

37
Total Fat:

3g
Saturated Fat:

0g
Trans Fat:

0g
Unsaturated Fat:

3g
Cholesterol:

0mg
Sodium:

14mg
Carbohydrates:

3g
Fiber:

0g
Sugar:

2g
Protein:

0g
Disclaimer: This post contains affiliate links. That means if you purchase through one of our links we get a tiny cut at no additional cost to you.