This crimson red cabbage sauerkraut recipe is easy to make, with minimal ingredients and a little patience. Crunchy, tangy and gut friendly – this fermented red cabbage recipe is a real winner.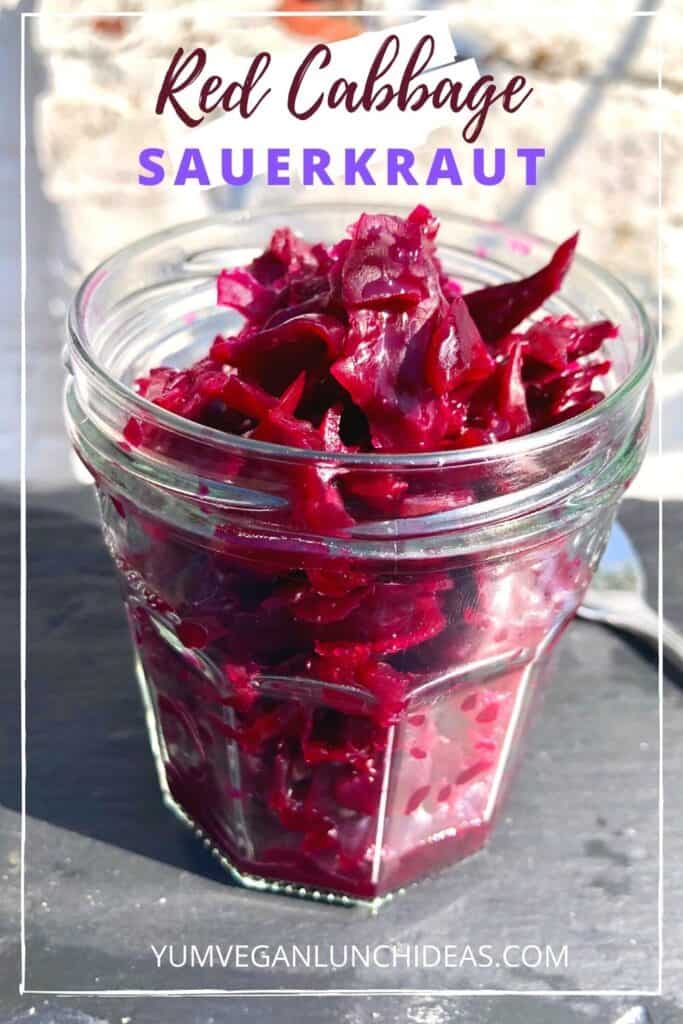 This particular kraut recipe is my staple, as I absolutely love the vibrancy and taste of red cabbage. It adds so much depth, flavour and goodness to so many dishes for me.
I always have a batch of this readymade in my fridge as it is my absolute favourite! There really is something special about the bright red cabbage kraut.
Earthy
Crunchy
Tangy
Wholesome
What is Red Cabbage Sauerkraut?
Red cabbage kraut is essentially fermented cabbage, using a simple but ancient technique of fermentation. This method of preserving perishable foods dates back to the fourth century BC.
This is a super popular food in Germany and Eastern Europe, clearly revered worldwide now for its deliciousness and health benefits.
Health Benefits of Sauerkraut
Probiotic
During the fermentation process, live bacteria is produced which gives the sauerkraut its health benefits.
Fermented foods are renowned for having probiotic benefits. This means they increase the healthy gut bacteria and allow your guts ecosystem to flourish.
This healthy bacteria is thought to feed the good bacteria already in your gut and can overall reduce inflammation in the body.
Gut health is becoming increasingly popularised, with many probiotic products on the market coming with a price tag.
Improving your gut flora can contribute to a healthy immune system. That's why it's great to include fermented foods such as the red sauerkraut recipe in your daily meals.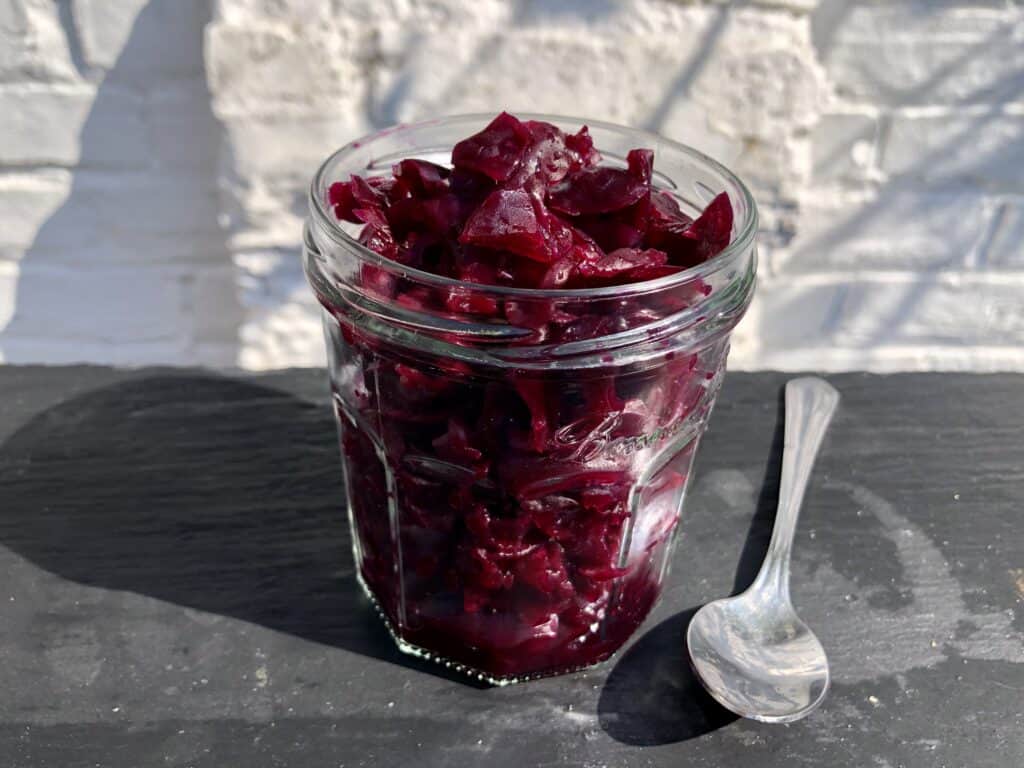 Nutrients
Red cabbage contains good levels of Vitamin K, C, calcium, potassium and phosphorus.
In fact red cabbage has around seven times more Vitamin C than its green cabbage counterpart. Additionally it has much more iron and Vitamin A concentration than green cabbage.
Anthocyanin polyphenols are what gives red cabbage its beautiful deep, rich colour, which boost anti-inflammatory and antioxidant purposes of this delciious plant food.
Fibre
Of course this provides a great source of fibre – which in turn increases its gut-friendliness!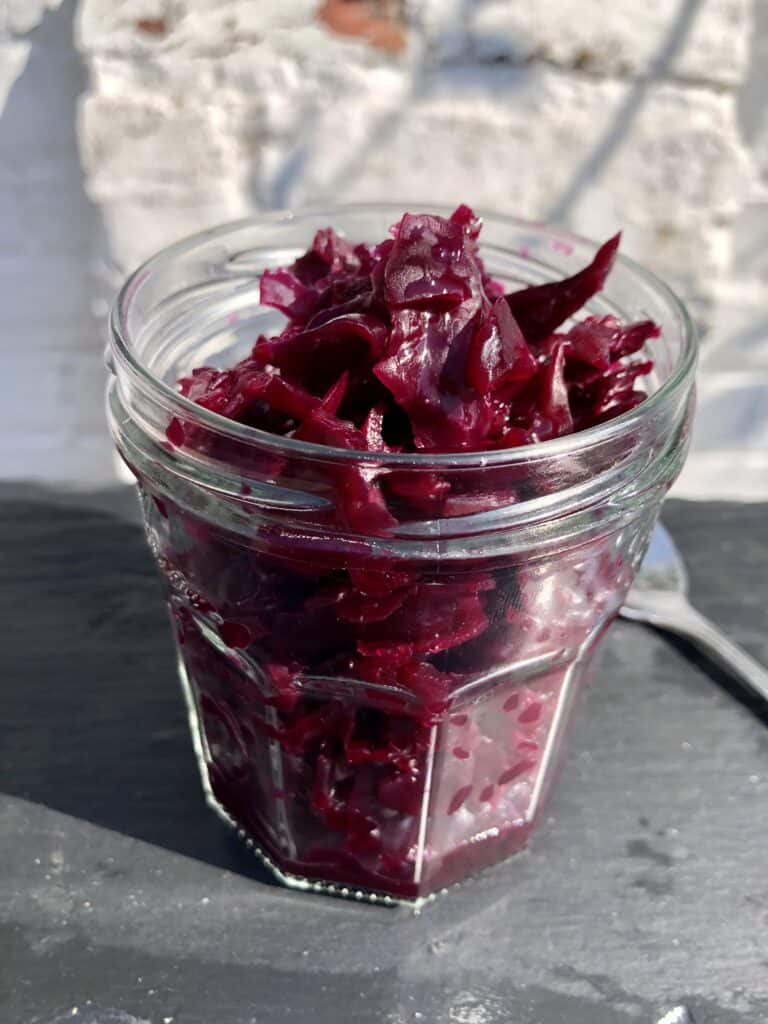 Homemade Red Sauerkraut Recipe
Making sauerkraut at home is super easy, when a few simple steps are followed. Not only is it easy to make, it will also save you a bunch of money.
Although many stores sell what appears to be fermented foods on the shelf these are usually loaded with vinegars to give the fermented appeal.
This sauerkraut recipe is easy to make, tasty and cost friendly – with the aded bonus of health benefits.
Eat The Rainbow
Many of us have heard the term "eat the rainbow". One of the exact reasons for this is because including a variety of colourful fruits and vegetables means we optimise our nutrionial intake.
In addition to this, including variety plant based foods in our diet is also known to improve gut health. So this vibrant homemade sauerkraut recipe is most certainly included.
Two Ingredient Sauerkraut
This delicious a crunchy sauerkraut recipe is literally just two ingredients!
Red Cabbage
Salt
What You Will Need
The following equipment will be necessary to make this red cabbage kraut recipe.
You can also get hold of helpful Fermentation Kits.
How to Sterilise Jar
It is important to use a sterilised jar to ferment the cabbage in. This is because the cabbage will be fermenting there for a number of days or more (depending on how tangy you want it).
If the jar is not sterilised sufficiently the kraut may go bad. Choosing the right jar also helps – these Mason jars work perfectly for fermenting as this is exactly what they have been designed for!
Simply sanitise the jar or jars just before you plan to make the fermented red cabbage. Pop the jars in a large pan with boiling water, cover – and ensuring the boiling water is inside the jar.
Leave on a rolling low boil for up to five minutes (do not boil lids as this may spoil them). The lids may be dipped briefly into the boiling water at the end. Remove very carefully using and leave to air dry on the counter top.
If the jars are too large for a pan – simply place standing up in a clean sink and pour boiling water into the jar – leave stand for five minutes and then empty to air dry.
What To Eat With Sauerkraut?
Sauerkraut is a great addition to a number of foods! I like a spoonful out of the jar here and there.
Heres what else you can do with it:
As a side dish
On top of avo toast
As a soup topper
As a salsa
On a stir fry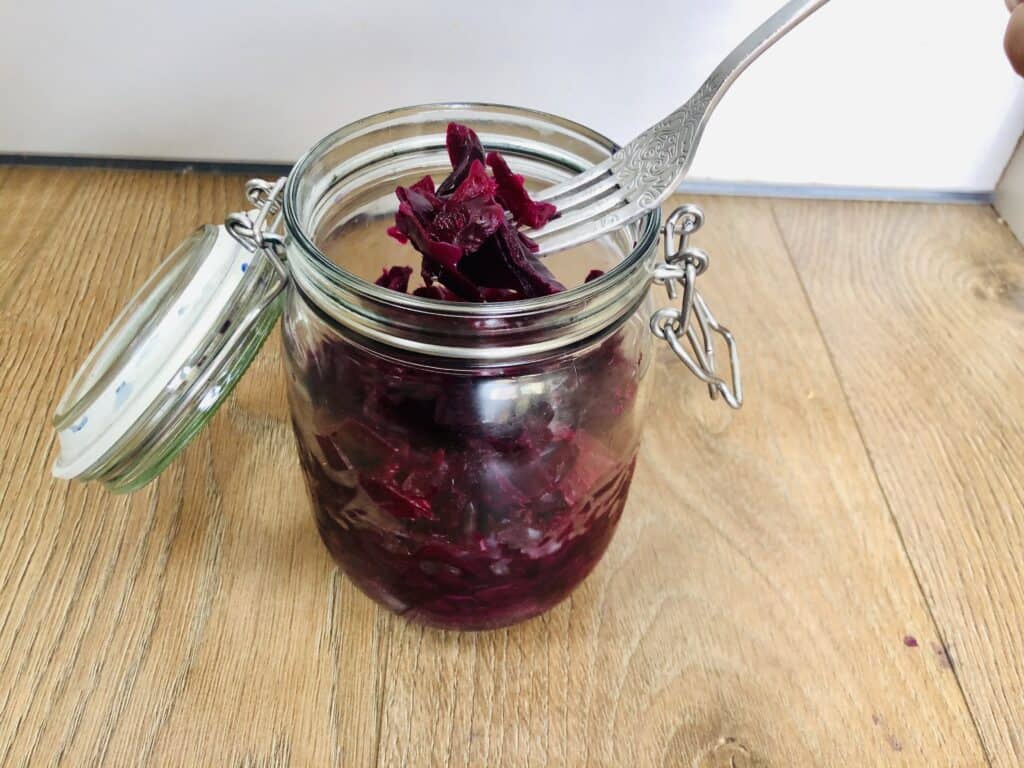 Yield: 800g
Red Cabbage Sauerkraut Recipe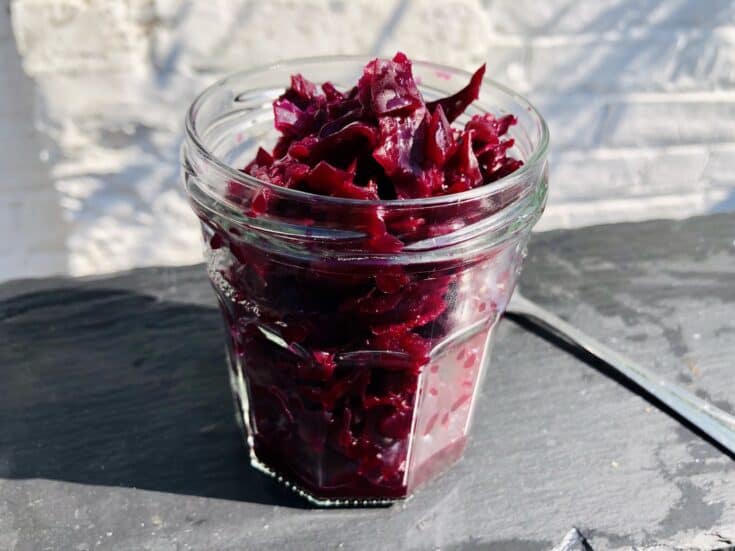 This crimson red cabbage sauerkraut recipe is easy to make, with minimal ingredients and a little patience. Crunchy, tangy and gut friendly – this fermented red cabbage recipe is a real winner. It is the perfect probiotic for optimal gut health.
Total Time
3 days
15 minutes
Ingredients
800g red cabbage
2 tbsp salt
Instructions
Sterilise storage jars
Remove outer layers of cabbage and discard of any bad bits. Keep one big leaf to one side, as this will be used as a weight to hold the shredded cabbage down.
Begin shredding your red cabbage. Some people prefer to use a knife, others like to grate it finely. A food processor definitely saves some elbow grease! If you prefer a fine sauerkraut a grater or food processor would work great.
Place shredded cabbage in a large bowl. Sprinkle salt onto the cabbage, and of you dont want to stain your hands, use some sterile gloves to massage the red cabbage and salt together. You will begin to see the red cabbage "sweat".
Keep massage the cabbage and squeezing the juice from it. This may take 5-10 minutes so be prepared for some satisfying handy work!
Place handfuls of the cabbage in your sterlised jar, one handful at a time and use a pushed to press it down into the jar to release more juices.
Once all cabbage has been pressed down, then top with the remaining liquid from the bowl.
Place the large cabbage leaf on top - this will keep the red cabbage below the liquid, which is neccesary for a succesful ferment.
Place the lid securely on top - and it is ready for fermenting!
Place the jar in a cool, dark place for a number of days, Every couple of days pop the lid to allow the air bubbles out and ensure the cabbage is below the liquid.
The longer you leave the red cabbage in this dark place, the tangier or more "sour" the kraut will be.
When you are satisfied with the flavour having taste tested it - simply place in the fridge and enjoy!
Notes
1) The thicker you shred the cabbage, the more massaging will be needed!
2) No need to clean the cabbage prior to use as the fermentation relies in the natural bacteria on the cabbage, For this reason, organic cabbage is often better as it has not been sprayed with articial chemicals.
Nutrition Information:
Yield:
12
Serving Size:
1
Amount Per Serving:
Calories:

19
Total Fat:

0g
Saturated Fat:

0g
Trans Fat:

0g
Unsaturated Fat:

0g
Cholesterol:

0mg
Sodium:

2344mg
Carbohydrates:

5g
Fiber:

2g
Sugar:

2g
Protein:

1g
this is an estimate