This vegan lentil sausage roll recipe is packed with flavour. With a delicious lentil and mushroom filling and the perfect flaky puff pastry.
Vegan sausage rolls make the ultimate snack. They also work well for breakfast, brunch, lunch.
Vegan sausage rolls are a great nibble for sharing at a party or gathering additionally and I can assure you there won't be any left!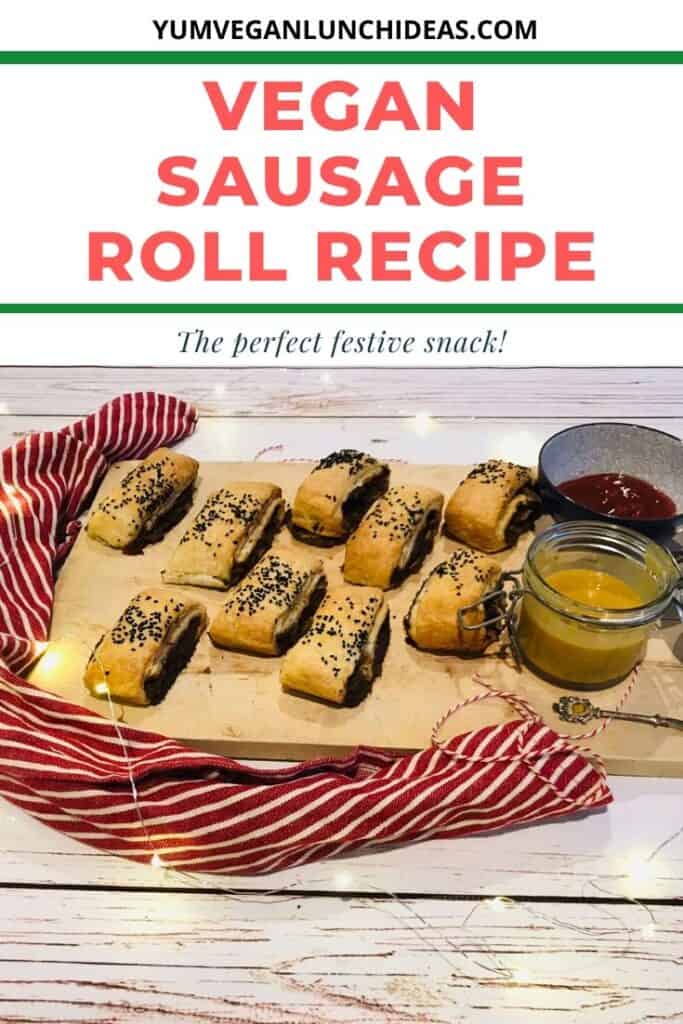 What is a vegan sausage roll?
A sausage roll is a British invention, similar to the BLT. It is an extremely popular snack for breakfast, brunch, lunch or on the go.
If you are travelling to London, or anywhere in England, you'll find that most bakeries, high street outlets and supermarkets stock sausage rolls either hot and ready to eat or cold for cooking at home.
This vegan sausage roll recipe is the plant based twist on the traditional version.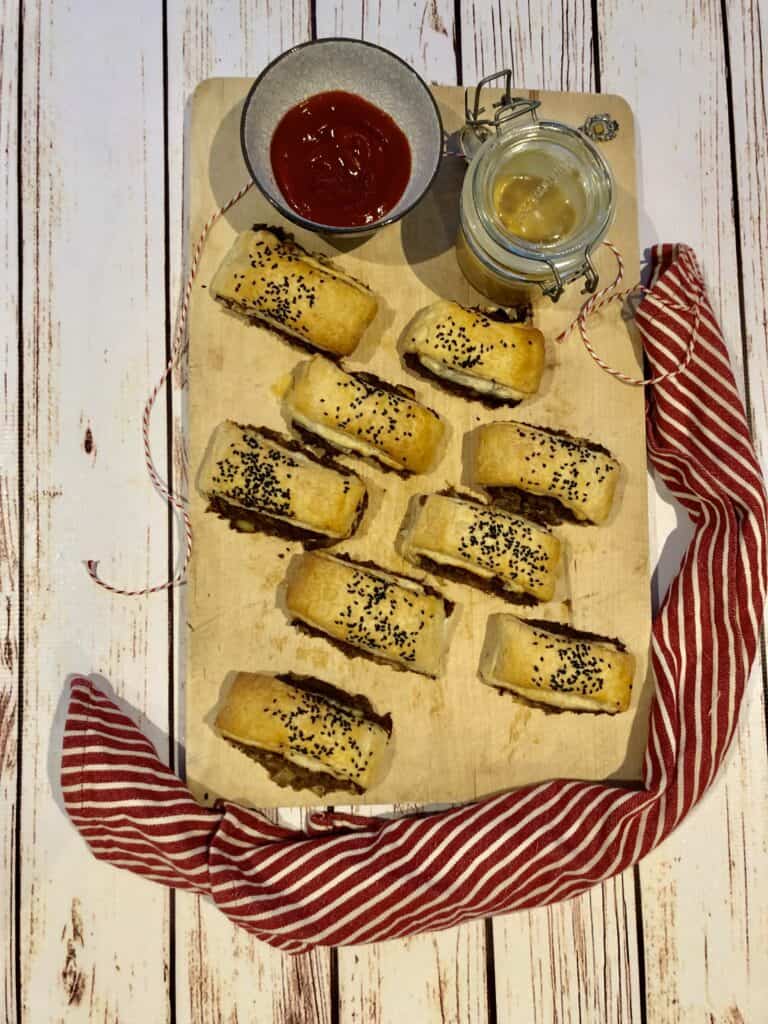 Traditionally, the sausage roll is ground sausage meat wrapped in a flaky puff pastry. They come in various sizes and often served in miniature sausage roll version at buffets and parties.
Of course, with all dishes – the vegans are here to make the ultimate plant based version of it's meat counterpart.
Vegan sausage rolls can use the traditional puff pastry method.
Many pre-made puff pastries from the supermarket are vegan. To make things easier, this vegan sausage rolls recipe uses pre-made vegan puff pastry. Vegan puff pastry recipes are super comforting and equally as delicious.
A variety of plant based foods can be used to achieve peak vegetarian sausage roll flavour. With the correct herbs and spices – it can provide the ultimate vegan brunch or snack.
Whats the big deal about vegan sausage rolls?
The are literally like a comfort snack and they are so freaking tasty. Especially when made correctly, who can not give into the temptation of flakey puff pastry on their lips.
Even better when this flaky puff pastry is blanketing a savoury, flavoursome surprise on the inside. This vegan sausage roll recipe does not disappoint!
I have been vegan for 6 years and I used to eat meat sausage rolls regularly. It wasn't until they became more mainstream in a vegan respect that a lightbulb moment occurred for me to make them myself and know exactly what I am putting inside them.
I can fill them full of nutritious goodness, especially if I'm not quite in the mood of mock meat.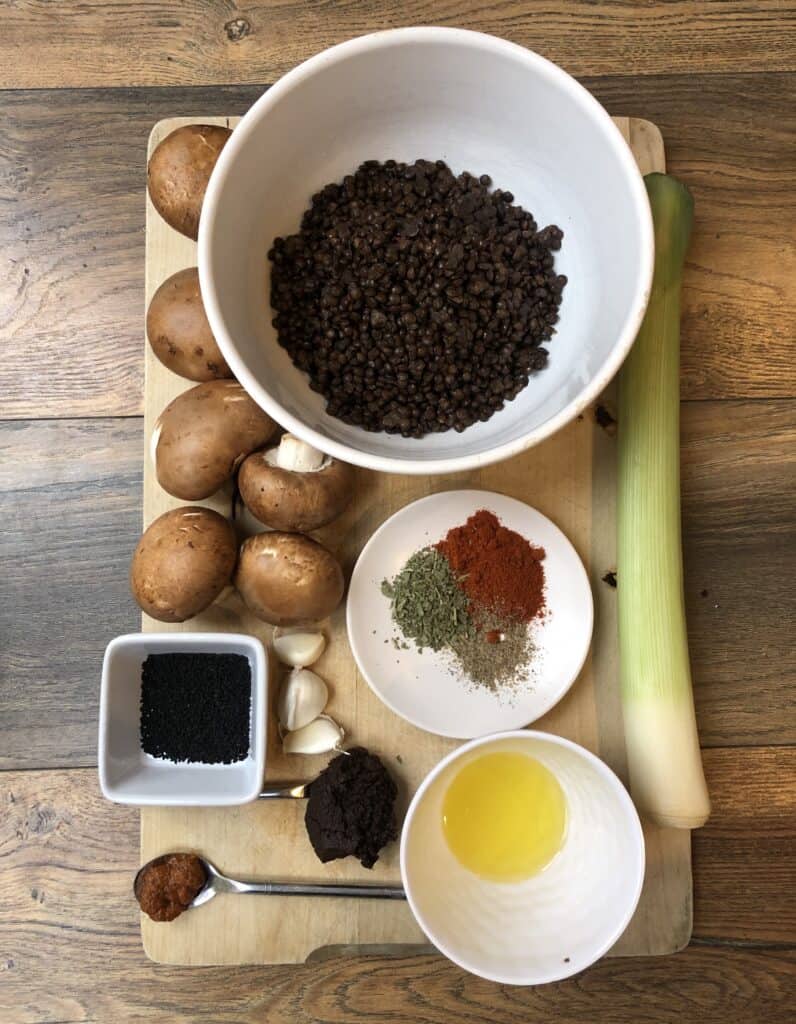 Mushrooms
This vegan sausage roll recipe uses mushrooms, as they naturally are very flavoursome when cooked. This is due to having a natural MSG flavour making us want more.
We cook our mushrooms up with garlic, leek and fresh herbs to help layer up those delicious flavours.
Miso Paste
The miso paste adds a certain umami flavour which adds to the flavours of this plant based sausage roll. I really love this Organic Brown Miso Paste
for all of my cooking that requires it.
Lentils
It wouldn't be a vegan lentil sausage roll without the queen Puy Lentil.
The lentils in this recipe helps bind the filling together. They absorb the flavours beautifully and provide and iron rich and protein punch.
These are by far a superb lentil and my favorite for a range of dishes like this lentil bake or lentil soup.
When to have vegan sausage rolls?
Well, anytime of course! But they do make the perfect vegan brunch, snack and are especially popular at gatherings.
Are you planning on serving these meatless sausage rolls at a gathering? If so you may also love these festive desserts.
These vegan sausage rolls could certainly serve as a main dish alongside delicious vegetables and roast potatoes.
They go really well with this vegan honey mustard sauce and ketchup.
Vegan Puff Pastry
So traditional puff pastry is not typically vegan as it is made with butter. Puff pastry gets those beautiful flaky layers from a high fat content.
Thankfully, there are many vegan puff pastry recipes out there.
Many supermarkets have ready made puff pastry. Pepperidge Farm is a vegan puff pastry commonly found in the frozen section of supermarkets if you are in the USA.
Jus Rol is a common brand found in the UK for vegan puff pastry. Another os Orgran Gluten free pastry which is found internationally online or bespoke stores.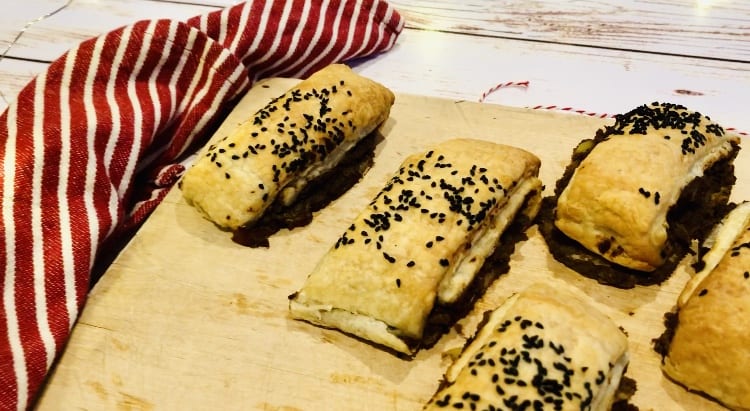 Vegan Sausage Roll Recipe
Comforting
Delicious
Flaky
Flavoursome
Rich
Yield: 12 sausage rolls
Vegan Sausage Roll Recipe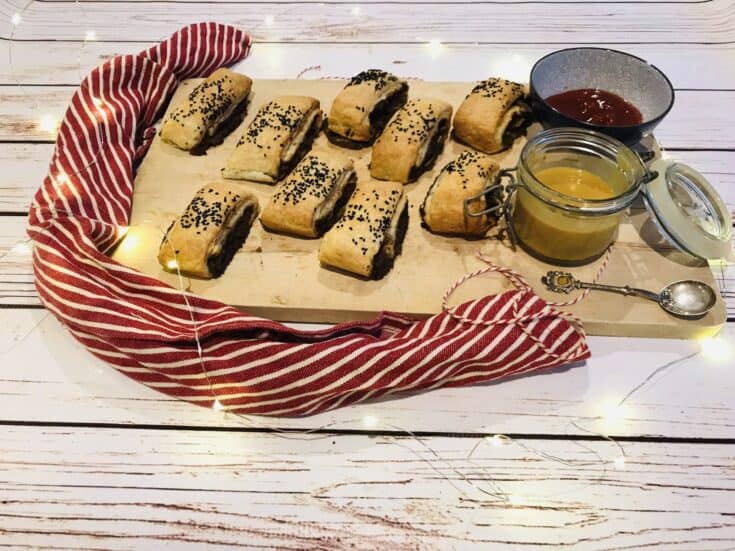 These vegan sausage rolls are delicously flaky with a rich, savoury filling on the inside. The vegan sausage meat is less faux meat and more a delicous combination of whole foods, including puy lentils, mushrooms, fresh herbs and miso paste. They are the perfect brunch, snack or sharing food at a gathering. Enjoy with vegan mustard and ketchup.
Additional Time
10 minutes
Ingredients
1 roll of vegan puff pastry
180g cooked puy lentils
6 chestnut mushrooms
30g breadcrumbs
1 medium leek
3 cloves of garlic
1/2 tsp miso paste
1 tsp sun-dried tomato paste
1 tsp dijon mustard
1 tsp fresh thyme
1 tsp fresh rosemary
1 tsp parprika
1 tsp olive oil
Salt and pepper
1 tbsp Nigella seeds (optional)
A little flour
1 tbsp non-dairy milk
Instructions
Ensure puff pastry is removed from the fridge 15 minutes prior to use. Preheat over to 350f/180c.
Saute leek in a little olive oil, whilst this is cooking, blitz mushrooms in food processer to make a mushroom mince
Add mushroom mince to the pan alongside garlic, herbs and spices, miso paste, dijon mustard and tomato paste.
Stir well in pan and cook for approx 4 minutes
Add puy lentils and breadcrumbs to food processer alongside mushroom mix and blitz until it is bound
Roll vegan puff pastry out on a clean surface dusted in a little flour.
Place vegan sausage mix in the centre of the sheet in a sausage shape.
Bring the bottom of the pastry up and tuck over, rolling into shape
Glaze the pastry with a little non-dairy milk and sprinkle with Nigella seeds or sesame seeds.
Cut the sausage roll into even sizes.
Place on a lined baking tray and bake for around 30 minutes, until the pastry is golden and flaky.
Serve with condiments of choice, ketchup and mustard are great choices! Enjoy.
Notes
These vegan sausage rolls are full, packed with this delcious lentil mix.
Nutrition Information:
Yield:
12
Serving Size:
1
Amount Per Serving:
Calories:

97
Total Fat:

2g
Saturated Fat:

0g
Trans Fat:

0g
Unsaturated Fat:

1g
Cholesterol:

0mg
Sodium:

78mg
Carbohydrates:

17g
Fiber:

2g
Sugar:

1g
Protein:

4g
This is an automated calculated nutrition.
Did you enjoy this recipe?
You may also love these Vegan Belgian Waffles.