These vegan gingerbread muffins are soft, spicy and perfectly sweet. Taking inspiration from the classic gingerbread biscuit, these gingerbread muffins are a must try.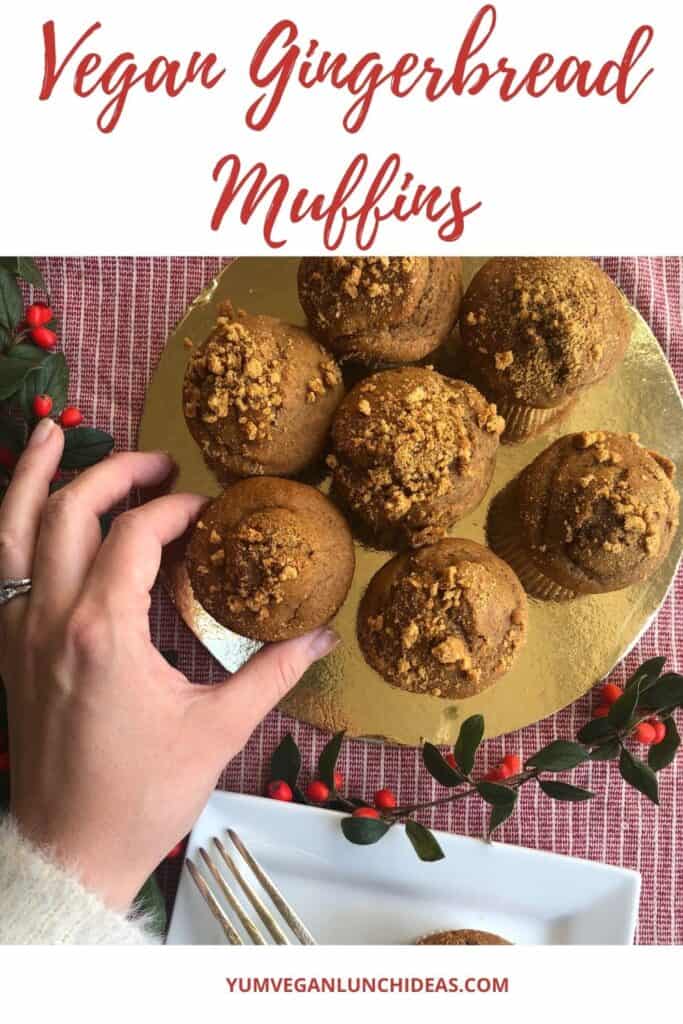 Gingerbread is an absolute childhood classic, whether it is baking gingerbread men for fun or chowing down on the delicious gingernut biscuits with warm milk. There is something about gingerbread that simply warms my cockles – and now my little boy loves it too!
I love fashioning classic sweet treats into muffins and baking them with my son. He loves to get involved, albeit it plenty of spoon licking going on. He adores ginger bread men, in which I have some sugar free, relatively toddler friendly ones he has regularly.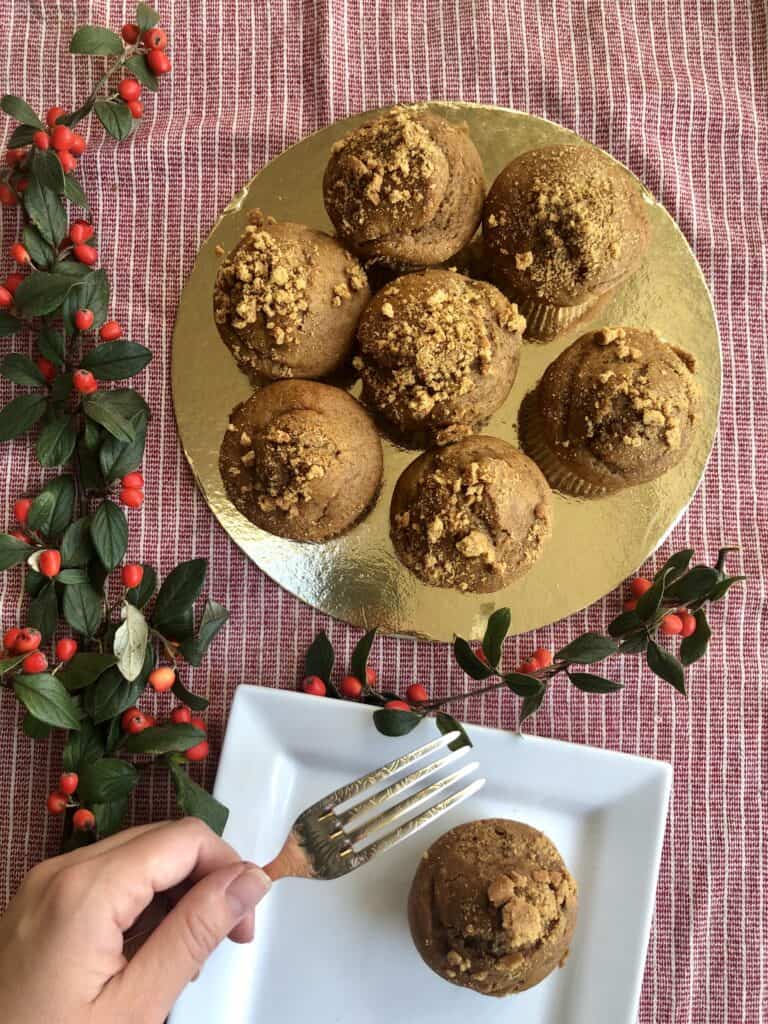 How To Serve These Muffins?
These vegan gingerbread muffins work for all different times of day, whether its a pick me up snack for brunch, alongside a delicious cup of tea or coffee or as a dessert, loaded with hot vegan custard or creamy ice cream.
When To Serve These Muffins?
These vegan ginger spice muffins were a real treat to make however. They came about this beautiful autumnal day as we were planning an autumn picnic.
We would go for our usual woodland walk and have a picnic out of our carboot for fun – looking down on the beautiful seaside views. I packed a bunch of these gingerbread muffins and a flask of hot chocolate to share. It was a real memorable moment, made better with these soft, sweet, sticky muffins.
I see these gingerbread muffins as being a delicious treat on Thanksgiving, Diwali, Christmas Eve or even Christmas Day – for brunch or dessert with custard or ice cream! So many great times these can be served. Vegan ginger desserts with delicious holiday spices are always a treat and a winner.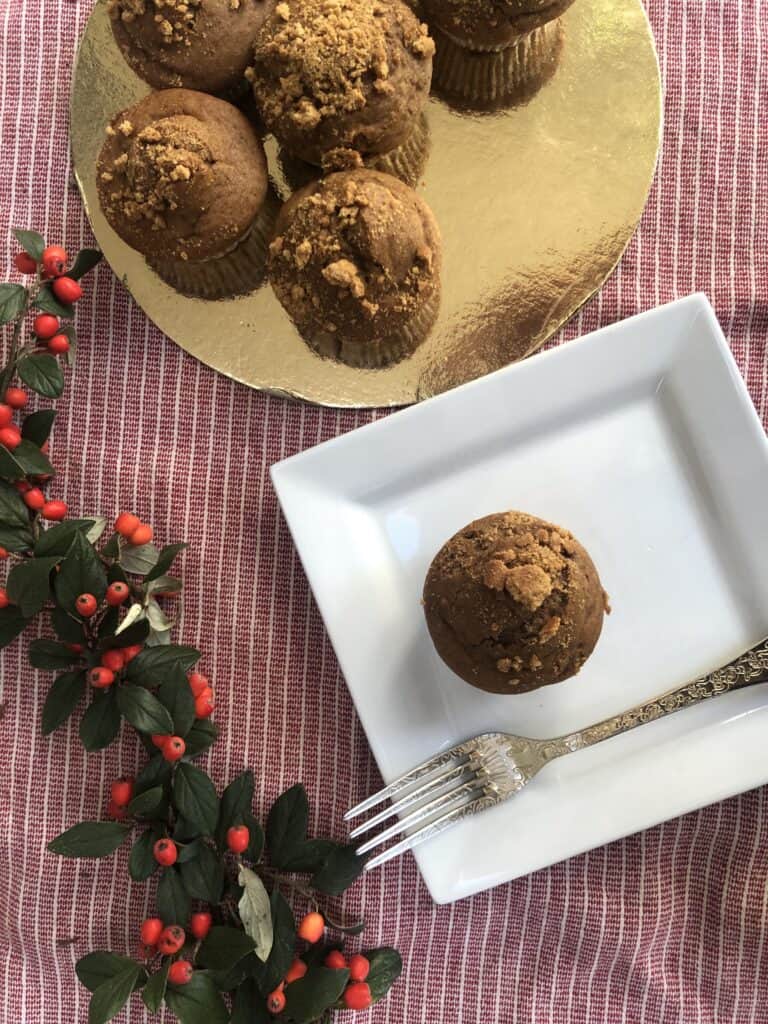 Allergy Friendly Muffins
These muffins are fairly allergy friendly and are soya-free, nut-free and dairy-free. This is super important for us as my boy has a lot of allergies. This is another reason why we do so much baking at home!
You can certainly replace the plain flour with a gluten free flour instead. In fact gluten-free vegan gingerbread muffins sound just as yummy! Buckwheat gingerbread muffins sound super earthy and tasty too.
Can these vegan ginger muffins be frozen?
They can absolutely be frozen if you wish to make some ahead of time. Simply wait for them to cool completely, place them in a freezer friendly container or zip lock back and freeze for up to three months. Leave to defrost fully and enjoy. Or you could gently reheat in the microwave to get the beautiful warmed muffin again.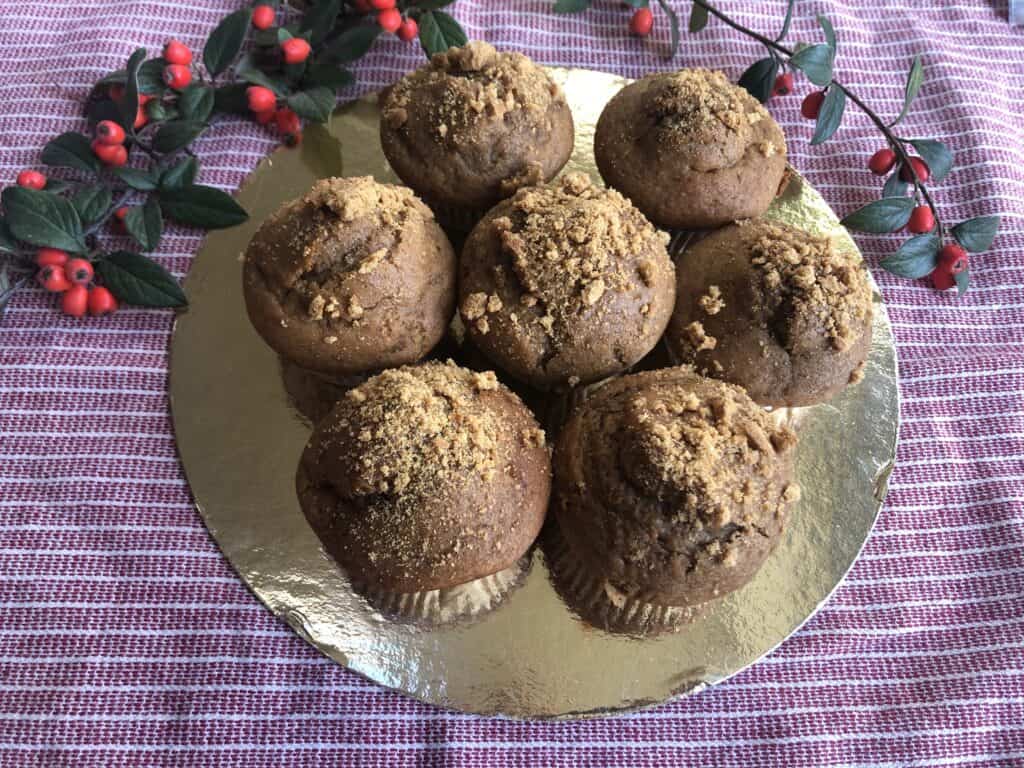 Tasty
Easy
Delcious
Spicy and Sweet!
Black Strap Molasses
Black Strap Molasses has a real distinct flavour – it is also rich in iron and calcium which is a win nutritionally, considering there is a lot of sugars in here! These ginger molasses muffins really are a sweet treat.
Vegan molasses muffins with holiday spices have a distinct yet delicious flavour.
Gingerbread Muffins And Vegan Custard
Have you tried our delicious, silky, homemade vegan custard recipe? It goes BEAUTIFULLY with these homemade muffins!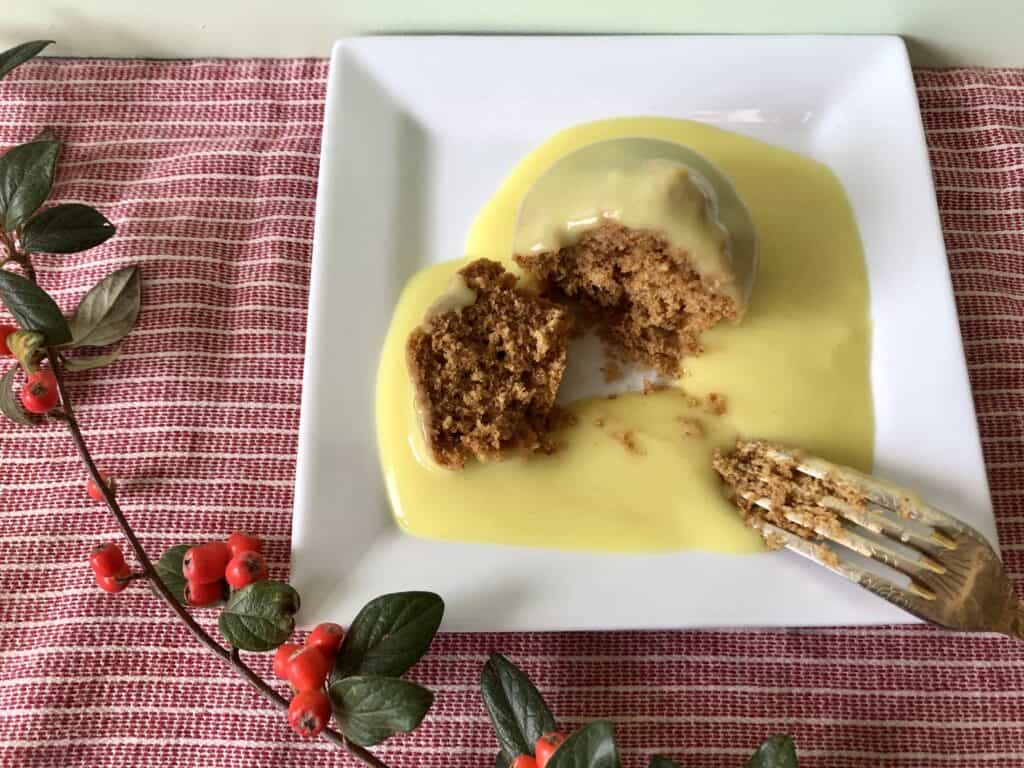 Yield: 12 muffins
Vegan Gingerbread Muffins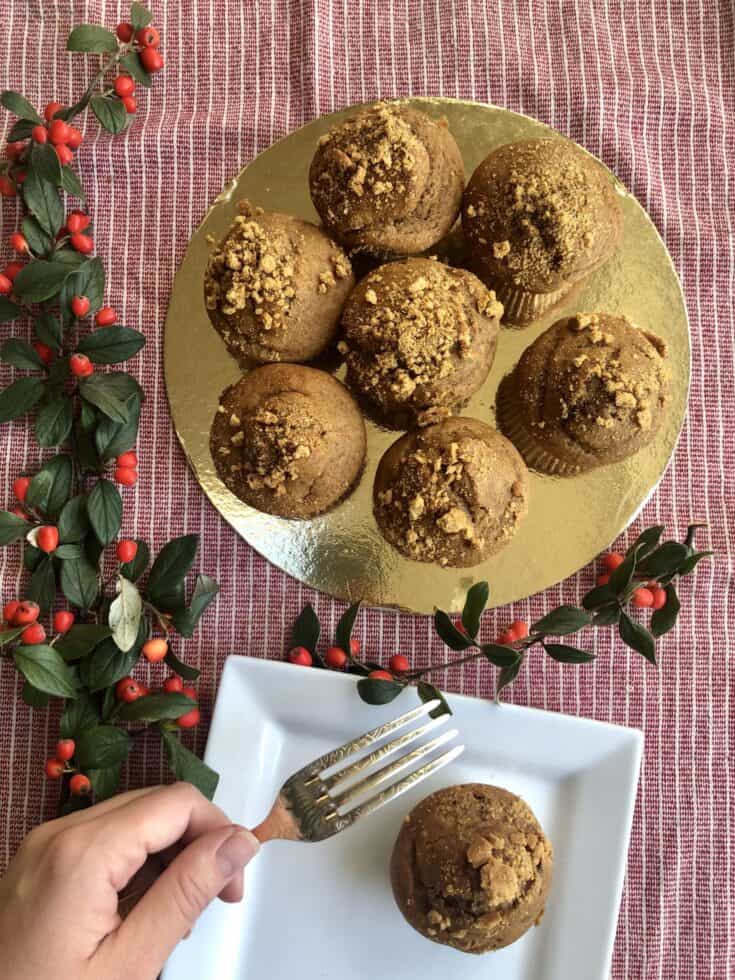 These vegan gingerbread muffins are soft, spicy and perfectly sweet. Taking inspiration from the classic gingerbread biscuit, these gingerbread muffins are a must try.
Ingredients
1.5 cups plain flour
2 tsp baking powder
A pinch bicarb
1 tsp ground cinnamon
1 tsp ground ginger
1/2 tsp mixed spice
1/2 cup dark brown sugar
1/2 cup golden Demerara sugar
1/2 tsp salt
1 cup plant based milk (this recipe used oat milk)
1/3 cup vegetable oil
2 tbsp golden syrup
2 tbsp black strap molasses
1 tsp vanilla essence
Optional:
1-2 gingernut biscuits (crushed for decorating)
Instructions
Preheat oven to 180c/Gas7/365f - line a muffin tin with baking cases or a slick of oil
Whisk the oat milk, oil, golden syrup. black strap molasses and vanilla essence together in a bowl
In a ssperate bowl - add the flour, baking powder, spices, bicarb and stir through. Then stir through the sugars - breaking up any lumps in the dark brown sugar.
Fold the dry ingredients into the wet ingredients and whisk through
Divide mixture between the 12 muffin cases
Place in the oven and bake for approximately 20 minutes, or until cooked through
Ensure they are cooked through by placing a clean skewer down the middle of a muffin and ensure it comes out clean. If not, place back in the oven for further baking
Cool on a wire try once cooked and top with crushed gingernut biscuits if desired.
Notes
1) If you have a good quality muffin tin, you can bake without muffin cases, just oil it well.
2) If you use good quality muffin cases, they shouldnt stick
3) These stay fresh for up to 4 days and taste great warmed up with a delicious vegan custard or vegan ice cream
4) These work great as a snack on the go or for a special autumnal picnic, or a Christmas day nibble.
Recommended Products
As an Amazon Associate and member of other affiliate programs, I earn from qualifying purchases.
Nutrition Information:
Yield:
12
Serving Size:
1
Amount Per Serving:
Calories:

238
Total Fat:

8g
Saturated Fat:

1g
Trans Fat:

0g
Unsaturated Fat:

7g
Cholesterol:

2mg
Sodium:

156mg
Carbohydrates:

39g
Fiber:

1g
Sugar:

20g
Protein:

3g
this is an estimate
You may also like:
Vegan Festive Mincemeat Flapjacks