Vegan garlic butter is super tasty and super moreish. With a few simple ingredients, you can pair this tasty delight on carrots to roast, garlic bread, dough balls, pizza bases, pastas, flatbreads and more!
This vegan garlic butter recipe is in one of my top vegan condiments and one I return to repeatedly. It is creamy and delicious.
It is gluten free, soya free, nut free, grain free, wheat free and dairy free. I always find this information and important to share for those with allergies of specific dietary needs.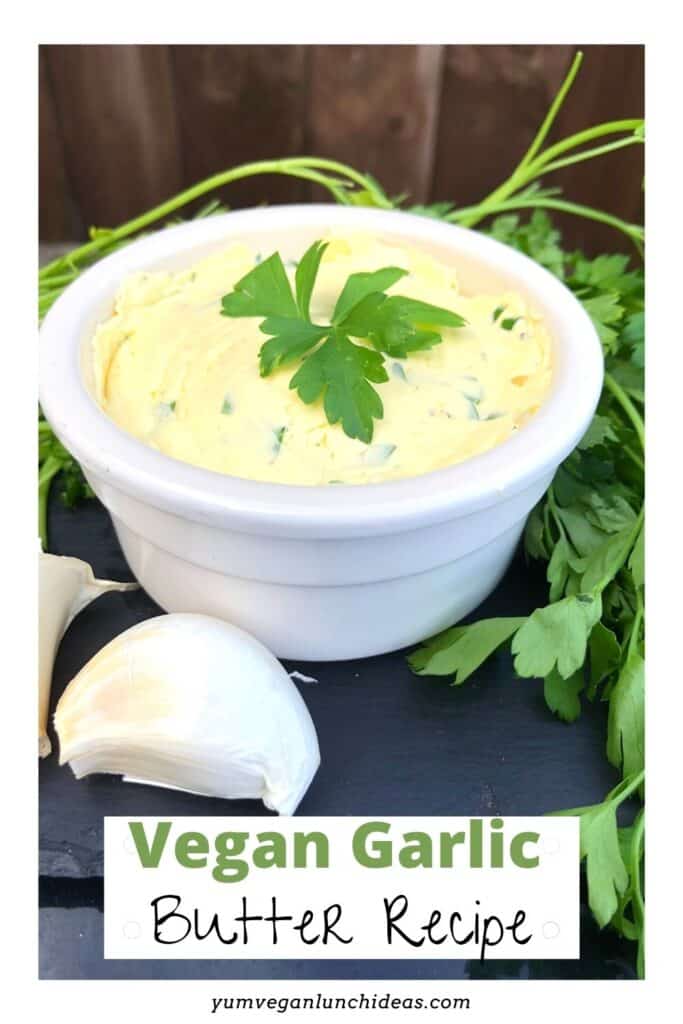 I am absolutely obsessed with garlic in all of its forms. I literally have all types of garlic at home – from granules, to salt, garlic flakes, paste and fresh! It goes on everything.
I also always have a little pot of this garlic butter on the go as part of my meal prep – which is easy to grab whenever I want a tasty snack.
Garlic bread is probably one of my all time favourite foods and a childhood favourite when my mother would make her own garlic butter recipe.
This vegan garlic butter sauce recipe uses fresh tasty garlic and beautiful aromatic fresh parsley. It really makes bread sing! You've really got to try it as making garlic butter has never been easier.
There really is nothing before than melted garlic butter on these warm dishes! It makes plant based dishes taste so good.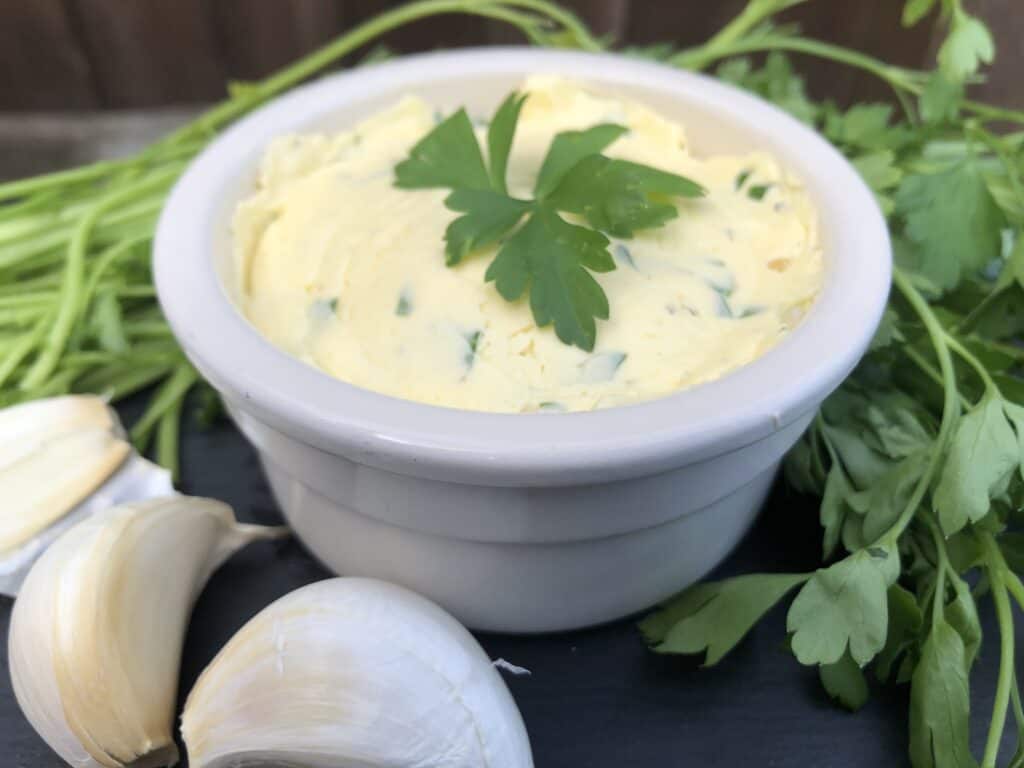 Vegan Garlic Bread
Making vegan garlic bread couldn't be easier with this dairy free garlic butter. Simply warm a baguette, cut in half and spread this vegan garlic butter dip all the way inside – oh so tasty!
Why not try this garlicky vegan butter on roasted carrots, cooked pasta, corn on the cob, fresh baked baguette or on a baked potato?
Have you run out of vegan garlic sauce for your pizza? No problem, this diy garlic butter has got your back.
How To Make Homemade Garlic Butter
How to make this garlic butter spread I hear you say? Easy peasy.
Take your softened butter, minced garlic and fresh chopped parsley and mix together.
Add salt and butter to taste.
Revolutionary I know – it seems so simple, its is – but really packs a punch.
I absolutely adore using fresh parsley in my food, especially this Vegan Parsley Pesto.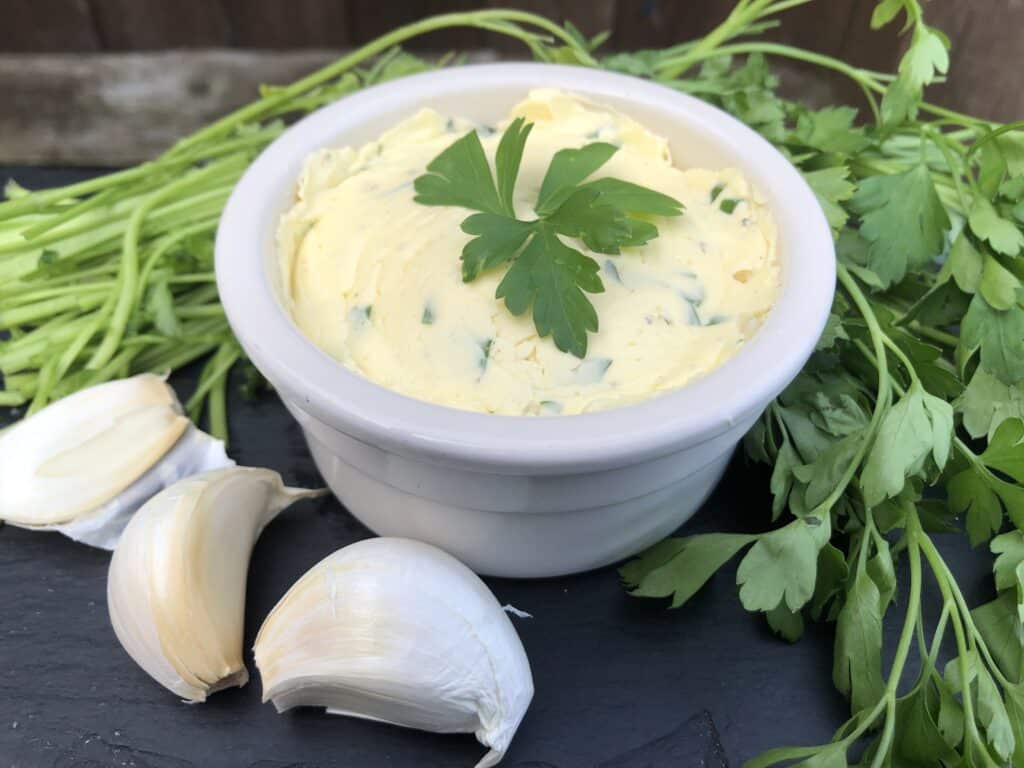 Variants you can add:
You can totally mix up the flavours or go more adventurous if you like.
Italian seasoning
Oregano
Garlic powder if you don't have fresh (this is still good!)
Onion powder
Nutritional yeast for a cheesy taste
Yield: 6 portions
Easy Vegan Garlic Butter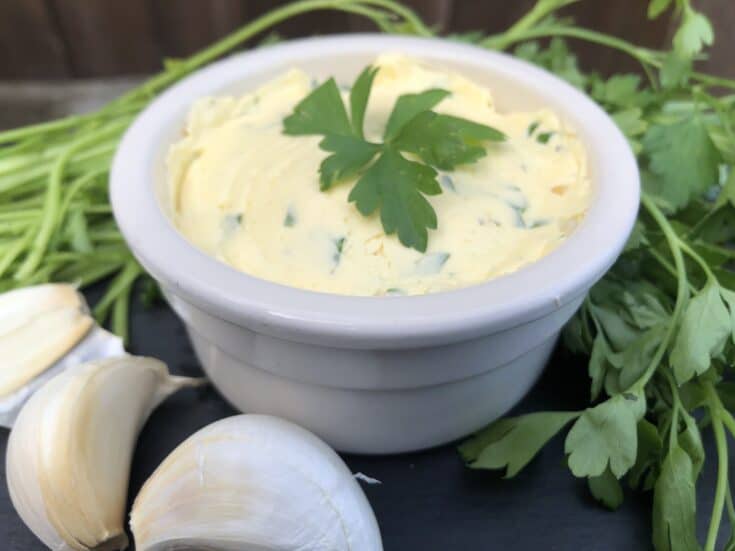 This vegan garlic butter is so easy to make. It is super tasty and can be put together in a matter of minutes. With a few simple ingredients, you can pair this tasty delight on carrots to roast, garlic bread, dough balls, pasta, pizza bases and more.
Ingredients
100g vegan butter
2 minced cloves of garlic
2 tsp chopped fresh parsley
Salt and pepper
Instructions
Measure out the vegan butter, stir through the minced garlic and chopped parsley
Add salt and pepper to taste
Notes
1) If you like a milder or stronger garlic butter, simply add more or less minced garlic
2) Try and use a soft vegan butter if you can. If your vegan butter is hard, simply leave at room temperature for approximately 20 minutes to soften.
3) If you are using a salted vegan butter you may not want to add salt
Here are some ideas in which to use this tasty vegan garlic butter
Dough balls
Garlic bread
Flat bread
Pizza bases
Garlic roasted carrots
Pasta
Baked potato
Nutrition Information:
Yield:
6
Serving Size:
1
Amount Per Serving:
Calories:

122
Total Fat:

14g
Saturated Fat:

9g
Trans Fat:

1g
Unsaturated Fat:

4g
Cholesterol:

36mg
Sodium:

159mg
Carbohydrates:

1g
Fiber:

0g
Sugar:

0g
Protein:

0g
this is an estimate