Air fryers are becoming as popular as ever! With more and more health conscious people, the deep fat fryer doesn't seem to have a place in this era. We've been loving discovering the tonnes of vegan air fryer recipes!
An air fryer helps to keep the calories down and can also assist with keeping out harmful compounds of traditionally fried foods. It's an awesome gadget for making different foods crispy without the unhealthy factor.
If you are interested in other low calorie recipes, check out out other post.
How does an air fryer work?
Air fryers are such clever pieces of kitchen kit. They are separate to your cooker and need to be plugged into the mains. You'll need a little bit of bench space to use it without it crowding your kitchen.
It works by circulating hot air around the system with a fan by the process of convection. It can cook at temperatures of up to 230 c / 450 f and generally it takes less time to cook than a traditional deep fat fryer.
There is usually an opening where the air fryer sucks air in and another opening that sends air out, creating a flow of air.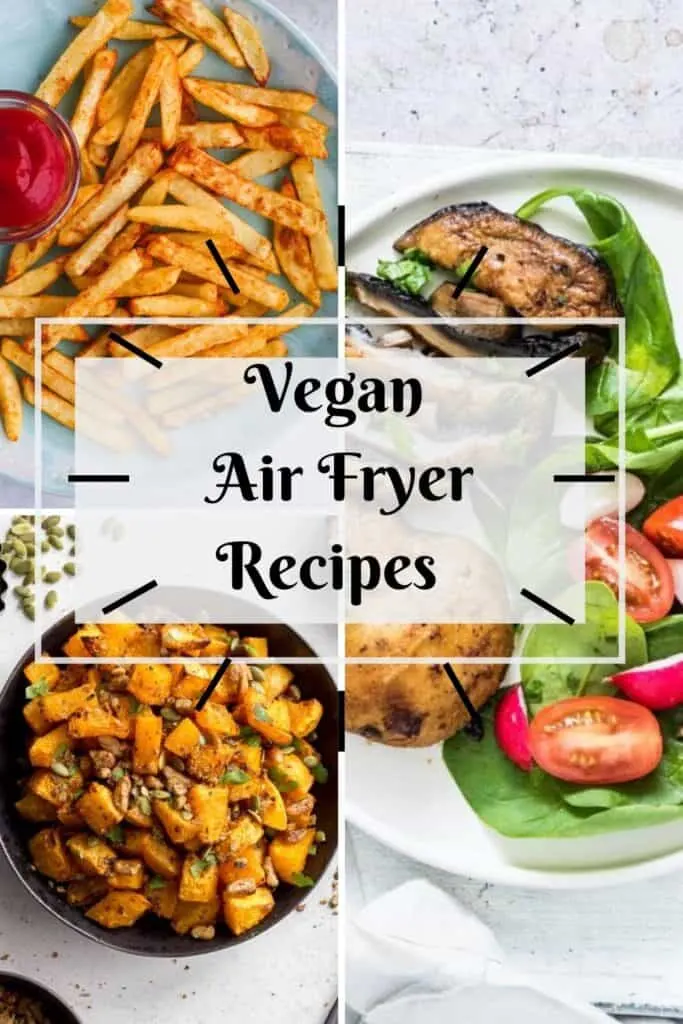 The great thing is you don't have to use oil in an air fryer, which is a benefit but some people still do use very small amounts. In general if you were to use oil, you'd need as little as 80% less than other cooking methods.
I feel this is why air fryers are so popular at the moment. Many people are trying to reduce oil in their diet with some people going as far as having completely oil free diets.
Some air fryers have additional accessories, everything from skewers to pizza pans and more. This makes the air fryer even more versatile.
in some cases air fryers can come as an all in one slow cooker and air fryer. Cool, hey?
Likewise many air fryer temperatures can be adjusted for perfect cooking conditions.
The Best Air Fryers
Now we know how air fryers work and their benefits, let's take a look at some 'go to' brands on the market. We've done the research so you don't have to! If you are in Australia here is an awesome guide to air fryers there.
Phillips Digital Turbostar
The Philips TurboStar Technology Airfryer is one of the best out there. in fact Phillips were one of the first brands to bring air fryers to the
market.
Whilst this particular model is a little expensive, it is worth the investment. It has some fantastic reviews and known for it's even cooking in little to no time in comparison to other cooking methods.
Check out the prices of the Philips TurboStar Technology Airfryer!
Go Wise 8 in 1 Digital Air Fryer
The Go Wise air fryer is certainly one of the most affordable ones on the market. This is a really great air fryer not only for the price tag but it also has a tonne of accessories.
From skewers to baking pans you'll be set up to try out a variety of ways of using this air fryer.
Check the prices of the GoWISE Airfryer here.
Ninja 4 Quart Electric Air Fryer
I am a big fan of the Ninja brand in general, they have awesome blenders that I love! The Ninja Air Fryer has 4 settings, from roasting to dehydration settings there is lots to play with on the Ninja Air Fryer.
It is certainly in the more affordable category in comparison to some air fryer brands making this a well balanced product in terms of value for money.
Check out the Ninja Air Fryer prices here.
Best Vegan Air Fryer Recipes
Now we know all about air fryers, how they work and some of the best ones on the market, lets drill into the best part – vegan air fryer recipes!
There are so many things you can make with your air fryer. From Crispy tofu, to baked potatoes, and beet chips, to cauliflower wings.
The options are endless. With a little help from our friends, we've come up with this list of awesome vegan air fryer ideas.
One of our all time favourite recipes is this Vegan Spicy Chicken Sandwich made perfectly crispy with the air fryer.
Vegan Airfryer Cookbooks
If you fancy something more to assist you with discovering different air fryer recipes, check out these awesome air fryer cookbooks!
Click here for deals on The Essential Vegan Air Fryer Cookbook: 75 Whole Food Recipes to Fry, Bake, and Roast
See prices for The Vegan Air Fryer: The Healthier Way to Enjoy Deep-Fried Flavors
Click here for prices of the Vegan Air Fryer Cookbook for Beginners!
Disclosure: There are affiliate links in this post. By using them it will not cost you any extra. We will only get a small proportion of the sale so we can keep on wiring awesome vegan content!