Who doesn't love chocolate mousse? The ultimate silky smooth indulgent dessert that vegans don't have to miss out on. This vegan tofu chocolate mousse is life!!
The thing is, in my pre-vegan days I was never much of a dessert chef and I certainly never nailed chocolate mousse.
These days, desserts are harder to come by being a vegan so I thought I should really try to make my own. Foolishly, I thought it would be more complex to make vegan desserts but it really is SO easy.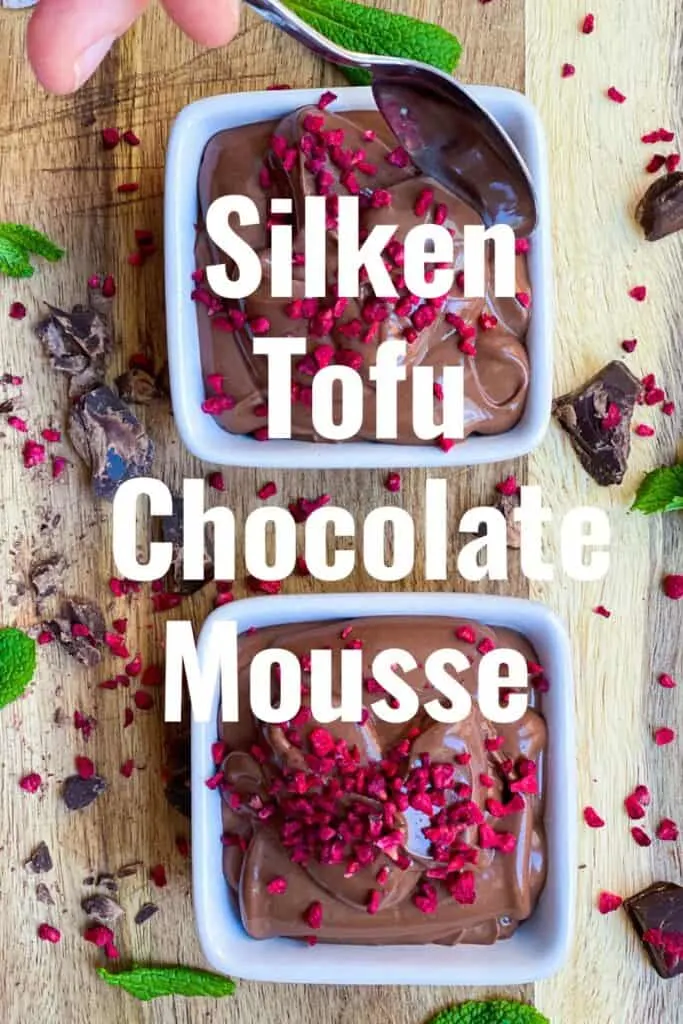 We genuinely say that about a lot of our recipes, but this is by far one of the easiest and quickest recipes on this entire website. 5 Minutes TOTAL!!
Silken Tofu Chocolate Mousse Recipe
You will only need three simple ingredients for this recipe. They are silken tofu, maple syrup and melted dark chocolate.
First of all what exactly is a mousse? It's essentially a soft a textured food created by air. It should be light and silky smooth and they can be sweet or savoury.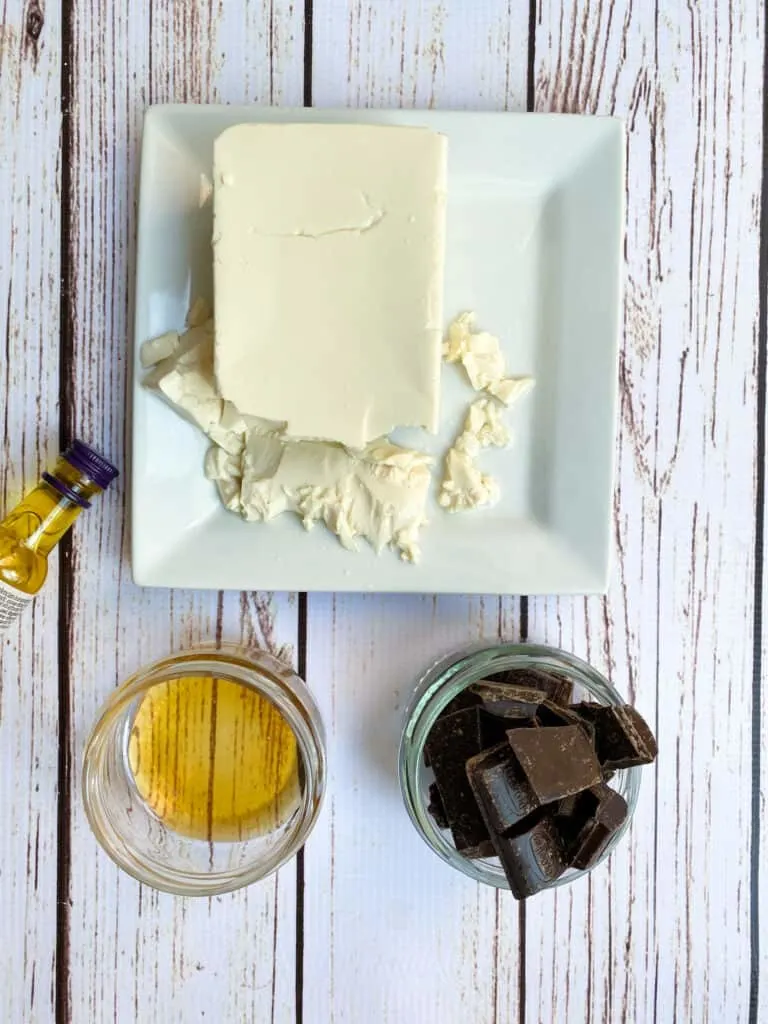 It's thought mousses originate from France, traditionally it would have been made by whipping eggs, cream and so on.
During this vegan era, mousses can be made with silken tofu or avocado for example and they taste just as good, if not better!
The key thing is the choice of chocolate. I try to get high quality dark chocolate as this really does define the taste of the mousse.
All you need other than the ingredients is a blender and a garnish of your choice. I always use the Ninja food chopper
, it's my favourite kitchen utensil.
Preparing Tofu Chocolate Mousse
Firstly strain the excess fluid out of the silken tofu. I always go for the soft silken tofu for this recipe.
You don't need to press the additional fluid out, this type of tofu wouldn't hold pressure and the little bit of extra fluid really helps get the right consistency.
Add 2 cups of silken tofu to the blender, add 1/4 a cup of maple syrup. You will also need approximately 1 cup of dark chocolate (pre-melted).
Put the chocolate into the microwave in a glass bowl that is microwave proof. Start with 1 minute and stir, add it for 30 seconds thereafter until completely liquid. Check it each time to ensure its not burning.
Add the chocolate to the blender with the other ingredients immediately and blend until smooth.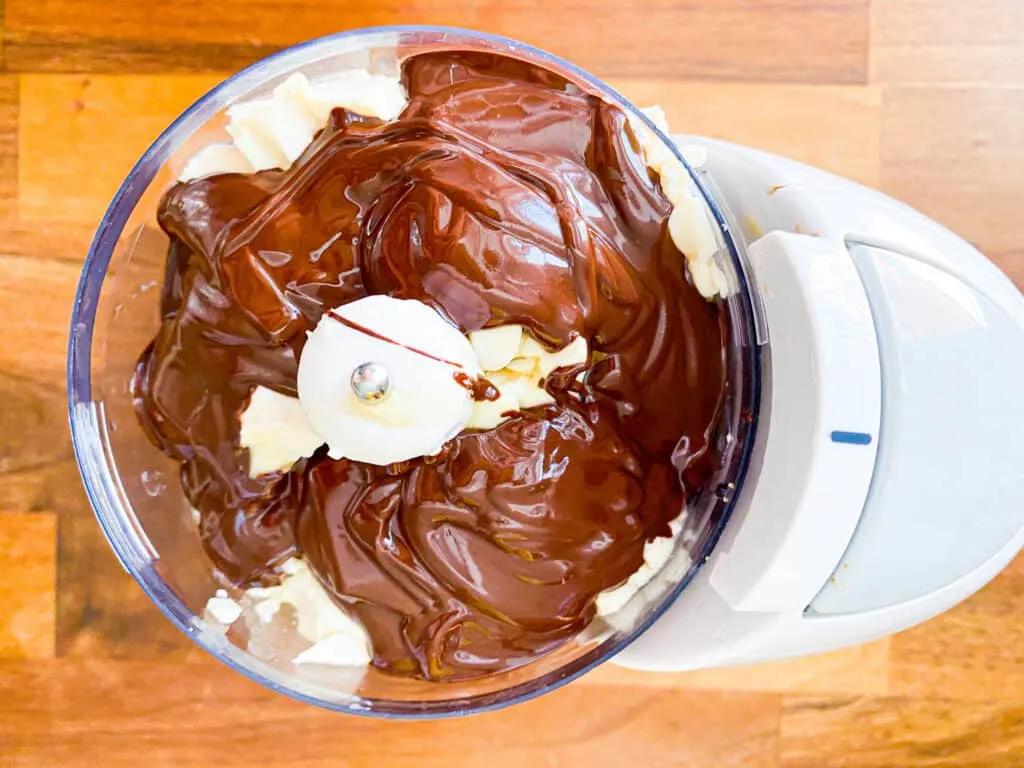 The first time I made this I was completely blown away by the consistency. The silken tofu is literally the most perfect base EVER!
Why bother with eggs and cream when you have something as simple as tofu? That goes out to everyone, vegan or not!
Once it's blitzed into a smooth mousse, add to the serving bowls of your choice. You will need to refrigerate to get the perfect temperature 30 minutes + will work.
Another awesome chocolate flavour snack are these Peanut Butter Cups.
Can I freeze vegan tofu chocolate mousse?
The great thing is you can actually add the mousse to a tray lined with parchment paper and freeze into cubes. This can create a vegan fudge slice and it is to die for!
Storing The Tofu Mousse
You can keep the mousse in the fridge for two days. Put it in an air tight container to keep it as fresh as possible. Freezing it into fudge is another great option if you don't manage to eat it on time.
Vegan Mousse Garnish & Flavours
Although this recipe is perfect with the three simple ingredients mentioned. You can add vanilla essence amongst other flavours to your taste.
In this recipe I have previously used a tsp for orange essence
to create the ultimate vegan chcoclate orange mousse.
Another great option is mint essence
. Needless to say a chocolate mousse with mint is very similar to the dinner classic, 'after eights'.
For garnish, we kept back some pieces of chocolate and crushed it to add some textures and make it look pretty. I also added fresh mint leaves and dried raspberry sprinkles for the ulimtate finish.
This dish is:
Silky
Smooth
Light
Feels indulgent
Heavenly chocolatey
Yield: 4
Tofu Chocolate Mousse Recipe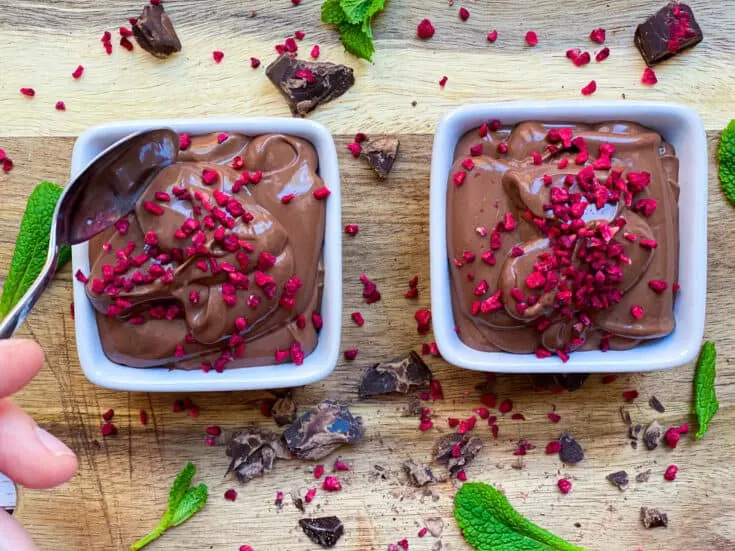 Try these delicious vegan tofu chocolate mousse puds. They are silky smooth and indulgent without excessive calories. They take only 5 minutes to make and 3 ingredients. Yum Vegan!
Ingredients
2 cups of silken tofu
1 cup of dark chocolate before it's melted
1/4 a cup of maple syrup
1 tsp of orange essence (optional)
Instructions
Strain the excess fluid from the silken tofu carton.
Add 2 cups of tofu to the blender along with the maple syrup and essence / flavour of your choice.
In a microwave proof bowl, melt the chocolate in the microwave. You will need to check on it regulary, in 30 second intervals to stir and make sure it is not burning. A
Add the choclate to the blender immediately and blitz all of the ingredients together.
It will take 1 to 2 minutes to get the smooth consistency.
Add the mix into serving dishes of your choice and refridgerate.
If you want to eat them quite soon after, add to the freezer for ten minutes. Otherwise they need about 30 minutes to chill in the fridge if you have time.
Notes
Dont forget our freezing tip to make your very own fudge - yum
If you don't have silken tofu, you can use fresh avocado in the same quantities. This also make this recipe even more healthy.
Don't forget about a magic drop of essence, should it be orange or mint, whichever flavour you like. It really does set off the flavours in this pudding.
Serve in small dishes. This is not the type of dessert that needs massive quantities. Despite it being light and airy, you don't need lots of it!
Nutrition Information:
Yield:
6
Serving Size:
1
Amount Per Serving:
Calories:

292
Total Fat:

15g
Saturated Fat:

7g
Trans Fat:

0g
Unsaturated Fat:

6g
Cholesterol:

3mg
Sodium:

17mg
Carbohydrates:

33g
Fiber:

3g
Sugar:

27g
Protein:

8g
Make sure to check out some of our other recipes;