So you are doing Veganuary, that's awesome! We are so glad you've decided to join or tribe, kicking off the New Year with not just a healthier diet, but also a completely new lifestyle. The thing is, some of us think New Years resolutions are not easy to stick with. However we have the best Veganuary meal plan to help you keep up the success long term!
But first, let's get Veganuary done! We are going to keep it really simple for you with lots of great tips, resources and EASY vegan meals.
Remember to bookmark this page to refer to as you go through the month!
Now, being vegan doesn't automatically equate to being healthy. Vegans can eat junk food too! So with that in mind, it's best to eat wholesome foods and steer away from the processed foods, such as shop bought vegan ready meals.
We never sacrifice taste here at Yum Vegan Blog, but with all three of us on the team having kids and other jobs, time and ease is of the essence! We fully relate to those with little time and busy careers.
I've had a few people ask me What is Veganuary? Veganuary was set up by a non-profit organization in the UK. The idea is to encourage people to try vegan for the month of January and throughout the rest of the year.
With the climate crisis leaning so much on animal agriculture and the dairy industry. Not to mention animal rights becoming more at the forefront of social media and the proven health benefits of a plant based diet, so many people are turning to the vegan lifestyle nowadays!!
If you haven't already decided to do this for sure, I say it's just 31 days and the ideal amount of time to test it out! You've got this!!
Free Vegan Meal Plan
Everything we provide to you here is completely free! We've spent the last few months creating this content as we are so passionate about supporting people on this journey.
We have a great article with all the best resources, tips and so much more. Check out our guide to going vegan.
Join Our Tribe For Support During Veganuary
We'd love you to join us over on Facebook where we have a private closed discussion group. It gives you the space to talk, ask questions and connect with others doing Veganuary.
We Karen, Gill and Nava are always around to answer your questions in the forum. It's currently quite a small group but we pride ourselves on helping you out as much as possible.
Make sure to sign up, introduce yourself, ask questions and share your Veganuary meal pics, as well as your trials and triumphs!
Yum Vegan Lunch Ideas
Public group · 35 members
Discover Accidental Vegan Foods
A great thing to do is sift through your pantry and see what foods you already have that are accidentally vegan! I bet you'll find tonnes of things you didn't even realise were vegan! If not, don't worry! Don't forget to make sure you are getting enough b12!
Veganuary Grocery List
We have a vegan grocery list that will help you with all of those 'bare necessities' for every vegan kitchen. If you are completely new to this, I bet you are going to learn a tonne about some awesome products.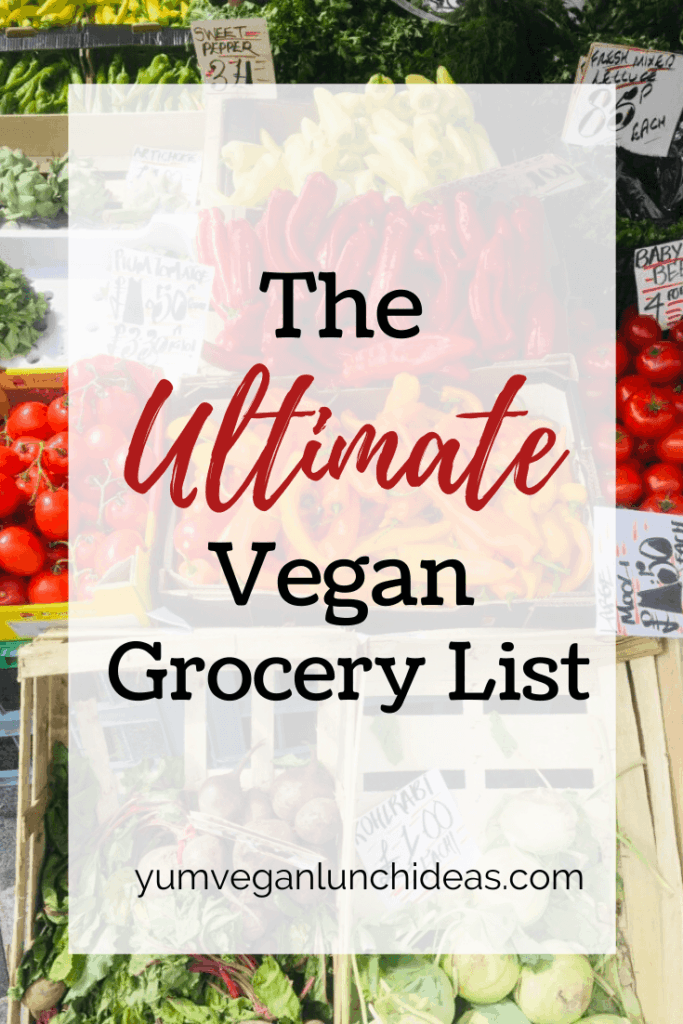 Like black salt for example, it's considered a super food, is salty, and has a sulphurous taste. If you like eggs, you can create scrambled tofu that will look and feel just like scrambled egg with black salt. That's not all, we have plenty more vegan grocery essentials right here for you to check out.
Order Veganuary Meals To Your Door
Whilst our meals in this Veganuary meal plan are quite simple, we understand some people just don't have the time to do anything. So with that in mind, we can reccomend Veestro. They are an incredible company that will deliver freshly made nutritious plant based meals to your door Come home to Delicious fully prepared, gourmet, plant-based meals delivered to your door. Order up some happiness today at Veestro.com
Your Weekly Nutritious Veganuary Meal Plans
Now for the best part! Below you will see an image for each week of the Veganuary meal plan, simply click on it and it will take you to the respective plan for that week. They will be published as we draw closer to that week of Veganuary. We recommend checking it a day or so before you do grocery shopping.
Again, a helpful reminder to bookmark this page so you can refer back to it. In your plan you will find winter warming soups, quick and easy dinner meals. There is no fuss with any of the recipes!
If you want to mix up your recipes and you are trying to gain weight, check out these high calorie recipes here. If you are trying to lose weight, try to mix in some of these low calorie recipes instead!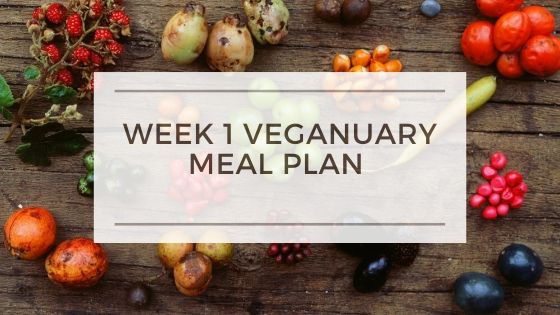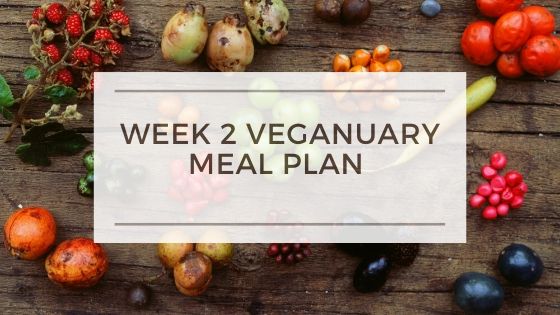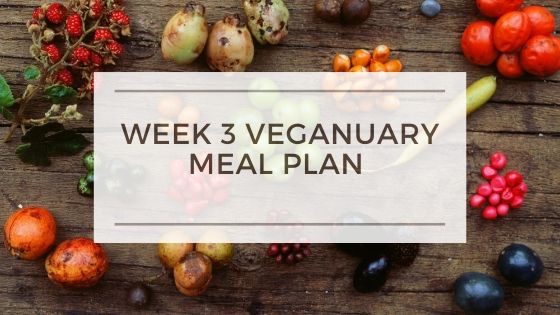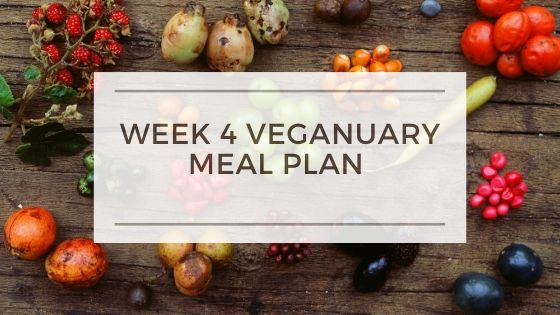 Planning to stick with the vegan diet? Make sure to check out our 'must have' vegan kitchen appliances.
Join Us On Social Media
Don't forget to give us a follow on Facebook and Instagram for your daily dose of recipes vegan style! Next year you'll be doing a vegan Christmas!
The page contains affiliate links. By using them it does not cost you any extra, we take a teeny commission to continue writing helpful vegan articles and recipes.
Get a Veganuary Shopping Discount
If you haven't signed up yet for our email list, make sure to do so below to get a 10% discount to veganessentials.com and to get a weekly email with that weeks meal plan delivered to your inbox!