If you've read a lot of my recipes, you'll know I take so much inspiration from places I visit. I have always loved trying local foods when I travel and being vegan doesn't stop that! I've visited the Greek Islands a few times and I just love Mediterranean cuisine, it's so fresh and tasty, hence the vegan greek salad recipe!
One classic, we are probably all familiar with is a greek salad, however we equally know it contains feta cheese.
I was amazed when I read up online how to veganize feta cheese and so I have to say I've read a tonne of different recipes and come up with my own version.
The typical Greek salad contains diced tomatoes, perfectly peeled and diced cucumber, pitted black olives, finely sliced red onion and of course, feta. Seasoning includes extra virgin olive oil, lemon, oregano, salt and pepper.
In the case of a vegan greek salad, I used a firm tofu that is marinated overnight as a replacement for the feta cheese. You can check out tons of other tofu recipes here.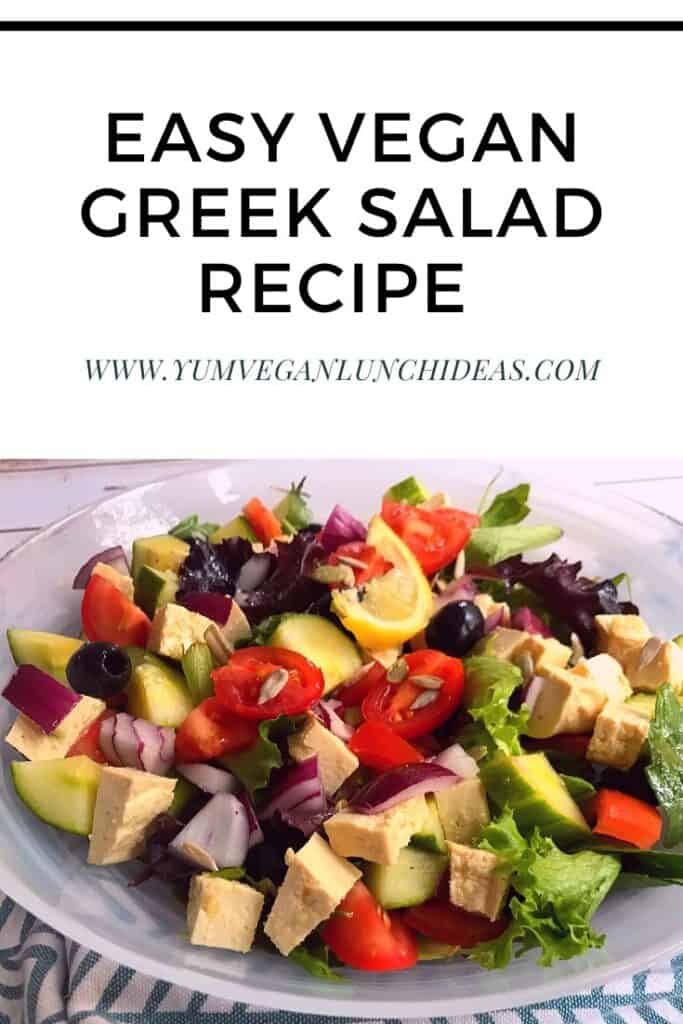 Vegan Greek Food
I started by preparing the tofu the night before for my Greek vegan salad. Tofu is best when you press the tofu before hand to get out the excess liquid. You can press the tofu using your hands or invest in a tofu press like the Tofubud!
Next, I diced the tofu into bit sized chunks. In a jar, I added extra virgin olive oil, the juice of a lemon, crushed garlic, oregano and salt. I mixed it up by putting the lid on the jar and shaking vigorously.
I added the tofu in afterwards and put it in the fridge overnight. Tofu doesn't have much flavour on its own but it definitely absorbs and lifts other flavours really easily.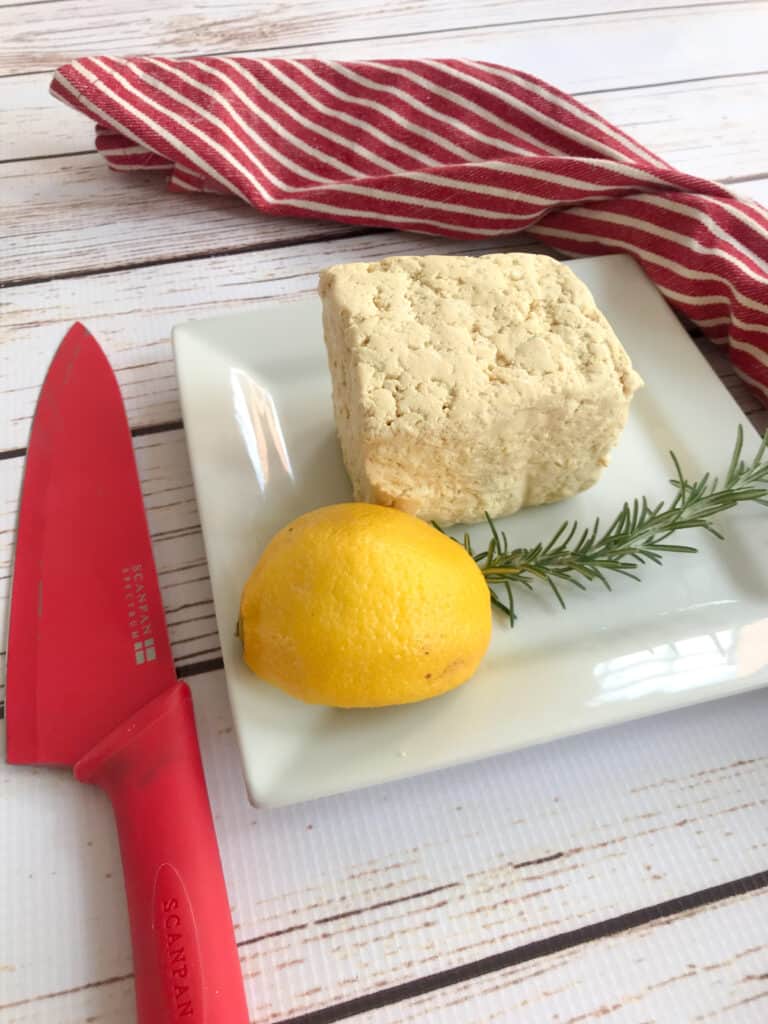 Leaving it overnight is imperative to the taste, as it really needs the time to lift the flavours, especially as it is not cooked.
Vegan Greek Salad
The next day you can chop the vegetables, and add them to a salad serving bowl. It only takes a matter of minutes to prepare. Once the vegetable ingredients are ready, you can place the marinated feta pieces into the bowl.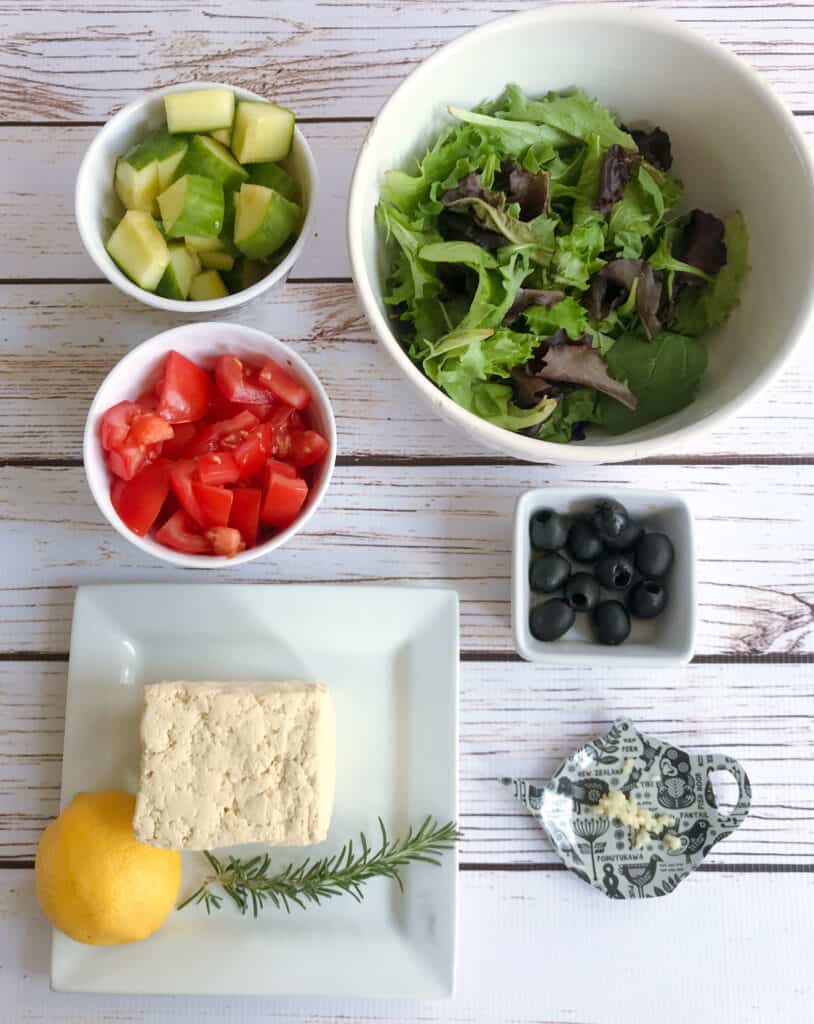 Keep the leftover marinade to one side. It can be used as a vegan greek salad dressing later, or if you prefer drizzle it over the salad before serving.
We are big fans of vegan BBQ's over here and a greek salad is the perfect accompaniment. It's also perfect in a lunch box for work, or on the side of an evening meal. It is such a versatile salad.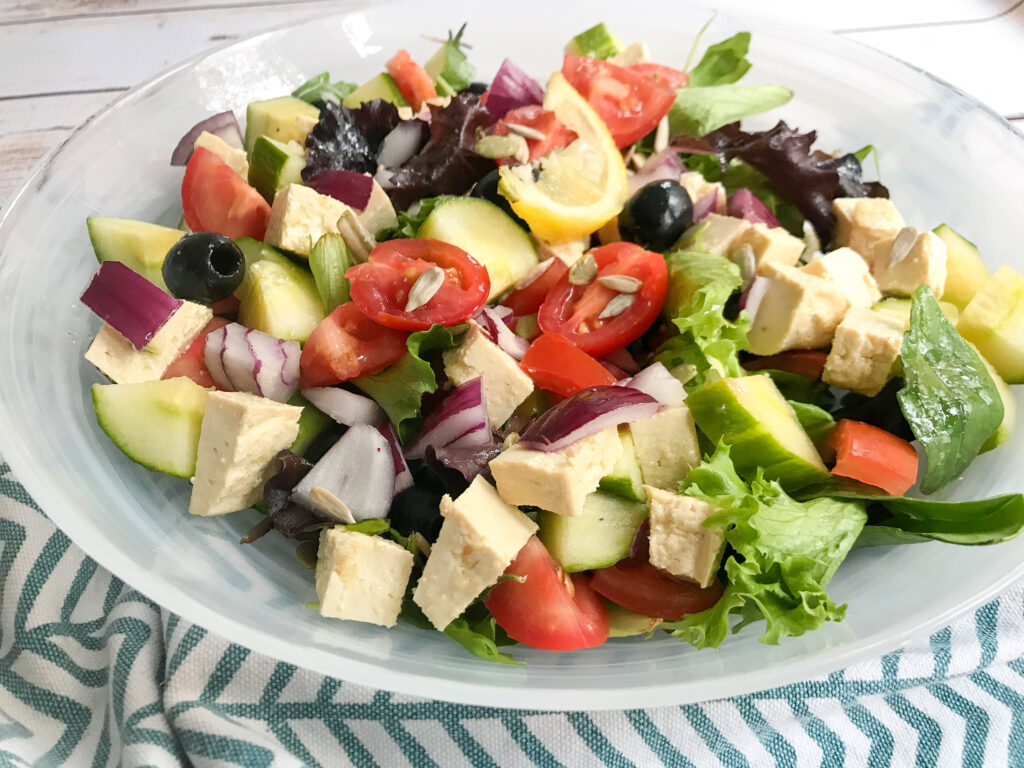 We added salad leaves to our recipe and sprinkled with pine nuts for some extra textures. These ingredients are not typical to the dish, so if you don't have them don't worry.
We love salads over here at Yum Vegan Blog. We really enjoy this Middle Eastern Bean Salad , Israeli Salad, and vegan Cobb Salad.. Having a variety of salads a gathering can be a real winner.
Some other great ideas to make the ultimate greek vegan feast could include, warm pitta bread, vegan tzatziki, vegan gyros, and vegan souvlaki!
Yield: 5
Vegan Greek Salad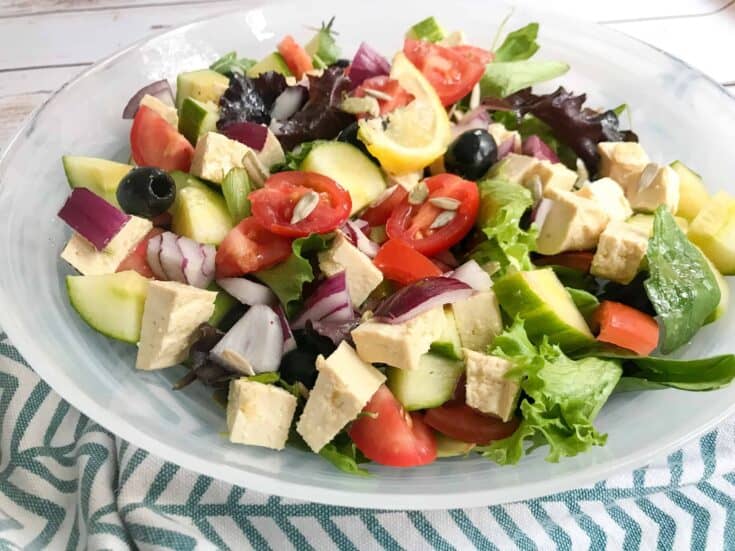 Transport your taste buds to the Meditteranean with this scrumptious healthy vegan Greek salad recipe.
Additional Time
5 minutes
Ingredients
A handful of pitted black olives
2 large tomatoes
1 cucumber
1 lemon
100 mls of extra virgin olive oil
1 clove of garlic
1 teaspoon of oregano
1/2 a red onion
1 block of firm tofu
Instructions
1. Add the extra virign olive oil, crushed garlic, juice of the lemon, salt, pepper and a teaspoon of oregano to a jar. Shake vigirously to get a good mix. Set to one side.
2. Dice the tofu into small cubes and add to the marinade. Put it in the fridge overnight. It's really important the tofu has time to lift the flavours.
3. Next, prepare the salad vegetables. Dice the two large tomatoes into bite sized chunks and add to the salad bowl.
4. Peel the cucumber with a vegetable peeler, cut it in half lengthways before chopping into bite sized chunks.
5. Add the pitted olives to the salad bowl.
6. Finely slice half a red onion and add to the salad.
7. Gently mix together.
8. Strain the tofu out of the marinade and evenly place on top of the salad. If you prefer, you can tip the marinade in as well. However, I prefer to keep it to one side, so people can use it to their taste.
9. You can add a small drizzle of the marinade as your vegan greek dressing before serving.
10. Put the leftover marinade in a serving bottle.
Notes
You can store the salad for 1 to 2 days in the fridge. If you have leftover marinade, keep it in a bottle or jar and use it on other salad dishes.
Serve with fresh warm bread and other Meditteranean inspired foods. In particular, vegan skewers and vegan tzatziki is the perfect vegan BBQ or lunch with friends and family.
You can add salad leaves and pine nuts for different textures.
Recommended Products
As an Amazon Associate and member of other affiliate programs, I earn from qualifying purchases.
Nutrition Information:
Yield:
5
Serving Size:
1
Amount Per Serving:
Calories:

281
Total Fat:

25g
Saturated Fat:

4g
Trans Fat:

0g
Unsaturated Fat:

20g
Cholesterol:

0mg
Sodium:

94mg
Carbohydrates:

9g
Fiber:

3g
Sugar:

4g
Protein:

10g