It's been a rough year all around, and I think many of us are tightening our belts financially. Some people think that vegan is synonymous with expensive, and while that can be true, it's most definitely not the rule. There are plenty of cheap easy vegan meals you can make.
Obviously, prices vary based on city, state, country and even season but as a general rule, more processed vegan foods like vegan cheeses/meats and prepared frozen foods tend to be expensive, and naturally vegan foods like produce, legumes and more tend to be cheaper.
The more local and seasonal you can shop, the cheaper the groceries will usually be. Stocking up on whatever produce is cheapest that week and planning your meal around it is always a good way to save costs. Eating cheap is also a great way to keep your eating healthy and plant based, the local, less processed food is much better for you.
You can also purchase grains and legumes from bulk stores which will generally save money. And of course the internet is a great place to do price comparison! So many places deliver straight to your home, so shopping online is a great option.
Frozen produce, choosing dried legumes over canned, and shopping sales are also great way to whip up some cheap vegan meals.
No matter where you are doing your shopping, check out some of these amazing easy cheap vegan recipes below for inspiration!
Don't Forget to Pin This Post For Later!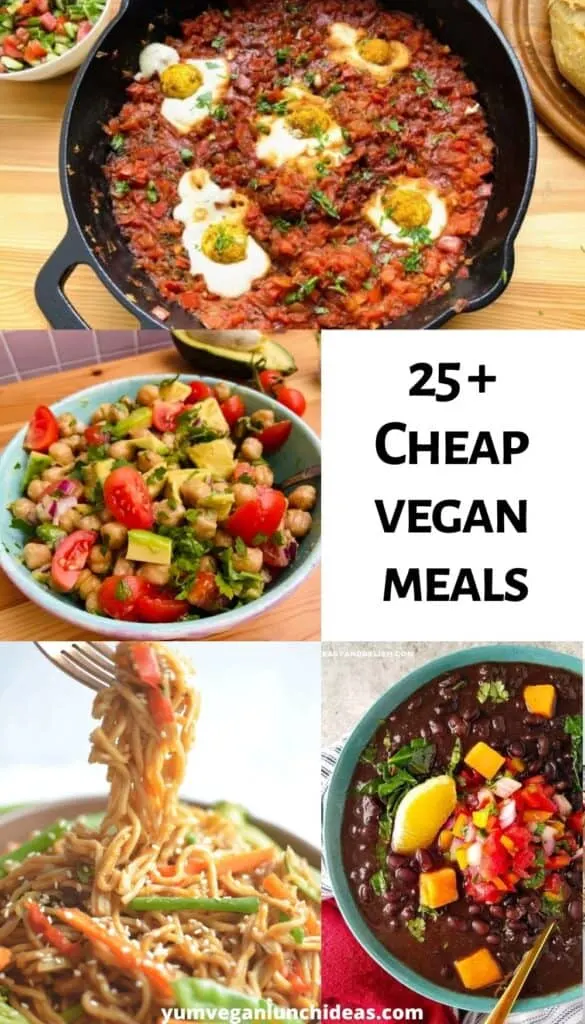 Cheap Vegan Recipes
These cheap vegan recipes will satisfy you and keep things interesting. Mix some of these cheap vegan meals into your recipe plan!
You might also like: