These delicious rolls are super fluffy and amazing for breakfast, lunch, and dinner! After all, is there any time of day when a nice hot bread roll is unwelcomed?
Use them to accompany a warming holiday meal, a nice brunch bread for dunking in spreads or marinara sauce, or cut them in half and use them for slider style mini sandwiches. No matter how you use them, these vegan rolls are sure to be a hit.
Vegan Bread Rolls Ingredients
These vegan dinner rolls need minimal ingredients and still manage to turn out incredible. What you'll need to make the dairy free rolls are:
To make the rolls nice and golden when they bake, I like to use one of two washes for the top of the bread. You don't have to use a wash for the bread at all, but it's reccomended.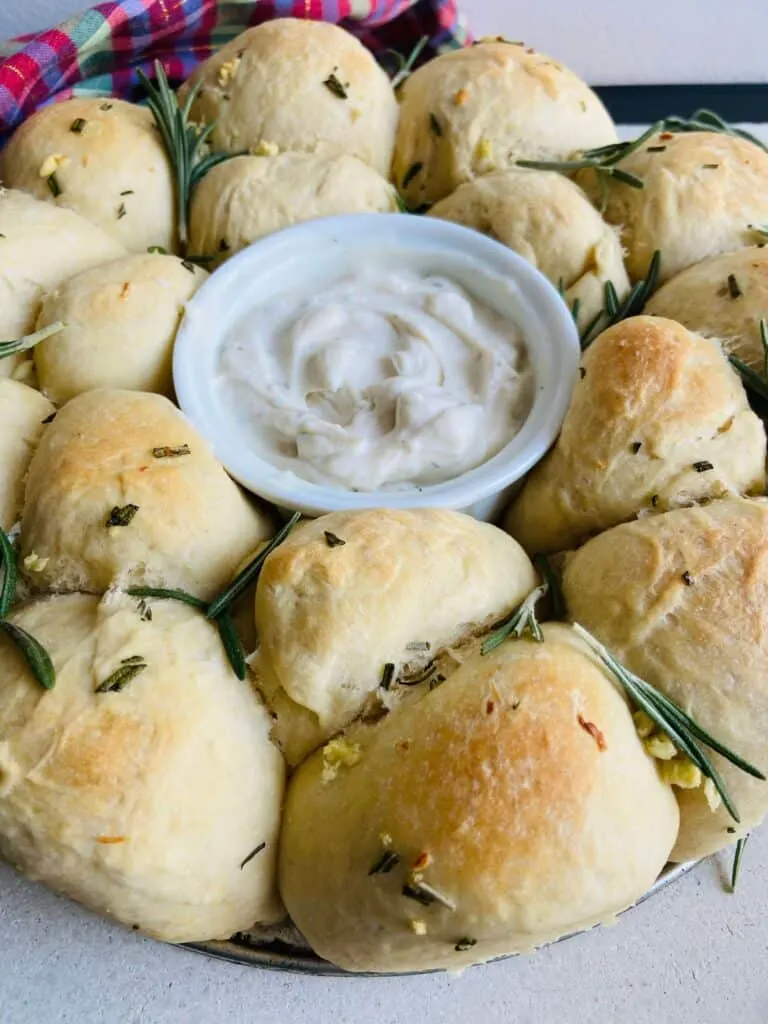 The first one is just a mix of plant based milk and agave
. This one is the most basic option – it barely adds any sweetness but is an easy way to make sure your bread gets that nice sheen on top.
The other option, if you want to pack some extra flavor into the bread is to brush it with a mix of fresh chopped garlic, rosemary, olive oil
and plant based milk. It gives it a bit more of a savory, festive, garlic bread finish.
How to Make Vegan Dinner Rolls
The first thing you need to do is rub the vegan butter into the flour. You might have to use your hands to really incorporate the butter into the flour. Alternatively you could use a food processor to combine the butter with the flour.
Next, you'll need to mix the salt and the yeast into the flour mixture. Make a well in the center and pour in the milk. Combine with a wooden spoon or spatula until a loose dough forms. Get in there with your hands and knead. It will take around ten minutes of kneading before the dough is ready.
Of course if you have a mixer with a dough hook, this whole process can be done by the machine. Once the dough has formed a smooth, elastic ball, it's ready.
Cover the bowl with a moist towel and leave in a warm place for an hour and a half until doubled in size.
Once the dough has finished rising, knead the dough again for two to three minutes and then start forming balls. It will make around fifteen vegan rolls. To form smooth rolls, pull the edges of the dough ball to the bottom so that the tops of each roll are smooth and any uneven parts are at the bottom.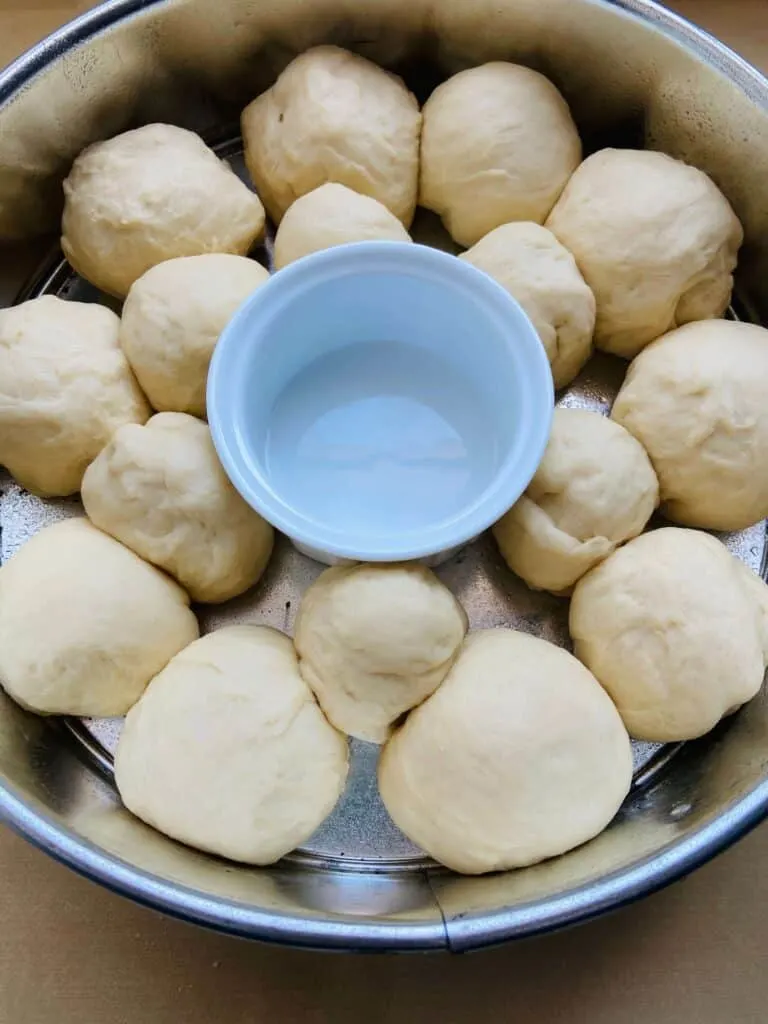 If you want to make a wreath like shape for your rolls, like in the pictures, use a large cake pan with an oven safe ramkin in the middle to keep it's shape. If you just want individual vegan rolls, just use some lined baking sheets.
Either way, make sure the baking sheet/cake pan is properly greased so the dough doesn't stick to it. Lay out the dough balls with enough room for them to double without touching if you are using the baking sheet. If you are making the wreath the dough balls will be closer together but still have as much room as possible around each one.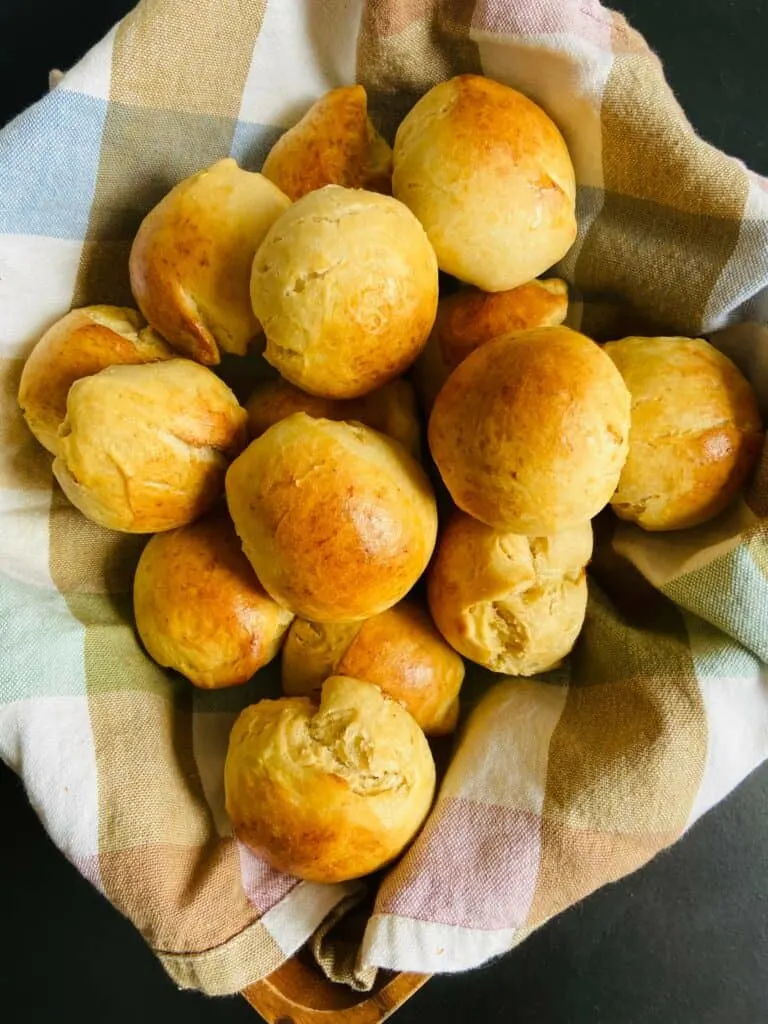 Cover prepared rolls with the moist towel again. Allow it to rise for another 20 minutes until it has puffed up again. When the bread has finished rising again, brush with your choice of bread wash. Then bake the rolls in a preheated oven at 450 for around 20 min, until they are well risen and golden.
Vegan Rolls Variations
These rolls are super fluffy which is how I love my bread. If you prefer it a little firmer, with a crustier top, just use a tbsp less of the vegan margarine.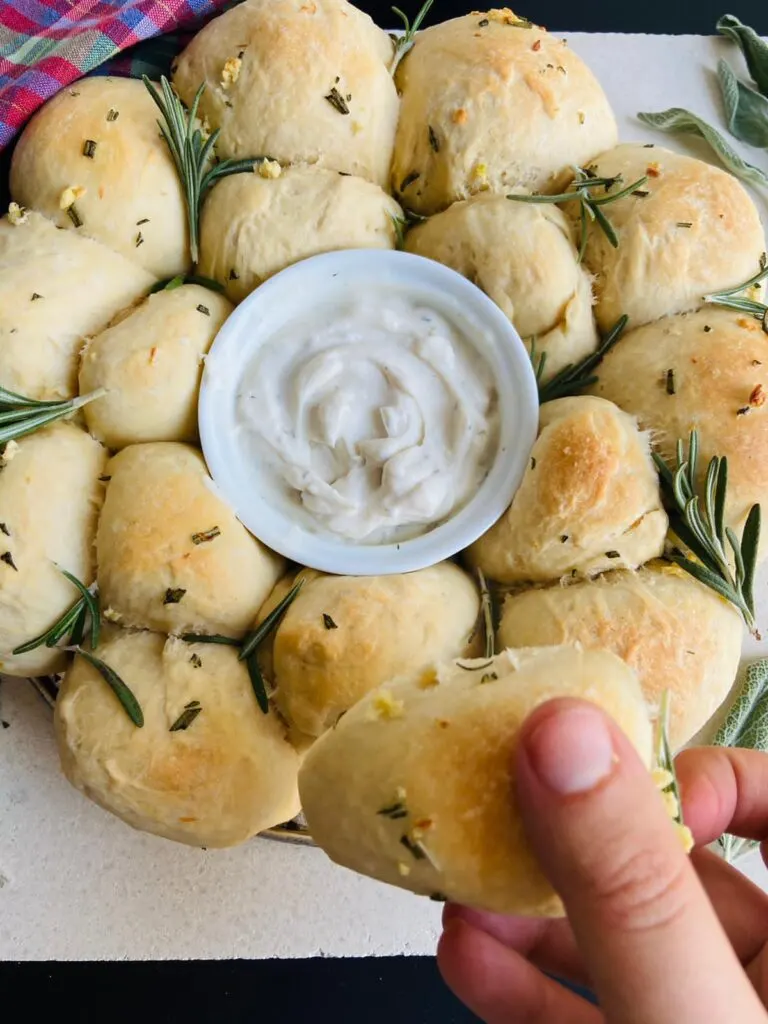 You can also add some fun flavors to this bread. Just add a couple of pinches of your favorite herbs to the flour mixture before the milk goes in.
Storage and Make Ahead Vegan Rolls
You can freeze bread before or after baking. If you want to freeze it before baking, follow the instructions until all the rolls are formed after the first rise and wrap well before freezing.
When you are ready to bake, unwrap the rolls and allow to thaw until the dough has risen again, around doubled in size. Continue to follow the instructions, baking may take an extra ten minutes or so.
If you want to freeze the bread after it's done baking, allow it to cool completely before freezing, wrapped completely in tin foil. When you are ready to enjoy, warm it in the oven at 325 until warmed through. It will take around 20-30 minutes.
You may also enjoy
Don't Forget To Pin This Recipe for Later!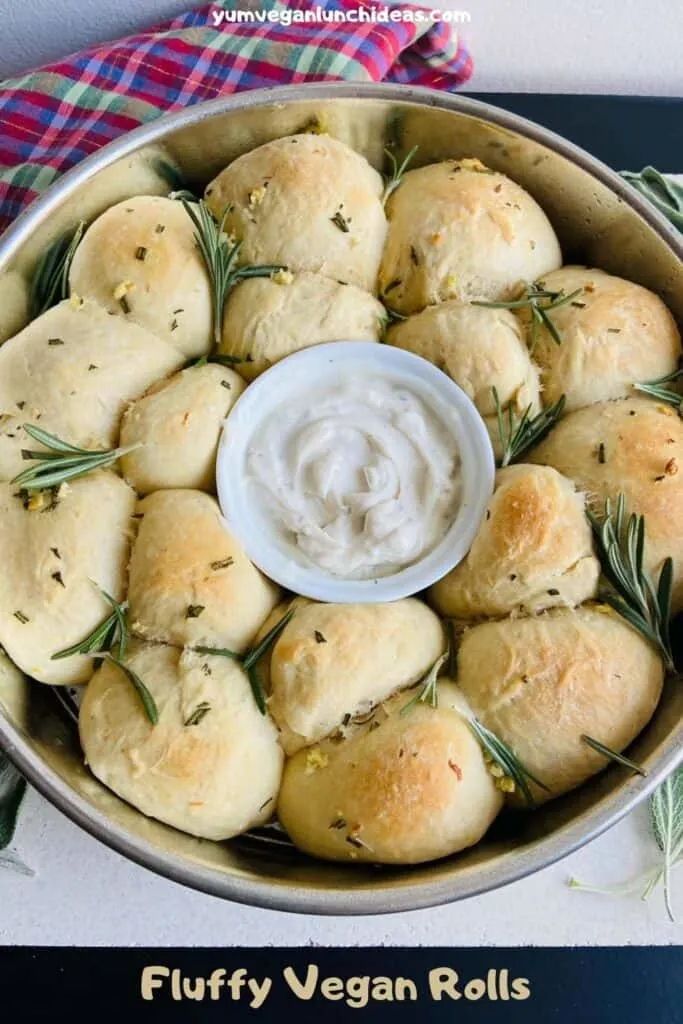 Yield: 15 rolls
Fluffy Vegan Rolls Recipe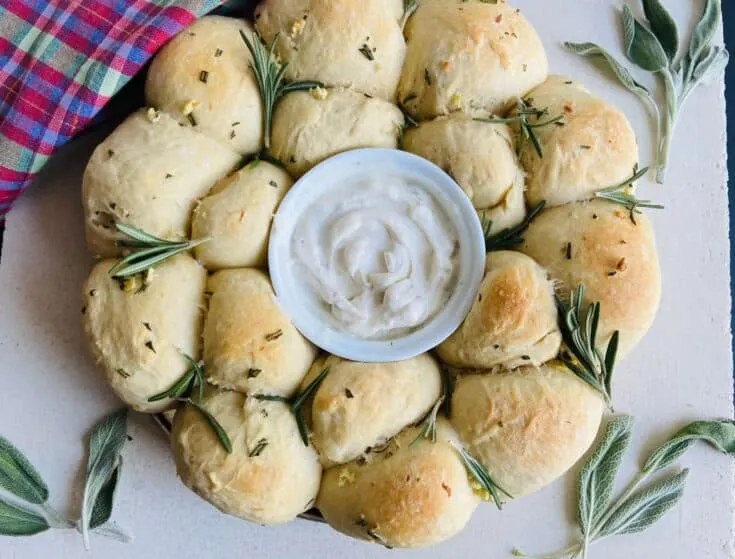 These delicious vegan rolls are fluffy and perfect for any occassion! Use them to dunk in dips and soups, serve them for brunch or eat them as vegan dinner rolls. No matter when you make them they are sure to be a crowdpleaser!
Additional Time
1 hour
50 minutes
Total Time
2 hours
30 minutes
Ingredients
3 Tbsp Vegan Butter or Margarine*
1 tsp Salt
1 Cup + 1 Tbsp Plant Based Milk
Basic Bread Wash (Optional)**
Instructions
In a large bowl, add the flour and butter. Rub the butter into the flour until well distributed.
Add in the yeast and salt, and mix well.
Make a well in the center and pour in the milk. Mix until a loose dough forms and then knead until a smooth elastic dough forms.
Cover the bowl with a damp towel and set somewhere warm to rise for around an hour and a half, until it's doubled in size.
If you are doing individual rolls, lightly grease a baking sheet for your rolls. If you plan on doing a pull apart wreath shaped version, prepare a cake pan by lightly greasing with a ramkin or other circular, oven safe piece to keep the center of the circle empty when the rolls rise and bake.
Knead the dough for another two minutes and then start forming your rolls. Take off pieces of the dough and create balls by pulling the edges down so that the top becomes smooth.
Lay out the rolls on your baking sheet, leaving enough space between them to allow them to rise.
Cover again with another damp towel and allow the rolls to rise again for around 20 minutes. Preheat the oven to 450 while you wait and prepare the basic bread wash, or the alternate herby one (see notes below) while you wait.
When it's finished it's second rising, brush with bread wash of choice and bake for 15-20 minutes, until the rolls are golden on top.
Enjoy! They are yummiest when hot, like most bread, so feel free to pop them in the oven for a few minutes to reheat them before serving.
Notes
* These rolls are crazy fluffy, if you prefer a crustier top and a little less fluffy insides, use a tbsp less of the vegan butter.
** The agave really barely adds sweetness to the rolls, it just allows it to become more golden on the outside. If you prefer a more savory herby wash though, you can use a mixture of 1 tbsp milk, 2 tbsp olive oil, 1 tsp chopped rosemary, and 1.5 cloves of garlic, minced.
Recommended Products
As an Amazon Associate and member of other affiliate programs, I earn from qualifying purchases.
Nutrition Information:
Yield:
15
Serving Size:
1
Amount Per Serving:
Calories:

120
Total Fat:

3g
Saturated Fat:

2g
Trans Fat:

0g
Unsaturated Fat:

1g
Cholesterol:

6mg
Sodium:

175mg
Carbohydrates:

21g
Fiber:

1g
Sugar:

1g
Protein:

3g
Disclaimer: This post contains affiliate links.