We've all been there – you spend days, weeks, or months if you are a planner, figuring out your perfect vacation destination or surprise gift trip and then you get there and realize that you will be eating potato chips, raw fruit and veg, or anything else you can scavenge during your trip.
It's gotten to the point where the first thing I do when planning a trip is I find cheap flight tickets and immediately check happy cow to see if there are any vegan restaurants in the area. We were even lucky enough to go to an all inclusive hotel recently but pickings were slim which was a huge bummer.
So my new life plan is find vegan hotels and plan trips around them. I did a lot of research to find these hotels and though I haven't stayed at them myself, they all look amazing and are being added to the bucket list.
If I've missed any of your favorite vegan hotels or you've stayed at one of these, let us know in the comments so we can add it to the list or make note of a particularly good one!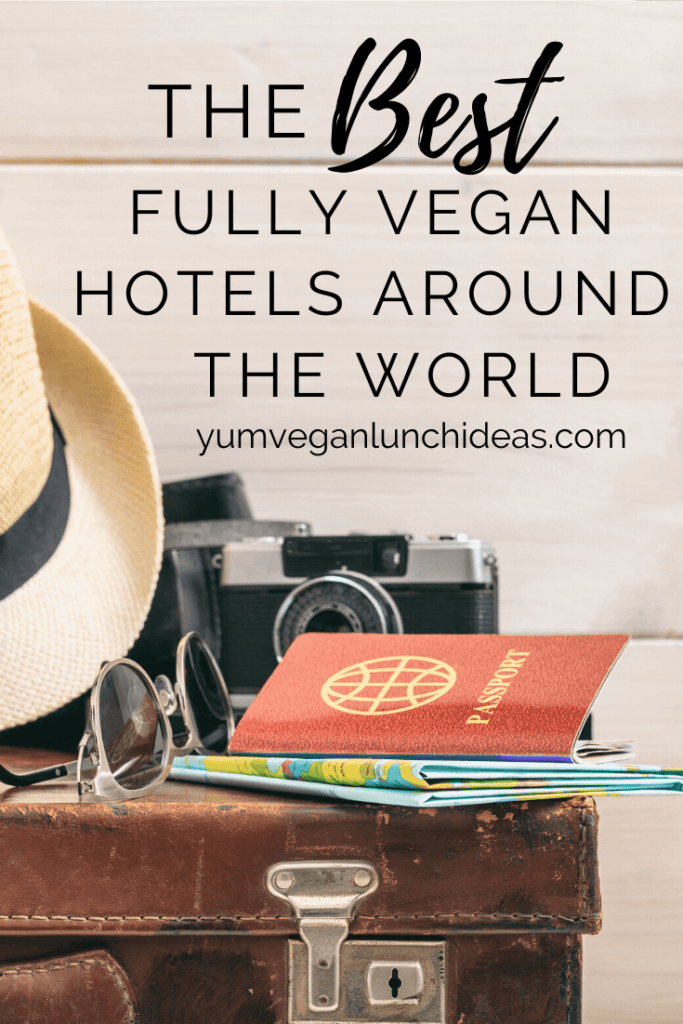 The Stanford Inn Mendocino Resort
If Mendocino wasn't already on your travel bucket list, it's time to add it. This beautiful northern California ocean side destination is filled with unspoiled nature spots to explore. But the best part is this amazing vegan resort hotel!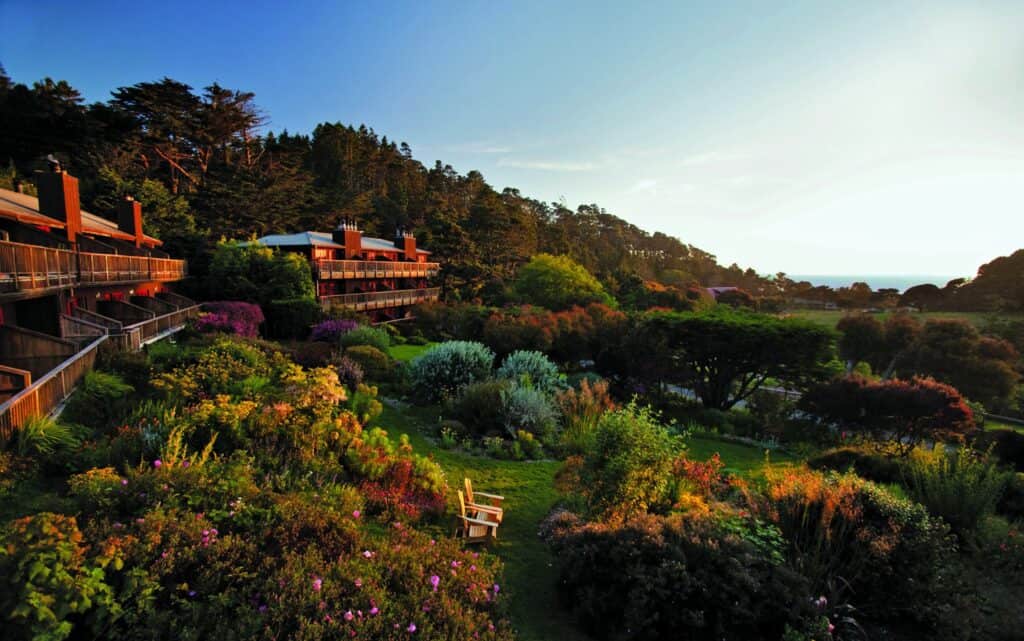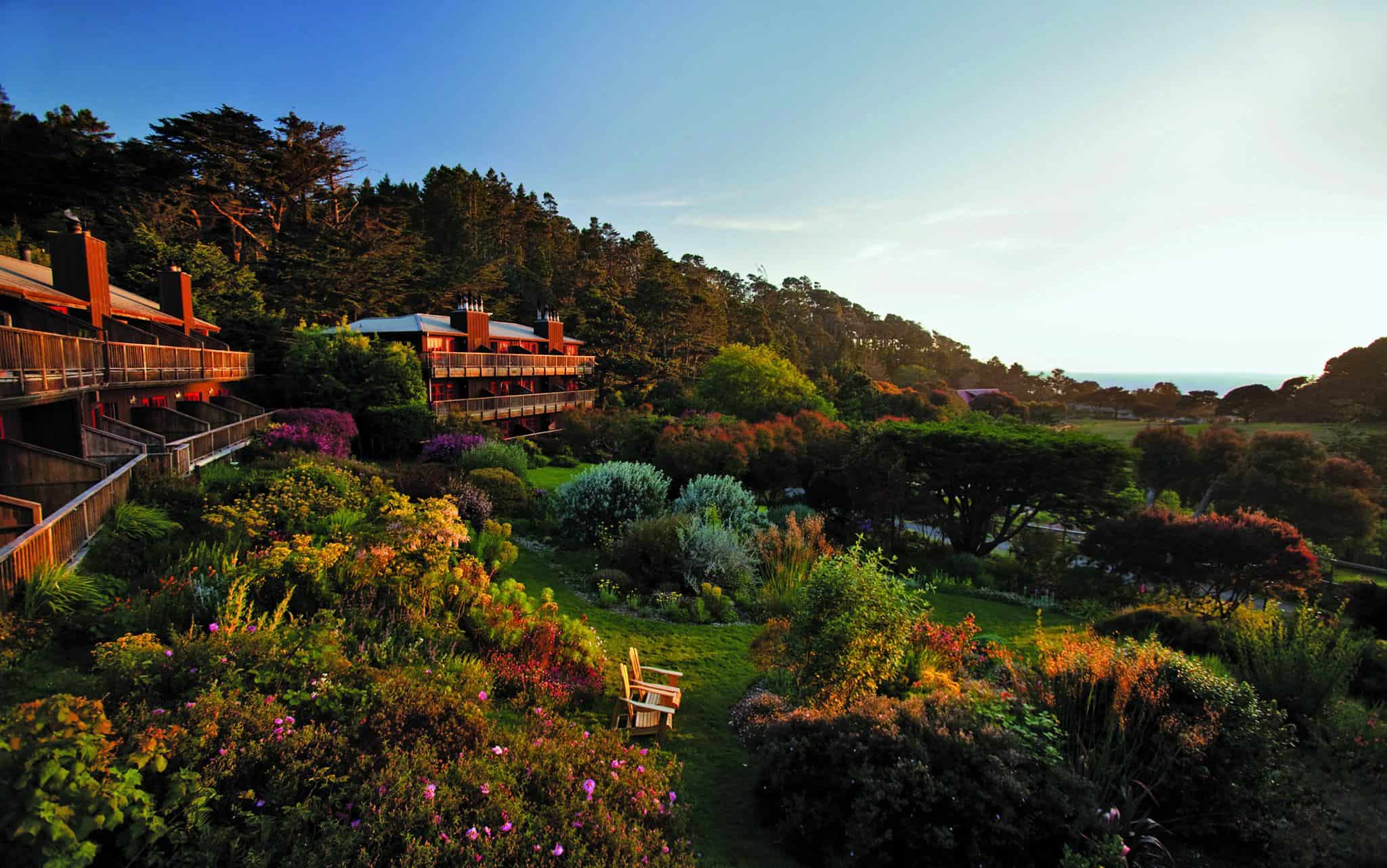 The Stanford Inn is committed to sustainability and uses eco-friendly practices to run the hotel which includes a highly acclaimed vegan restaurant.
The hotel would be perfect for a relaxing spa weekend or a family adventure or a combo! With a fabulous spa (which includes Chinese treatments), canoe and bike rentals, close proximity to the beach and beautiful views, it doesn't seem like you can go wrong with a stay at this hotel.
You can also check out one of their many on site classes in creative play, cooking, gardening, healthy eating and more. Or join one of the many retreats and counselling packages they have on offer.
The Farm at San Benito
Time to start looking for tickets to the Philippines! Do some googling and you'll be sold on the Philippines, I promise. But the real reason to go is this stunning five star resort.
The Farm is the hotel to choose if you really want to focus on relaxation and wellness. They have tons of treatment and health programs from massages to cellular health programs.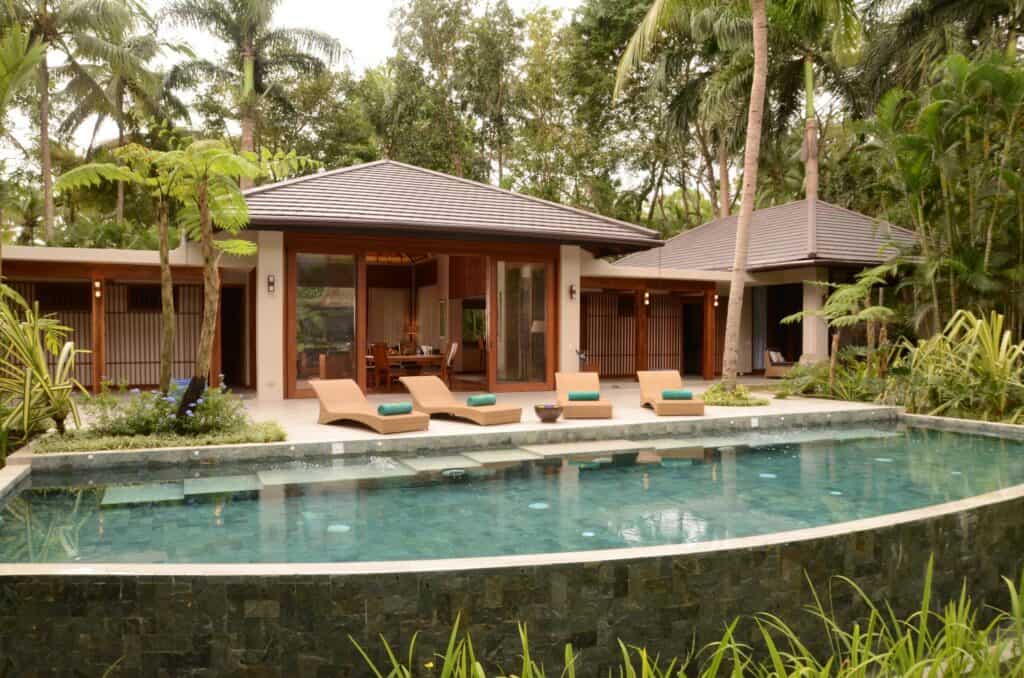 They also have lots of classes like yoga and cooking classes and even activities for kids! The kids classes include flower arrangements, fish feeding, jungle bush walks and much more.
The highlight is of course the restaurant. Not only is their restaurant fully vegan but it is also organic! They pick most their ingredients fresh from their own organic gardens so it's as wholesome as food gets.
Find out more about prices and availability at The Farm here.
Agrivilla I Pini
Agrivilla I Pini is a beautiful little hotel set in a historic farmhouse in the beautiful Tuscan hills. The farmhouse was recently renovated using sustainable building practices and materials.
Even though it was renovated, it kept its quaint Tuscan charm with furniture made in the region. Everything from the walls to the bath curtains were chosen with care from eco-friendly, fare-trade, and vegan materials wherever possible. Even the toiletries you receive at the hotel are 100 percent vegan.
The food is, of course, completely vegan and according to their website, breakfast and dinner is included.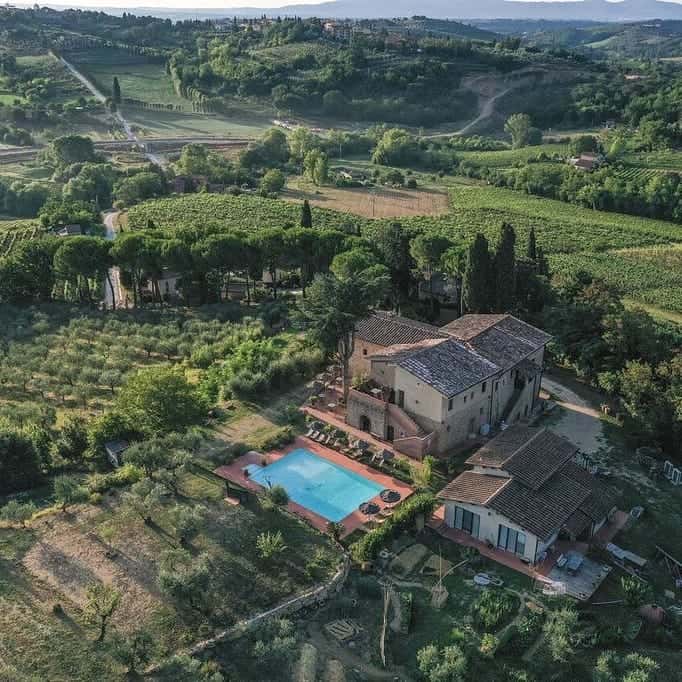 The fun doesn't stop there though! This hotel is also a vineyard which means you can take a tour, drink lots of wine, and even help with harvesting the grapes if you are there in the right season! In case it needs to be said, the wine is completely vegan as well.
Spend your days wandering the Tuscan hills, enjoying fruit straight from the trees, and swimming in Agrivilla I Pini's saltwater pool overlooking the hills!
Check rates and availability for Agrivilla I Pini here.
Villa Vegana
Get a taste of island life in this little vegan paradise in Mallorca. Surrounded by olive, almond, lemon and orange trees is this beautiful fully vegan hotel.
You'll really feel at one with the animals with the cute pigs that call this villa home! Everything from the cleaning products to the delicious breakfast is 100 percent vegan and they are working on building up their own gardens so that most the food comes from within the grounds.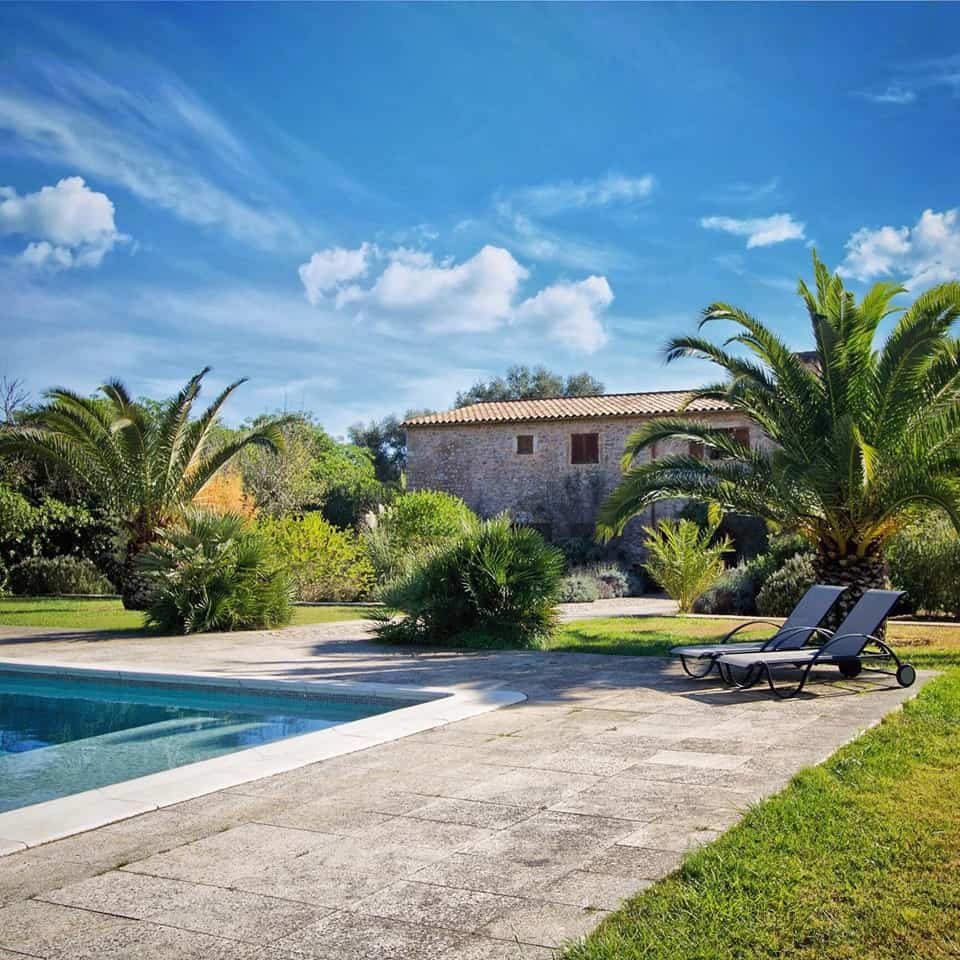 Spend your days exploring the beautiful island or soak in Villa Vegana's beautiful pool with panoramic views of the Tramuntana mountains.
With an amazing restaurant and stunning nature you won't want to leave this 15th century manor house!
Casa Albets
This 4 star luxury hotel is in an 11th century home that has been refurbished to give you a truly high end experience.
With Casa Albet's massive grounds to explore you might not even feel the need to leave the hotel although it is set in the Spanish mountains with plenty of nature activities and beautiful old churches and castles to see in the area.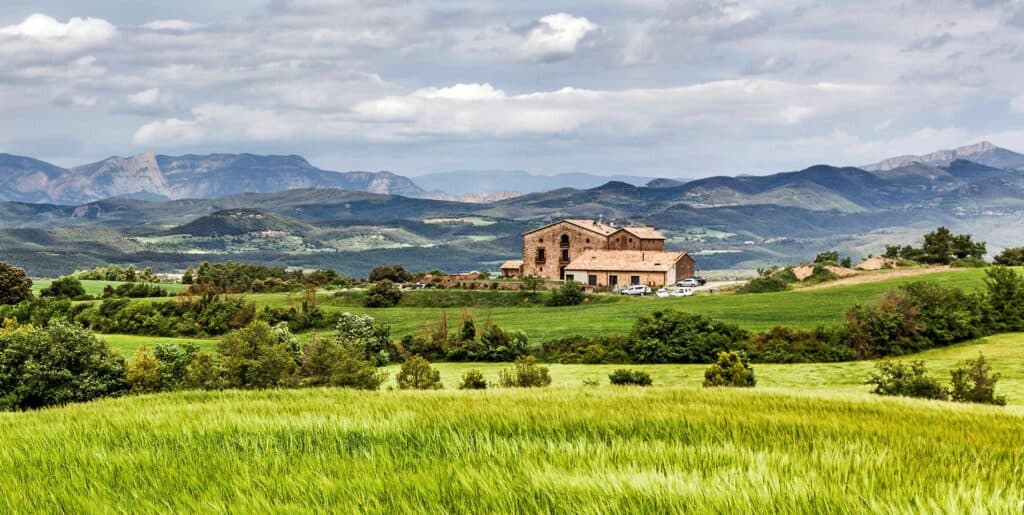 This hotel puts an emphasis not only on veganism but also eco friendly practices. The food is very highly rated by vegans and non vegans alike. The property is also very pet friendly, with animals being allowed in all parts of the hotel.
Find prices and availability for Casa Albets here.
Nicolay Hotel
The Nicolay hotel is a fifth generation, family run hotel on the Moselle river in Germany. From this family friendly hotel you can explore the stunning German nature and cultural spots around the Moselle river, the Eifel mountains and the Hunsruck mountain range. This is the perfect spot for bike riding and hiking.
You can also spend your time relaxing Nicolay's Veganico spa or visiting the pool. In the evenings visit their in house bar for some delicious vegan cocktails and live music. The hotel is also happy to organize a tour of a nearby vegan vineyard.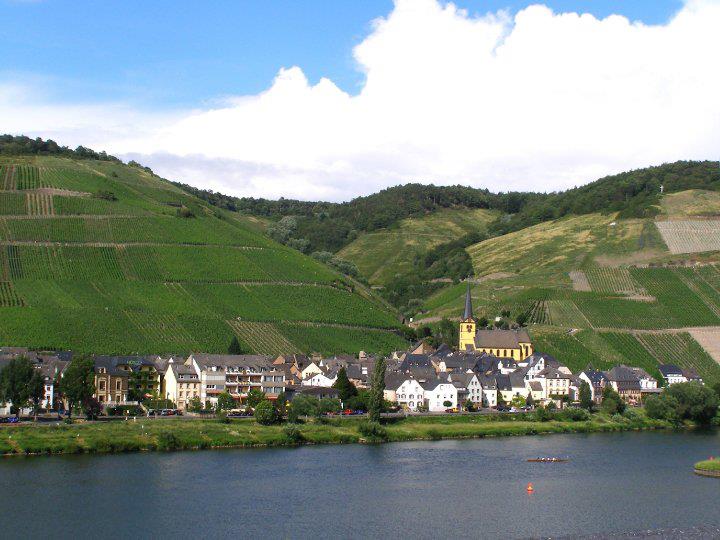 The hotel features multiple vegan restaurants including a vegan tavern serving gourmet vegan food, a restaurant serving vegan version of regional dishes and of course the large vegan breakfast buffet, served on a terrace overlooking the river when weather is nice.
Check up to date prices and availability here.
Kami Suites
The Kami Suites is a boutique vegan hotel in the hills of Northern Israel, overlooking the Sea of Galilee. With the highest number of per capita vegans of any country in the world, Israel should be on the agenda for any food loving vegans. The Tel Aviv restaurant scene will blow your mind but a layover in this fully vegan hotel is definitely warranted.
The hotel has only five rooms, each with a different theme. The rooms also each have a hot tub next to a window for you to enjoy the views from. There is also a fantastic outdoor swimming pool with amazing views.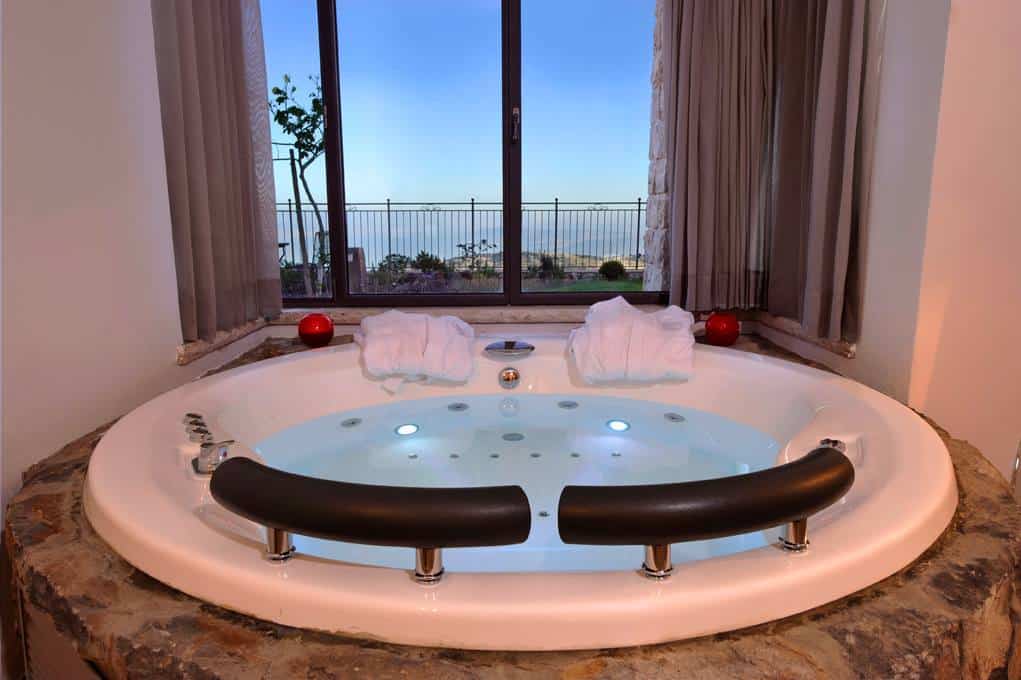 From the hotel you can enjoy a relaxing spa weekend with pampering and massages or you can spend your days exploring the local nature, hiking, archaeological spots, religious spots and more in the area.
Make sure to Pin this post for later!
You May Also Like:
How to Make Any Destination Vegan Friendly