This oat milk hot chocolate is absolutely delicious. It is like a warm hug in a mug and super easy to make. It is sweet, creamy, chocolatey and absolutely heavenly. I urge you to make this vegan oat milk hot chocolate today!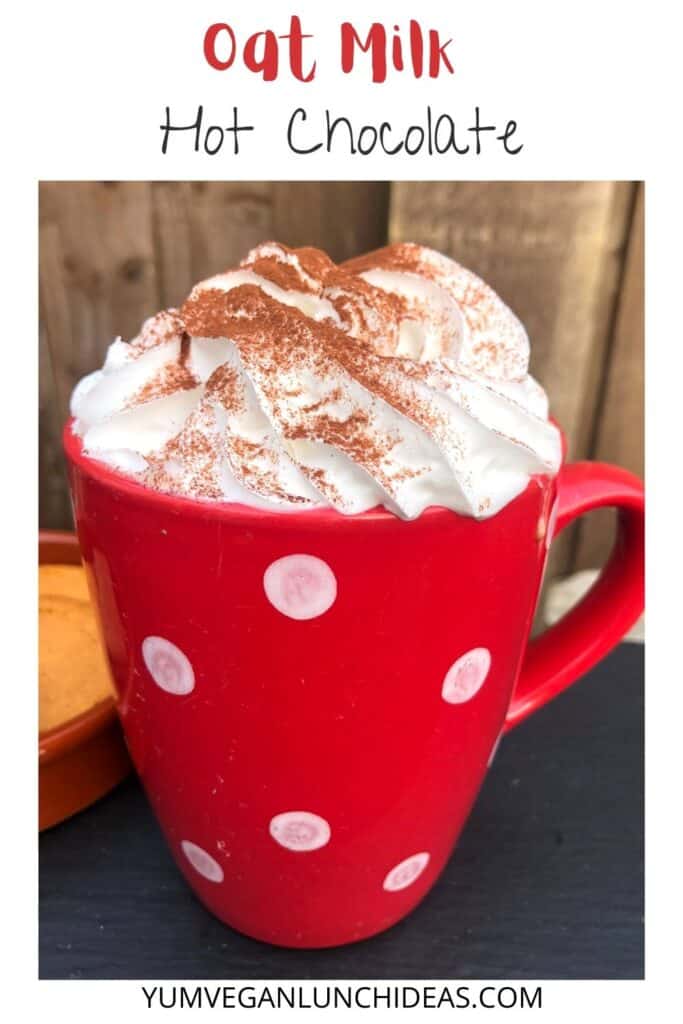 Hot chocolate with oat milk is one of the superior ways to make it vegan in my honest opinion. If you choose oat milk, it gives you a beautiful silky, creamy texture.
I feel like there is honestly nothing better come Autumn through until signs of Spring arrive, than curling up with a hot mug of oat milk hot chocolate when the weather is so dreary outside.
It is even more satisfying as a Mom, coming in from a frosty, muddy day at the woods and getting my kid cosy with his mini hot chocolate, a warm cosy blanket and if he's lucky, a Festive Vegan Flapjack, a Gingerbread Muffin or a slice of Vegan Chocolate Chip Brioche.
This oat milk hot chocolate recipe has a few simple ingredients
Barista Oat Milk
Cocoa Powder
Granulated Sugar
Vegan Whipper Cream (optional)
Vegan Marshmallows (optional)
Vegan hot chocolate oat milk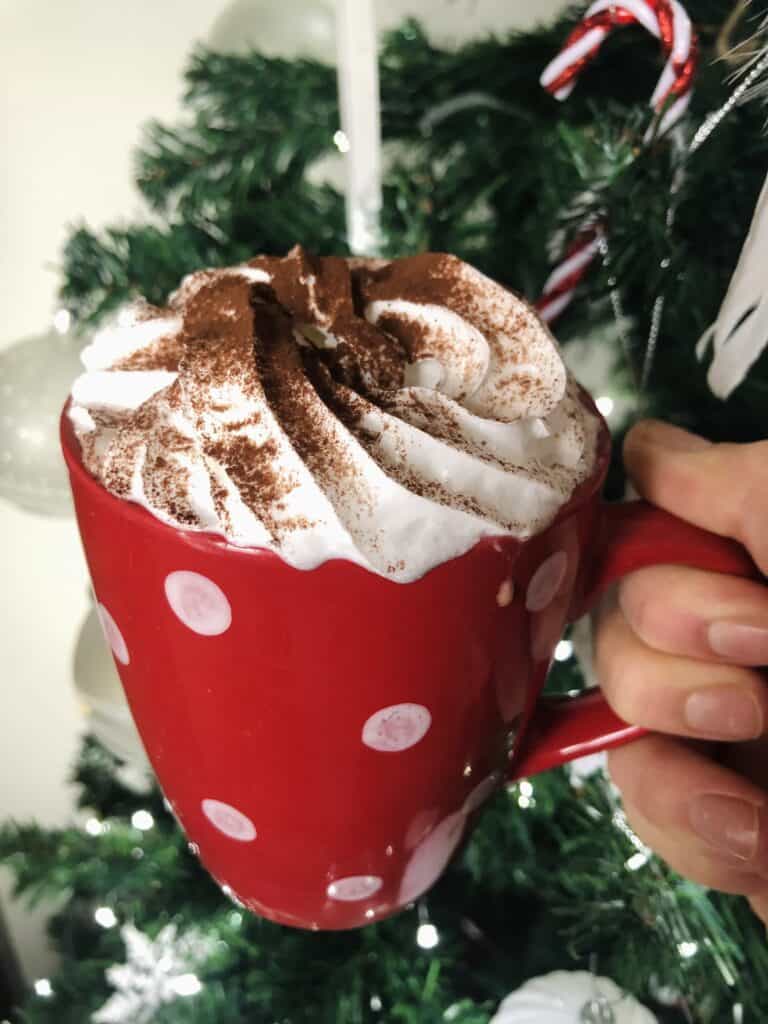 This chocolatey hot milk is seriously a must try! There really is no need to rely on ready made shop bought hot chocolate that can often have hidden ingredients in there. Not to mention the fact that many would not be vegan as they sometimes contain dried milk powder.
It so easy to whip up this decadent homemade creamy, chocolatey hot oat milk recipe.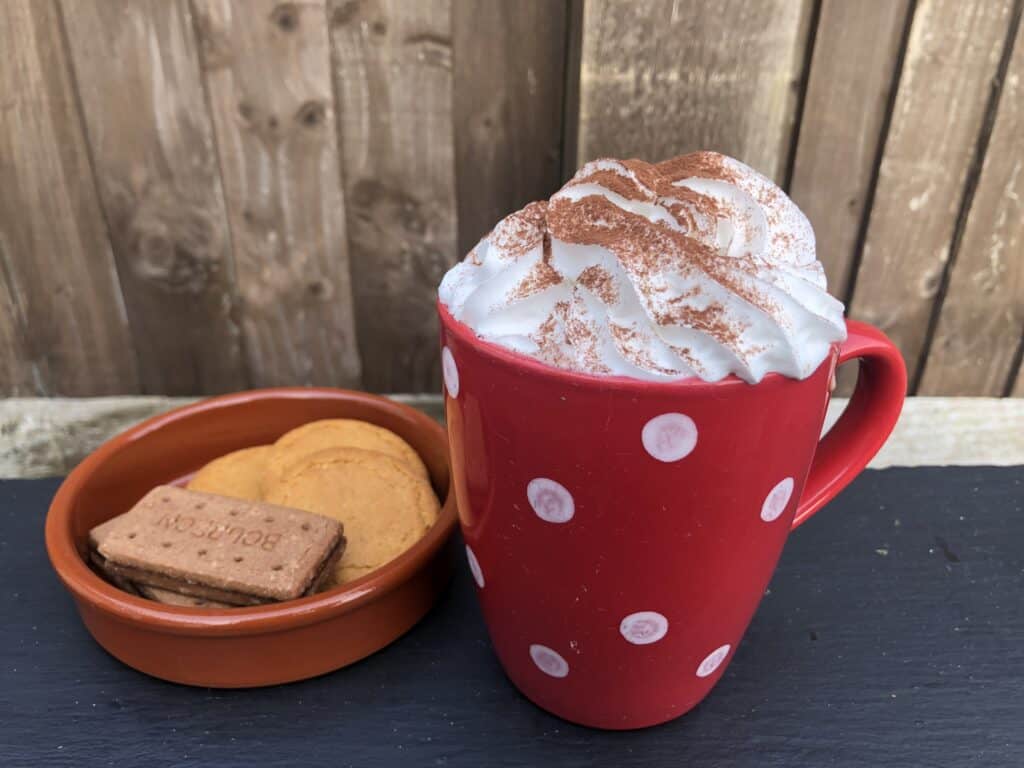 What Oat Milk To Use?
I find the best oat milk to use is a barista version. This is because it is a much creamier version of the usual, thinner, more watered down oat milks. It also has a higher fat content – perfect for mixing up with delicious cocoa powder and sugar!
Toppings
Obviously toppings for vegan hot chocolate are totally optional. However they do of course add to the fun factor and can sweeten things up a notch!
I am obsessed with vegan whipper cream, which is essentially fat and sugar combined but it makes for a gorgeous hot chocolate.
Traditionally marshmallows are not vegan due to containing gelatine. Thankfully there are a few brands that now do vegan marshmallows that taste just as good.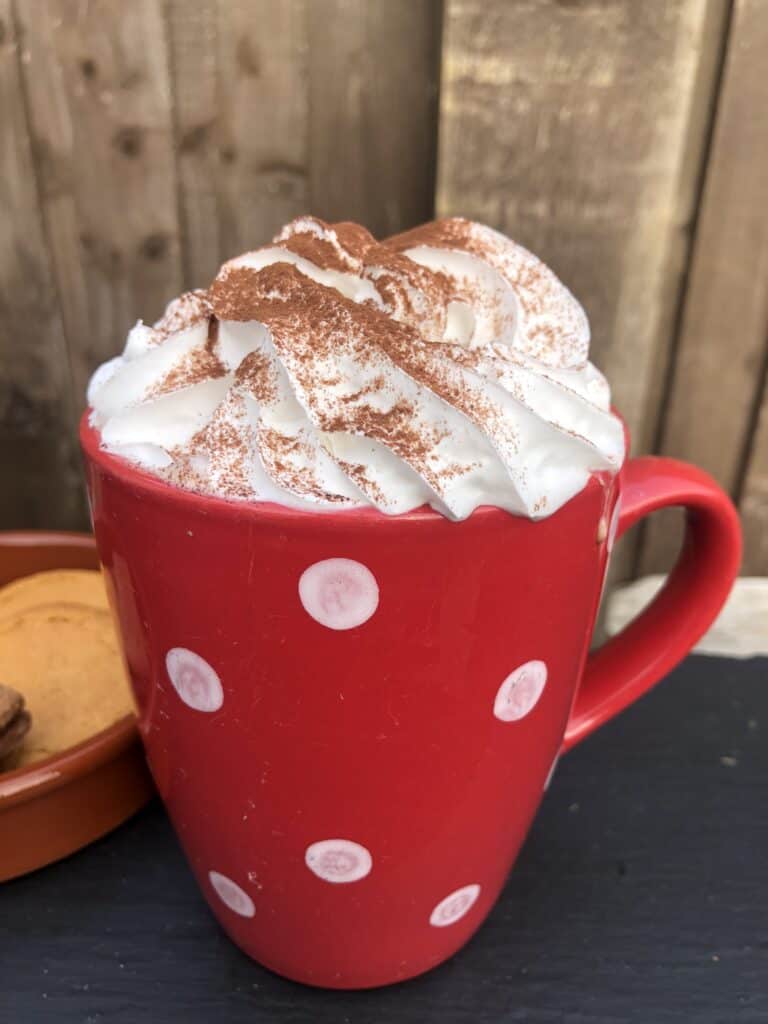 Yield: 1 portion
Delicious Oat Milk Hot Chocolate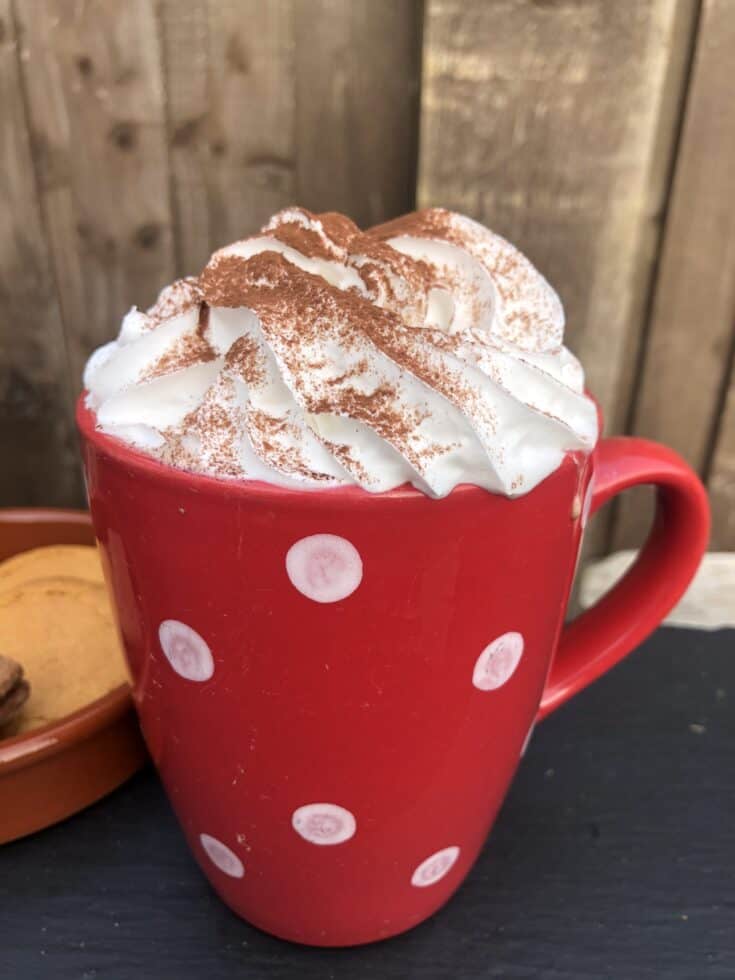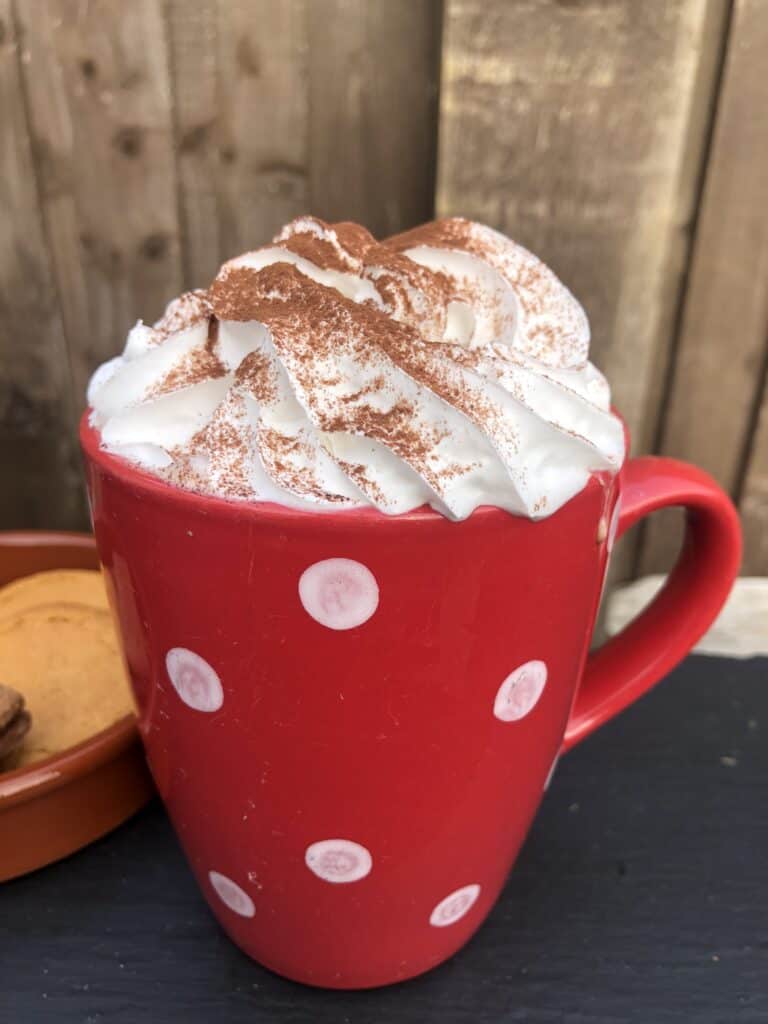 Ingredients
400mls oat milk barista
1 tbsp cocoa
1 tbsp sugar
1 tsp vanilla essence
Optional
Vegan whipped cream
Vegan marshmallows
Chocolate Sprinkles
Extra cocoa for dusting
Instructions
Heat oat milk in a saucepan on a gentle heat
Stir in cocoa, sugar and vanilla essence
Whisk until heated through
Pour into your favourite mug and top with your favourite toppings like vegan whipped cream and sprinkles!
Notes
1) 400mls fills a large cup - you can always measure exact cup portion size by pouring milk into your chosen mug
Recommended Products
As an Amazon Associate and member of other affiliate programs, I earn from qualifying purchases.
Nutrition Information:
Yield:
1
Serving Size:
1
Amount Per Serving:
Calories:

382
Total Fat:

5g
Saturated Fat:

1g
Trans Fat:

0g
Unsaturated Fat:

3g
Cholesterol:

5mg
Sodium:

23mg
Carbohydrates:

78g
Fiber:

5g
Sugar:

52g
Protein:

6g
this is an estimate
You may also like: